A Cancer Journey Filled with Gratitude
Singer Ashley Monroe recently announced that she was diagnosed with a rare type of non-Hodgkin lymphoma called Waldenstrom macroglobulinemia.
Her diagnosis came after doctors looked into her anemia (low levels of red blood cells) – a possible symptom of the disease.
Monroe has already made it clear that faith will play a role during her cancer journey. Although it's not for everyone, leaning into faith can help cancer warriors stay positive when times get tough.
Singer Ashley Monroe recently shared the devastating news of a rare blood cancer diagnosis. But instead of reacting with understandably negative emotions like anxiety and anger, she shared a message of gratitude.
Ashley Monroe, 34, is known for her work as both a solo artist and a band member. Her solo career has expertly traversed the country and, most recently, pop genres with the release of her fifth solo album Rosegold back in April. Her involvement with the Pistol Annies, an American country group comprised of Monroe, Miranda Lambert, and Angaleena Presley, also propelled her into stardom with hits like Hell on Heels and I Feel a Sin Comin' On.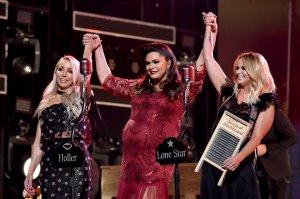 Read More
And while Monroe's career is far from over, she's likely going to have to switch her focus to her health in the coming months. In a recent Instagram post, Monroe told her followers of her waldenstrom macroglobulinemia diagnosis. Although the news is unfortunate, to say the least, her post was filled with happy pictures of her husband, John Danks, her son, Dalton, and friends Lambert and Presley.
View this post on Instagram
"Gratitude. Moments like these I am overwhelmed with gratitude," she wrote. "Getting flowers delivered weekly from @genajohnson507. Enjoying a staycation in Nashville when we had to cancel our Florida trip. Sitting with my sisters the day I found out. Seeing John be my rock and the best dad to Dalton, and being surrounded (and prayed for) by the best friends (and family and manager) I could ever dream up."
She went on to explain that despite starting her chemotherapy treatments today, she is focused on the positive.
"So, I start chemo tomorrow," she wrote on the July 13 post. "Seems like such a negative thing to say. Until I flip that doom feeling on its head and think, wow, I'm thankful I have an illness that is VERY live with-able. I'm thankful there IS a treatment that actually works to fight what is causing harm to my body. THANKFUL for friends and family who have gathered around me praying and sending flowers and letting me lean on them during this super weird chapter of my life. Thankful for my angel son. Who I am fighting for the most… I love you all big. Here I go."
What is Waldenstrom Macroglobulinemia?
Waldenstrom macroglobulinemia is a rare type of non-Hodgkin Lymphoma where the cancer cells produce large amounts of an abnormal protein called a macroglobulin. Lymphoma, in general, is a cancer of the immune system. There are more than 40 different types of lymphoma, and Hodgkin lymphoma and non-Hodgkin lymphoma are two sub-categories with the latter being more common but generally harder to treat. The type of white blood cells linked to the disease determines the distinction. If doctors are unable to detect the Reed-Sternberg cell – a giant cell derived from B lymphocytes – then it is categorized as non-Hodgkin lymphoma.
Non-Hodgkin Lymphoma Treatment – and Beyond
To have a better understanding of Waldenstrom macroglobulinemia, it's important to know about the functions of lymphoid tissue in the body. According to the American Cancer Society, the lymphoid tissue is made up of several types of immune system cells that work together to help the body resist infections. The lymphocytes (lymph cells) are the main cells in this tissue, and the two main types of lymphocytes are B lymphocytes (B cells) and T lymphocytes (T cells).
B cells respond to an infection by transforming into plasma cells which create proteins called antibodies (also called immunoglobulins) that help the body attack and kill disease-causing germs like bacteria. T cells, on the other hand, help direct immune responses, but they also can kill invading germs directly.
Do You Know Your B Cells From Your T Cells?
Waldenstrom macroglobulinemia begins in the B cells. When the cancerous cells create a build-up of the macroglobulin protein, symptoms of WM – like excess bleeding, problems with vision, and nervous system issues – can occur. And when the cancerous cells grow mainly in the bone marrow, they crowd out the normal cells that produce various types of blood cells. This, in turn, can lead to low levels of white blood cells making it hard for the body to fight infection, low levels of blood platelets causing increased bleeding and bruising and low levels of red blood cells (also called anemia) often making people feel tired and weak.
Ashley Monroe's cancer was initially found because of her anemia. In her Instagram post, she gave a more detailed explanation of how her diagnosis came to be.
"A few months ago my dr. was doing some routine lab work and found that I was anemic. I was like, FINE, I'll just double up on cheeseburger patties , take some extra vitamins and call it a day," she wrote. "Well my red blood count just kept falling, and they found out my iron /b12/ folic acid numbers were actually fine. short story long, they did a bone marrow biopsy, (ouch) , and VOILA.. a rare kind of blood c word called 'waldenstrom macroglobulinemia.' It's causing my body to be pretty severely anemic, and I feel it."
Faith During a Cancer Battle
Monroe has already made it clear that faith will be playing a big role during her cancer journey. In her recent Instagram post, she asked her followers to refrain from giving her medical advice but to send all the payers her way.
"I was hesitant to post about [my diagnosis], but I could use the prayers," Monroe wrote. "And I DO believe in the power of prayer guys."
For some people, turning to faith can be a great way to keep spirits high when cancer starts taking an emotional and/or physical toll.
Monica Layton, an ovarian cancer survivor, also believes in the power of faith during a fight with cancer. She turned to her church congregation for support as she battled cancer during the COVID-19 pandemic and then went through recovery.
"[I've] gone to the same church for a long time, so it's like another family that really supports me," Layton tells SurvivorNet in a previous interview. "We're Episcopalian, and when I was having surgery my priest came to the hospital and stayed and prayed with my family the whole time – and it was a long surgery. And then he came back to the hospital every day to pray with me."
Ovarian cancer survivor Monica Layton shares how her church was her biggest support system
In addition to praying for her, Layton's church also sent flowers, cards, and a prayer blanket and often visited her.
"They were so kind," Layton says. "I think my faith has been very important, crucial for me. Just the prayer really helps, I think."
Learn more about SurvivorNet's rigorous medical review process.