Finding Empowerment Amid Cancer Hair Loss
"Street Outlaws" star Lizzy Musi, 32, shares the emotional moment her fiance cuts her hair amid breast cancer treatment.
Musi revealed she was diagnosed with stage 4 triple-negative breast cancer, one of the most aggressive types of breast cancer.
Losing your hair during cancer treatment can be an overwhelming part of the journey, but Musi seems to be finding the joy in it.
Thinking of hair loss as a temporary setback rather than a permanent problem can help some women make peace with it.
Women should know that the are wigs and scarves available after you lose your hair. But if you decide to wear nothing at all on your bald head, that's OK too!
Though Discovery's "Street Outlaws" star Lizzy Musi, 32, initially struggled with the idea of losing her to breast cancer, like so many survivors can relate to, she is facing this milestone with strength. In a new video showing the loving moment her fiance cut her hair for her, it was clear she is finding joy despite the incredible challenges she's facing.
"Badass 100%…It looks good" a friend told her of her new look as she smiled.
Read More
Musi was a regular on the Discovery Channel reality TV show "Street Outlaws: No Prep Kings." The show showcases the world of street racing. She previously shared that she is battling triple-negative stage 4 breast cancer. Stage 4 or metastatic breast cancer means the cancer has spread beyond the breast to other parts of the body.
Triple-negative is an aggressive form of cancer and is considered among the hardest types of breast cancer to treat, according to SurvivorNet experts. However, good treatment options still exist for women impacted.
A woman diagnosed with triple-negative breast cancer means that on the outside of her cancer cells, she doesn't have the receptors that are commonly found in breast cancer. These are estrogen, progesterone, and HER2 receptors.
"This means that the most important way we would treat this cancerfor many patientsis with chemotherapy," says Dr. Elizabeth Comen, a medical oncologist at Memorial Sloan Kettering Cancer Center.
"It's really important to talk to your doctor about what chemotherapy options are available," Dr. Comen added.
WATCH: Treatment options for late-stage breast cancer.
Since her diagnosis, Musi has been documenting her cancer journey on social media and showing her followers what it looks like to battle cancer.
Musi had struggled with the thought of cutting her hair, saying that hair loss made her feel unlike herself. But with her fiance by her side, she bravely took the next step in her journey and even found joy in it.
In the video where fiance Kye Kelley cuts her hair, Musi gets emotional and even laughs at her fiance's hair-cutting skills.
"I ain't a beautician," Kelley said while grazing her head with hair clippers.
Musi tenses up and sheds a few tears as her fiance shaves her long blonde hair from her head. As hair strands collected in her lap, Kelley utters, "That's a lot of hair!"
"Oh my God!" Musi replied while chuckling.
Many cancer warriors undergoing chemotherapy experience this emotional moment of hair loss. During chemotherapy, hair loss usually begins about three to four weeks after treatment begins.
Fortunately, hair loss is usually temporary.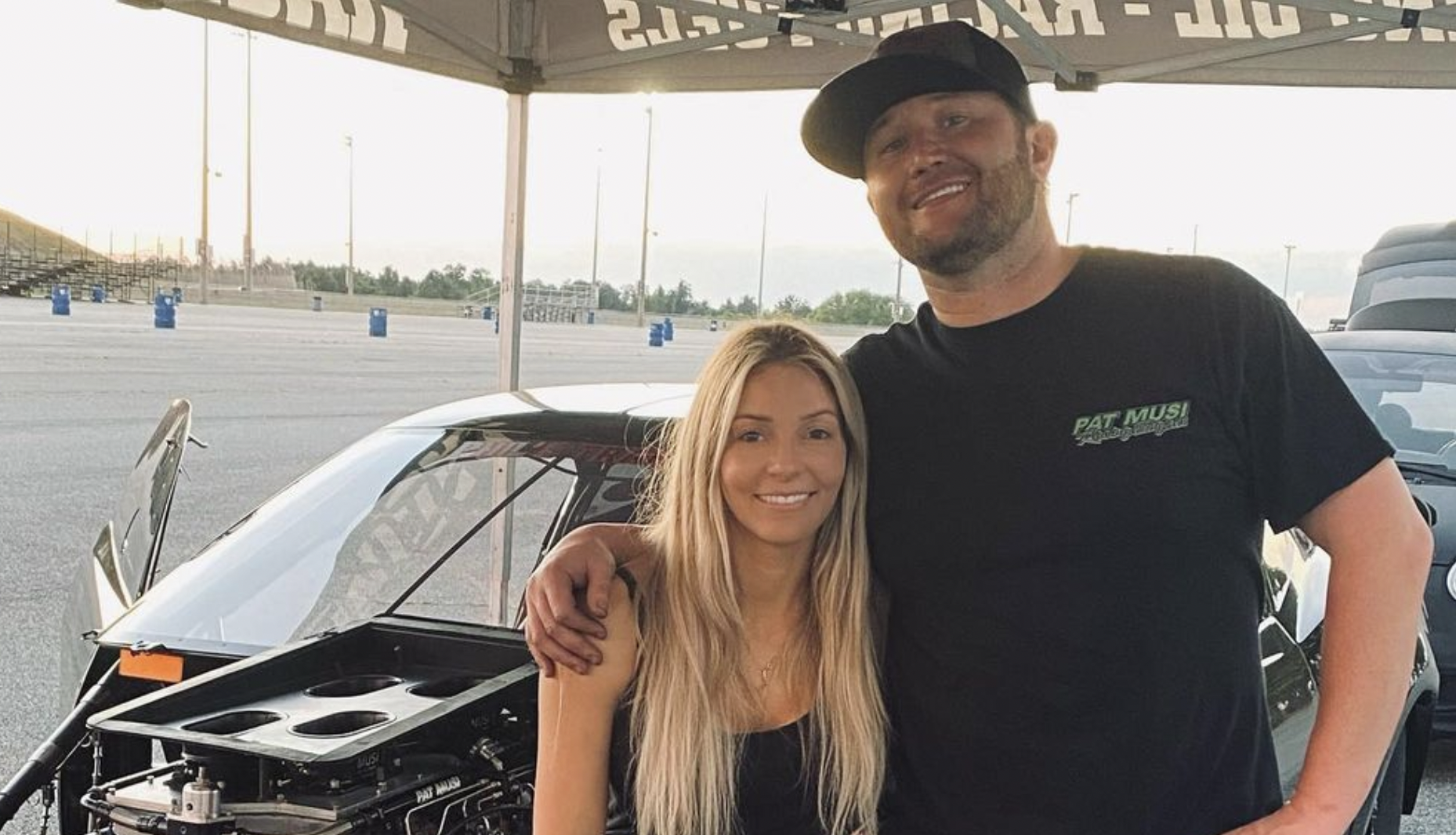 For women battling triple-negative breast cancer like Musi, in addition to chemotherapy, immunotherapy has been approved by the FDA to be a treatment option. Immunotherapy drugs use the body's own immune system to target cancer cells. In studies, this new therapy has been shown to extend the lives of women with this type of cancer.
Once Musi's head was completely shaved, she saw her new look in an adjacent mirror and laughed at how pale her head was.
While giving a light laugh, she continued to say, "I'm doing good" in the video.
Musi's supporters in the room showered her with affirmations and support.
WATCH: Chemotherapy side effects hair loss
Hair Loss During Treatment and How to Cope
Lizzy Musi is bravely sharing the emotional roller coaster associated with a breast cancer journey. The stage involving hair loss can be overwhelming for women.
"For cancer patients, losing one's hair can be unbelievably stressful. To start with, the dread of losing one's hair can lead to some sleepless nights and feelings of anxiety," Dr. Samantha Boardman, a New York-based psychiatrist and author, told SurvivorNet.
Hair loss or hair thinning is a common side effect of some cancer treatments including chemotherapy and radiation. It can include not just the hair on the scalp but anywhere on the body, such as eyebrows and eyelashes as well.
The good news is hair usually starts to regrow around four to six weeks after treatment is finished.
"If you do lose hair, it will regrow several weeks or months after treatment," radiation oncologist Dr. James Taylor told SurvivorNet. "Fortunately, for most patients, hair loss is not a concern when having radiation therapy."
According to the Mayo Clinic, there are currently no treatments out there that guarantee your hair won't fall out during or after chemo. Fortunately, there are some treatments available that can help minimize effects, including Scalp cooling caps and Minoxidil (brand name Rogaine).
Your doctor may also have treatment options that reduce the chance of hair loss.
If you are undergoing cancer treatment and hair loss is a concern, SurvivorNet wants you to know other practical options exist to carry you through this stage of your journey. Wearing wigs, hats, wraps, and scarves, among other things, are alternatives to manage hair loss.
However, some women may choose not to wear anything at all, and that is perfectly OK too.
While hair loss can be very a difficult stage to venture through, some women can consider it empowering. Lizzy Musi seems to be taking her new look in stride finding reasons to smile and inspiring others along the way.
Thinking of hair loss as a temporary setback rather than a permanent problem can help some women make peace with it.
And Dr. Boardman suggested reaching out to other survivors who have been through a similar situation if you feel comfortable doing so.
"Talk to people who have been through it, get their advice, voice your concerns to your caregiver and see what they can do," Dr. Boardman added.
Cancer warrior Stephanie Hess shared her hair loss journey with SurvivorNet. She leaned on her support group, which included her nieces, who helped her gain the confidence to rock her shaved head proudly.
They shaved their own heads to support her.
WATCH: Making peace with hair loss.
"Both my nieces never wear hats or scarves while they were bald. They just completely wandered around bald," Hess told SurvivorNet.
"Walking into that restaurant with my niece, who was bald, and I have a scarf on, and I think it really helped my kids. It helped me. It helped me not be so afraid…Find a support group," Hess continued.
Questions for Your Doctor Regarding Hair Loss
If you're facing cancer treatment and are concerned about hair loss as a side effect, here are some questions you can ask your doctor:
How long will I have before I can expect hair loss?
Is there a treatment option we can discuss that is less likely to cause hair loss?
What can I do to reduce the anxiety I am feeling over possible hair loss?
Are there any products or local wigmakers you recommend?
Learn more about SurvivorNet's rigorous medical review process.
---