From Cancer Caregiver to Cancer Survivor
When my mother was diagnosed with ovarian cancer, I became her prayer warrior
While she was still in mid-treatment, my own symptoms appeared
I asked the right questions and demanded the right tests, and I still ended up getting diagnosed late — I felt betrayed
By Annie Tolentino, as told to
SurvivorNet Staff
My name is Annie. I'm 46 years old. I've been married for 19 years, and my husband and I have three wonderful children together, ages 17, 14, and 11. We live in the East Bay [near San Francisco] with a 90-pound female American Bulldog who has a 50-pound pitbull for a brother.
Read More
By all accounts, we had been living a quiet, comfortable family life, up until the events of the last four years. Those events absolutely changed the course of our lives. They tested my strength, and my faith.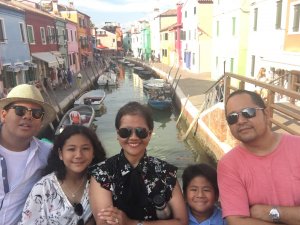 In 2016, my mom had been in and out of doctor's appointments. She had difficulty performing regular activities, and even sleeping became an arduous task due to back pain. She also thought she had a urinary tract infection, which was causing her abdominal pain and discomfort when urinating.
Related: Ovarian Cancer Symptoms Can Be Hard to Spot
She was given pain meds for the symptoms. Lab tests came back negative. Only when her abdomen started to extend was she eventually given a CT scan. That scan, and the biopsies that followed, ended up revealing stage IV ovarian cancer.
Mom's 'Prayer Warrior'
Mom's tumor was too large to remove, so the doctors decided to shrink it first with six cycles of paclitaxel and carboplatin chemotherapy. After the six cycles, she went under the knife for a hysterectomy, followed by three more cycles of chemo. I accompanied Mom to all her treatments, appointments, and hospital stays. I was her caregiver, her support system, and her prayer warrior.
The experience taught me so many things. I learned about ascites [a buildup of fluid in the abdomen], and about CA-125 levels. Through her, I got up close and personal with CT scans and infusion clinics. I learned about the proper nutrition for a cancer patient, and the realities of chemo and its side effects — both visible and invisible to the eye.
Little did I know, this knowledge and experience were in preparation for my own diagnosis.
Something Was Wrong With Me
At the start of 2016, I woke up with a sharp pain in my left abdomen. It was so painful that I had to call the doctor's office to report it. They asked me a few questions, prescribed me an over-the-counter pain reliever, and that was that. Since that morning, though, I always had that pain — never loud, always just dull, always in the background.
That summer, while my mom was mid-treatment, I sat down with a gynecologist and told her about my abdominal pain, my intermittent back pains, my now-relevant history of ovarian cancer, and my concerns about my own ovaries. I used the knowledge I gained from my mom's condition, and I asked for a CA-125 test and a pelvic ultrasound. It took some pressure and convincing before they scheduled these tests. I was told the tests were outside of the protocol for my age.
The pelvic ultrasound showed my right ovary, but it didn't show my left ovary. My CA-125 came back north of 1,900 units per milliliter (U/mL), when a normal level is less than 35 U/mL. The results were brushed aside as false positives. I was told polyps and benign cysts can trigger these results. My medical professionals were not concerned, so I also brushed my results aside, trusting the system.
Dr. Bobbie J. Rimel explains why the CA-125 antigen test is important for diagnosing ovarian cancer
Later that year, in autumn, I was convinced something was truly wrong when my abdominal pain started to get more pronounced, and I started having multiple periods. I went in and out of doctor's appointments, consulting with both my primary care doctor and my gynecologist. Between the two of them I underwent a colposcopy, cervical screen, Pap test, and an HPV test, and all came back normal. To address the extra monthly periods, I was advised to take hormone supplements, which I declined. I was told to take fiber supplements, move my bowels, and take care of my pain.
Feeling Betrayed
Another year rolled in, 2017, and my belly began to swell. I knew something was terribly wrong. I demanded a CT scan, which ultimately confirmed the cancer inside me. In February of that year, I was officially diagnosed with stage III ovarian cancer.
I was livid. I felt so betrayed, knowing that I had advocated for my body very early on, and yet ended up defeated. I asked myself, and my doctors too, "How could this happen?" I asked the right questions, I demanded the right tests, and I still ended up with the disease. In my heart I was scared for others — other women who didn't know what questions to ask, who didn't have a voice or the right information. I had all of those, and I still found myself sick and helpless.
Mom and I went ahead with genetic testing as we were advised. We were both confirmed as BRCA1-positive.
Killing the Poison Inside Me
A week after my diagnosis, my doctor performed a complete hysterectomy on me. After six weeks in recovery, and while my mom was in remission, I entered treatment for six cycles of chemotherapy. It was brutal, and I quickly realized that watching my mom go through it was very different from actually going through it myself — sitting in that chair, taking the liquid poison that was meant to kill the even bigger poison inside me.
Related: Not Your Parents' Chemotherapy: New Solutions for Nausea, Hair Loss, and Other Chemo Side Effects During Ovarian Cancer Treatment
I was grateful to have been given a second lease on life, and when I completed my treatment, my family and I went to see places we've never been. It was an adventurous remission, until my cancer returned last September. During the recurrence, the only symptom I had was the abdominal pain — and this strong gut instinct inside me that something was off. I pushed my oncologist for a scan that once again proved me right. Not long after, I was back on the operating table for a laparoscopy, followed by six more cycles of chemotherapy.
I can't recall if the initial diagnosis was worse than the recurrence or vice versa. I just know I lost myself again, and I had to look really hard in the mirror to find me.
When I finished the second round of treatment, COVID was on the rise. I had to wait before they could start me on Lynparza – a PARP inhibitor that causes respiratory symptoms similar to coronavirus.
Related: Ovarian Cancer Treatment and Diagnosis During COVID-19
Thriving
Today, I'm thriving. My last scans and MRI were all clear. My blood levels are good. My CA-125 is under control, and I'm living my best life considering this odd time in our history.
My own 'prayer warriors' helped me get through ovarian cancer treatment
My mom, on the other hand, wasn't as fortunate. Her cancer came back after being in remission for only a year. The return was fierce, and there was nothing that her medical team could do for her. The tumor latched onto her liver, and it spread like fire.
We spent New Year's Day of 2018 at the hospital, hanging on to a miracle. Eleven days later, she passed on, in my home, holding my hand, while we shared our final prayer together. I was with her during her final breath, and I was broken, but I also knew there was a reason and a purpose for that moment, and for the battle that we shared. Whatever it was, I know it will unveil itself in time.
If I can leave one thing, and only one thing — it would be this: "God bandages the wounds He makes; His hand hurts you, and His hand heals." I'm a living example of that.
Learn more about SurvivorNet's rigorous medical review process.