Wildly popular Denver television meteorologist Kathy Sabine, 57, is sounding the alarm about skin cancer from the sun.
The fair-skinned brunette recently had cancer removed from her nose and has been sharing her recovery journey as she advocates for others to protect themselves.
Read More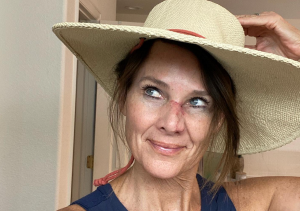 "Oh it feels so good. Boost your spirits, your mood, and vitamin D is actually good for you," she wrote on Twitter with a picture of herself standing in the shade against a building and another picture of an information flyer about ultraviolet rays.
"But this is how the sun's rays can harm you. Skin cancer in Colorado is real!"
Oh it feels so good… boost your spirits .. your mood ..and vitamin D is actually good for you… But…this is how the sun's rays can harm you… skin cancer in #Colorado is for real! Get the [email protected] 😎 pic.twitter.com/fU3nS40NEh

— Kathy Sabine (@KathySabine9) August 30, 2022
Sabine added, "Get the facts. @skincancer.org.
Sabine's loyal fan base has been cheering for her recovery and praising her for boldly posting her progress.
In August she wrote, "It's been six weeks since the surgeries and hey! the nose is coming along! Nice to be able to wear makeup and hide the scars a bit."
It's been six weeks since the surgeries and hey! the nose is coming along! Nice to be able to wear makeup and hide the scars a bit..still a long way to go but back to life back to work back to baseball back to happy ..hope you all are as well😊❤️👍🏻 #GeTTheFacts @SkinCancerOrg pic.twitter.com/wFNPUEQB7t

— Kathy Sabine (@KathySabine9) August 21, 2022
In response, the TV forecaster received tons of sunny comments.
"Such progress!! So glad you shared your story. I was at my annual skin check today and had to have something burned off my nose," one follower wrote in July. "I've had a red spot there for a few months and it was potentially gonna be bad down the road. I told my doc how brave you were sharing your journey."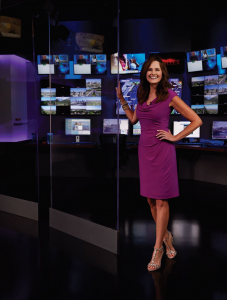 Another follower commented on Sabine's life-saving advocacy.
"So brave of you to share this process with us! Thanks! Your beauty is more than skin deep," the follower wrote. "This just another reason that I am a fan. Be well and remember: scars fade with time. True beauty comes from the inside and It never fades."
A third fan simply wrote: "Beautiful inside and out as usual."
Treating Skin Cancer
Surgery for skin cancer is a step by step process.
It involves a surgeon examining the affected tissue under a microscope, and then if cancer is found, the surgeon goes back and removes the tissue.
Dr. Sumaira Aasi, Professor of Dermatology and Director of Mohs and Dermatologic Surgery at Stanford says such a surgery has multiple benefits.
"You're able to remove a very conservative margin around the cancer and study it in essentially real-time," explained Dr. Aasi.
Related: Popular Denver TV Weather Woman, 57, Invokes Beth Dutton Of 'Yellowstone,' Shows Off Her Face Scars As She Bravely Beats Skin Cancer
By making the tiniest cuts and evaluating them microscopically, the surgeon knows for certain that all the cancer has been removed once the last piece of tissue shows up as clear.
The surgery is often done as an outpatient procedure with local anesthesia.
Kathy's Skin Cancer Journey
Sabine acknowledges that the photos she has shared of her skin cancer surgery wounds are graphic, but says she feels it's important to expose people to the possibilities of what could happen to them.
Like many others, Sabine never thought skin cancer would happen to her.
She's an avid sunscreen wearer and considers herself to be a relatively cautious person when it comes to sun exposure.
Related: 'I Couldn't Look In The Mirror!' Acne Scar And Skin Cancer Left Horrific Hole In Woman's Nose That She Bravely Conquered With Multiple Surgeries
The TV meteorologist had two scheduled operations: one was a Mohs procedure to remove the problem area, followed by plastic surgery that reconstructed her nose using her ear cartilage.
Mohs surgery is a microscopically-controlled surgery where thin layers of skin cancer tissue are removed until the surgeon reaches clear tissue.
Mohs Surgery Removes Skin Cancer With Smaller Incisions and More Certainty
The Skin Cancer Foundation estimates more than 5 million cases of skin cancer are diagnosed in the United States every year, making it the most common cancer in the country.
Skin cancers more commonly occur on parts of the body that tend to get more sun  — namely the face, head, neck and arms.
But the cancers can develop anywhere on the body – including places like the bottoms of your feet, your genitals and inside your mouth.
Top 5 Ways to Protect Yourself from the Sun
Dr. Dendy Engelman, a board certified dermatologic surgeon at Shafer Clinic Fifth Avenue, previously spoke with SurvivorNet about how to best reduce your risk of developing skin cancer. Here are her top five ways to try to avoid the disease:
Avoid sun during peak hours: 10 a.m. to 2 p.m.
Wear a wide brimmed hat and sunglasses to protect the tops of our heads, the tops of our ears and the delicate area around the eye.
Wear at least SPF 30 sunscreen and make sure to reapply every two hours or after excessive sweating or swimming.
Have yearly skin checks (with a professional) because it's difficult to evaluate areas all over the body
Avoid tanning beds. There are no "good" tanning beds, and they can significantly increase your risk of skin cancer.
And though the upcoming summer months may require extra skin protection, it's important to remember that you are, in fact, at risk of developing skin cancer all year round.
"My patients ask me all the time, 'Do I really need sunscreen every day, all year round?' The answer is yes," Dr. Engelman previously told SurvivorNet.
"People think they only need sun protection when they're in the bright, warm sunshine. But the reality is, we can get sun damage at any time throughout the year, even in the cold, wintry months. Think about when you go skiing. That's a very high risk. Even though it's cold, our skin should be protected."
Learn more about SurvivorNet's rigorous medical review process.
---