Cancer survivors deal with a deluge of medical paperwork, but instead of letting it pile up, one incredible woman, Jennifer Beyer, did something remarkable instead: Turned it into wearable art.
The 45-year-old breast cancer survivor from Fort Worth, Texas, who spoke with SurvivorNet about her journey, then went one better — she debuted the gown the day after she'd had surgery to reconstruct her breasts.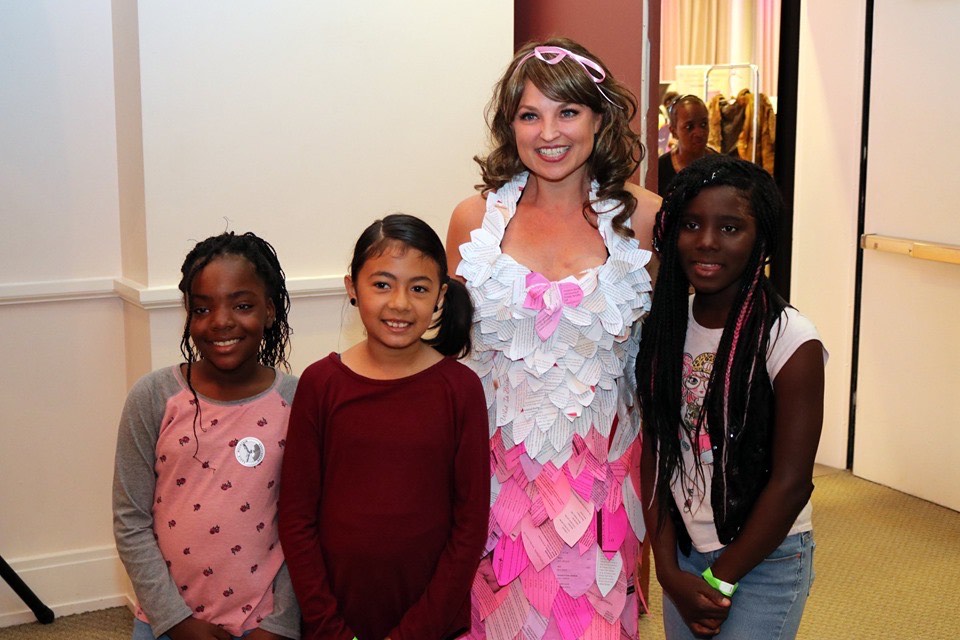 Read More
"[My doctor] looked at me like I was crazy," she says with a laugh, recalling their conversation before the operation. "He was like, 'You want to wear this
tomorrow
?'"
The exquisite dress also included pieces from the articles and information she had read about breast cancer. She cut all the papers into ovals, then dyed them different shades of pink (the color of breast cancer awareness) and made a gown using hot glue.
"It was a little hard to get into a paper dress, and a little harder to get back out of it, I learned," Beyer says with another laugh. "I had to wear a slip beneath it because if you wear paper and you get a little warm, you could be in trouble."
An accessory to complete the look: Beyer wore her hospital bracelet.
Beyer's Story in Dress-Form
Beyer says her creation was also her way of sharing her journey publicly for the first time. Since her original diagnosis about a year prior, the professional event planner — who is also a classically trained ballerina — says she didn't want people thinking she lacked the needed energy for jobs.
"I only told those who were closest to me," Beyer says. "I didn't want people to look at me differently."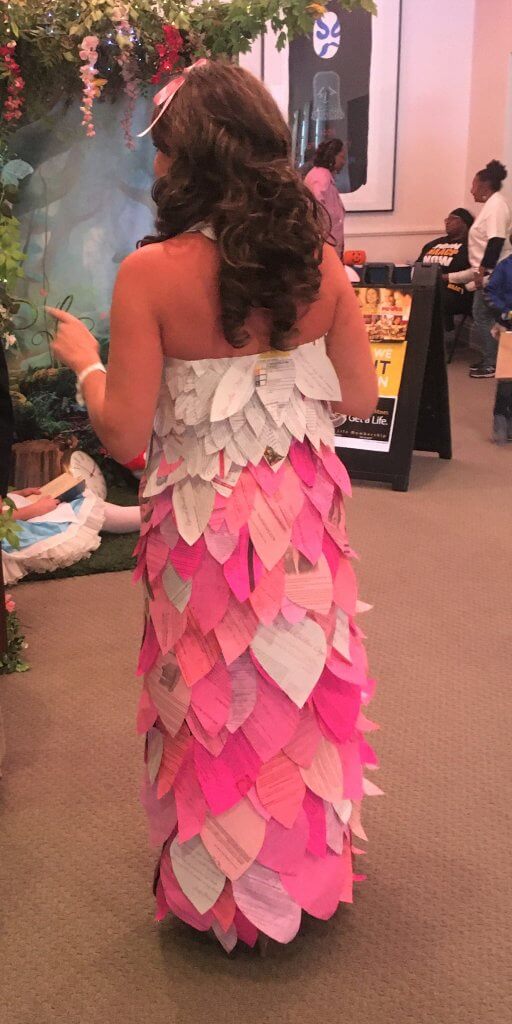 But the dress, debuted at the Fort Worth Bookfest this past October, was the bold gesture she felt ready for.
RELATED: "I Came Around to the Sharing" — How Football Legend Jim Kelly Realized that Sharing His Cancer Story With Others Was More Valuable Than He Ever Imagined
The Bookfest, an exposition of cross-cultural authors selling their books and book related materials, and which includes talks and special activities the younger visitors, attracts a lot of children.
"So, at first glance, when the children saw the dress, they thought it was just a cool costume," Beyer says. "And then when they got up close, they noticed, 'Oh, it's made out of paper, how cool is that?' The little girls loved the dress, and I just asked them, 'Do you know what this dress is about?'"
The girls examined the dress, Beyer says, and one finally said, "'You have breast cancer.' Her face got sad for a minute, but I was still smiling, and I said, 'Yes, I have breast cancer, and this is the story of it. But I'm doing fantastic.' And then we laughed and we joked and we hugged."
The overall reactions, Beyer says, mostly followed the same pattern: confusion, followed by sadness, then awe.
RELATED: How I Made It Through Cancer: Painting & Dreaming
"At first, when you tell someone you have cancer, they don't actually know how to react," Beyer says. "But once they realized I was smiling and still talking, then they were smiling, too. They thought it was super cool."
The Story Travels
After the Bookfest, photos of Beyer's dress began to circulate and several old friends of hers reached out to share that they, too, had had cancer, and were inspired by Beyer's creative method of sharing.
"They were thanking me for sharing my story, and it was interesting," says Beyer, who says she has several scans to go until she can say she's cancer-free, "it actually reconnected us."

In general, the outpouring of support since debuting her dress has been incredible, she shares. Beyer, a single mother, also says she's received amazing support from her children throughout her entire journey
In a post on Facebook, Beyer's 22-year-old son, Cameron Havens, took a moment to share some thoughts about his mother's strength and creativity.
"I have to take a moment to brag on my mom," Havens wrote. "She is the definition of strength and selflessness. This past year has been a test for my mom and my whole family, but never once have I seen her crumble."
Beyer is not alone in having struggled with sharing her cancer journey at first. Members of the SurvivorNet community often say that deciding when and who to tell about their diagnoses is one of the most challenging parts of the experience. Breast cancer survivor Marquina Iliev-Piselli, for instance, told SurvivorNet, "you have to relive your story over and over again [when you share it]. People on the end are crying, and you're like, I'll be OK."
Breast cancer survivor Marquina Iliev-Piselli spoke with SurvivorNet about how deciding when and who to tell about her diagnosis became a burden .
Ultimately, Iliev-Piselli — just like Beyer — chose her own unique way to share her journey: she created a blog, where she would post updates about her treatment.
For some it's a blog or social media, for some, it's not telling at all, and for some, it's a beautiful, pink and white, medical paperwork-crafted dress.
Learn more about SurvivorNet's rigorous medical review process.
---