The loss of a longtime friend is especially devastating when that friend is also a fellow-cancer warrior. Shannen Doherty shared her ongoing grief Sunday in a touching remembrance of Deborah Waknin-Harwin on Instagram. The pair met 28 years ago, forming an "instant friendship" Doherty wrote when Waknin-Harwin died in late March. "She was a constant.
RELATED: Shannen Doherty's Touching Tribute to Beloved Fellow Cancer Warrior
Read More
Thru my cancer and I for her when she got diagnosed 4 years ago," Doherty wrote then. "She smiled, a lot. She radiated beauty, intelligence and goodness. She was and is wedged into my heart so deeply. We were more than best friends. We were sisters."
View this post on Instagram
The relationship began around 28 years ago, when Waknin-Harnin, a fashion stylist, "made me squeeze into very tight red patent pants." Doherty conceded that, her clothes-savvy friend, "taught me that when she dressed me, I looked better."
RELATED: 'You All Help Lift Me' — Shannen Doherty Posts Emotional Message of Gratitude After Her Breast Cancer Diagnosis
As their relationship deepened, Doherty said, "I was her maid of honor at her wedding to the love of her life Craig. We cried when she called to tell me she was pregnant with her extraordinary daughter Olivia." There may be another reason Doherty treasured the friendship: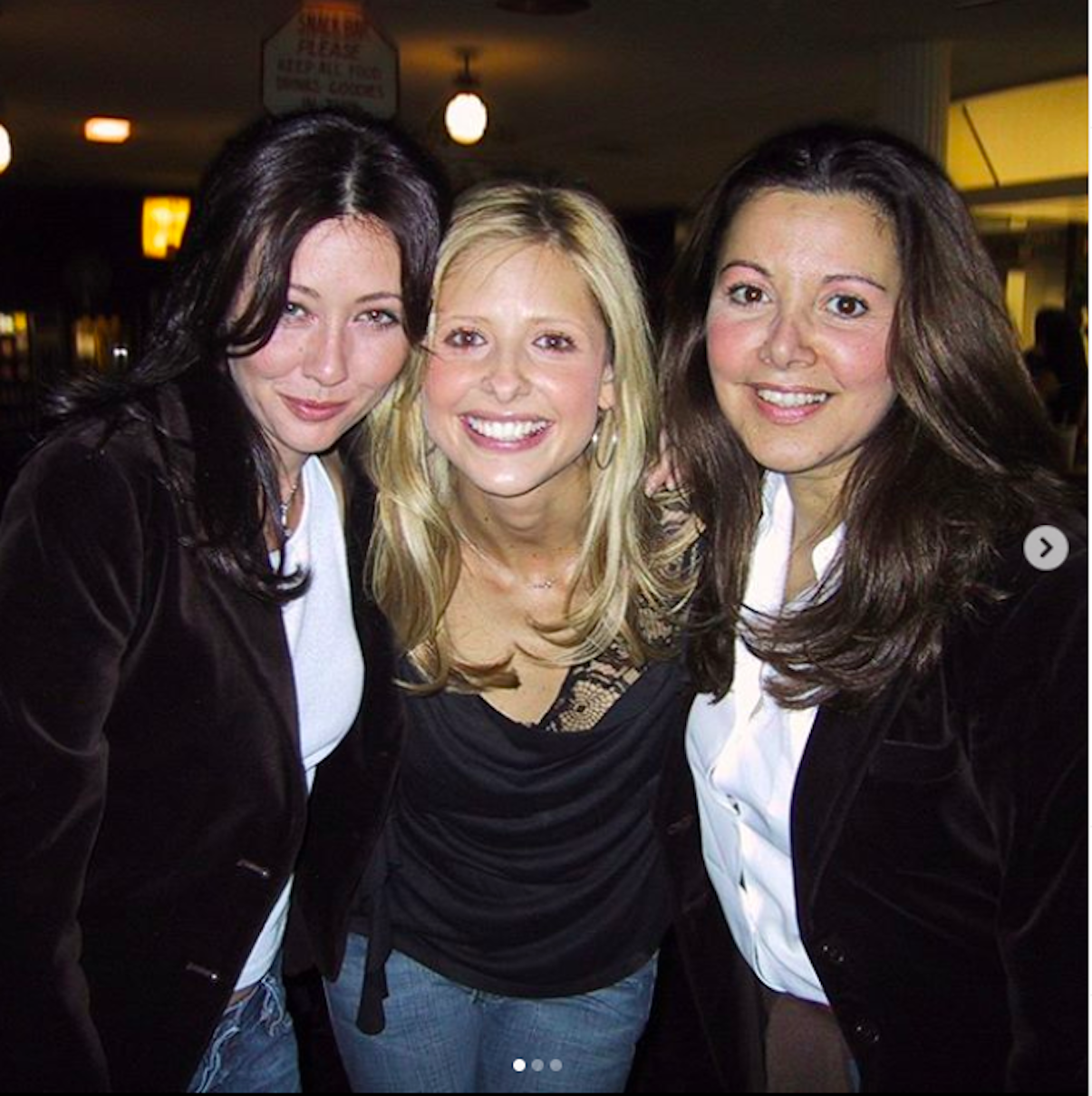 "You two were always there to guide me," Sarah Michelle Gellar said of Shannen Doherty, on losing their mutual friend Deborah Waknin-Harnin.
While it's no surprise that friends can become tongue-tied when talking about cancer, many in the cancer community report that some people they once considered friends stopped speaking to them altogether.
RELATED: 'Cancer Ghosting' Is Real — Many Survivors Say Friends Suddenly Disappear After a Diagnosis
The phenomenon, known as cancer ghosting, is real: Informal research conducted by War on Cancer, a social networking app for survivors, found that 65% of surveyed survivors said they had friends or relatives who cut contact or pulled away from them after they were diagnosed.
Shannen Doherty's First Breast Cancer Diagnosis
Doherty was first diagnosed with breast cancer in 2015. Early efforts to treat her cancer without a mastectomy or aggressive treatments were not enough, and the cancer spread to the lymph nodes. In response, the actress underwent estrogen therapy treatments, a mastectomy, chemotherapy, radiation, and surgery before announcing she was cancer-free in 2018.
RELATED: 'We Got This Kiddo' — Shannen Doherty's '90210' Family Continues to Shower Her with Love After Cancer Diagnosis
At the time, she acknowledged that the treatment had caused her to enter menopause, making pregnancy impossible without taking hormone pills. She decided against it due to fear that estrogen levels can increase the chance of cancer returning.
Living With Late-Stage Breast Cancer
She received her new diagnosis — stage 4 — over a year ago, but opted to keep the news private while filming the "90210" reboot (since canceled). Doherty went public with her stage 4 diagnosis in a Feb. 4 interview with ABC's Amy Robach, herself a breast cancer survivor, "I definitely have days where I say, 'Why me?' And then I go, 'Well, why not me? Who else? Who else besides me deserves this?'" Doherty said. "None of us do."
RELATED: Shannen Doherty's Sisterhood Rallies Around Her Following Stage 4 Breast Cancer Diagnosis
Stage 4 breast cancer means that your cancer has metastasized and is no longer regionalized to the breast. While treatable, this cancer currently has no cure. While we don't know the specifics of Doherty's breast cancer, treatment options include hormone therapy, chemotherapy and targeted drugs. Sometimes surgery and/or radiation is considered. The goal is to keep you as stable as possible, slow the tumor growth and improve quality of life.
Immunotherapy Inspiration: Judy Perkins
Anyone battling metastatic breast cancer will want to know about Judy Perkins, the first person to be declared free of metastatic breast cancer after a course of immunotherapy. In the world of clinical trials, Perkins is known as an exceptional responder.
In 2003, Judy was diagnosed with early-stage breast cancer and had a mastectomy. In 2013, the breast cancer back – and this time it was metastatic.
Judy Perkins is the first person to be declared free of metastatic breast cancer after a course of immunotherapy.
Standard treatment was not working and in 2015, Judy learned of an immunotherapy trial at the National Cancer Institute which is part of the National Institutes of Health in Bethesda, Maryland.
RELATED: Shannen Doherty Gives Update Amid Cancer Battle: 'Taking Care of Myself and Embracing Every Day'
Doctors removed some of her immune cells, identified the ones which could recognize the cancer and then harvested those in the lab. Several months later the cells were infused back into her body to attack the tumors. Judy has been cancer-free since 2016.
RELATED: "I Want to be Part of Finding the End of Cancer!" Olivia Newton John On Life With Stage Four Breast Cancer
"I feel like I'm cured and I'm not really looking behind me and waiting for it to come back. I've had a different treatment than people who have any residual disease. So I'm not worried about mine coming back, not that it couldn't, but that's not really where my focus is," Judy told SurvivorNet in an interview about life after her illness.
Dr. Steven Rosenberg, Chief of Surgery at the NCI is a pioneer in the field of immunotherapy
The experimental approach is called adoptive cell therapy, and while it is showing great promise, it's important to note that it doesn't work for everyone.
RELATED VIDEO: What's Next for Breast Cancer and Immunotherapy?
Judy was one of the first patients "to teach us that by carefully looking at (her) body's immune cells, we could identify cells that uniquely recognize her cancer and by growing them in a lab and giving her enough of them we could actually cause the cancer to regress completely," says Dr. Steven Rosenberg, Chief of Surgery at the NCI and a pioneer in the field of immunotherapy.
Learn more about SurvivorNet's rigorous medical review process.
---