Big Brother Steps Up To Cancer
Anthony Donahue knew all too well what it was like to grow up without his parents. His father abandoned him when he was just an infant, and his mother struggled with substance abuse. So when his sister Gianna was similarly abandoned he raised her himself despite being a teenager.
Gianna battled cancer at age 10 and won, but in 2019 she suffered a stroke caused by glioblastoma. She stayed positive and kept up hope but there was little doctors could do. In the wake of her passing, Donahue said: The second cancer they basically said [Gianna] had no chance, and she never complained. She never complained
The standard of care treatment for a glioblastoma patient usually consists of a surgical resection followed by radiation therapy and chemotherapy.
"It gave me a purpose that I never thought I'd ever have in life."
Those are the words of a remarkable young man who raised his sister and helped her through two battles with brain cancer in their parents' absence.
Read More
Anthony Donahue knew all too well what it was like to grow up without his parents. His father abandoned him when he was just an infant, and his mother struggled with substance abuse throughout his life.
The Bronx native's grandparents raised him for most of his life.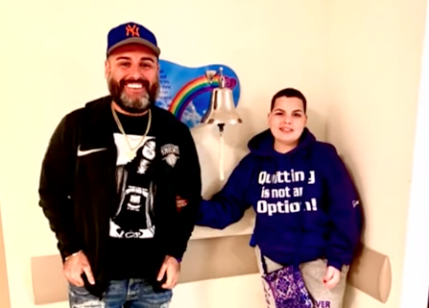 Big Brother Steps Up To The Plate
When he was 14, his mother had another child, a daughter Gianna. Much like his own situation, Gianna's father abandoned the girl, and their mother struggled with substance abuse.
Donahue then decided that he would raise Gianna, even though he was just a teenager.
It was the best possible arrangement for the brother and sister, and Donahue proved just how committed he was when doctors diagnosed Gianna with brain cancer.
She was ten at the time, and Donahue was only 24 himself. But he used every tool at his disposal to help his sister beat the disease, and by 2012 doctors declared Gianna cancer-free.
To celebrate the news, Donahue managed to reach out to various New York Knicks basketball players, including Justin Lin and Amar'e Stoudemire, who all recorded messages congratulating Gianna.
The cancer stayed at bay for the next seven years until October 14, 2019, when Gianna suffered a sudden stroke. Doctors soon informed Donahue that his sister had glioblastoma.
Brother Helps Sister Through Stroke And Cancer Battle
The siblings kept up hope as Gianna tried to recover from her stroke while also beating the same aggressive form of cancer that took the lives of Sen. John McCain, Sen. Ted Kennedy, and Pres. Joe Biden's oldest son Beau.
Gianna did not make it in the end, and this week Donahue spoke about his loss while appearing on The Doctors.
He also spoke about the strength he drew from his sister during both of her battles.
"It was hard. It was emotionally hard. There was a lot of tears, a lot of struggle, but I never had any doubts," he said of that first cancer battle.
He felt different the second time around because of his sister's approach to her diagnosis and how she insisted on living each day.
"The second cancer they basically said [Gianna] had no chance, and she never complained. She never complained," said Donahue.
Gianna even took to wearing  a special hoodie when she went in for treatment that read: "Quitting Is Not An Option."
Donahue said that his sister also "never talked about death" in the final months.
"So we never talked about it," he said. "We just live, and we made every single moment count."

Brother Loses Sister
The pain has only intensified, though, he said, since his sister passed away just over a year ago.
"My pain; It might even be worse now than it was a year ago," he explained.
"Right now, we're doing the things we love, whether it's sporting events, concerts. She came with me to all that stuff. And now I'm back living, and I almost feel guilty at times."
He said it was particularly difficult to see the Knicks, the one pastime they cherished most of all during Gianna's life.
"On opening night, I was there, and I had a big event. I brought a big group of people. She was always at all my events," said Donahue.
"And I woke up the next day, and I felt so sad. And I felt so guilty for having one of the best nights of my life in the Garden. And I felt so guilty about it."
He then noted: "But I know she would not want that."
Gianna would have wanted him to live his life much like she did her own, without fear or worry.
"Like imagine doing chemo, radiation, and physical therapy and just being like, 'what's for dinner?'" he said of his sister's attitude in her final months.
"She was absolutely incredible."
Related: Cancer Caregiver, 51, Told Panic Attacks Were Due To Stress For 11 Years Is Actually Battling Brain Cancer(Opens in a new browser tab)
Being a Caretaker For Your Child, Brother, Or Sister
After Tara Lassard was diagnosed with stage IV ovarian cancer in 2015, her mom became her caretaker, much like Anthony cared for Gianna.
In an interview with SurvivorNet, Lassard explains how it impacted the relationship between the two and the emotional and physical toll on her mother.
"It's a really hard thing to navigate. I think, specifically the beginning, it was an uphill battle trying to help me through what would have been pain relief, and that sort of a fight that it got to be a difficult place to navigate in a relationship," recalls Lassard of the transition from a mother-daughter relationship to a caretaker-patient relationship.
"I think that after a while, her ability was to see me as a patient, and that were the conversations we were having, later on, is that somewhere along the lines, I just transferred in her mind to the patient that she had to care for, rather than her partner and somebody that would be equal in a partnership."
What Happens When a Family Member Becomes a Caretaker
Lassard is also quick to note that she is well aware of her mother's extraordinary sacrifices on her behalf.
"I see now my mom has been my caretaker, and I see love through her and what that looks like when it's the love of a parent versus the love of a partner, and I just say that it's a difficult place to be as far as a caretaker, that it's often a thankless job," Lassard points out.
"It's a 24/7 job. Anytime the phone rings and she sees it's me, she thinks it's the worst thing. Largely, I am so grateful that I have her there just to notate everything that happens. We go over things in detail. Her life's been put on hold for the time being when I'm in treatment. She's with me."
This is why Lassard thinks there needs to be more help and resources available to those who give up so much to care for another.
"I'm an advocate now, as a cancer patient, for caregivers," she says. "That they have ways that they're able to get their help and try to navigate through what that looks like with their friends and partners and kids."
Husband Documents His New Role as Wife's Caretaker
Battling Glioblastoma
Gianna is one of the many people who, despite a brave fight, could not conquer glioblastoma, the most aggressive form of brain cancer.
But Dr. Henry Friedman, a neuro-oncologist at Duke Cancer Center, previously told SurvivorNet there is hope. Dr. Friedman is a top brain researcher in the U.S.
Related: John McCain & Joe Biden's Son, Beau, Both Died From Glioblastoma; Progress in Treating the Disease Is Slow, but Now There's a Glimmer of Hope
Dr. Friedman and his Duke colleagues are investigating a new therapy that combines the modified poliovirus and immunotherapy to treat glioblastoma. "The modified poliovirus is used to treat this tumor by injecting it directly into the tumor, through a catheter. It is designed to lyse the tumor and cause the tumor cells to basically break up," he told SurvivorNet.
"I think that the modified poliovirus is going to be a game-changer in glioblastoma," explained Dr. Friedman, "but I should also say that its reach is now extending into melanoma soon to bladder cancer."
"Therapy Saved My Life": After Losing A Loved One, Don't Be Afraid To Ask For Help
Understanding the Standard of Care for GBM
The standard of care treatment for a GBM patient usually consists of a surgical resection followed by radiation therapy and chemotherapy.
A neurosurgeon will try to take out as much of the tumor as possible without causing any damage to critical brain structures.  In some situations, the surgeon can only remove a portion of the cancer. The goal, in both cases, is to remove the tumor in the safest way. After surgery, patients get time to heal and regain their strength, usually during four to six weeks of recovery.
Related: Singer Tom Parker, 32, Shares Tremendous Update On His Brain Cancer Battle: His Tumor Shows 'SIGNIFICANT REDUCTION'
The next step is to start radiation therapy and chemotherapy. Most patients who need radiation therapy will have external beam radiation therapy, which is usually given every day (Monday – Friday) for six weeks, for a total of 30 treatments. Chemotherapy consists of a drug called temozolomide (also called Temodar) that is given daily with radiation. Unlike other chemotherapies, Temodar is a pill that is taken daily and does not require an IV or port placement. After radiation, patients will get additional chemotherapy using Temodar for six months or more, depending on how they tolerate the medication.
Related: Fighting Brain Cancer With Electric Fields — What is Optune?
Some physicians may also use a device called Optune, which goes on a patient's head. Several electrodes are attached to the patient's scalp to deliver an alternating electrical current.
Another option is to enroll in a clinical trial.
Learn more about SurvivorNet's rigorous medical review process.
---