Cancer's Life Lessons
Actor Cameron Mathison, 52, didn't know what renal cell carcinoma was when he learned that his life was on the line. After years of fatigue and stomach problems, Mathison finally got an MRI that revealed a cancerous tumor on his kidney.
When the actor had his tumor removed, the doctors did not find any indication that the cancer had spread, and he didn't have to go through chemotherapy or radiation. Even without those treatments, Mathison was surprised by how long it took him to bounce back after his surgery.
Now, Mathison wants to use his story to encourage others to take their health seriously and get to the bottom of it when they have suspicions that something could be wrong with their body.
With another all clear report on his most recent cancer check up "it would be easier, cleaner, to just move forward, to let a more difficult time go," instead actor Cameron Mathison is fighting to keep it front and center as a guide for how to live his life.
"Unfortunately I put it out of my mind most of the time. I say,  'Unfortunately' because I think it's important to remember what I went through and how scary it was," says the beloved former All My Children star, who recently joined the cast of General Hospital. "I try to stay mindful about how incredibly lucky I am and to help others as much as I can."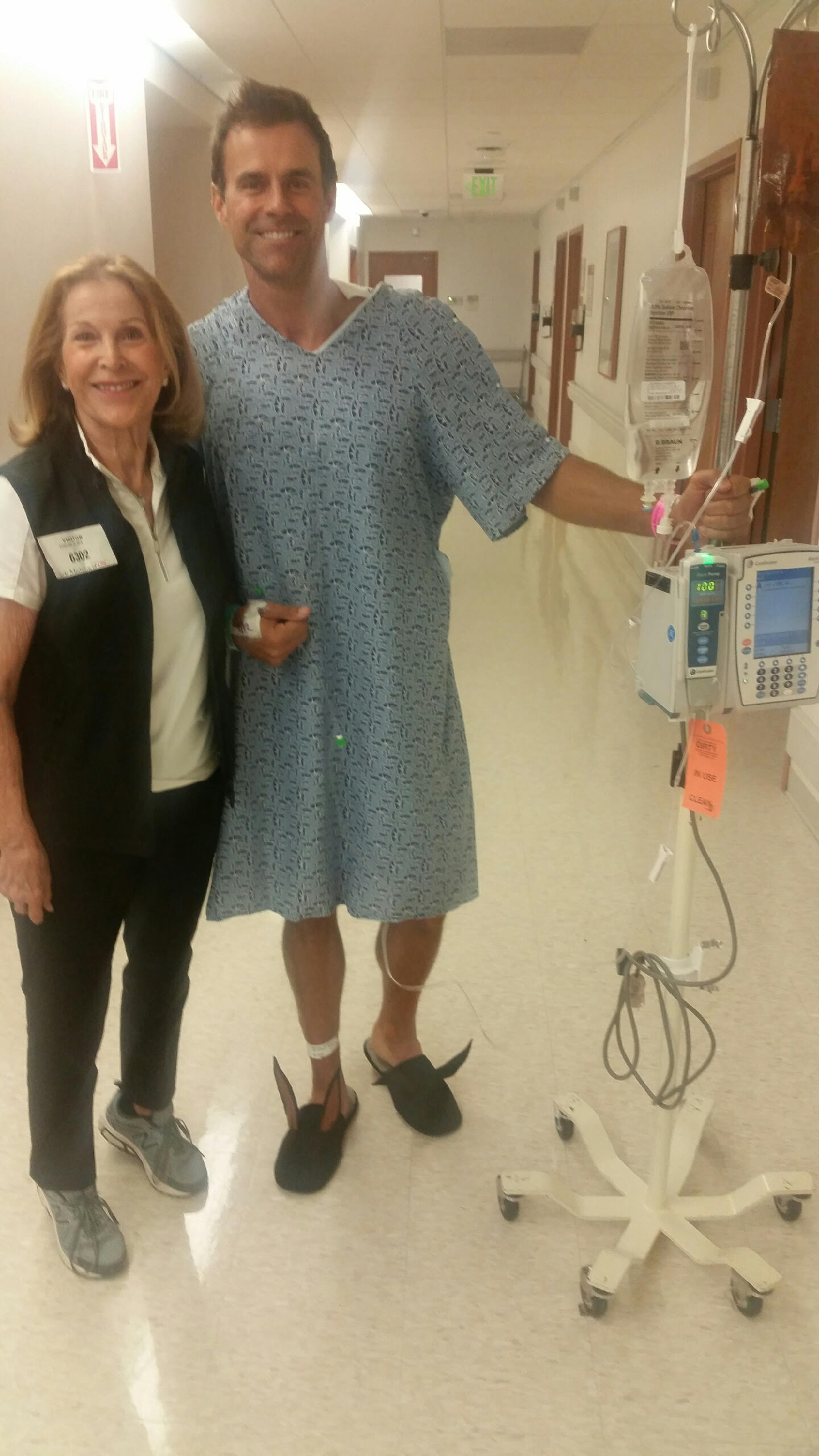 Mathison's Cancer Journey
Read More
It was just two years ago that the then 50-year-old co-host of the recently ended
Home & Family
Hallmark Channel talk show,  was diagnosed with renal cell carcinoma.
"I didn't know what that meant when I got the phone call," recalls Mathison. "I had no idea what kidney cancer would have meant as far as life expectancy or success. I didn't really know if it had spread to either the lymph nodes or some of the common areas."
What Mathison did know was that for a long time something was off with his health and he had, in fact, first asked for that MRI  — which ultimately detected a tumor on his kidney —  two years earlier when he was struggling to find the cause of symptoms such as fatigue, a distended lower abdomen and uncomfortable gut issues.
After being told she was "too young" to have ovarian cancer before being diagnosed, survivor Lisa Mitchell says, "You know your body–listen to it."
For himself and his wife and two teenagers the diagnosis  "was really scary".
"My wife's dad passed away from cancer, multiple myeloma, it was PTSD for her, finding out. We were shell shocked. I was known as such a healthy guy. There was so much confusion around that:  If I can get kidney cancer, we got to try and figure out how it all came to be. The kids were really kind of hit hard.  I worried about how they were dealing with their stress. We kind of recognized that and talked through it. We've really grown closer as a family, and I think they learned about themselves through this experience."
The Ontario native looks back on the years leading up to his diagnosis as a cautionary tale.  "I had things like severe acid reflux, fatigue that I was covering up,"  he recalls. "I didn't know that I was wreaking havoc on a lot of my hormones and cortisone levels, all those things because I was jacking up on coffee to overcome the fatigue. I was not getting enough sleep. I took pride in only needing five hours of sleep and working like a madman. All these things over time are going to wear you down."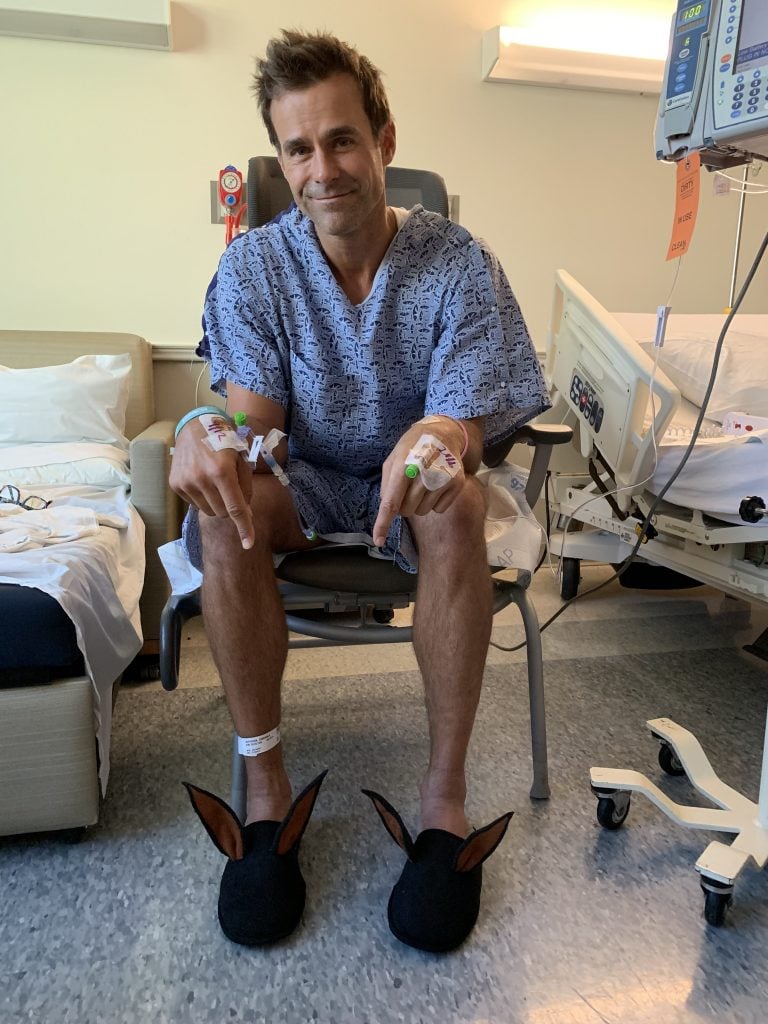 Mathison's Takeaways
As Mathison felt his symptoms becoming more problematic, he began a deep dive into trying to figure out the root causes.
"In a very motivational and positive way,"  Mathison, who co-stars with Jennie Garth in A Kindhearted Christmas, debuting Nov. 20,  now urge others to "be your own best advocate for your health…. We don't realize half the time when something is not really working with our body, we just get used to it.
"Before I started freaking out and begging for an MRI,  I started monitoring [my body's systems] by doing regular testing and blood work, hormone tests. Our preventive medicine should be really what we focus day in and day out on instead of just treating these ailments that come up because it makes it so much harder to have success with it."
Dr. Geoffrey Sonn of Stanford discusses how important it is for some cancer patients to get a high-quality MRI.
After meeting with "an incredible doctor at USC here in L.A., literally the leading doctor in the world in renal cancer,"  Mathison went in for surgery just a couple weeks after the MRI to remove the tumor.
"We found it hadn't spread anywhere that we could see. I didn't have to do any radiation or chemo. I was feeling very fortunate," he says. "The recovery from the surgery — I was just very naive. I thought I would be able to bounce back and be back at work right away, but man it took a lot out of me. I'm so grateful that I didn't have to go through the whole chemo/radiation journey. I've met so many cancer patients that tell me that is the hardest part."
After his diagnosis, Mathison discovered there were "many more pieces of the puzzle" that might have led to his cancer. "I'm on an ongoing health journey,"  he emphasizes, including finding out about the "incredibly high levels of environmental toxins and mold infestation"  in his body.
"High toxicity is a common thread through almost all cancers and is a major contributing factor. I used a specific drug for my acid reflux that is directly correlated to my kidney cancer in particular," Mathison says. (In 2019, the FDA announced that Zantac (ranitidine) was found to contain low levels of N-nitrosodimethylamine (NDMA). NDMA is an environmental contaminant, a probable human carcinogen. After manufacturers issued Zantac and ranitidine recalls, the FDA told all manufacturers to stop selling the drug in the United States in April 2020 because of NDMA. There are pending lawsuits from cancer sufferers.)
The doctors have told Mathison that his self awareness likely helped his good outcome, especially given the fact that the tumor was growing slowly for the estimated last eight to twelve years. "It didn't have the energy to spread," he says. "Of course, I'm not trying to oversimplify it, obviously it still might. I'm realistic about that, but I'm just doing what I can to really be on top of things."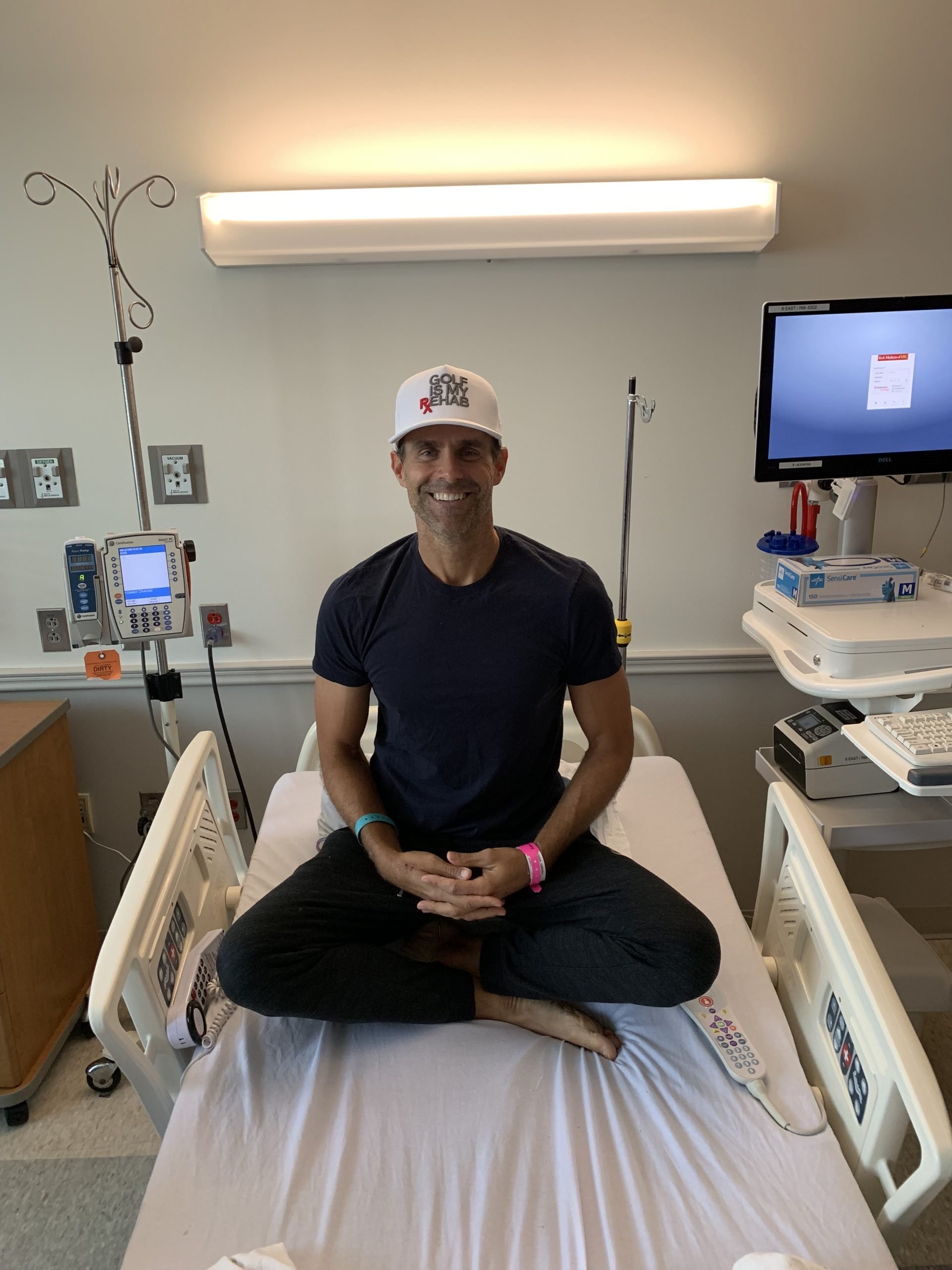 Moving Forward With a New Idea of Health
After the diagnosis and surgery, Mathison has redefined his idea of the healthiest diet and fitness routine.
"I was going to extremes to look aesthetically in shape and that can be taxing on your body," he says of his pre-cancer regimen.
Now he's taking rest days from working out; doing yoga; eating more carbs, making sleep a priority and reducing the stress in his life.
"I'm making more of an effort to try to meditate in the mornings and before bed, maybe little breaks throughout the day. I was a very low carb guy for a long time.  I also was a big intermittent-faster. There's a lot of really great research as to how that's healthy, but being low carb extreme and fasting to the extreme puts your body under stress," says Mathison, whose new Florida-based health and fitness coach has helped him see things in a new light. "I'm leaner and stronger than I've ever been with more energy."
Stress relief will continue to be important for Mathison as while his own personal health is on an upswing, his 79-year-old mother Loretta Mathison, has been battling brain cancer since January 2020. "She's hanging in, there's been a few surgeries; a lot of radiation and chemo for almost two years, all through Covid," says Mathison empathetically.  "She's had it really, really tough. A lot tougher than my journey. It's hard because when it's brain cancer obviously they have to take parts of the brain out, you lose a lot when that happens.  She's alive, she recognizes us still. And we can't wait to spend every second with her."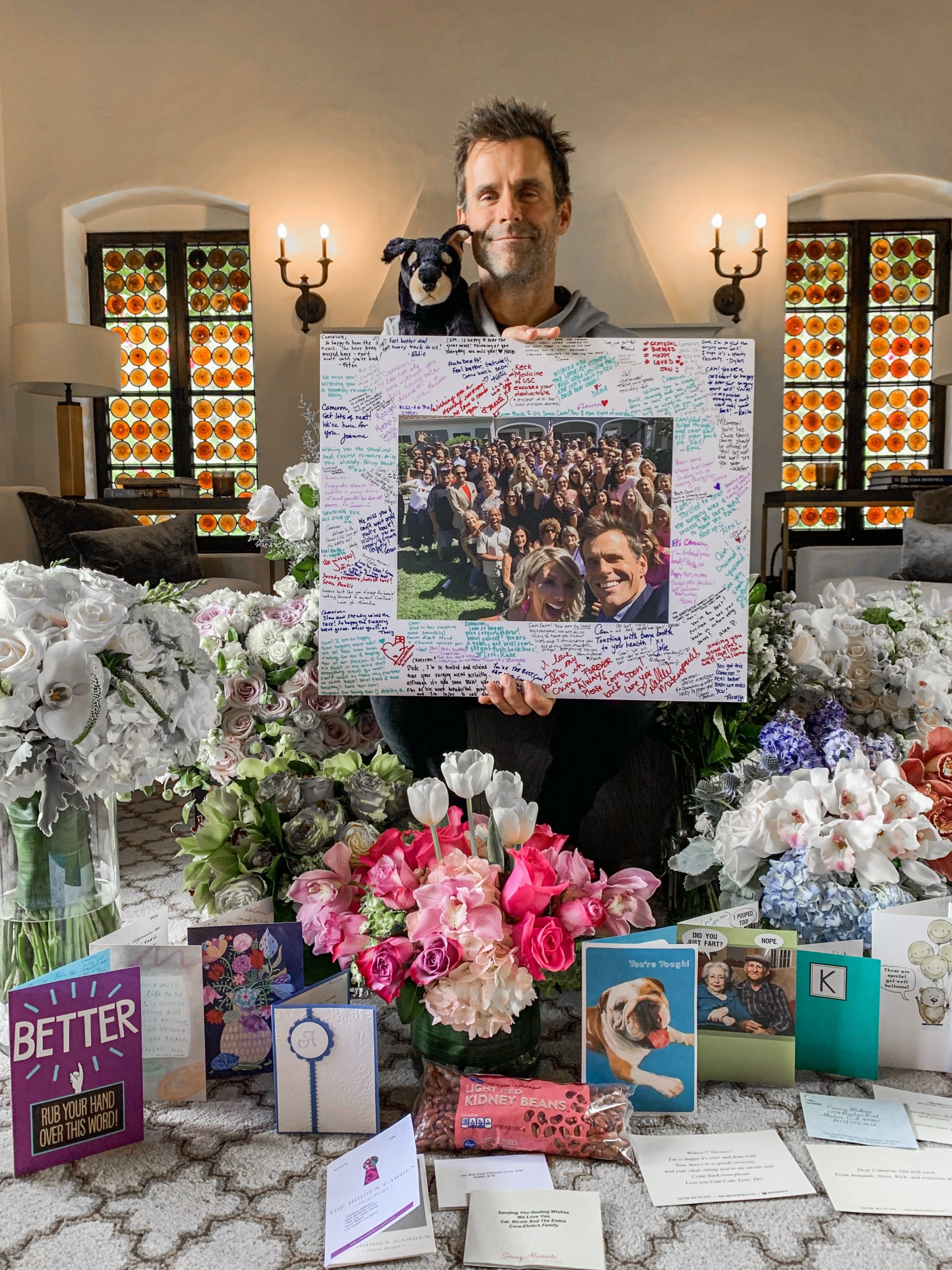 Rather than dwell on the negative of this this double cancer whammy, the now 52-year-old is striving to "make life meaningful now."
That doesn't mean, he emphasizes, "just to work harder and make more money" but rather to do things that will "benefit others: to help spread joy and kindness in the world; to volunteer; to be there for others. I don't want to get too metaphysical but to work on things in your life you can bring with you after you die. These things are what for me makes life meaningful with your family, your friends. I try to do it even with strangers and people that have different views than me. The more we can feel close together and connected and benefit each other, it's what life is all about from my perspective."
Learn more about SurvivorNet's rigorous medical review process.
---