Seeking Help When You Need It
Jillian Barberie, 56, recently spoke to the Daily Mail in an interview about how she has overcome not only a cancer diagnosis in 2018, but addiction and depression too. The TV host and radio personality says she leaned on friend and actress Heather Locklear throughout her journey.
We know it's difficult to ask for help, but having others by your side though something like a cancer diagnosis can be very important, experts say.
It's normal to feel scared and anxious after a cancer diagnosis but some people – about 15 percent – develop a major depressive disorder, according to Dr. Scott Irwin, a psychiatrist and director of supportive care services at Cedars-Sinai Medical Center.
Television and radio personality Jillian Barberie is reflecting on her life, which hasn't always been easy. She was diagnosed with breast cancer in 2018, and has battled addiction and depression.
The 56-year-old credits her friend and actress Heather Locklear for standing by her side through it all. Barberie's journey is a good reminder for those in the SurvivorNet community to lean on someone if they are going through a difficult time whether it's cancer or something else.
Read More
"They [Her girlfriends] will look at me, and they will seriously say to me, 'Yes Jillian, you've been through a lot.' But I think everything's relative," she told
Daily Mail
in
an interview
. The former
Good Day LA
host says Locklear was by her side throughout her journey with breast cancer and played a big role in her road to sobriety. "Heather is one of my very dear friends and she helped me a lot through chemo," said Barberie.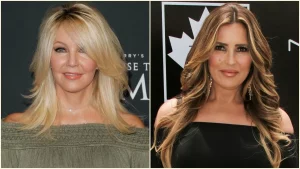 She added, "We are very fortunate. We always say we're the same person. We have the same sense of humor, and we cover in the same crazy business so we kind of get it and she doesn't take herself too seriously at all."
Barberie, who is sober now, says she is much more afraid of the alcohol than her cancer reoccurring.
"It's been 14 months. I can't Imagine going through the things that I've gone through being drunk in the past year. I've been through enough. I mean, I think that drinking, you know, for me, will be the death of me, cancer won't," said Barberie.
She says her addiction wasn't just because of her cancer diagnosis, but many other factors.
"And, you know, I got through it all and I'm on hopefully the other side every day, you know, I've been a single mom for 10 years, doing it on my own. And it's been hard at times, but it's the most fulfilling job I've ever had," she continued.
Jillian Barberie's Cancer Journey
Barberie was diagnosed with breast cancer in 2018 during a routine mammogram. By the time it was detected, the cancer had already spread to her lymph nodes which prompted Barberie to take an aggressive approach with her recovery.
Two weeks after the mammogram and with her oncologist's recommendation, she underwent a double mastectomy shortly followed by chemotherapy and radiation.
RELATED: Sober Survivor Jillian Barberie Celebrates 55th Birthday and Newfound Sobriety After Breast Cancer Battle: 'I'm Present and Happy'
She previously told SurvivorNet she first found out she might have the disease while co-hosting a breast cancer screening party for friends in Beverly Hills – Mimosas, Mammograms and Massages.
"I kept getting called back down to the screening room," Barberie, who hosts a podcast called Ask Jillian, said. "The last time I went back, they did a sonogram and said, 'We just want to look at some things.'"
At that point, Barberie knew something was wrong.
"The radiologist said, 'Please get a biopsy tomorrow.'"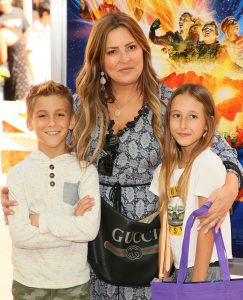 And through it all, her main concern was that of many a mother: her children.
"My experience with cancer was not a bad one," Barberie said. "The only thing I was concerned about were my kids."
Don't Be Afraid To Reach Out For Help
We all want to think we can do things by ourselves. But acknowledging when you do need help and asking for it can prove to be an even harder task.
For Barberie, she leans on her female friends. But for everyone else it could be a neighbor, a friend, a relative or anyone you can your trust in to be by your side.
"Some people don't need to go outside of their family and friends circle. They feel like they have enough support there," New York-based board certified psychiatrist Dr. Lori Plutchik tells SurvivorNet. "But for people who feel like they need a little bit more, it is important to reach out to a mental health professional."
In this video, Dr. Plutchik is speaking mostly about how to get support after a cancer diagnosis. However, the conclusion remains the same, no matter what you may be dealing with, you are entitled to ask for help and to seek out all mental health resources.
SurvivorNetTV's series, "SN & You," features survivors who share how they handle their mental health and cope with their emotions after undergoing cancer treatment.
SN & You Presents Mental Health: Coping With Emotions
"People that are strong cry, it's the weak ones who try to hold it in," says Evelyn Reyes-Beato, a colon cancer survivor.
In this episode, you'll hear several women, all of whom are cancer survivors, talk about their experiences dealing with cancer and navigating life after a diagnosis. Many of these women get very emotional about what they have gone through. It just goes to show that crying and being open with your emotions is part of the healing process.
Heal And Focus On Yourself
For many in the SurvivorNet community putting yourself first is not easy, but an important step in achieving better mental health.
Whether you are going through a cancer journey or a challenge in your life taking time to focus on yourself can be a process. There are a number of different paths people might take to help them cope, such as traditional therapy, support groups, meditation, and sometimes medical intervention such as antidepressants. And when going down these different paths it's important to make sure the mechanism you have to care for your mental health continue to work throughout the process.
"I think flexibility is really a core of how to manage it," Dr. Samantha Boardman, a New York-based psychiatrist and author, tells SurvivorNet. "Are your coping strategies that you're using now, are they helpful in the way that they were in the past?"
How to Be Realistically Optimistic: Coping With Mental Health Long-Term
Dr. Boardman encourages people who may be struggling with their mental wellbeing to "take stock of their belief system" and ask themselves the following questions:
Could these beliefs be harming me (like feelings of self-doubt or negativity)?
Is my mindset holding me back from positive steps forward?
Dr. Boardman suggests working to recognize any negative thoughts that may be making the process of cancer treatment more difficult, and trying to dismantle those to be more "realistically optimistic."
Contributor: SurvivorNet Staff
Learn more about SurvivorNet's rigorous medical review process.