Why Are Cancer Rates Rising Among Younger People?
Researchers have found that cancer occurrences in adults under 50 have increased dramatically.
The researchers say they believe cancer risk will continue to increase with each generation.
Lifestyle factors, like diets, are possibly to blame.
Alcohol can increase cancer risk.
The numbers don't lie: Rates of cancer incidences in adults under 50 are
increasing "dramatically
," researchers say; this is due in part to "increased use of [cancer] screening programs," but also because of lifestyle factors, such as alcohol consumption, smoking, and obesity rates, which have increased 7% in men between 1975–2014.
These cancers with an increased rate of occurrence include breast, colon, esophageal, kidney, liver, and pancreatic cancers. Incidences of these diseases in younger people have increased over the past few decades, according to researchers at Brigham and Women's Hospital in Boston.
Read More
The researchers conducted extensive reviews of data in literature and online, including information about early life exposures, which may account for the rising trend in cancer incidences.
Dr. Steve Patierno, a Professor of Medicine at Duke University School of Medicine, tells SurvivorNet in an email, "Research is needed at every level of cancer science: basic, translational, clinical, population, and implementation science, in order to effect behavioral and policy changes that might mitigate the complex and converging risk factors that are driving this disturbing trend."
Dr. Kimmie Ng, Associate Chief, Division of Gastrointestinal Oncology at Dana-Farber Cancer Institute, tells SurvivorNet via email that this increase in cancer occurrence among people under 50 is indeed concerning. Dr. Ng says, "The steady rise in young-onset cancer among multiple tumor types is highly concerning and will significantly impact people and society in significant ways if not reversed. Research into the underlying cause of this rising trend is of utmost importance for prevention, early detection, and treatment."
Researchers found that risk is increasing with each generation. So, people born in 1960 experience a higher cancer risk before they turn 50 than those born in 1950. Researchers predict that the risk level will continue to rise.
But it still begs the question: What accounts for this sharp increase? WCBV reports that "Researchers said peoples' diets, lifestyles, weight, and environmental exposures have changed substantially in the last several decades."
They report that researchers "hypothesized that factors like the westernized diet and lifestyle may be contributing to the early onset cancer epidemic."
We know that things like alcohol consumption, smoking cigarettes, having a high BMI, and certain genetic factors, like the BRCA1 or BRCA2 gene mutation, can all increase a person's risk factors. That's why maintaining a healthy lifestyle and knowing your family cancer history can be life-saving.
The research team also said that more cancer incidences are in part due to early detection through cancer-screening programs, like mammograms.
Eating a Healthy Diet
A recent study showed the association between ultra-processed food consumption and colorectal cancer risk among men, and also women. The study looked at the diets of over 200,000 men and women over a period of up to 28 years, and the U.S. study found a clear link between "ultraprocessed foods and colorectal cancer," the third most diagnosed cancer in the U.S. in men.
Ultra-processed foods include pre-packaged products like soups, sauces, frozen pizzas, microwave meals, and foods like hot dogs, ham, salami, bacon, french fries, sodas, sausages, store-bought cookies, cakes, candy, ice cream, and many more.
Regular consumption of unhealthy foods also leads to obesity and cardiovascular disease and can impact one's overall mortality rate. Try to make healthy food choices as often as possible.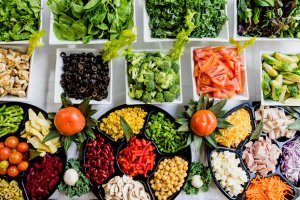 Instead of cakes and cookies and hot dogs, opt for healthier choices at the grocery store and while ordering takeout. Steer towards leafy greens, "good" fats like salmon and almonds, antioxidant-rich fruits like blueberries, "superfoods" like green tea, and more. Your body and your long-term health will thank you!
Many people, including world-famous doctors, believe that food is medicine.
Marisa Gholson, a Physicians Assistant at Compass Oncology tells SurvivorNet in an earlier interview, "We get questions all the time about whether they should cut out dairy or sugar or soy. And basically what I tell patients is that you should eat a well-balanced diet."
Gholson says, "There's not great evidence that cutting out sugar or dairy or soy is going to slow down or reverse the growth of your cancer. So I think just making sure that you're getting the nutrition that you need."
A Healthy Diet During Ovarian Cancer
Alcohol & Cancer Risk
The American Cancer Society (ACS) recently updated its recommendations when it comes to alcohol consumption. "Alcohol use is one of the most important preventable risk factors for cancer, along with tobacco use and excess body weight. Alcohol use accounts for about 6% of all cancers and 4% of all cancer deaths in the United States. Yet many people don't know about the link between alcohol use and cancer," the ACS said.
There is a clear link between alcohol consumption and breast cancer risk, as well as risk for other types, too. In November 2017, the American Society of Clinical Oncology published a statement citing evidence that links alcohol to cancer. The statement called for reduced alcohol consumption as a way to cut people's cancer risk.
SurvivorNet Medical Advisor Dr. Elizabeth Comen, a Medical Oncologist at Memorial Sloan Kettering Cancer Center, tells SurvivorNet in an earlier interview that "One of the things that we know [due to the statement from ASCO], is that actually, alcohol does increase the risk of breast cancer. It doesn't dramatically increase the risk of breast cancer, but with every drink, there is a linear response."
"What that means is a linear response to risk, meaning that each drink increases a woman's risk for breast cancer. So binge drinking, it's not good for anybody," she said. "And it's also not good for a woman's increased risk of breast cancer. And so patients ask me this all the time – well, how much can I drink? If you want to have absolutely no risk from alcohol, then don't drink at all. But probably having less than four glasses a week of alcohol is probably OK."
Dr. Comen Explains How Alcohol Can Increase the Risk of Developing Breast Cancer
Screening with Mammograms
Screenings and early detection, researchers note, are also partially to thank for the increase in cancer rates among younger people.
The current guidelines from the American Cancer Society (ACS) say that women aged 45 to 54 with a regular risk of breast cancer should get mammograms annually.
For women with an elevated risk of breast cancer (who have a family history of the disease or carry the BRCA1 or BRCA2 gene mutation), you should begin screening before age 45. Speak with family members about your family cancer history – it could save your life. Performing self-exams in the shower or at home is another good way to stay on top of breast cancer screenings; these should be done in addition to – not in place of – mammograms.
Breast cancer is screened for via mammogram, which looks for lumps in the breast tissue and other signs of existing cancer, or cancer in its earliest stages. If a worrisome lump is detected, your radiologist or doctor will advise you on the next steps, which typically include a breast biopsy.
When Should I Get a Mammogram?
Learn more about SurvivorNet's rigorous medical review process.