Fertility after Testicular Cance
Flip or Flop star Tarek El Moussa, a testicular and thyroid cancer survivor, is set to welcome a baby boy in early 2023 with his wife Heather Rae El Moussa, after naturally getting pregnant amid fertility struggles.
Spotting thyroid cancer can often be difficult. Symptoms may include a lump, swelling or pain in the neck, voice changes, trouble swallowing or breathing or even a constant cough.
Self examinations are incredibly important when it comes to screening for testicular cancer. Men aged 15 to 55 should perform a monthly self-examination to find any changes in the testes that might indicate cancer at an early stage.
Testicular cancer survivors may come across issues with fertility after overcoming the disease, but this is not always the case. Either way, you should discuss possible side effects and fertility preservation options with your doctor before starting treatment.
Reality star and two-time cancer survivor Tarek El Moussa, 41, and his 35-year-old pregnant wife, Selling Sunset's Heather Rae El Moussa, will soon be welcoming their baby boy into the world.
In anticipation of the loving couple's new bundle of joy, Heather had a winter wonderland-themed baby shower over the weekend in Newport Beach, California, with all the special women in her life. Also in attendance was her stepdaughter, 12-year-old Taylor Reese.
Read More
Alongside one of Heather's Instagram posts recapping the event, the TV personality wrote, "Showered with love is an understatement. Yesterday was a special day- celebrating our baby boy, winter wonderland style with my family and closest friends made my heart so full and happy."
"Everything was perfection and exactly what I dreamed of," added Heather, who is also the stepmom to Tarek's other child, seven-year-old Brayden.
"I couldn't have asked for a more beautiful and magical day filled with so much love, excitement, and warmth and it just made me even more ready for our baby boy to be here."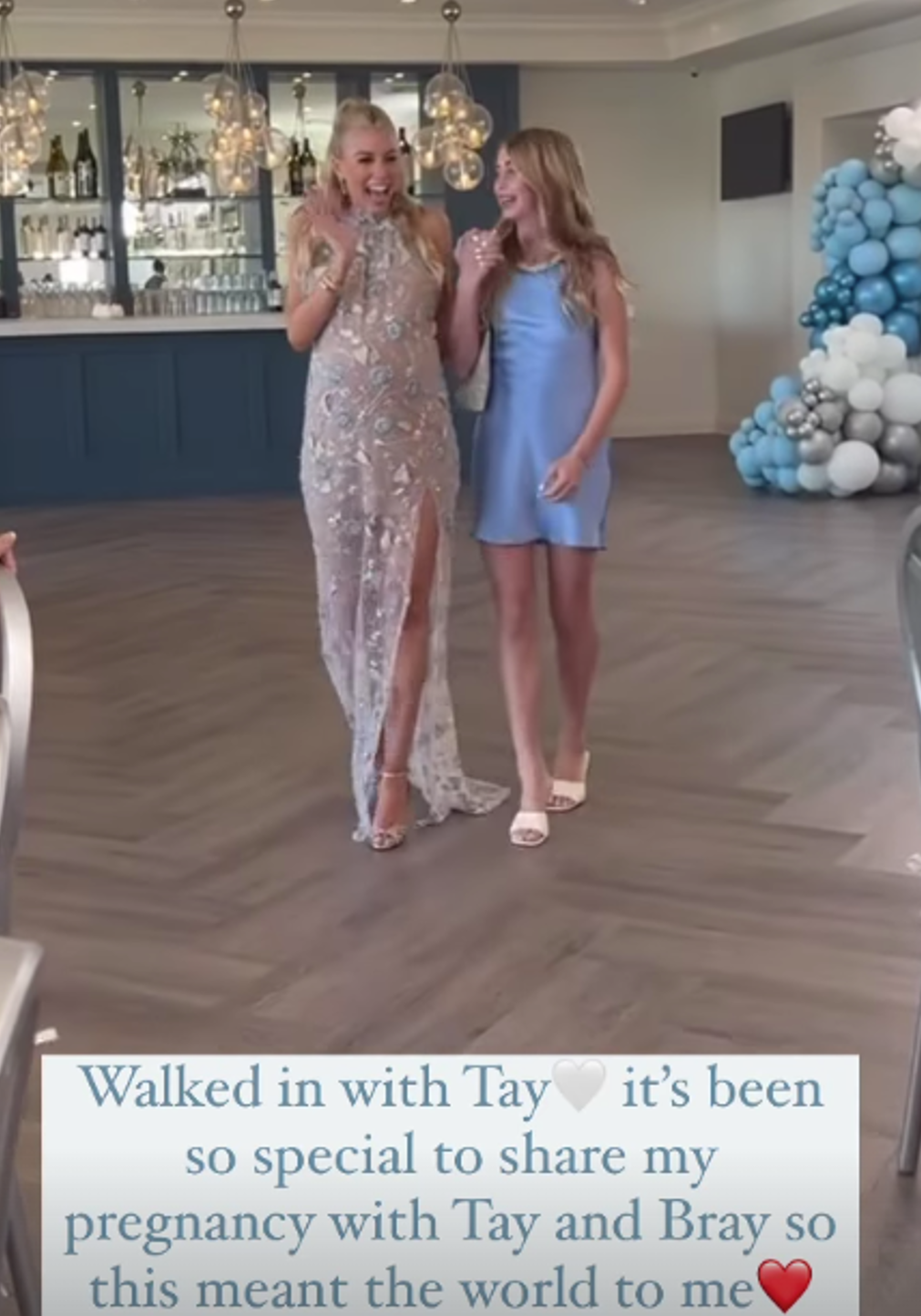 According to PEOPLE, the baby shower attendees were asked to bring children's books instead of cards for Heather's son's future library collection.
Speaking to the news outlet about the party, which was decorated with blue, silver, and white colors, Heather admitted her family is "just getting really excited."
"The nursery is coming together and it's so sweet because we're all calling it 'the baby's room' now, even the kids. It's just really cute," she explained.
In addition to prepping the nursery, Heather will also be shaving off the hair on Tarek's chest because she hinks it's "important for fathers to have skin-to-skin with the baby."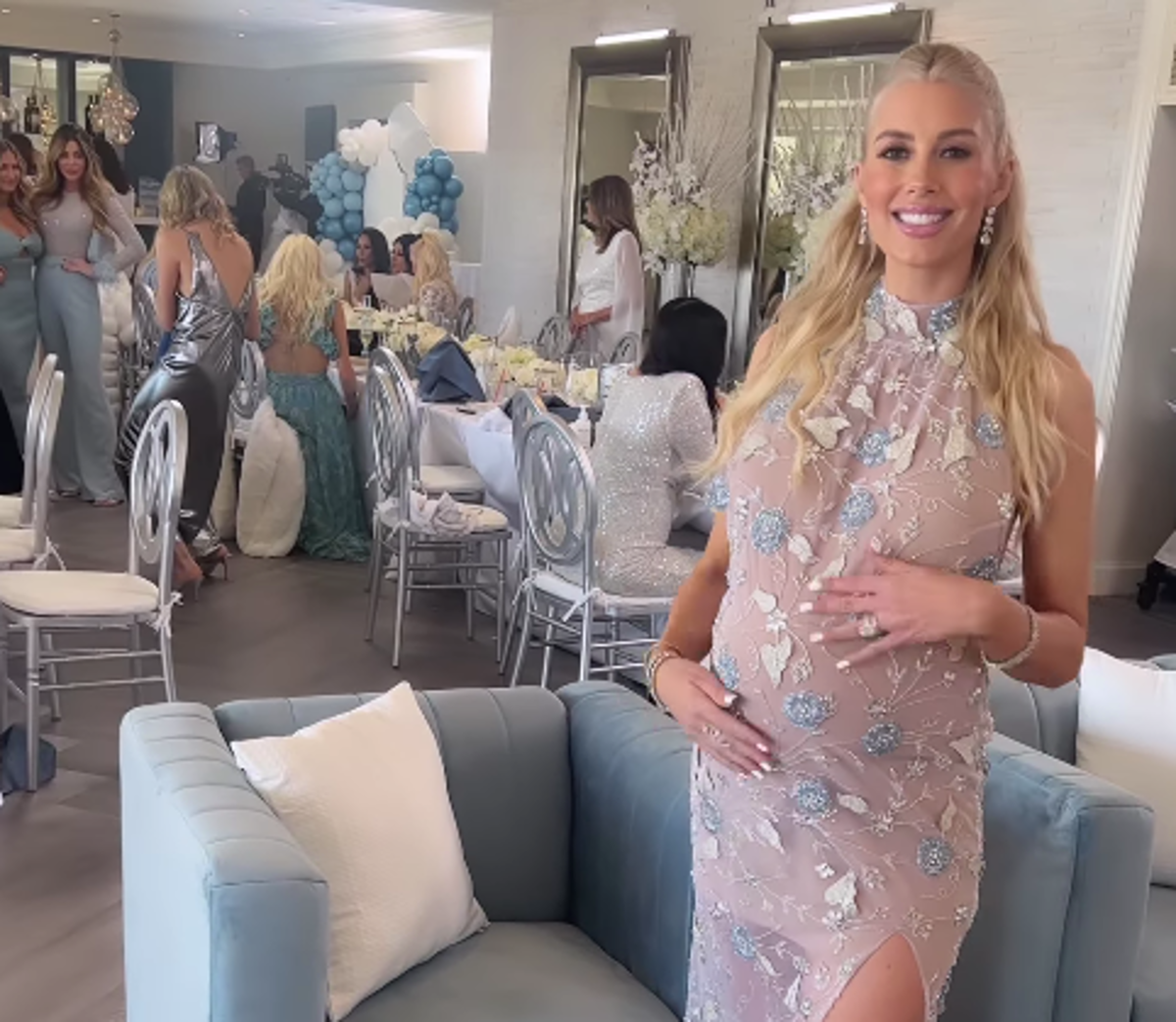 Tarek, a two-time survivor, has two children of his own (with former wife Christina Haack), and did not anticipate conceiving naturally quickly—or at all—after beating testicular cancer, but nature had other plans.
The stars of the forthcoming The Flipping El Moussas—coming on HGTV in 2023—went through the IVF process to make sure they could have a child together when they were ready. Their success with the procedure materialized faster than expected.
"It was a huge shock," Heather previously told PEOPLE exclusively of learning she was pregnant. "We just weren't expecting this. We had just gone through IVF. We had embryos on ice. We had a plan."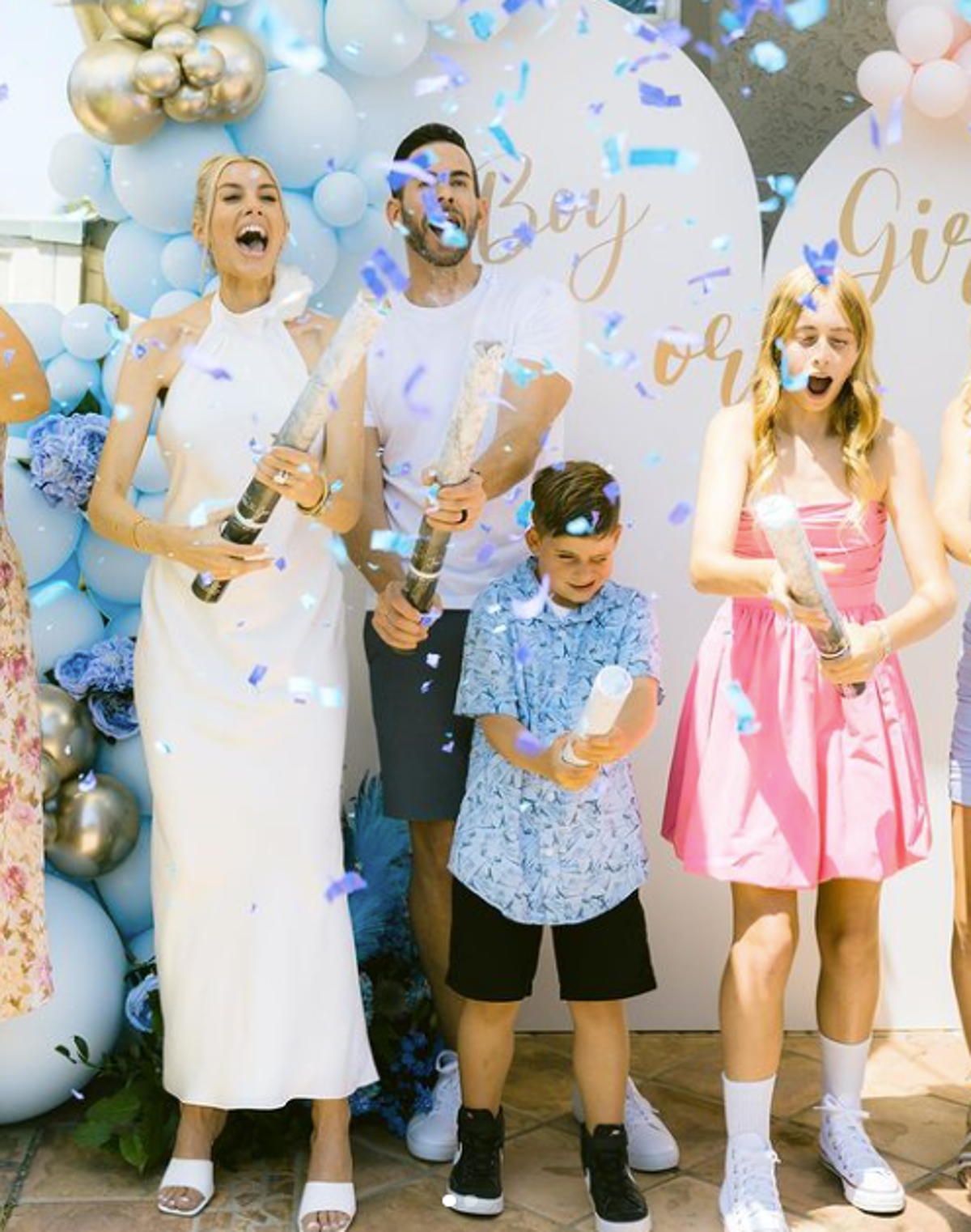 As most first-time mothers can relate, Heather is witnessed the incredulous changes to her form.
"My body's changing and I'm obviously not used to certain changes. I see myself naked now and I'm seeing my belly grow and other areas of my body grow," Heather said. "I can't fit in my bras anymore, I can't button my jeans. A lot of my clothes I've grown out of, and it's a hard change," she confessed. "I went from being very tiny, to just seeing my body change and getting used to those changes. And he's just so positive every day, telling me how beautiful I am and how beautiful my body is."
Despite the joy of blossoming motherhood, many women understandably go through some insecure moments as they adjust to being pregnant—and that's perfectly normal and okay.
On a subconscious level, some report that they feel less desirable, but oftentimes, that is absolutely not the case, and Heather made sure to point out how wonderful Tarek has been to support her through first-time pregnancy, saying to "enjoy this time."
"He's just been so positive and making me feel so beautiful and special," she shared.  "My girlfriends are like, 'Just enjoy this. And your body's going to change and it's something you can't control. And that's why I keep telling myself the most important thing is our baby's health and growing a healthy baby."
Heather explained that when she and Tarek first started dating three years ago, they initially hadn't planned on having children. "I really love being a bonus mom to [Tarek's kids] Taylor and Brayden. They're such incredible kids and I love them so much," she said. "But as your love grows more and more and you fall deeper in love with someone and you build this life together, I started picturing myself having a child with Tarek. I started thinking I just wanted to create something with the man that I'm in love with."
Finding Joy After Cancer Turns Your Life Upside-Down
Tarek also expressed his excitement over this new chapter, while also acknowledging the special bond that will never be taken away with his first two children.
"I'm just obsessed with my kids," Tarek said. "They're my everything, so having another one is just icing on the cake. I'm so excited."
Adds Heather, "He's such a good dad. That was another reason why I wanted to create something with him. Seeing him with Taylor and Braden, he's just so obsessed with them. And he's such a doting, amazing dad. I can't wait to see him with our baby."
Tarek El Moussa's Experience with Cancer
Life took a turn for the worse for Tarek in 2013—four years after he married his ex-wife Christina—when he was diagnosed with thyroid cancer.
Tarek's thyroid cancer diagnosis came after an HGTV fan, who also happened to be a nurse, noticed a lump on his throat while watching him on television. She contacted the network, telling them what she had seen.
In the same year, he was diagnosed with testicular cancer.
During a 2017 interview with PEOPLE magazine, Tarek said of the experience: "I was at one building doing my thyroid stuff, and mentioned I was going across the street to get an ultrasound done. I'll never forget the doctor joking, 'I hope you don't have cancer!'"
The treatment path for both types of cancers depends upon the stage at which the cancer is diagnosed. Common treatments for testicular cancer include chemotherapy, surgery and radiation. Treatments for thyroid cancer can include surgery, hormone therapy, radioactive iodine, radiation and, in some cases, chemotherapy.
Related: 'I Know What Real Pain Feels Like'—'Flip or Flop' Star Tarek El Moussa Reflects on Beating Cancer Amid His 'Debilitating' Divorce
Luckily, El Moussa was given the "all clear" and now shares his story to raise awareness on both diseases, while radiating positivity to those in need.
Fertility Preservation After A Cancer Diagnosis
Even though Tarek was not married to Heather while he went through his battles, the aftereffects from the experience, as many survivors know, can still be challenging, and support is still crucial as you continue to navigate your "new normal."
Plus, cancer survivors tend to not put up with people or things as easily as they did before because they realize—more than others—that life is short.
Fertility After Cancer
Testicular cancer survivors may come across issues with fertility after overcoming the disease, but this is clearly not always the case. Treatment for this cancer can "affect hormone levels and can also affect your ability to father children after treatment," according to the American Cancer Society, so you should discuss the possible effects with your doctor before beginning treatment to understand all the options you have at hand.
One route people with the disease can take it to store sperm in a sperm bank before treatment starts. But testicular cancer can result in low sperm counts, so getting a good sample may be tricky. Also, if only one testicle is left after treatment, fertility returns following treatment – typically about two years following chemotherapy.
But it's important to remember that testicular cancer does not mean fatherhood is out of the question by any means – and some people who've overcome testicular cancer might not see any issues at all.
Becoming a Father After Testicular Cancer – Todd Rosenbluth's Story
Todd Rosenbluth, for example, became a father after having testicular cancer. But when he and his wife wanted to start a family following his cancer battle, things were difficult despite his cancer not being an issue.
Rosenbluth was diagnosed with testicular cancer in his late 20s after his wife urged him to go to his annual appointment with his doctor. He then had surgery to remove one testicle and overcame the disease, but fertility issues came later despite his doctor telling him the couple's struggles to have a child were unrelated to his cancer.
Related: Tarek El Moussa Says He's 'In Awe Of' Second Wife Heather Rae Who's Pregnant Despite Tarek's Cancer Treatments Threatening Their Fertility
"Unrelated to the testicular cancer, my wife and I did have fertility issues," Rosenbluth previously told SurvivorNet. "We had been trying for four years to have a child. They tell you it's not related to the fertility issues at all. But in your head, when you're having all these troubles, and you did lose a testicle, you feel the blame."
Eventually, though, everything did work out. He and his wife had a beautiful son, Milo, in March 2018. That's when Rosenbluth finally felt free from his past cancer battle.
"The safest I felt with my testicular cancer was when my son was born," he said.
Contributing: SurvivorNet Staff
Learn more about SurvivorNet's rigorous medical review process.
---