Body Transformations
Cancer survivors share their inspiring body transformations on social media sites like TikTok and Facebook.
Weight loss after cancer can be a lot more difficult, as your mind and body have gone through so many emotional and physical changes.
See one young woman's incredible 170-pound transformation and cancer journey.
It's an inspiration to watch 24-year-old
Jessica Beniquez
, who lost a whopping 170 pounds while also fighting cancer. Weight-loss transformations are always inspiring to see, but there's something a little extra special about
cancer survivors
and thrivers sharing their fitness journeys during and after their battle.
Related: How Plus-Size Supermodel Emme, 56, Handled Being Told She Looked Great As She Lost Weight During Cancer Treatment
Read More
Cancer is often taxing on your body both emotionally and physically, though it varies from person to person. Treatment can affect your weight and physical appearance, and if you're dealing with hormone therapy, it's exceptionally more difficult to shed those extra pounds. Your main goal is to survive, not get bikini-ready by summer, and the rollercoaster of emotions you're going through may lead to unhealthy habits. Needless to say, the gym may not be at the top of your to-do list when you're juggling work or family priorities.
Related: 'As Women, It's Hard for Us to Ask For Help': Cancer Pre-vivor & CEO Mandy Ginsberg on Finding Balance in Life
While some may want to lose weight, others may feel the need to bulk up. Ben Lawson's fitness comeback after losing 40 pounds of muscle from Leukemia is uplifting to see on his TikTok video.
Body Transformations
That's why it's so darn gratifying to see these beaming smiles of fit survivors proudly flexing in the mirror, squatting in the gym, or showing off a little ab definition. You can't help but want to cheer them on (and perhaps drop down and do 10 push-ups along with them!)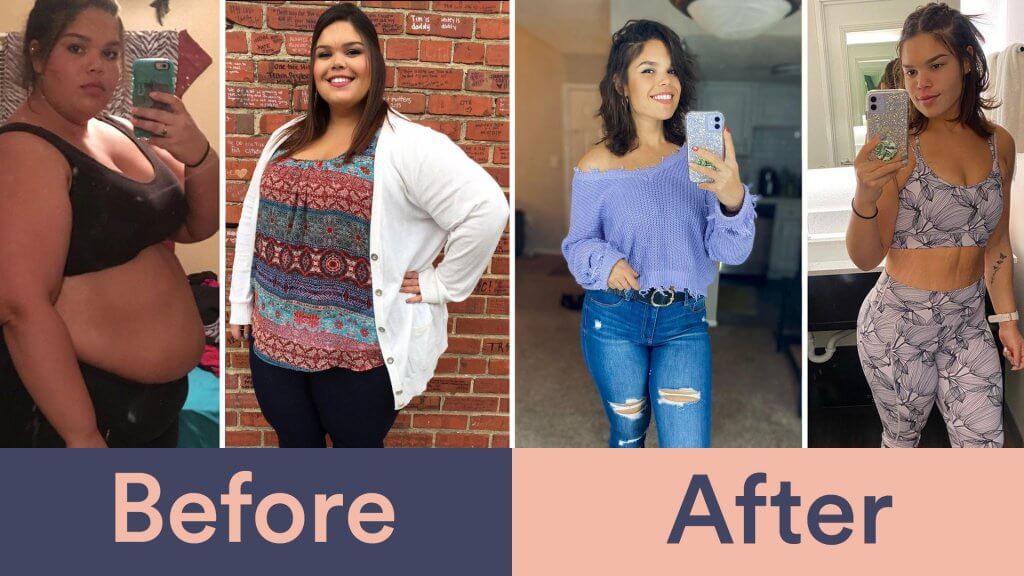 Jessica Beniquez shares her story on both Facebook and TikTok and says "When I started my journey … in the beginning of 2016, I was growing up overweight, eating a lot of fast food … I was eating sugar, drinking soda, it was normal for me. I didn't know what eating healthy felt like."
Beniquez shared that she felt terrible in her own body and needed to do something. Chronicling her weight-loss progress on social media was a personal choice to hold herself accountable, and the TikTok-enthusiast has now racked up 15 million likes along the way!
Cancer Diagnosis
During her transformation, the young beauty felt a lump in her armpit that she may not have found if she hadn't lost all of that weight. She was diagnosed with Stage 4 Hodgkin lymphoma. "It was in multiple spots of my body. It was in my spleen, my groin, both of my armpits." She even had a lump behind her ear. "It was the size of three fingers and I didn't even know it was there."
Beniquez lost track of her fitness, and once again wasn't feeling the way she wanted to feel. "During my weight-loss journey, there are some things that got in the way, you know, cancer being a big one, plateaus … they come and they go. One minute you're seeing results and one minute you're not. My biggest advice to get over that is to stay consistent and stay positive. I look at the positive side of things versus the negative … I always, you know, try my best to keep on moving forward."
Related: Outrage Over Lack of COVID-19 Vaccines as People With Cancer Struggle to Get It: 3 Things to Try
That positive attitude paid off. The optimist wound up beating her cancer and continues to motivate thousands of others with each and every smiling post.
Learn more about SurvivorNet's rigorous medical review process.