Ming Tsai's Dish For Dana-Farber
Celebrity Chef Ming Tsai, 57, is debuting a vegan dish at Boston's Fenway Park to raise money for Dana-Farber Cancer Institute. Tsai's wife Polly was diagnosed with stage 4 lung cancer in 2017 and now is in remission.
Tsai started creating vegan dishes for his wife during her cancer treatment after realizing there weren't enough options at the grocery store.
Diet plays an important role in both cancer prevention and cancer treatment. An expert has told SurvivorNet that it's important to eat a well balanced diet in order to keep your immune system strong. 
Celebrity chef
Ming Tsai's
new vegan dish has a cute catchy name, and a heartwarming backstory.
Tsai, 57, a James Beard award-winning chef, is the founder of MingsBings — a healthy and gourmet vegan patty which he created after his wife Polly was diagnosed with stage 4 lung cancer in 2017. After his wife's diagnosis, Tsai dedicated his culinary career to making sure he could create healthy and vegan options for his wife to eat, but wasn't able to find enough options at the grocery store.
Read More
Related: Stage 4 Lung Cancer Survivor Saved By Treatment Advances: "I'm Truly in Awe" of Immunotherapy Results
"One of the things we decided [after the cancer diagnosis] is, 'Okay, you're going to go vegan,'" said Tsai. "Thank God for Dana-Farber. Thank you, Dana-Farber. They developed an awesome drug that she took that wiped her cancer out. But by going vegan, it really helped her recovery."
Tsai describes Mings Bings as "a high-protein, plant-based, gluten-free patty that's easy to eat." Boston Red Sox fans will get a sneak peek at the delicacy when the patties debut at Fenway Park.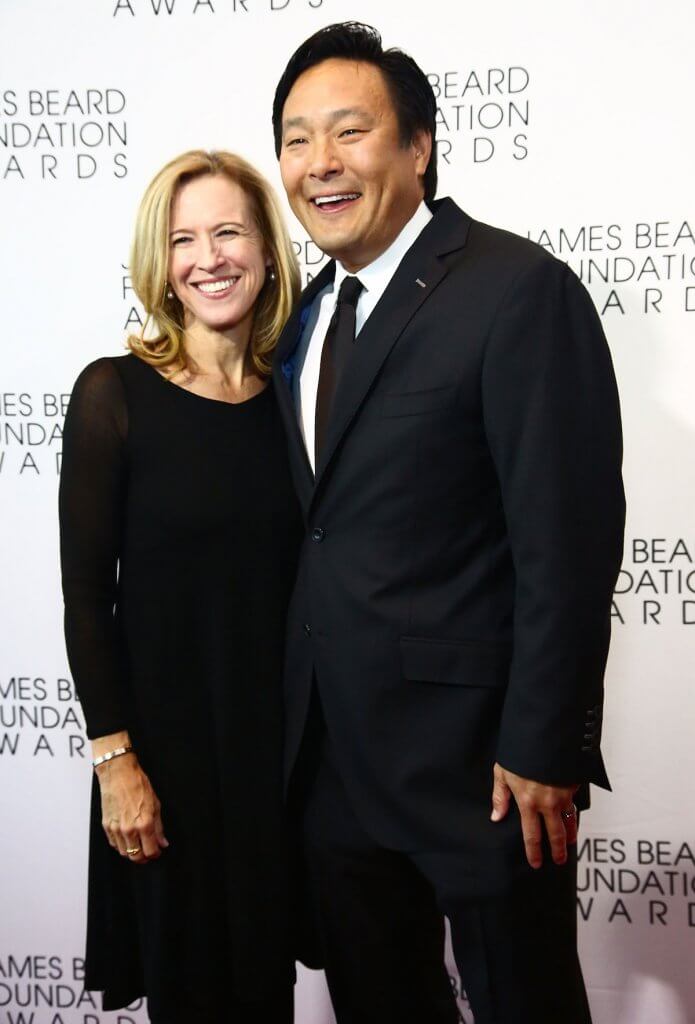 Stage 4 Lung Cancer: Overview
Stage 4 lung cancer means that your cancer has spread to other organs that may include your brain, liver and/or bones. The goal of treatment is to eliminate all signs of the cancer, and thankfully there are more options to meet this goal than there were in the past. These therapies can include immunotherapy, precision medicine, radiation, chemotherapy, or surgery. No matter which route you take, doctors' main objective is to maintain the disease as much as possible so the cancer cells no longer continue to grow.
Polly's remission from the disease proves that a late stage cancer diagnosis can be controlled, thanks to research and developments from organizations such as Dana-Farber Cancer Institute. This is something that all experts and oncologists want to reassure their patients.
Related: Treatment for Stage Four Lung Cancer
"You have to realize stage 4, again, does not mean death," Dr. Raja Flores, the chairman of the Department of Thoracic Surgery for the Mount Sinai Health System, previously told SurvivorNet. "You can have stage 4s who are alive 8, 9, 10 years later. There are people out there who are walking around who have had brain metastases, but it's kept quiet. So first and foremost, you have to make sure that they understand it's not a death sentence. It's very important to take things step by step."
Dr. Geoffrey Oxnard breaks down stage 4 lung cancer
Role of Diet During Cancer
One's diet plays an important role in both cancer prevention, and also cancer treatment. Even though someone diagnosed with cancer may believe things are out of control, diet is something that you and your loved ones can actively control and work with in order to ensure treatment outcomes are more successful. However, experts told SurvivorNet that it's important to still eat a well-managed diet and not fall into any diet trends.
Related: Major Reduction in Cancer Risk by Following Old Standbys Diet and Exercise
"Often I will tell patients there is not any one diet that has better potential to keep their cancer away," Dr. Sairah Ahmed, an oncologist at  MD Anderson Cancer Center in Houston, previously told SurvivorNet. "I'm asked about Keto diets, alkaline diets, no sugar diets. There is no data that shows that any of those help to treat cancer any better. But the one thing that does help treat cancer is you don't want to lose weight during chemotherapy. You want to have a moderate diet where you're including lots of fruits and vegetables, but you're still eating fat and protein."
Dr. Sairah Ahmed explains how diet and exercise influences cancer treatment
Learn more about SurvivorNet's rigorous medical review process.