Coping With Multiple Sclerosis
Beverly Hills 90210 and Dead To Me star Christina Applegate, 51, recently opened up to singer-songwriter and TV personality Kelly Clarkson on how humor is helping her cope during her struggle with MS.
Multiple sclerosis is an auto-immune disease that causes nerve damage.
There are 400,000 people suffering from MS in the United States, according to scientific research. In Don't Stop Me Now, SurvivorNetTV features the story of one incredible woman who, like Applegate, learns to overcome her own hardships, and inspires countless people along the way.
Whether it be a loss of a loved one, or a change in life brought on by a cancer diagnosis, "grief comes in waves," says Dr. Scott Irwin, a psychiatrist and Director of Supportive Care Services at Cedars-Sinai Medical Center.
Christina Applegate revealed in the spring of 2021 she was
diagnosed with Multiple Sclerosis (MS)
, an auto-immune disease that causes nerve damage in the brain and spinal cord. At first, she was hesitant to go public with her diagnosis, but now she's continuing life as normal after accepting the changes her body is going through.
The 51-year-old actress, first known for her role as Kelly Bundy in the sitcom Married… with Children, recently opened up to singer-songwriter and TV personality Kelly Clarkson on how humor is helping her cope through her struggle with MS.
Read More
"My humor shield keeps me OK, but of course, down on the insides, you feel the things," Applegate during a virtual interview on The Kelly Clarkson Show. "And I do it to kind of deflect and then also make people not be scared to be around me." The star of Netflix's Dead to Me explained, "You know, when people see me now as a disabled person, I want them to feel comfortable that we can laugh about it."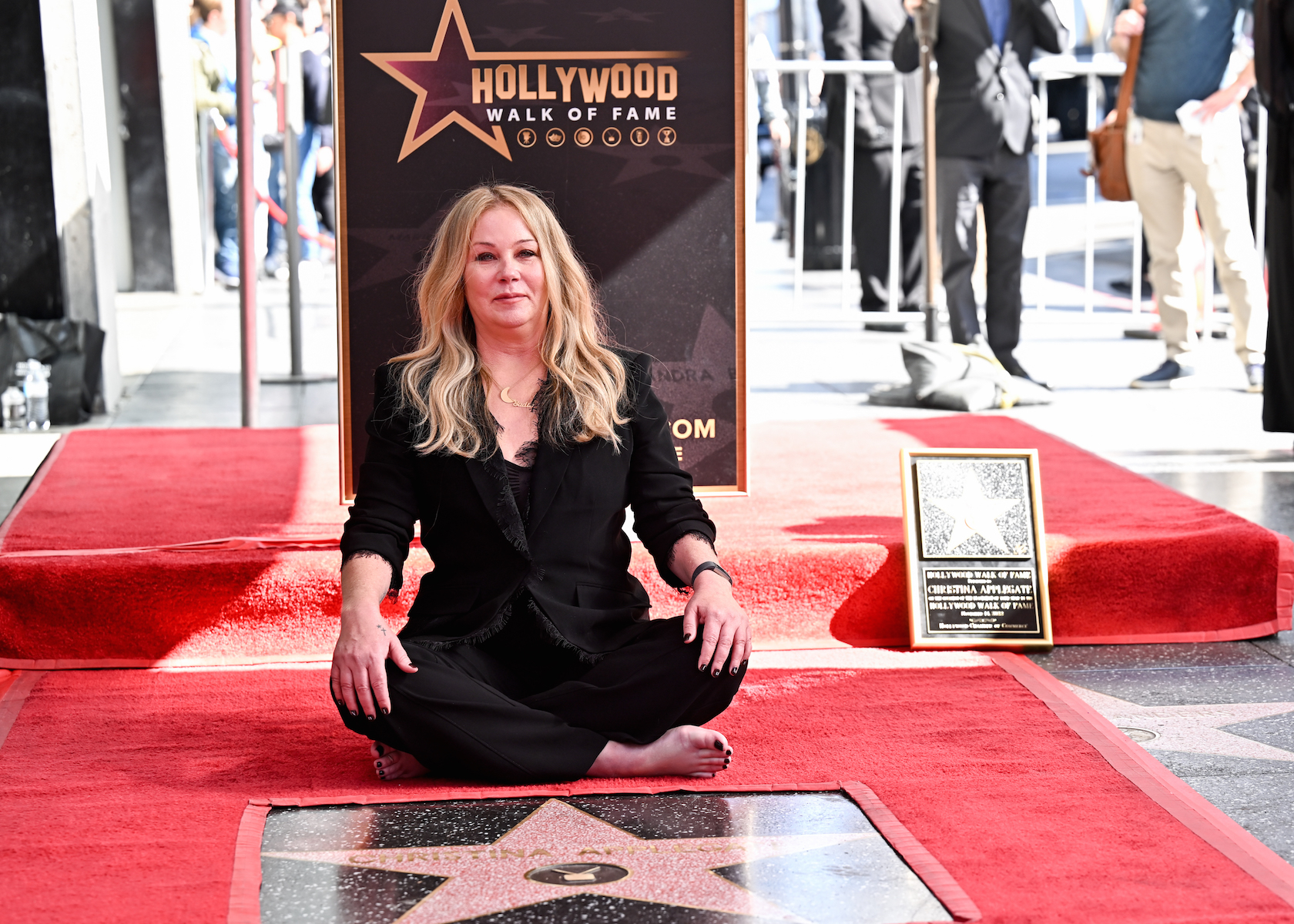 Applegate then sang part of a comical song she wrote, titled Disabey Baby. The beginning lyrics were, "Hurry down the chimney tonight. I can't 'cause my wheelchair won't fit down it," the mom of one revealed.
She admitted it's "incredibly hard" to show people how the disease has changed her when her fans have seen her a certain way on camera throughout the course of her life.
"To be honest, being diagnosed with MS last year, and what had happened to my body, to my mind, to my spirit, to my everything, of course, I didn't want to be around anyone or talk about it, but I had to go to work," Applegate said, referring to her role on Dead To Me.
She continued, "The beauty of Dead to Me is that it gave me almost this weird platform of dealing with it, where I didn't have to be on all the time, and I didn't have to make all the jokes, and I could fall apart in a scene. And it was, like, me. It was my soul actually falling apart, unfortunately, in front of the world, but it was cathartic in a beautiful way."
Despite her internal struggles, Applegate insisted she's going to try her best "to get through it."
When Clarkson asked Applegate if staying busy helped her through her diagnosis, the actress who also starred in The Sweetest Thing and Anchorman: The Legend of Ron Burgundy, noted that acting has always played a role in helping her "not feel" grief.
The interview, which has been shared on YouTube, received dozens of grateful comments from fans who are thankful Applegate has shined some light on the disease.
One fan commented, "Thank God for Christina Applegate for her ability to communicate about Multiple Sclerosis. Thank God for Kelly Clarkson for bringing Christina's condition to her audience."
"Oh boy, Christina keeps surprising me with her intelligence, honesty and humor. And I'm glad she's enlightening us about MS," wrote another.
Now that she's living with MS, Applegate is prioritizing her time a little differently.
"It's about finding what I'm capable of doing. I'm so new in this right now. It takes time to kind of figure out this disease, and figure out what's bringing on symptoms," Applegate, who showed off her new walking sticks weeks ago, told Variety.
She admitted that she feels fatigued most of the time, but more recently she's been able to work out on the Peleton more and focus her energy on her 11-year-old daughter Sadie Grace LeNoble.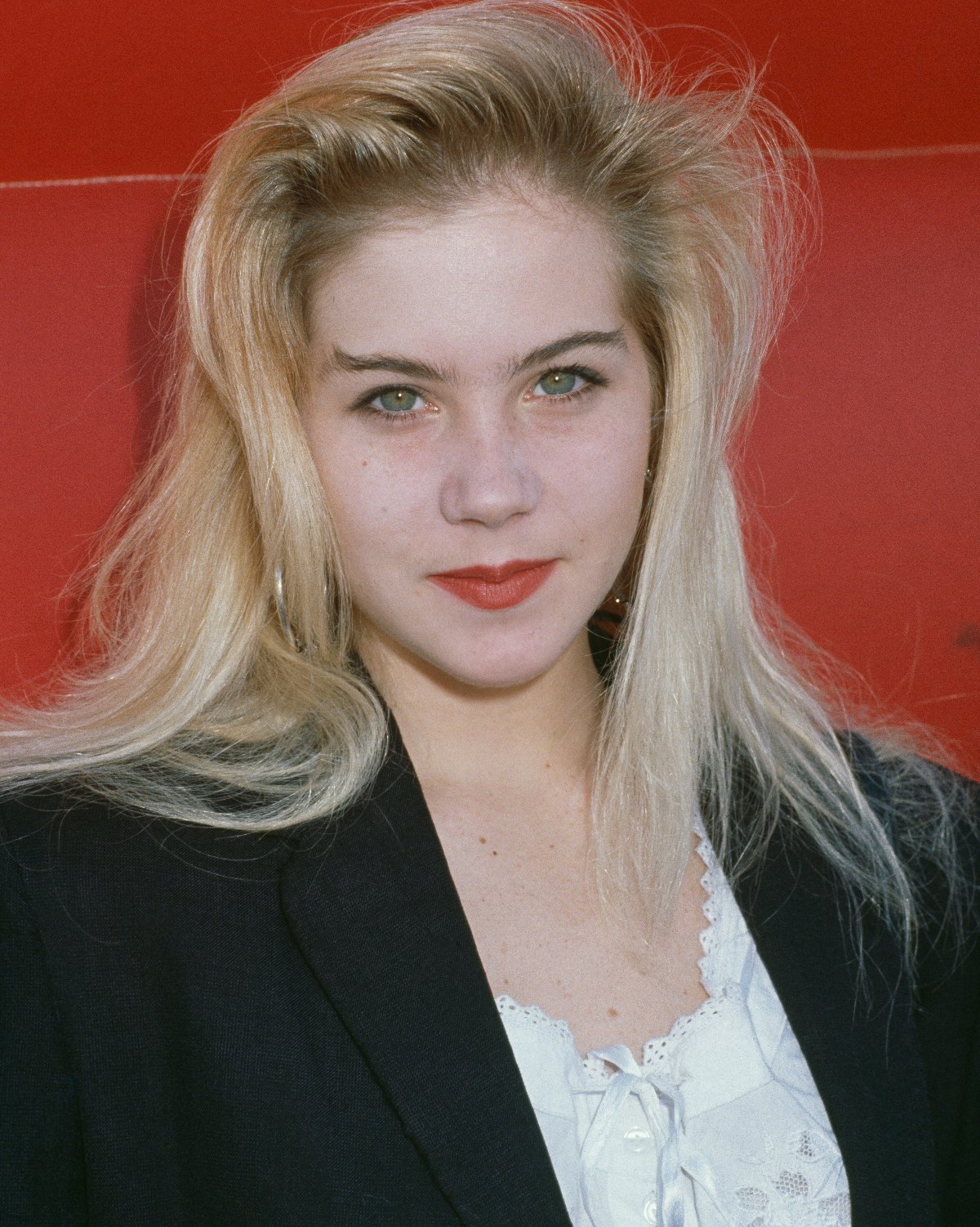 Applegate is no stranger to her MS diagnosis, as she is also a breast cancer survivor. However, according to scientific research, there is no known linkage between women diagnosed with multiple sclerosis and breast cancer.
In 2008 Applegate was diagnosed with breast cancer after doctors found something in her left breast, she then decided to have a double mastectomy. Additionally, she revealed to Today.com in 2017 that she also had her ovaries and fallopian tubes removed as a precaution, due to her higher risk with ovarian cancer in her family. Applegate shared that she changed her lifestyle habits and advocates for more rest and less stress to stay healthy.
I have a very important ceremony coming up. This will be my first time out since diagnosed with MS. Walking sticks are now part of my new normal. Thank you @neowalksticks for these beauties. Stay tuned to see which ones make the cut for a week of stuff. pic.twitter.com/O543p1G4vS

— christina applegate (@1capplegate) October 27, 2022
Understanding MS
Multiple sclerosis (MS) is a disease in which the immune system eats away at the protective covering of the body's nerves.
The National Institute of Neurological Disorders and Stroke explains this disease as: "An unpredictable disease of the central nervous system…[MS] can range from relatively benign to somewhat disabling to devastating, as communication between the brain and other parts of the body is disrupted." Investigators of the disease believe it to be an autoimmune disease.
Most people experience their first symptoms of MS between the ages of 20 and 40 (Applegate is 49). Typically, one of the first symptoms of this disease is vision-related: Blurred or double vision, red-green color distortion, or even blindness in one eye.
Not Your Parents' Chemotherapy: New Solutions for Nausea, Hair Loss, and Other Chemo Side Effects
Many people fighting MS experience muscle weakness and difficulty with coordination and balance. Currently, there is no cure for MS, although some people treat the disease using chemotherapy, medications, or steroid drugs.
Multiple Sclerosis Symptoms
MS causes the immune system to attack the protective sheath (myelin) that covers nerve fibers which leads to communication problems between your brain and the rest of your body, according to the Mayo Clinic. Eventually, MS can cause permanent damage or deterioration of the nerves.
Signs and symptoms of MS can vary widely but may include the following, according to the Mayo Clinic:
Numbness or weakness in one or more limbs that typically occurs on one side of your body at a time, or your legs and trunk
Electric-shock sensations that occur with certain neck movements, especially bending the neck forward (Lhermitte sign)
Tremor, lack of coordination or unsteady gait
Partial or complete loss of vision, usually in one eye at a time, often with pain during eye movement
Prolonged double vision
Blurry vision
Slurred speech
Fatigue
Dizziness
Tingling or pain in parts of your body
Problems with sexual, bowel and bladder function
The Mayo Clinic also says most people with MS go through periods of new symptoms or relapses followed by quiet periods of disease remission. These relapses can develop over days or weeks and the remission periods can last for months or even years. Around half of patients will have symptoms steadily increase within 10 or 20 years from diagnosis, which is secondary-progressive MS, and that rate varies greatly between patients.
Related: Beloved Actress Selma Blair, 50 Is Back Working After Health Issues Force Early Exit From 'Dancing With The Stars'
Inspiring Stories For People With Multiple Sclerosis
As a part of our effort to support people with chronic conditions like Multiple Sclerosis, SurvivorNetTV has added a new block of programming specific to MS. It is our hope that these films inspire the nearly 1 million people living with MS in the United States.
SurvivorNetTV's film Defying All Odds, follows the story of Dr. Terry Wahls – a world-renowned doctor and scientist determined to continue practicing medicine even after being diagnosed with a severe form of multiple sclerosis (MS).
SurvivorNetTV Presents: Defying All Odds — A World-Renowned Doctor's Incredible Journey Through MS
You will see in the film that Dr. Wahls attempts to manage her condition by starting a paleo diet, which consisted mainly of grass-fed meat, fish, leafy and root vegetables, and nuts. She restricted her consumption of dairy, eggs, and grains. As a result of her new diet, Dr. Wahls and her colleagues saw incredible improvement in her health.
Find The Right Option For Your Mental Health Needs
Whether it be a loss of a loved one, or a change in life brought on by a cancer diagnosis, "grief comes in waves," says Dr. Scott Irwin, a psychiatrist and Director of Supportive Care Services at Cedars-Sinai Medical Center.
"They're grieving the change in their life, the future they had imagined is now different," he told SurvivorNet in a previous interview. Some days can be tougher than others, but Dr. Irwin says talk therapy is helpful so it's important to reach out to your doctor, to a therapist or to support groups in your community.
Dealing With Grief Related to Health Problems
Treatment options for people struggling with mental health really run the gamut. While some people may benefit from seeking the help of a psychologist and getting on medication, others see great improvement by simply implementing some lifestyle changes, such as prioritizing exercise and cutting back on alcohol.
Those struggling should know that they are not alone — about one in five American adults has experienced some sort of mental health issue, according to mentalhealth.gov. However, what worked to help someone else cope may not necessarily help you — as treatment must be individualized.
To maintain a positive mindset and address mental health struggles you may be having, treatment may include:
Seeking professional help from a psychiatrist or therapist
Learning healthy coping skills
Medication such as antidepressants
Adding more physical activity to your routine
Adjusting your sleep schedule
Connecting with others via support groups
Mindfulness and meditation
No Reason For Feeling Shame
It's important to realize there is no reason to be embarrassed about seeking out mental health tools.
There's nothing to be ashamed of and it is important to realize you are not alone. The CDC reports that more than 20% of American adults said they sought out mental health treatment over the past year, according to a 2020 survey. Among those people, 16.5% said they had taken some sort of medication for their mental health and 10.1% said they had received counseling or therapy.
The term mental health refers to both our emotional and psychological well-being. Our mental health can affect how we think, feel, and behave. There are also certain triggers, such as stress, traumatic events, or change in your physical health can affect mental health.
It's really important to keep tabs on your mental health and, if necessary, seek treatment. This doesn't necessarily mean traditional therapy because while it may be really helpful (even life-changing) for some, that doesn't mean it's for everyone.
Dr. Samantha Boardman, a New York-based psychologist, explains how to be "realistically optimistic" when learning to cope with mental health struggles.
How to Be Realistically Optimistic: Coping With Mental Health Long-Term
Problems with mood and overall mental well-being can be attributed to several factors. For some people it's genetic, while others may be experiencing a response to some sort of stressor or past trauma.
"I think flexibility is really a core of how to manage it," Dr. Boardman. "Are your coping strategies that you're using now, are they helpful in the way that they were in the past?"
Contributing: SurvivorNet Staff
Learn more about SurvivorNet's rigorous medical review process.
---