A Resilient Leader
CNN President Jeff Zucker, 56, hasn't let two bouts of colon cancer or his other array of health issues slow him down while running America's leading news organizations.
Though the former NBCUniversal CEO recently announced he will likely be moving on from CNN by the end of the year as things recover from the "new normal," his resilience has been truly remarkable from a health perspective.
Experts are torn over the relationship between stress and cancer, but a leading expert admits to SurvivorNet that there is a possible correlation.
CNN President
Jeff Zucker
is a two-time colon cancer survivor; he has survived heart surgery, Bell's Palsy—a nerve disease—and a myriad of other health issues while running America's leading media organizations.
Though the former NBCUniversal CEO recently announced he will likely be moving on from CNN by the end of the year as things recover from the "new normal," his resilience has been truly remarkable from a health perspective.
Read More
Related: Brave Marriott CEO Arne Sorenson, Hairless From Chemo, Leads His Global Team Through COVID-19 Crisis
"I never leave work," Zucker told a New York magazine reporter while he opened up about his health issues, which have forced him to take only a couple of breaks. The eleven-time Emmy Award winner graduated from Harvard College in 1986 with a bachelor's degree in American history.
From a family perspective, however, it can be difficult, especially since Zucker has said that doctors think his health issues can be attributed to too much stress at CNN.
Zucker was married to Caryn Stephanie Nathanson, a former supervisor for Saturday Night Live, for 21 years. The couple announced their split in 2018. They have four children together.
Related: Writer and Actress Jill Kargman on Relationships and Cancer
Page Six reported at the time that it was Zucker's intense work ethic that broke up the couple.
"It can't be easy being married to Jeff — he is a workaholic, and is obsessed with news, and obsessed with being the best," a source said. "Caryn is much more laid back and social, spends a lot of time with their kids and enjoys being part of the Upper East Side social circuit."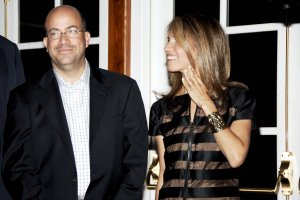 In a joint statement to Page Six, the couple shared: "Together, we have made the difficult decision to separate, but we do so as friends committed to our kids. They remain our sole focus."
Zucker's Health History
It is rare that you hear of someone as successful as Zucker surviving so many health issues. Most diseases can be crippling and reduce a patient's ability to work. Or, the afflicted individual decides to retire early or step down from a stressful position for their emotional well-being. The Homestead, Florida-born executive, on the other hand, has been unstoppable, and has shown that nothing will keep him from going back to work.
Related: Former Match CEO Mandy Ginsberg On Health and Her Decision to Step Down
At just 31 years old, Zucker was diagnosed with colon cancer. The former executive producer of NBC's TODAY show was just 26 years old when he stepped into that role and he was only 40 when he became CEO of NBCUniversal (and "walked away with millions"), so his career was obviously well under way.
Shortly after getting married, Zucker developed intense pain in his stomach. "I couldn't go to the bathroom. I called my dad" — who is a doctor — "he was like, 'You probably have hemorrhoids.'" Zucker went to a gastroenterologist and received the tragic news that he had colon cancer.
While leading the TODAY show, the diehard New Yorker went through eight months of chemotherapy at leading cancer center Memorial Sloan Kettering. Then, unfortunately the cancer returned a few years later.
"We made a decision at the time to take out as much of my colon as we could without giving me a colostomy bag," he said, also admitting that he suffers from chronic dehydration, kidney stones, and gout, "the most painful thing I've had." Gout is a common form of inflammatory arthritis.
In 2010, Zucker was diagnosed with hypertrophic cardiomyopathy, a heart condition caused by abnormal thickness in the heart muscle restricting blood flow. At just 45 years old, he needed to have a defibrillator surgically placed near his heart to treat the condition. A defibrillator is a device that can stabilize potentially deadly heart rhythms. He took a 6-week leave of absence at the time.
Related: Double Whammy: Heart Attack Associated with Seven Times Higher Cancer Risk in New Study
Then, just a few years ago, Zucker was diagnosed with Bell's palsy, a rare nerve-attacking disease that causes facial paralysis. This was when Zucker admitted that doctors thought the stress of his CNN job might have triggered it. His only complaint? Not being able to smile for more than a year.
Stress and Health
Many people believe that stress causes cancer and other health issues, which isn't exactly true. But there is a correlation.
Dr. Heather Yeo, a colorectal surgeon and surgical oncologist at NewYork-Presbyterian/Weill Cornell, tells us that stress can decrease your body's ability to fight certain cancers.
Related: Stress & Cancer: Dramatic New Evidence That A Woman's Mental State Can Affect The Death Rate in Cervical Cancer
"There is no doubt that stress and your immune system affect your body and affect your body's chance of healing," Dr. Yeo tells SurvivorNet. "Many patients are very anxious and worried that they cause their own cancer through stress or anxiety. I always tell patients, you can't look in the past and you certainly can't blame yourself."
Related: Shannen Doherty Goofs Around With Bestie Amid Breast Cancer Battle: 'It's Time for Me to Deal with My Stress'
Although many top experts including Dr. Yeo do not think that there is a direct connection between stress and cancer, stress can negatively affect the body. "Stress certainly decreases your immune system and it may decrease your body's ability to fight certain cancers."
When there is an excess of stress hormones going on, "your body has a hard time recovering and cancer takes advantage of that."
Patients Do Better When They are Less Stressed
What To Do After a Colon Cancer Diagnosis
Things like keeping notes of doctor recommendations and getting several opinions can make a colon cancer diagnosis a bit more manageable.
"So if I'm the first person to tell a patient they have cancer, and I have about a half an hour to talk to them about all of these things—about the surgery, about the fact they have cancer, about the fact they might need chemotherapy—it's a lot of information at once," Dr. Yeo says. "So I think it's really important for them to be able to hear it multiple times, to take notes."
If a patient doesn't have a family member with them, Dr. Yeo will offer to call their family member afterward to make sure her patient and their family are well-informed.
"I support second opinions," she says. "I actually think it's really important. I mean, if you think about it in life, how do you choose someone to cut your hair? You get an opinion, right? You usually don't just go in and sit down with the first person you see on the street and say, cut my hair. You ask around and you try and—if a patient has any questions, I support second opinions 100%."
Getting the News About Colon Cancer
Learn more about SurvivorNet's rigorous medical review process.