First a health crisis, now an almost unimaginable business meltdown. One year ago, when the CEO of Marriott Hotels, Arne Sorenson, 61, was diagnosed with stage 2 pancreatic cancer, he vowed to "continue working at the company I love." The cancer had not spread and Sorenson's doctors assured him that remission was possible, still, the diagnosis "came totally out of the blue," he said in an interview on Bloomberg TV's "Leadership Live with David Rubenstein."
"I have had no health conditions before that. And since May 2019 until today, I have been wrestling with this battle," he explained. "I've gone through chemo and radiation and immunotherapy and I had surgery in November. Chemo again at the beginning of this year and, fortunately, I'm here for the first anniversary and I feel great."
Chemo Baldness: "The Big Reveal"
Read More
As cancer survivors know, however, when chemo causes baldness, a private cancer battle quickly becomes public. And as Sorenson was called to address the COVID-19 crisis with Marriott associates across the globe, he faced the prospect of revealing his "new look" in a video message he taped last month. "The first concern was this lack of hair on my head," he acknowledged.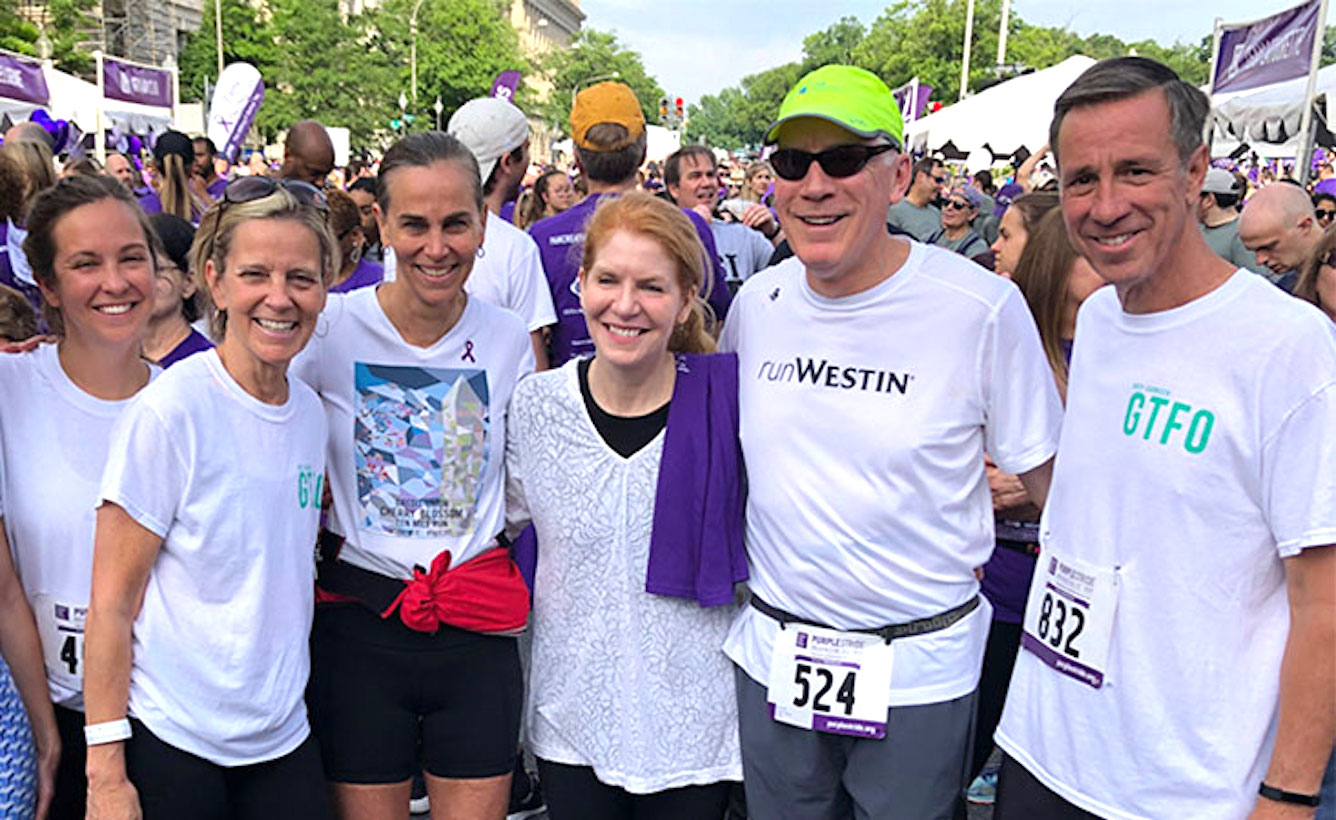 Arne Sorenson (far right), before losing his hair to chemo. An avid runner, the CEO of Marriott International joined PurpleStride, a pancreatic cancer fundraiser in 2019.
"The chemo I've been going through," he told Rubenstein, "has cost me my hair. And while I've not been hiding exactly, it's only been about since the 1st of February," he told Rubenstein.
RELATED: "Jeopardy" Legend Alex Trebek Reveals Dramatic Hair Loss During His Brave Battle With Stage Four Pancreatic Cancer
"So in some respects, the video we did almost a month ago was the big reveal of 'the bald Arne Sorensen'. And I think there was some concern was that it would speak about my cancer more than it would speak about the challenge that the company had."
Dr. Anirban Maitra, Co-Leader of the Pancreatic Cancer Moon Shot at MD Anderson Cancer Center discusses risk factors and screening for pancreatic cancer.
Although there concern his appearance might distract from his message, Sorensen went on camera to address his team: "I have to communicate directly to our team around the world, I can't delegate this responsibility to someone else."
RELATED: Alex Trebek Announces He's Beating the Odds, Marks One-Year Pancreatic Cancer Anniversary Feeling Thankful for 'Millions of Prayers'
Sorenson rose to the CEO position in 2012, after 16 years with Marriott. He guided the company's $13.3 billion merger with Starwood in 2016 and has been recognized for his assured leadership. Now, as he navigates a global pandemic, he says, "the only 'good' thing about COVID-19 is it gives me another health battle to fight. And it's a health battle I can fight with our team around the world," he told Rubenstein. "I really do feel up to it."
Why Is Pancreatic Cancer so Difficult to Treat?
One of the biggest challenges with pancreatic cancer is that it is so often diagnosed in later stages when it has become more difficult to treat. The disease rarely presents symptoms until it has advanced and spread outside of the pancreas.
RELATED: Ruth Bader Ginsburg's Fourth Bout With Cancer — The Supreme Court Justice Underwent Radiation For Pancreatic Tumors
"Because the pancreas is inside the abdomen, it often doesn't have symptoms that would tell you that something is wrong with your pancreas," Dr. Anirban Maitra, co-leader of Pancreatic Cancer Moon Shot at MD Anderson Cancer Center, told SurvivorNet."By the time individuals walk into the clinic with symptoms like jaundice, weight loss, back pain, or diabetes, it's often very late in the stage of the disease. Each year in the United States, about 53,000 patients get pancreatic cancer, and unfortunately, most will die from this disease within a few months to a year or so from the diagnosis."
Screening For Pancreatic Cancer
Dr. Maitra pointed out that a large issue lies in screening methods: "It is not prudent to be screening everyone," he said, citing a high rate of false-positives. "So instead, our efforts are now focused on screening only those subsets of individuals who are at higher risk for pancreatic cancer.", which, unfortunately, still needs to be improved. Dr. Matira pointed out that those at higher risk would be anyone who has two or more family members who had pancreatic cancer, those with an abnormality in germline DNA, and those with cysts in their pancreas.
RELATED: The High-Powered Female Execs at Google and Facebook Who Beat Cancer — And Say Their Journeys Inspired Their Work
Detecting pancreatic cancer in the early stages opens up treatment options significantly, as in Sorenson's case, where surgery was an option. Dr. Maitra pointed out that only about 20% of people diagnosed with pancreatic cancer are eligible for surgery.
While there have been great advances in treating pancreatic cancer in its later stages, early detection for the disease is still crucial.
Know Your Tumor: Customizing Treatment
Because every pancreatic cancer patient – and every tumor – is unique, PanCAN recommends that all pancreatic cancer patients undergo testing of both their tumor tissue along with blood and saliva to identify individual treatment options for that patient. The organization offers a free Know Your Tumor precision medicine service as well as free, personalized resources on the disease.
Advances In Drug Treatment
In 2019, a category of drugs called PARP inhibitors — which work by preventing cancer cells from healing themselves — were found effective in treating pancreatic cancers that revealed BRCA mutations. A study presented at the American Society of Clinical Oncology (ASCO) Annual Meeting today revealed the PARP inhibitor drugs, olaparib (Lynparza), extended the time that patients with advanced stages of pancreatic cancer who had mutations of the BRCA gene could live without the cancer progressing (what doctors call "progression-free survival")
RELATED: Rep. John Lewis and Stage 4 Pancreatic Cancer — The Incredible Advances in Treatment
The results were based on a phase III clinical trial called POLO, which enrolled 154 participants total. Study participants in the Lynparza group lived an average of four months longer than the placebo group. And overall, the addition of Lynparza after chemo decreased the likelihood of the cancer recurring by 47 percent. When researchers followed up one year later, the found that 34 percent of those in the Lynparza group showed no sign of recurrence. Side effects for PARP inhibitors include anemia, gastrointestinal discomfort like nausea and vomiting, and fatigue.
The tumors of those who benefitted from Lynzpara had BRCA mutations. Because this BRCA mutation may mean you're eligible for treatment with PARP inhibitors, it's important to talk to your oncologist about genetic testing at your initial diagnosis.
Learn more about SurvivorNet's rigorous medical review process.
---