Stem cell transplant survivors are some of the most vulnerable people in the country, because their immune systems have been ravaged by a treatment that attempts to kill cancer with huge doses of chemotherapy that also severely depress the immune system. These people must take specific steps to manage their risk of infection. What can we learn from them?
RELATED: Coronavirus Guide For Cancer Patients
Read More
A little more than a month ago, Nick Costas, 59, underwent a stem cell transplant to treat his multiple myeloma. This puts him in the highest-risk category for infection. We asked him to share his strategies for limiting risk with the SurvivorNet community.
SurvivorNet: How has the coronavirus outbreak impacted your daily life?
NC: For weeks, I've been taking the precautions everyone is learning now: social distancing, hand washing, wiping doorknobs and countertops. I wash sheets and towels often. A stem cell transplant wipes out your childhood immunizations.
RELATED VIDEO: Anchorman Tom Brokaw Advises Other Cancer Patients: You Don't Have to Like Your Doctor, Just Get To The Best One
So I now think about measles, mumps, polio – all of the things we get vaccinations for when we're young, too. I'll start over with vaccinations to restore that protection in six months.
Dr. Vincent Rajkumar, a medical oncologist at the Mayo Clinic, explains, "Autologous stem cell transplantation for multiple myeloma is extraordinarily safe.
For the next 100 days, my oncologist insists I wear a medical mask whenever I leave the house — but this is a conservative approach. I also can't touch grass or garden soil because of the potential for fungal contamination.
SurvivorNet: Are you still visiting your oncologist's office for appointments?
NC: I go weekly for lab work and vitals, but my oncologist is rethinking office visits right now. The virus hasn't hit this hospital yet, but it will. They have a separate unit for infectious diseases. They were prepared for the Ebola outbreak, so they've done all this before. I have confidence in them.
SurvivorNet: Now that we're all staying home, what's changed for you?
NC: I'm getting phone calls from old friends. People are slowing down; they have time to talk. That's the positive side. But the negative is that I now have to isolate from my children. Both of them ran in the New York City Marathon to raise over $22,000 for Multiple Myeloma research at Memorial Sloan Kettering. Before the coronavirus outbreak, it was okay for my children to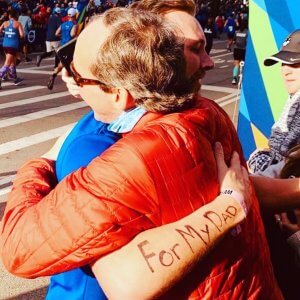 visit my house, travel for work, then come home again. Now, that's too risky. I can't have people coming and going — not even family. They could be fine one day; then go out, pick up the virus, and expose me to it. We can go outside and take a walk; I wear a mask and afterward, I spray Lysol and wash up.
RELATED: Early Data: Cancer Patients Who Get Coronavirus Do Worse– Read The Guidance From The Biggest Association of Oncologists
But they can't stay with me. I'll be under severe quarantine for several more weeks – maybe we all will. We don't know, do we?
SurvivorNet: Did you take any special steps to prepare before the transplant?
NC: After being on the hospital's transplant floor for two weeks, your home environment must be as clean as possible when you're released. Before the transplant, I had carpets and upholstered furniture in my house professionally cleaned. I sealed the fireplace opening. I stocked up on cleaning products, hand sanitizer, liquid hand soap, and surgical gloves. I was ready.
SurvivorNet: How do you manage the feeling of social isolation? It's something we're all dealing with now.
NC: I've gotten creative about finding isolated places where I can spend time outdoors. A nearby college has a track around the football field. I walk the track, then sit in the stands and listen to music. There's no one around, but it's great to feel the sun on my face.
RELATED: Celebrity Cancer Survivors Are Social-Distancing, Too
I've been lucky to have the support of many friends. Before, I'd have visitors, but I limit that now. They check-in by phone. They drop off groceries when I need things. We can visit a little outside. I'd love to see my friends but, I don't have a choice – I have to be smart. I'm doing everything I can to lower my odds of a setback — just like we're all working to contain the coronavirus now. We're in this together.
Learn more about SurvivorNet's rigorous medical review process.
---