Jenna's Story
She, unbelievably, faced cancer twice before she turned 40.
Lawson remained positive: "I told the cancer—and other patients—that I and we would win," she says.
A project she started with her mother's inspiration and her daughter's help—called 'Rock Solid Hope'—kept her spirits up and boosted others as well.
"Breast cancer wasn't on my radar," Jenna Lawson tells 
SurvivorNet
. Back in 2013, at 33, she was engaged in her busy life, raising her 1-year-old daughter with her husband and working full-time at a pharmaceutical company. "No one in my family had been diagnosed, and the
genetic testing
I ultimately had did not show mutations related to developing this disease. It seems to have been 'dumb luck'—something I've become very familiar with."
"Seriously, though," she adds, "my oncologist corrects me and says I'm actually one of the luckiest people she has ever met."
Read More
Lawson, who lives in a suburb of Hershey, PA, was diagnosed with stage 2 breast cancer in that year. Her treatment was a mix of surgery and chemotherapy commonly used to treat the disease. Upon completing active treatment, she was ready to move on and leave thoughts of "surprise cancer" as far behind as possible. In 2014, her company announced layoffs. "I raised my hand and volunteered to accept severance," she says, in order to get more time at home with her daughter.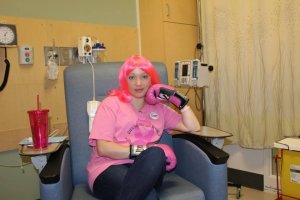 A Second Diagnosis
For a little while, all went as planned; but in 2016, Lawson began to notice strange symptoms. "I was fatiguing more quickly while working out," she says. "I also started getting cystic acne, which was not something I'd had before. I was getting bruises, some very large, without a memory of an injury. My fatigue continued, and ultimately a retinal hemorrhage is what brought me to the doctor." Her doctor ran blood work, and "that night," Lawson remembers, "Hershey Medical Center called to say they got my blood results and they were getting a bed ready for me. I needed to come right in."
Related: What Causes Leukemia and How Do Doctors Treat It? A Guide to AML
One of the chemotherapies Lawson received for breast cancer, Adriamycin, carries a very small—less than 1 percent—risk of causing acute myeloid leukemia, or AML. Lawson was shocked to discover that she would be counted in that tiny percentage. "The day after I was admitted," she says, "I had a bone-marrow biopsy, and it was confirmed that I had treatment-related AML." The disease is a type of cancer that starts in the blood-forming cells of the bone marrow.
AML is initially treated with chemotherapy, but a stem-cell transplant offers the best chance for long-term survival. Chemo is used to get the cancer into remission so that a transplant can succeed.
What You Need to Know When Preparing for a Stem-Cell Transplant
Lawson's first chemo drug did not work at all toward this goal—a devastating blow. However, the second drug she received had more success, and ultimately her transplant could be planned.
Related: How To Recognize Symptoms Of Acute Myeloid Leukemia
As Lawson began on the long path of AML treatments, her mother had a flash of inspiration. "I think it was after my second round of chemo," Lawson says, "that my mom came into my hospital room holding two perfectly shaped rocks. She'd taken them from the flower bed outside the cancer center. She said she thought my daughter and I could paint them."
Rock Solid Hope Is Born
Lawson ran with the idea, which she eventually called Rock Solid Hope. "My daughter and I sat down one day, after I was released from the hospital, to paint the rocks. I painted 'Hope Lives Here' and 'Choose Hope,' and I added cancer ribbons. I was going to put them in my yard—but then I decided to return them to where they'd come from, along the walkway to the cancer institute, so that other patients could read them."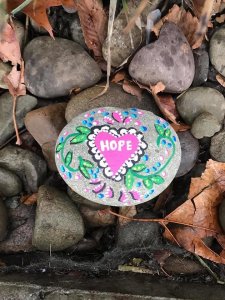 Her project took off. "On one of my trips into the clinic," Lawson recalls, "I noticed that the rocks I'd put down were missing. I also noticed that there were some new ones, with messages on them that I had not painted. It was like someone had answered me. I started taking more and more rocks and painting more and more messages. Other people did too. Our local news channel did a story on it, shortly before I left for Philadelphia for my stem-cell transplant. I continued with this painting for the first year or two after my transplant, and I got friends and family involved."
Related: Michael Bolton Surprises Woman Battling Brain Cancer With Sweetest Message of Support
The project provided Lawson and her daughter with a valuable bonding experience. Meanwhile, relatives stepped in to help maintain some normalcy. "My daughter was 4 when I was diagnosed with AML," Lawson says. "She understood that I was sick, but we had a great family support system, and she got to do a lot of fun things, so I don't think she spent much time feeling worried or distressed. She got ice cream every time she came to visit me in the hospital, so that made her happy. We had a lot of fun times during her visits."
Getting Through AML
Lawson's hospital stays were significant—typical for AML treatment. "I would be in for a few weeks doing each round of chemo," she says, "and then I'd go back home but return to the clinic every other day for blood and platelets." The transplant hospitalization likewise was a major one: "I entered the Hospital of the University of Pennsylvania in mid-October of 2016 and was discharged in mid-November. Then I had a nurse come to my home twice a week to do blood tests, and I'd go back down to Penn to meet with my transplant nurse and do more labs weekly for the first 100 days after my transplant."
Related: Acute Myeloid Leukemia (AML): How Do I Make Treatment Decisions?
Even at home, Lawson had to take significant precautions. "It's important to note," she says, "that a patient who undergoes an allogenic stem-cell transplant has their entire immune system wiped out by chemotherapy and sometimes radiation. Then the donor stem cells are injected, and the body rebuilds the immune system using the donor cells. Because you're neutropenic [low in white blood cells] from chemo and a transplant, you have to stay in your house and take all of the usual neutropenic precautions," like not eating food that wasn't prepared in your own home and wearing a mask and gloves to any medical appointments.
Through it all, Rock Solid Hope provided Lawson with inspiration, even as she used the project to inspire others. "It was an empowering endeavor for me," she says. "It was my conversation with cancer, through the rocks. But the cancer couldn't talk back, so I had the upper hand!"
Related: Stem-Cell Transplants to Treat Acute Myeloid Leukemia: What You Need to Know Before, During, and After
"In message after message," she continues, "I told the cancer—and other patients—that I and we would win. After I had my stem-cell transplant, during a routine checkup, one of my doctors told me that he wouldn't be surprised if the leukemia came back. My blood work looked fine, and there was no reason to believe that a relapse was imminent. His words really hurt me and shook my confidence, especially combined with the 'zero bedside manner' way he delivered them. You can bet I painted a few rocks with  messages for him, too. A year after that appointment, I left a rock at the center that said,  'I'm Still Here.'"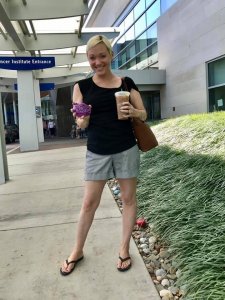 Embracing a Healthy Future
Her transplant was successful, and Lawson, who turns 41 next month, has been cancer-free in the years since. She would love to meet, someday, the stem-cell donor who helped to save her life. "The only thing I know about my donor is that he was a 45-year-old man from Germany," she says. "I signed paperwork to release my information to him, but so far he hasn't done the same. Ultimately I just hope that he's alive and well—and that he's receiving blessings for the gift he gave me." She also participates in fundraising and advocacy for causes that helped her regain her health.  "In the years after my transplant," she says, "I've been raising money for the Leukemia and Lymphoma Society—and encouraging friends and family to join the Be the Match registry, which is how my donor was found."
Preparing For A Stem-Cell Transplant To Treat AML, While Finding A Matching Donor
Like all of us, Lawson is coping with the realities of the current pandemic. "At almost four years out from my stem-cell transplant," she says, "I feel really great and strong—but I have to admit to myself that I am immunocompromised and at high risk for COVID-19. It's been hard to return, because of the pandemic, to the isolated kind of life I led after the transplant. I was enjoying getting back to feeling normal. But—if anyone is prepared for wearing a face mask everywhere, it's a person who has had this kind of transplant."
Meanwhile, though her Rock Solid Hope project will always be a meaningful part of her life, Lawson is thankful that she hasn't gotten to keep close tabs on it in recent years. "Around 2018, they added an addition to the hospital and shut down the parking lot near the rock beds for construction," she explains, "so cancer patients rarely walked past the area where the rocks were during that time. These days, I'm not sure how many people are participating, as I'm only visiting the cancer center once a year for a checkup. I feel very blessed to say that."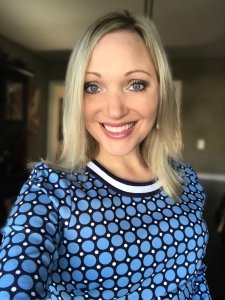 Learn more about SurvivorNet's rigorous medical review process.