Maintaining Joy & Faith During A Cancer Battle
Criscilla Anderson is maintaining her faith and happiness throughout her battle against stage four colon cancer, with the help of dance.
The hip hop dancer is seen doing her own choreography to one of her favorite songs, titled Bless Me by Maverick City Music and Kirk Franklin in a recent video shared on social media.
The term colorectal cancer is used to describe cancers that begin in the colon or the rectum – so some people just use the term colon cancer if that's where the disease began.
One of our experts says colon cancers can be prevented when polyps are found early. And with colorectal cancer cases in younger people on the rise, the recommended age for beginning screening has been moved from 50 to 45.
When it comes to treatment for colon cancer at stages one, two and three, there is the potential for a curative effect with surgical resection. One of our experts says all patients with stage one to three colon cancers undergo surgery "if they're healthy enough to tolerate it."
Criscilla Anderson, the 42-year-old wife of country singer/songerwriter Coffey Anderson, 44, has become the embodiment of strength during her battle against stage four colon cancer, something she's been dealing with since 2018.
The mom of three, who shares Ethan, Emmarie and Everleigh with her husband, and also serves as a "bonus mom" to Coffey's older daughter, Savannah Jean, hasn't let her diagnosis slow her down or stop her from doing one of her favorite things—dancing.
Read More
The hip hop dancer who has taught classes throughout her cancer journey, and even coached the Dallas Cowboy Cheerleaders, recently took to social media to show her followers how she's been thriving amid cancer and dancing for Jesus, and for joy.
"We brought Jesus to a Beginner hip hop class and then we went to church," Criscilla wrote in a video of herself dancing inside a studio of approximately 20 other upbeat dancers.
Criscilla is seen doing her own choreography to one of her favorite songs, titled Bless Me by Maverick City Music and Kirk Franklin.
As she and the dancers bounce around with smiles on their faces, the song lyrics can be heard as, "Bless me, bless me, bless me God indeed. Death has been defeated, he is our victory. Bless me, bless me but God, not just for me. But so everyone around me can have everything they need."
Related: 'You Heal Me!' Criscilla Anderson Takes Special Solo Trip With Son, Ethan, 10, As She Seeks Strength During Her Cancer Battle
Then, when the song becomes slightly faster and the words "we blessed, we blessed, we blessed" get repeated, the whole group begins to jump up and down with their arms raised over their heads. It appears that's what Criscilla is talking about when she says they "went to church."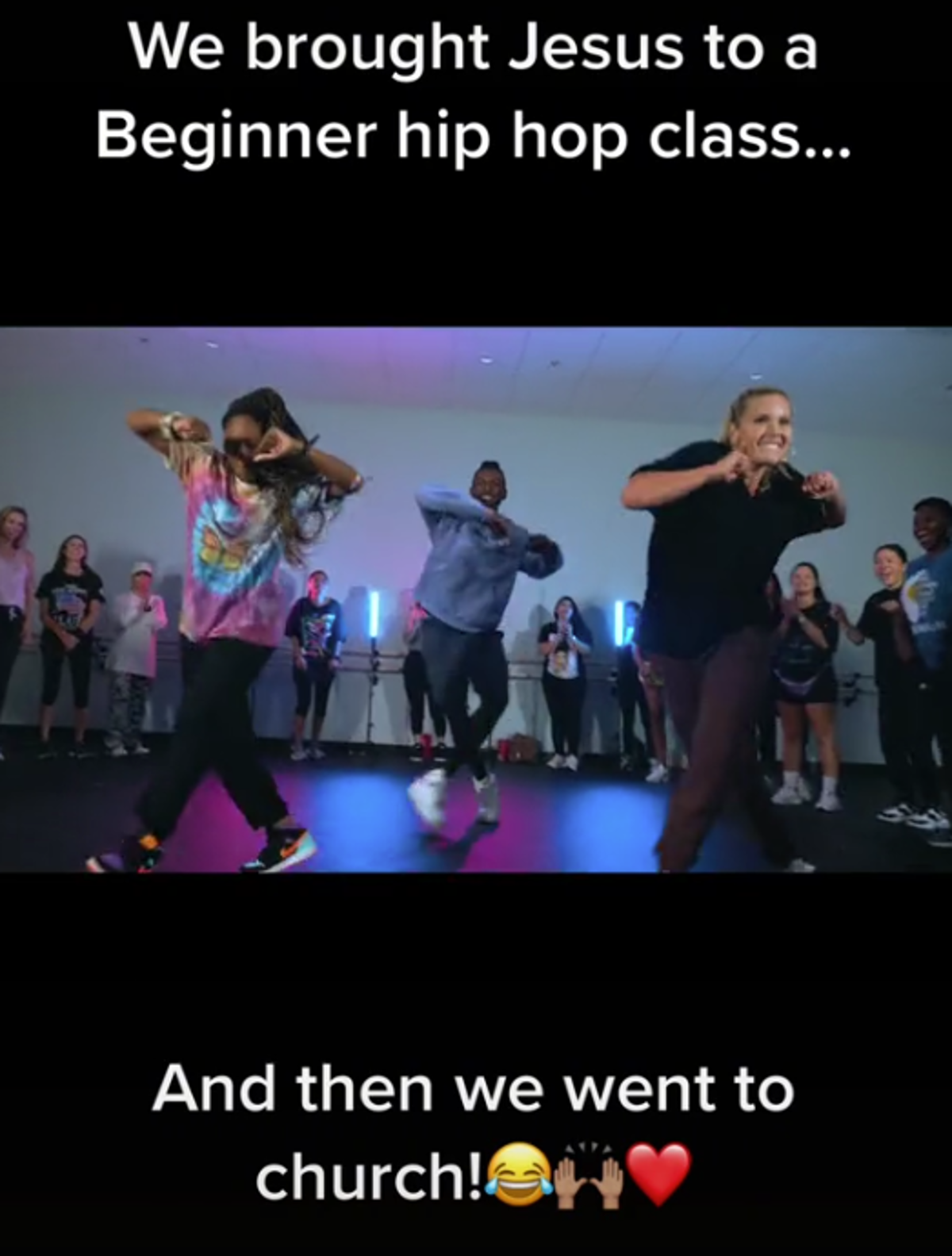 Dancer Dre Scorpio also shared the uplifting footage on YouTube, with a short recap of the dance session.
"We most definitely 'got everything we need.' This room was filled with nothing but positive vibes, great energy and amazing people!! Thank you Criscilla for taking us all to church on a Thursday night lol….," Dre Scorpio wrote.
"It was such an honor getting the opportunity to assist you…. I had so much fun and can't wait to dance some more with you soon!" he added.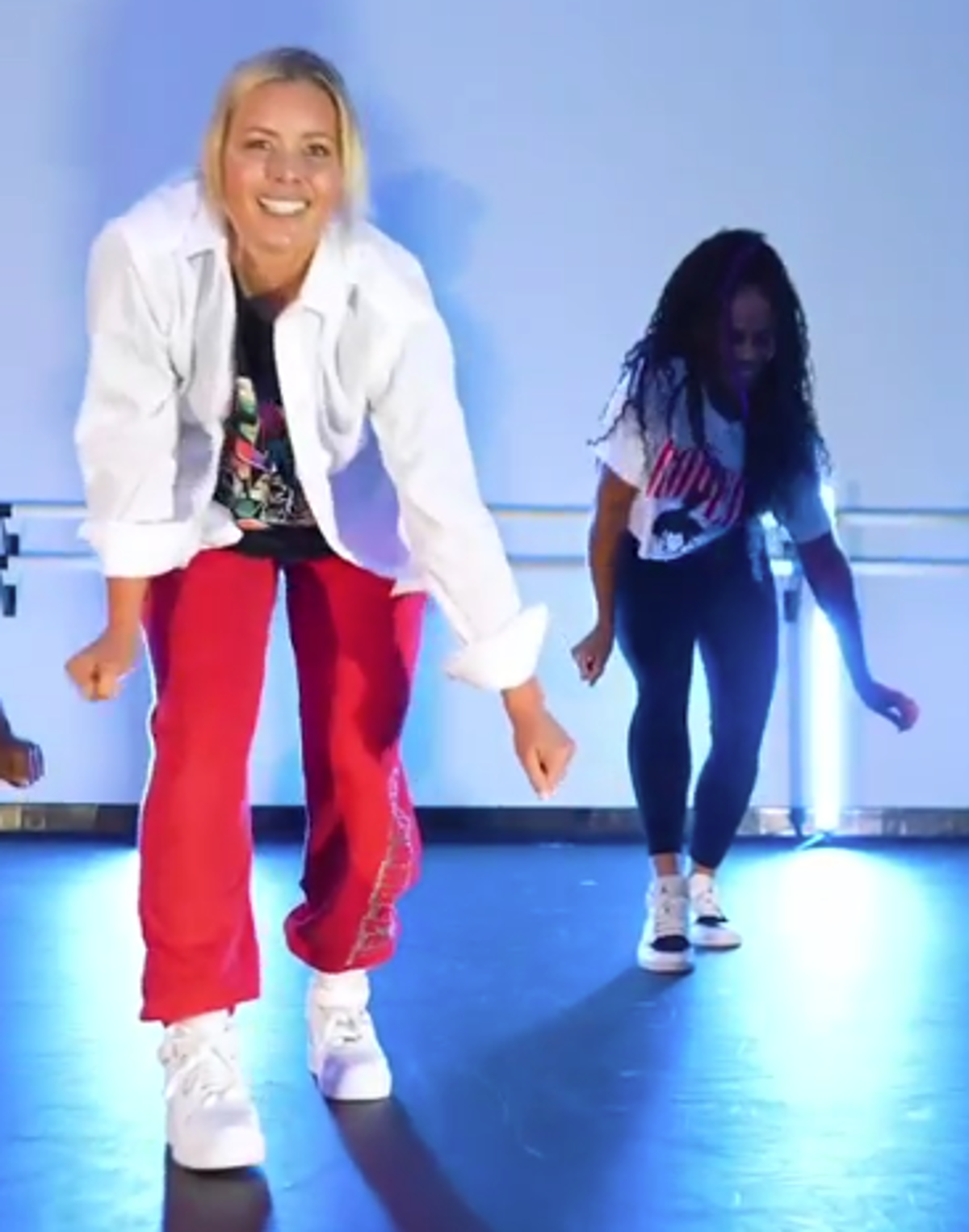 Criscilla Anderson's Cancer Battle
Criscilla was originally diagnosed with stage four colon cancer in 2018. But last summer was a high point for the couple. Coffey exploded onto the charts with his anthem "Mr. Red White & Blue," and Criscilla received an incredible update on her cancer battle.
"I walked in and Criscilla was crying, and after four summers of going through this, you just never expect good news," Coffey told PEOPLE. "She told me that the doctor had said that she had reached NED [no evidence of disease]. It took me about 15 minutes to grasp. My phone dropped out of my hand and my shoulders dropped and I just felt my body starting to realize the gravity of it."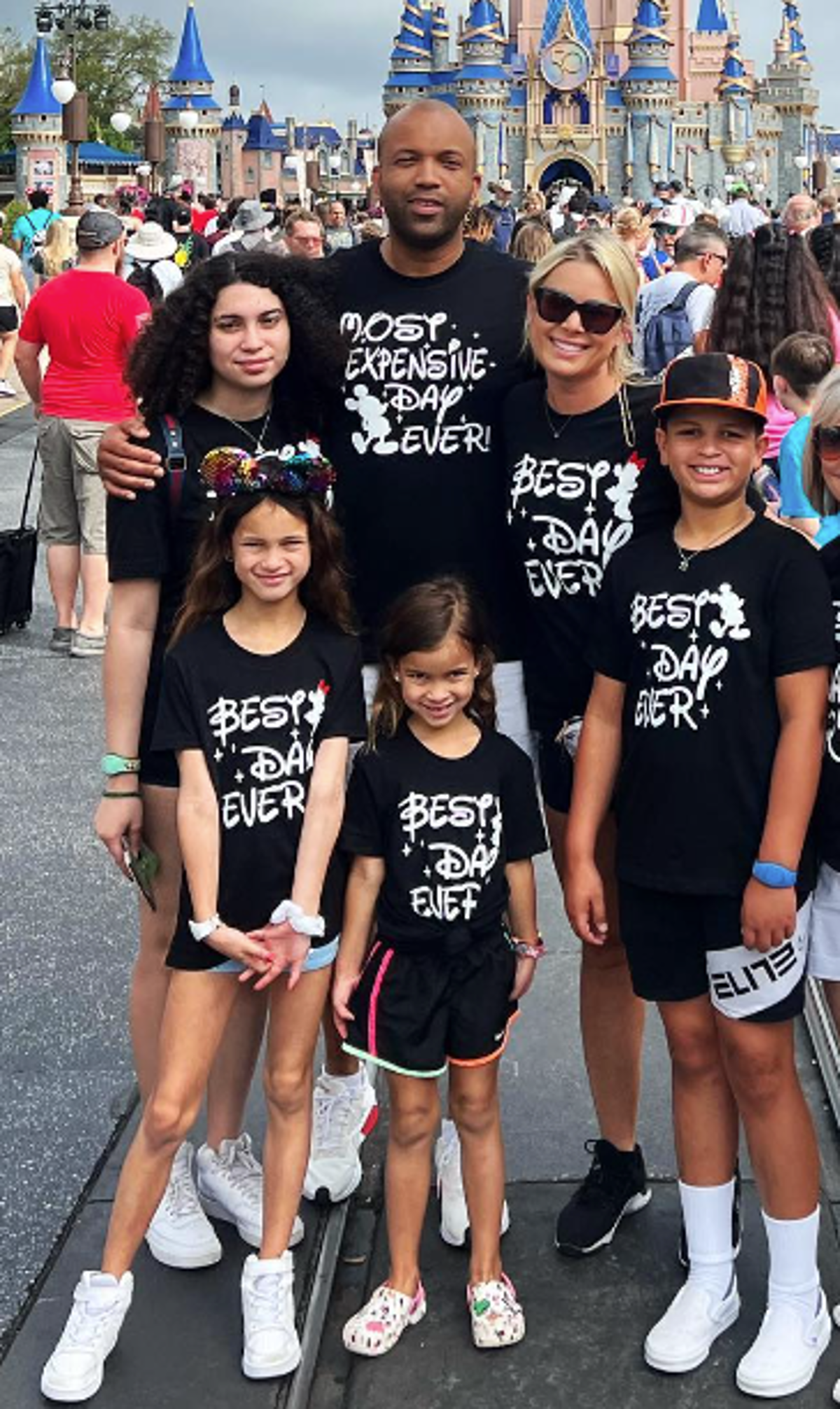 "It was almost as if my body realized what she was telling me before my mind did," Coffey said. "I was leaning against the wall and then Criscilla came in and just hugged me. We both lost it at that moment."
Her victory over the disease last summer was a major milestone, but she knew she could not completely relax.
"The thing with cancer is that the chances of it returning are very, very high," she said. "That's why it's always been important for me to not only celebrate all the victories, but prepare my mind for a bad scan, which takes us right back to the drawing board. It's almost like I have to treat the cancer like a chronic disease."
Now, Criscilla is preparing for another fight, as cancer has been detected in her lymph nodes. Still, her spirit is unshakable.
"I'm always going to be preparing my heart and my mind for results that I don't want and just praying for the best," she said. "Do I want this diagnosis? Of course not…Who would want this? There are times when I get mad and I get angry and I get sad and then, I get hopeful again. The fight is still on, but I have a lot of fight in me."
Understanding Colorectal Cancer
The term colorectal cancer is used to describe cancers that begin in the colon or the rectum – so some people just use the term colon cancer if that's where the disease began. The cancer develops when abnormal lumps called polyps grow in the colon or rectum. It takes up to 10 years for a colon polyp to actually become cancer, according to SurvivorNet experts.
RELATED: How Is Rectal Cancer Treated Differently Than Colon Cancer?
Colorectal cancer, like all cancers, presents its own unique challenges for patients on the road to recovery. But Dr. Heather Yeo, a surgical oncologist and colorectal surgeon at New York Presbyterian Weill Cornell Medical Center, wants to remind people how far the treatment of this disease has come.
"One of the most exciting things about my job is that we've made a lot of progress on treatment options," Dr. Yeo says in a previous interview with SurvivorNet. "However, patients are still — while they're living longer, they are still living with colon cancer, and so I think it's really important that we talk about how some of the things in your life affect you."
Screening for Colorectal Cancer
Dr. Yeo also emphasizes the importance of colorectal cancer screenings such as colonoscopies because most colorectal cancers can be prevented early with screening.
"You Shouldn't Die From Embarrassment": Colon Cancer Can Be Prevented
"In the United States, on a national level, colorectal cancer has been decreasing for the last 20 years," Dr. Yeo says. "And much of that is thought to be directly due to screening for colon cancer."
RELATED: All Americans Should Begin Colorectal Cancer Screening at Age 45, According to New Guidelines; Previous Age Was 50
Even still, colorectal cancer cases are rising among younger people. And in the United States alone, rates have increased every year from 2011 to 2016 by 2 percent among people younger than 50. Because of this increase, the United States Preventive Services Task Force has recently updated its colorectal cancer screening recommendations to begin at age 45 instead of 50.
"We know that colon cancers can be prevented when polyps are found early," Dr. Yeo said. "Lowering the screening age helps somewhat with this. But access to care is a real problem."
And increasing access is crucial to making sure that we don't see racial disparities within the world of colorectal cancer. Whites and Asians are significantly more likely to be up to date with their colonoscopies than African Americans, Latinos and Native Americans.
Research suggests that tailoring colon cancer screenings to each person's individual risk may be beneficial. If you are not yet 45 but have concerns about your risk, talk to your doctor. Ask about your individual risk based on your lifestyle and family history and find out when screenings would be right for you.
Treating Colon Cancer at All Stages
When it comes to treatment for colon cancer at stages one, two, and three, there is the potential for a curative effect with surgical resection.
Colon Cancer Stages One, Two and Three
"As long as it hasn't spread outside of the local area, it's still considered a curable colon cancer," Dr. Yeo told SurvivorNet.
According to Dr. Yeo, all patients with stage one to three colon cancers undergo surgery "if they're healthy enough to tolerate it." But there's more nuance to the possibility of additional treatment for stages two and three.
"Stage 2 a little bit more in between," she said. "It really depends on kind of the depth of the tumor into the colon wall and the risk that it has to spread.
If a stage two colon cancer has "bad features" identified by a pathology report, chemotherapy might be the right move.
"For example, if when they look at the pathology slides under the microscope, if they see that it's involving some of the vessels nearby, then that is a higher risk factor," she explained. "And then, those patients might be more likely to benefit from chemotherapy."
Stage three colon cancers have spread to the lymph nodes. So, these patients "at least need a conversation of chemotherapy," according to Dr. Yeo.
"For our patients with 3 or higher, they all need chemotherapy," Dr. Yeo said.
Meanwhile, for patients with stage four disease, there are multiple treatment options available which include both surgical and non-surgical options depending on patient factors, including location and extent of disease and performance status.
And although advanced stages of colorectal cancer are not always curable, there are still many treatment options available, so they can often be managed.
Understanding Your Options With Stage Four Colon Cancer
With the development of new therapies for metastatic colorectal cancer, there have been improvements in survival. Many of these treatment options involve a multidisciplinary approach, and should be tailored to the individual patient depending on the location and the extent of metastatic disease.
Cancer Recurrence; Don't Rely on Alternative Medicine
The trend of "holistic" medicine has gained significant ground over recent years, with millions of Americans turning to alternative treatments rather than standard treatment. However, this can be extremely dangerous and life-threatening. A Yale study, published by JAMA Oncology, found that people who pursue alternative therapy are more likely to die. Since this has become a popular route, more oncologists are incorporating integrative medicine into their practices without replacing standard treatment such as chemotherapy.
Unlike alternative medicine, which claims cancer can be "cured" or completely prevented, integrative medicine blends both standard treatment as well as emphasizing lifestyle behavior. This can include diet, exercise, and a person's overall well-being.
"Integrative medicine is an approach to care that puts the patient in the center of care and everything flows from that," Dr. Brian Berman, director of the Center for Integrative Medicine at the University of Maryland School of Medicine, previously told SurvivorNet. "It emphasizes lifestyle behavior, like diet, stress management, nutrition, and it also blends the best of conventional medicine and complementary therapies…It very much believes in the power of conventional medicine, but it's trying to bring in other evidence-based approaches, and to optimize people's health and well-being."
While supplements can be beneficial in regulated doses, and under certain circumstances, it's important to note that they are not a substitute for cancer treatment, prevention, or reducing the risk of cancer recurrence. In order to have the most successful outcomes, it's key to follow your physician's advice and stick to evidence-based treatment options.
Contributing: SurvivorNet Staff
Learn more about SurvivorNet's rigorous medical review process.
---