Faith Through Cancer
John Barnett, of Missouri, was 31 years old when he first felt an unusual tingling in his pinky, a feeling which traveled into his hand and up into the left side of his mouth, which left him unable to speak clearly. He was first misdiagnosed with Stage 4 Glioblastoma, but later confirmed to have Stage 3 astrocytoma, a rare cancer he was able to fight.
After undergoing 30 treatments of radiation and chemotherapy, Barnett, now 36, is celebrating five years since he was first diagnosed with cancer.
SurvivorNetTV presents 'Turning to Faith,' an episode from our original series SN & You that depicts cancer survivors' journeys and the role faith plays in their lives.
Middle school basketball coach and father of three John Barnett, of Missouri, was 31 years old when he first felt an unusual tingling in his pinky, a feeling which traveled into his hand and up into the left side of his mouth, which left him unable to speak clearly.
Since the frightening incident took place at work, the school nurse advised Barnett's wife Megan to transport him to the hospital, where doctors initially suspected him to have had a stroke. After further testing, on November 30, 2017, he underwent more testing and a full MRI at Barnes-Jewish Hospital in St. Louis and eventually was told by a neurosurgeon that he had a walnut-sized tumor on part of his brain.
Read More
It wasn't until after Barnett underwent a six-hour surgery to remove 50 percent of his tumor, that his neurosurgeon informed him he had Stage 4 Glioblastoma on December 19.  It was then his doctors said, "You don't have the gene to fight it. If you decide not to do chemo and radiation, you have three to six months to live. If you decide to do those things, you have 12 to 15 months to live. You need to get your affairs in order," Barnett recounted to
DailyJournal Online
. Its the sort of language that can be triggering for people in the cancer community, even to read. However, when Barnett visited the University of Texas MD Anderson Cancer Center in Houston, he learned he had been misdiagnosed and, in fact, had
Stage 3 astrocytoma,
a rare cancer that he had the gene to fight it.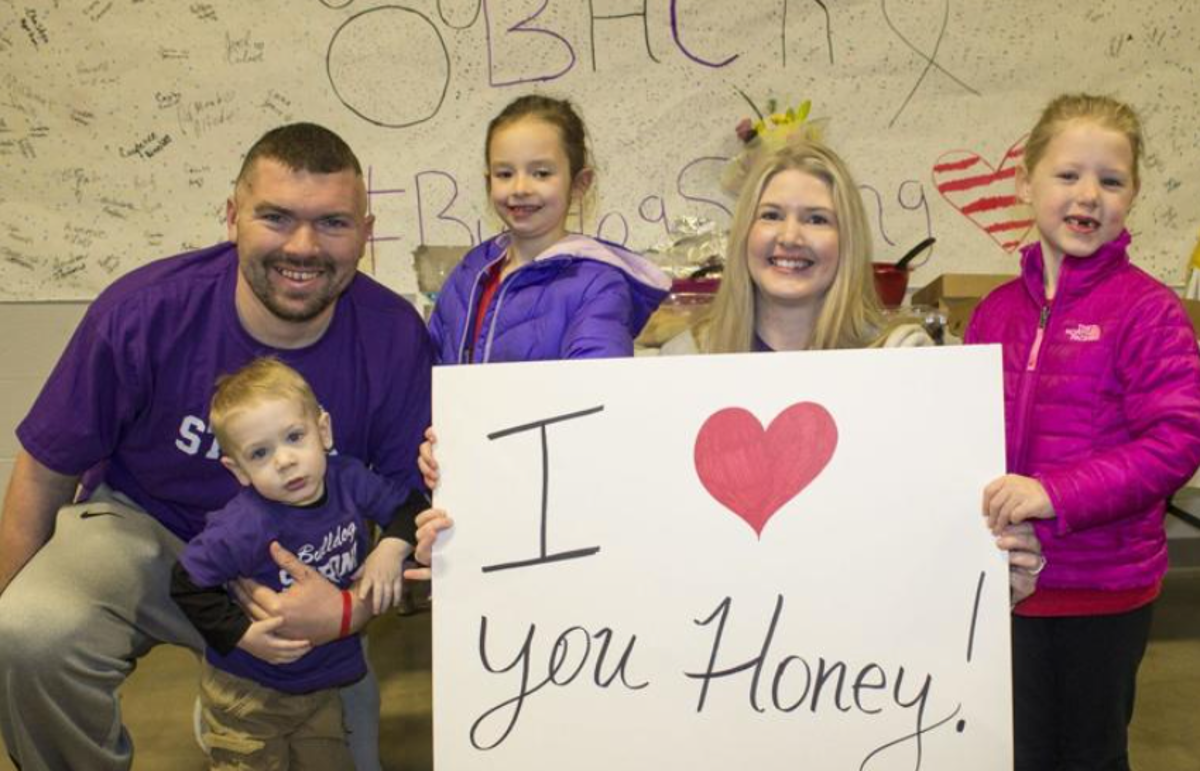 After undergoing 30 treatments of radiation and chemotherapy, Barnett, now 36, is celebrating five years since he was first diagnosed with cancer.
"There is no way I would have had the strength, courage or fighting spirit to be here today if it wasn't for her," Bernett, referring to his wife Megan, said. "With every breath I take, I am living proof of the power of prayer. God hasn't changed. He still performs miracles every day."
During his radiation treatments, Barnett listened to the song Rend Collective's "Marching On" on repeat to give him hope. Some of the lyrics in the song are as follows: "Let our praises remind all the darkness of how great and how mighty our God is, for the battle belongs to the Lord and no one else … we are marching on, we are marching on."
Barnett, who has three children, daughters Khloe and Ava and son Elijah, likened ringing the bell after treatment to "stepping on Satan's throat." He added, "We flew home and got our level of normalcy that still wasn't 'normal.'"
When doctors revealed the results of Barnett's March 20 brain scan, compared to his January 2 scan, there was a drastic difference.
"We can't find anything on the scan from today. Sir, the whole team has looked at this scan and we can't find anything on it. There's nothing here, Sir," Barnett's doctors said. "Your scan from this morning is so clear it looks like you never had any type of cancer or treatment."
Barnett, who admits he "turns to God with anything" recalled replying, "Ma'am, I know why. I need to pray right here and give thanks. If you want to leave, I'll open the door when I'm done. But you're more than welcome to stay."
He was able to return back to work the following month and insists  brain cancer changed his life "completely."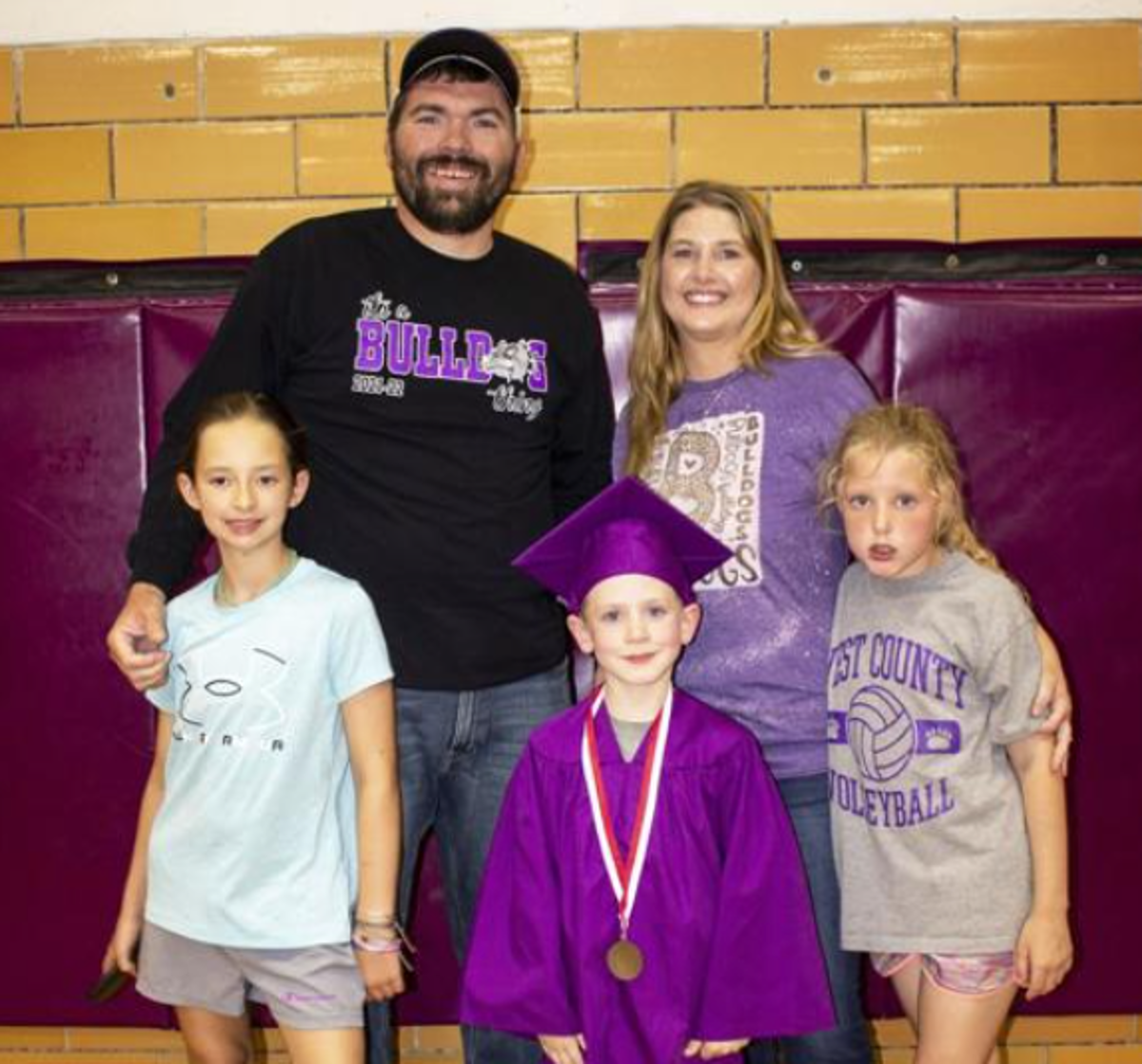 Understanding Brain Tumors
According to the American Society of Clinical Oncology (ASCO), brain tumors account for 85 to 90 percent of all primary central nervous system (CNS) tumors. The central nervous system consists of the brain and spinal cord and acts as the main "processing center" for the nervous system. Normal function of the brain and spinal cord can become difficult if there's a tumor present that puts pressure on or spreads into nearby normal tissue.
There are many different types of brain and spinal cord tumors. Some are more likely to spread into nearby parts of the brain or spinal cord than others. Slow-growing tumors may be considered benign, but even these tumors can cause serious problems.
According to the National Organization for Rare Disorders, anaplastic astrocytomas are rare malignant (cancerous) brain tumors. Astrocytomas, generally speaking, develop from certain star-shaped brain cells called astrocytes. Grades I or II astrocytomas are nonmalignant and may be referred to as low-grade. Grades III and IV astrocytomas are malignant and may be referred to as high-grade astrocytomas. Anaplastic astrocytomas are grade III astrocytomas. Grade IV astrocytomas are known as glioblastoma multiforme. Lower grade astrocytomas can change into higher grade astrocytomas over time, so it's important to catch these tumors as early as possible.
Symptoms of brain tumors, as a whole, are often caused by increased pressure in the skull. This pressure can be caused by tumor growth, swelling in the brain or blockage of cerebrospinal fluid (CSF), according to the American Cancer Society.
With anaplastic astrocytomas, specifically, commonly associated symptoms include:
Headaches
Lethargy or drowsiness
Vomiting
Changes in personality or mental status.
And, in some cases, seizures, vision problems, and weakness of the arms and legs resulting in coordination difficulties.
More specific symptoms of anaplastic astrocytomas relate to the specific area of brain where the tumor is located. Anaplastic astrocytomas may develop in the frontal, temporal, parietal and occipital lobes of the cerebrum (the front of the brain). If a tumor is in the frontal lobe, for example, you may experience memory problems, changes in personality and mood and paralysis (hemiplegia) on the side of the body opposite of the tumor. If the tumor is in the temporal lobe symptoms can include seizures, memory problems and problems with coordination and speech. If the anaplastic astrocytoma is in the parietal lobe, it can cause difficulties with communication through writing (agraphia), problems with fine motor skills or sensory abnormalities such as tingling or burning sensations (paresthesias). Lastly, tumors in the occipital lobe can lead to visual loss.
The Power Of Prayer: The Remarkable Link Between Religion And Resilience
Dealing with a chronic disease or serious illness can be incredibly challenging, both physically and emotionally. And it's not unusual for a person to feel overwhelmed or even hopeless. Rest assured – you are not alone. Because in difficult times one's spirituality can provide a sense of strength and support that can make all the difference. As Stanford's Tanya Luhrmann has said:
Related: Can Turning To Faith Help You During A Cancer Journey? Some People, And Studies, Say Yes
"Prayer is a lot like cognitive behavioral therapy. It's a way you attend to your own inner experience, let go of distracting thoughts and focus on more positive thoughts. By expressing gratitude, you shift attention from the way that things are going wrong to the ways they are going right."
SurvivorNetTV Presents: 'SN & You – Turning To Faith'
Many who live a spiritual life will attest to the positive impact faith has on their physical and psychological well-being. And fortunately, the evidence is more than just anecdotal. Researchers at The Mayo Clinic have also pointed out that many faith-based practices and traditions also provide health benefits:
"Most studies have shown that religious involvement and spirituality are associated with better health outcomes, including greater longevity, coping skills, and health-related quality of life (even during terminal illness) and less anxiety, depression, and suicide. Several studies have shown that addressing the spiritual needs of the patient may enhance recovery from illness."
Related: Check Out Robin Roberts' Top Five Morning Prayers To Help Change Your Life
One of the biggest challenges of dealing with a chronic disease like cancer or Alzheimer's is the uncertainty that comes with it. Will my treatments be effective? Will the disease progress? Will there be complications? These questions can weigh heavily on a person's mind, causing both anxiety and fear. But faith can provide a sense of peace and calm in the face of uncertainty. It can give a person the courage to trust in the unknown and to believe that, no matter what happens, they will be able to handle it.
In addition to providing emotional support, faith can also play a practical role in managing one's illness. For many people, faith provides a sense of community and connection. This can be especially important, as it can be isolating and lonely at times. Belonging to a faith-based community can provide a network of caregivers as well as social support and friendship, all of which are crucial for maintaining mental and emotional well-being in the face of a health-related setback.
Faith Perspective: Opening Yourself Up to Others After a Cancer Diagnosis
Widespread evidence suggests that religious faith can have a positive impact on physical health as well. For example, research has shown that people who are religious are less likely to smoke or use drugs, and are more likely to engage in healthy behaviors such as exercising regularly and eating a healthy diet. Certain faith-based practices, such as yoga and tai chi, can also improve physical fitness and mobility. Religious faith can keep people centered which can help to reduce stress and anxiety. This, in turn, can have a positive impact on physical health by lowering blood pressure, improving immune function, and reducing the risk of chronic diseases such as heart disease and diabetes.
But perhaps most importantly, faith can provide a sense of purpose. When facing a serious illness, it can be easy to feel like life has lost its significance and direction. But having faith can provide a sense of hope and optimism, and can help a person find meaning in their struggle. It can give them the strength to keep going, even on the hardest of days.
There are many different ways that a person can incorporate faith into their journey with a chronic disease like cancer or Alzheimer's. For some, it may mean regularly attending services at a place of worship or participating in prayer and meditation. For others, it may mean finding support and inspiration in religious texts or teachings. And for still others, it may simply mean having a strong belief in a higher power or in the goodness of the universe.
But no matter how a person practices their faith, it can be an invaluable source of strength. It can provide emotional support, a sense of community, and practical health benefits. And most importantly, it can give a person the hope and determination they need to face their illness with courage and resilience.
Staying Hopeful Through Cancer
"I knew that if I just put my faith and trust in God, that I would be okay," says Sharonda Vincent previously told SurvivorNet about her cancer journey.
Sharonda discovered a lump in her left breast the day before her thirtieth birthday, with just over a month to go until her wedding. Her doctor initially dismissed her concerns, but follow-up tests confirmed that it was stage 2B breast cancer. "It was hard for me. I felt as if I was being punished," she says.
'I Had A Talk With God – And I Knew I'd Be Okay'
But after chemotherapy, radiation, and then hormone replacement, Sharonda is doing well. She's currently a social service advocate at the Public Defender's Office in Philadelphia.
Sharonda's message: Don't give up hope. Educate yourself — and live every day to the fullest. "Breast cancer is no longer the end of the world," she says.
Contributing: SurvivorNet Staff
Learn more about SurvivorNet's rigorous medical review process.
---