Cherishing Every Memory with His Kids
Dad-of-three Scott Ruxton, 37, has been going through a tragic cancer battle. The Wales-based builder had to have his tongue and larynx, along with his lymph nodes, removed. He can't speak, which means he can't verbally tell his kids he loves them.
Scott's former partner of 11 years has been caring for her ex, and has put him up in her kitchen, so that he can spend as much time as he can with his kids during this difficult time.
The family plans to share a trip over the holidays, putting their differences aside as exes in order to nobly prioritize their children's needs so Scott can suffer a little less. Limiting stress while fighting cancer can make all the difference in the world for the patient.
Cancer warrior Scott Ruxton, 37, has been through it all.
Various treatments due to his advanced head and neck cancer, surgeries to remove his larynx, tongue, and lymph nodes, but the worst of all he's endured? Tragically, he is no longer able to tell his kids that he loves them.
Read More
Despite suffering through all of the above, the Wales-based builder joyously heard the news he was "all clear." But unfortunately, it was short-lived, as he was told every cancer patient's worst fear soon after—that the cancer had returned.
Emily Broom, Scott's former partner of 11 years, with whom he shares two children, has been caring for her ex. They have a 6-year-old, Lily-May, and Mia-May, age 9. The loving dad's eldest, Jessie, 14, with another former partner.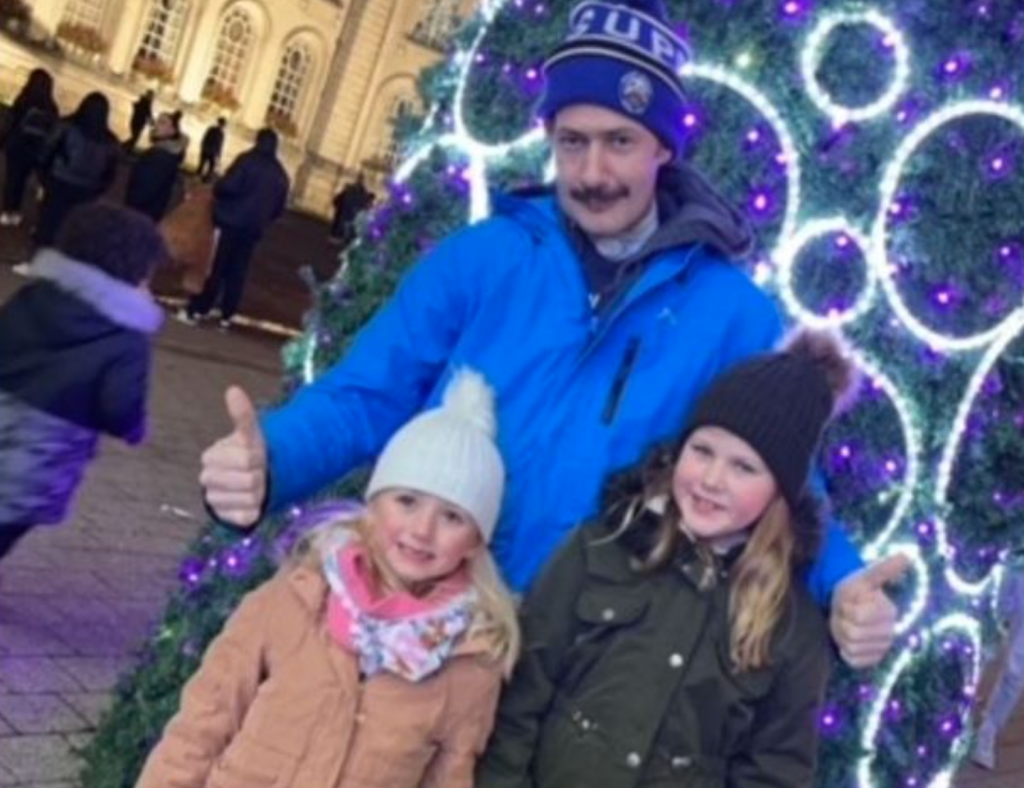 "Scott's been deteriorating recently but doesn't want to go into a hospice," Emily told WalesOnline. "He's always been fiercely independent and hates people fussing over him."
A Sudden Cancer Diagnosis
Scott had bitten his tongue by accident while at work, and strangely, it never healed. Thought the details from the family are unclear, it seems the disease started on his tongue. Scott's health has declined ever since.
Related: Dancer, 35, Thought Her 'Canker Sore' Was Just 'Annoying:' It Turned Out To Be Stage 4 Tongue Cancer
Though Emily admits that having a bed set up for him in her kitchen is not ideal, it's the best they can manage at the time. "The most important thing is he can be close to the girls and we all make the most of what time he's got left."
When Someone You Love is Facing Cancer—Be Patient
Even though the couple decided to part ways three years ago, there wasn't any animosity, and the pair remained friends.
"Scott was always the life and soul of the party and you'd always hear him long before you saw him. So that he can't speak now is especially cruel," Emily added, also nothing that he used an app on his phone to communicate.
Related: 'Life of the Party' Mom, 42, Mistook Her Months Of Coughing, Fatigue For 'Long COVID:' It Turned Out To Be Cancer
"He gets so frustrated with that and it's heartbreaking to watch him struggle," she shared. "I can't imagine how hard all this is on them but they're trying the best they can just to get through each day. But it's a lot for kids that young to get their head around."
Holding On For His Kids
For now, the plan is to make as many memories as possible, and the family has set up a GoFundMe to help raise funds for a final family holiday.
"I'm not one to roll over and give up," Scott shared through his app. "So don't be surprised if you suddenly see me out and about, or on the TV news."
A lot of survivors tell us that telling their loved ones was one of the hardest things about having cancer, especially children. How do you keep strong for your kids when you're simply not feeling strong?
'I Wanted to Keep Things with My Kids as Normal as Possible'
Survivor Gina de Givenchy says she told her daughter, who was 12 at the time of her diagnosis, the day after she found out. "I really wanted her to know that I was going to be OK," Gina says. "I didn't want her to see me weak and sickly. It is what it is, you can't really hide it. But when it comes to your kids, I think you want to protect them."
Best wishes to Scott and his family as they navigate through this emotional time.
Learn more about SurvivorNet's rigorous medical review process.