Dance Moms star Abby Lee Miller recently updated fans about her health situation and revealed that she's had a knee replacement. A lot has been going on for Miller in the health department over the past year. Shortly after the reality star was released from prison, which she was in for about a year on charges related to tax evasion and falsely declaring bankruptcy, Miller, 52, was diagnosed with Burkitt lymphoma — a form of non-Hodgkin's lymphoma.
Earlier this year, Miller announced on Instagram that she underwent emergency surgery on her spine in April of 2018. She shared that over the course of a year she had also undergone several rounds of chemotherapy, an additional surgery, and months of physical therapy. After all was said and done, she did return to the massive Lifetime hit Dance Moms — though she was wheelchair-bound as a result of the cancer treatment. She was, however, declared cancer-free. Recently, Miller updated fans about her health condition, saying she planned to have several cosmetic and health-related surgeries — including breast reduction, knee surgery, and liposuction — before undergoing an additional spinal surgery related to the cancer.
Read More
Knee replacement surgery seems to be the first one she checked off her list. Miller shared with fans this week that she had been putting off the knee surgery for about 7-8 years.
"It was always, one more episode, one more season, another special, oh, we have nationals," Miller said in an Instagram video. "So, the time has come. And hopefully [my doctor] is not going to just put another knee in … maybe a robotic, supersonic knee."
Miller concluded her video by asking her fans to pray for her. The surgery seems to have gone well; Miller posted another video to Instagram where she revealed her new knee, and her nurse informed her that she had a scar that was about 12 inches long. It's unclear if the knee replacement surgery was related to Miller's cancer treatment, though, because she said she had been putting off the surgery, it's unlikely. It is recommended that people who undergo treatment for Burkitt lymphoma get regular medical tests in the years following the treatment completion, such as CT scans and PET scans. It may be required during remission to evaluate the need for additional treatment regularly.
Throughout all of Miller's health struggles, she has tried to maintain a positive attitude, and has shared with fans that she does not plan to let the health issues keep her from training young dancers. Earlier in the year, Miller told People that despite her setbacks, she still feels like she has a lot of work to do in her life.
"I have goals," Miller said. "I have dreams and I want to see them come to fruition. I want to retire and want to be able to live out my days financially secure. That's what everyone wants."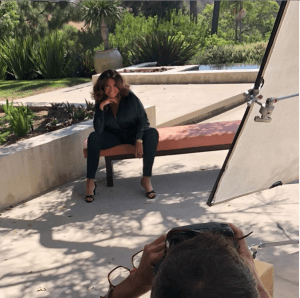 Miller is certainly not alone in wanting to stay involved in her life's work during a cancer battle. Countless members of the SurvivorNet community have told us that working during cancer, or returning to work shortly after ending cancer treatment, was really good for their mental health. Working — waking up and having somewhere to go every morning — can restore a sense of normalcy back into the lives of those who have had their worlds uprooted by cancer.
Of course not every person dealing with cancer has the opportunity to work. Like Miller, many have to take an extended period of time off to heal before getting back to the office.
"Some patients can work through their treatment, and others cannot," Dr. Elizabeth Comen, a medical oncologist at Memorial Sloan Kettering Cancer Center and a medical advisor to SuvivorNet, said in a previous conversation about working during cancer treatment. "The key is that they have open conversations with their doctor about what their needs are, what their work entails (especially if physical labor is involved), and sort through what options they may have with their employer."
Learn more about SurvivorNet's rigorous medical review process.