Daniel Craig's Father Faced Liver Cancer
Tim Wroughton Craig was 77 when he died of liver cancer
The father and son shared a "best friends" relationship
More commonly diagnosed in men, liver cancer claims 29,000 U.S. lives per year
James Bond actor, Daniel Craig just lost his "best friend" and father to liver cancer. Tim Wroughton Craig was 77.
RELATED: Sean Connery Gets Perfect 90th Birthday Message From Pierce Brosnan, Who Understands the Benefit of 'Bonds'
Read More
Craig's father once said that his son was a "very fine human being" who would not be changed by his fame, adding that they were "best friends."
Careful to protect his famous son's privacy, Tim Craig once told a reporter, "he doesn't talk about me and I don't talk about him — but, naturally, I am extremely proud of him as he is a very fine actor," according to Cheshire Live.
Tim Wroughton Craig, father of James Bond actor, Daniel Craig, died last week at 77 of liver cancer. The father and son were best friends.
The news comes as Craig's fifth and final Bond film "No Time To Die" is set for release November 12 — after the original April release was postponed due to the pandemic.
RELATED: David Bowie's Music Legacy Lives On In Discovered Demo After He Succumbed To Liver Cancer
Rami Malek, of "Bohemian Rhapsody" will play the Bond film's villain and Phoebe Waller-Bridge, of "Fleabag" fame, was among its writers.
Tim Craig attended the premieres of his son's Bond movies, "Casino Royale" and "Quantum of Solace". He was director of a recruitment company owned by his wife, Kirsty Craig, who is Daniel Craig's stepmother and the mother of Craig's half-brother, Harry.
RELATED: Showtime Hit 'Ray Donovan' Tackles the Darker Side of Cancer and Grief in Latest Episode
Both sons were reportedly by their father's side at the time of his death, according to Cheshire Live.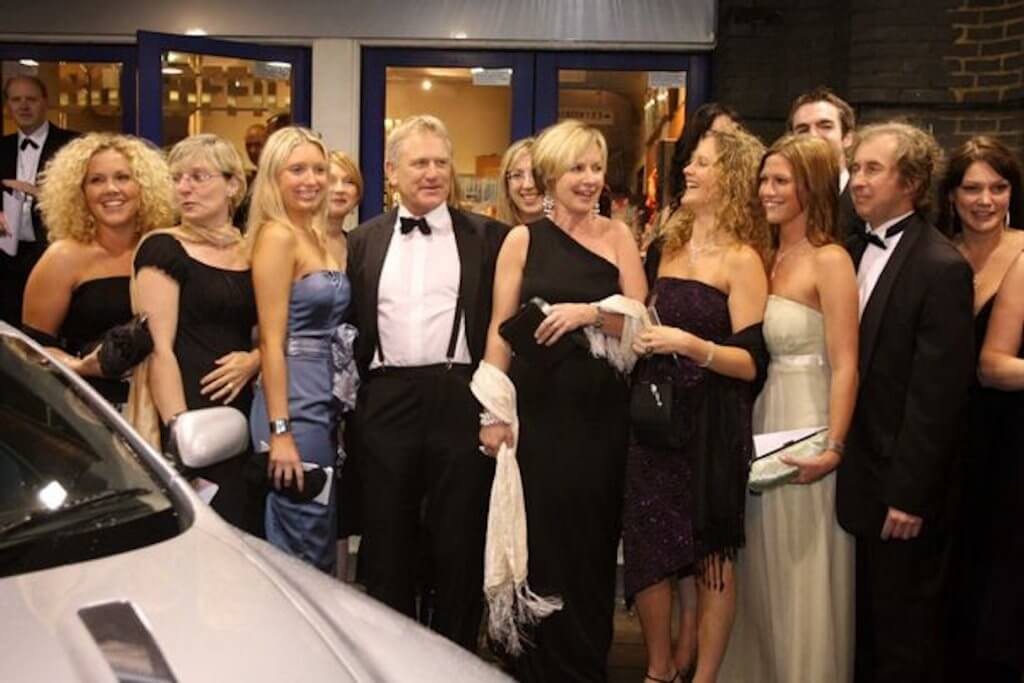 Tim Craig (center) attended the premiere of "Casino Royale" with his wife, and Daniel Craig's stepmother, Kirsty Craig.
Although best known as the current James Bond, Craig was nominated for a Golden Globe earlier this year for his role in "Knives Out," a comedic whodunnit, with Jamie Lee Curtis.
About Liver Cancer
While it's more commonly diagnosed in men than in women, liver cancer claims nearly 29,000 lives per year, or more than 79 Americans each day. In the U.S., the disease has been steadily rising for several decades, according to the American Liver Foundation. The most common form of the disease is known as hepatocellular carcinoma.
RELATED: "Tough As Nails. Heart of Gold" — Fans Send Prayers And Love After Billy Baldwin Reveals His 17-Year-Old Son Has Been Battling Cancer
Risk factors include long-term infection with the Hepatitis B or C virus. Obesity and diabetes are also closely associated with a type of liver abnormality called nonalcoholic fatty liver disease (NAFLD) that may increase the risk of liver cancer. ·
A cancer diagnosis can bring on feelings of vulnerability, says Dr. William Breitbart, Chair of the Department of Psychiatry and Behavioral Sciences at Memorial Sloan Kettering Cancer Center. 
While liver cancer is often associated with excessive use of alcohol, many other liver diseases can lead to cirrhosis — scarring of the liver — which increases the risk of liver cancer.
Symptoms
Symptoms may include fatigue, bloating, pain on the right side of the upper abdomen or back and shoulder, nausea, loss of appetite, feelings of fullness, weight loss, weakness, fever, and yellowing of the eyes and the skin (jaundice).
Diagnosis
To confirm a diagnosis, doctors may use blood tests, ultrasound tests, computed tomography (CT) scans, magnetic resonance imaging (MRI), and angiograms. Your doctor may also need to do a liver biopsy. During a biopsy, a small piece of liver tissue is removed and studied in the lab.
Liver Cancer Treatment
A successful liver transplant will effectively cure liver cancer, but this option is only available to a small percentage of patients. Surgical resections are successful in only about one out of three cases.
RELATED: Pierce Brosnan's Heartache: "James Bond" Star Lost Wife, Daughter and Mother in Law to Ovarian Cancer. What Can We Learn From Their Tragedy?
However, scientists are experimenting with several promising new drugs and therapies that could help prolong the lives of people with liver cancer.
For cancer that has not spread beyond the liver:
Cryosurgery uses a metal probe to freeze and destroy cancer cells.
Bland embolization or chemoembolization are procedures in which the blood supply to the tumor is blocked, after giving anticancer drugs (chemoembolization) and one without (bland embolization). Both are given in blood vessels near the tumor.
Radiation therapy uses radiation (high-energy x-rays) to destroy cancer cells.
For cancer that has spread outside the liver:
 Oral medication is available for use in some cases of hepatocellular carcinoma
 Clinical trials may be an option for some patients.
Learn more about SurvivorNet's rigorous medical review process.
---