Actor Billy Baldwin just revealed that his son, 17-year-old Vance Baldwin, had been battling cancer for the past year. The announcement was met with a massive outpouring of love and prayers from famous friends and fans alike. Baldwin, known for roles in Backdraft and Sliver and, of course, for his famous family, did not disclose what type of cancer his son was battling — but did reveal that the teen was treated with chemotherapy. In his own Instagram post, Vance confirmed that he is now cancer-free.
RELATED: CANCER IS A CHALLENGE FOR THE WHOLE FAMILY
Read More
"A year ago today my son Vance was diagnosed with cancer… he was 16 years old," the 56-year-old actor wrote in an Instagram post featuring a photo of his son. "He kept it very quiet… we all did. He went through 28 rounds of chemo yet stayed VERY positive, focused and kept his life as normal as possible … every single day. Kid's a tough son of a bitch. Sharp as a tack. Funny as hell. Tough as nails. Heart of gold."
Baldwin continued to thank Vance's friends, teachers, coaches, and community for stepping up during a trying time for the family. He also gave a shoutout to his daughters, Jameson and Brooke, his wife Chynna Phillips, and Vance's doctor — Dr. Lawrence Piro, an LA-based oncologist who specializes in the field of hematologic malignancies and has spoken to SurvivorNet in the past about the importance of the doctor-patient relationship.
Family, friends and fans of the family were quick to respond with love and prayers for Vance.
"Our baby. Our hero," Phillips, who was famously part of the band Wilson Phillips, was quick to comment.
Model Cindy Crawford commented, "Thank the Lord!"
Many fans responded with prayers, and some even shared that they, too, had experienced being the parent to a child with cancer — and were thankful to Baldwin for being so candid about the struggle the family went through.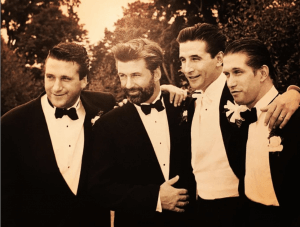 "This is so amazing to see! Thank you for sharing and so glad to see [your] son so healthy. My 6 yr old is in treatment for leukemia. One year down, one more year to go. Thank you for sharing and giving us hope," wrote one user who goes by the handle jmclee12.
"It takes a village but [Vance] had a town to support him! So happy for you all!," wrote another user named Mathias.
One of Billy's famous brothers, Alec, also shared the post to his own Instagram account — garnering even more love for the Baldwin family. The Baldwins seem to be in high spirits amid the announcement that Vance is now cancer-free. The entire family recently traveled to South Carolina to witness Billy's niece, Stephen Baldwin's daughter Hailey, marry Justin Bieber. Multiple photos from the event show the entire Baldwin clan partying and enjoying some family time.
Billy also shared an update to Instagram after the nuptials, that featured a few photos of the happy couple, along with the caption: "Such a great weekend!!! Love you Hailey & Justin!! So cool to get the both families & friends together for some bonding and good old fashioned par-taying!! Chynna, Jameson, Vance, Brooke & I LOVED meeting everyone!!"
Learn more about SurvivorNet's rigorous medical review process.