Former Miss Universe Dayanara Torres shared a sweet (and festive) video to Instagram showing her son, Cristian, visiting her in the hospital as she undergoes treatment for metastatic melanoma.
Torres has a big smile as she sits in her treatment chair wearing a Christmas light bracelet, surrounded by friends and family — including 18-year-old Cristian, one of two sons she shares with ex-husband, Marc Anthony.
Read More
RELATED: Beauty Queen Says She Got Melanoma From Nail Salon Drying Lamps — Are UV Rays Safe?
In the video caption, Torres, 45, shared how grateful she is that she has so much love and support as she goes through the extremely challenging disease.
"Grateful for you, for your prayers and good wishes," Torres wrote. "The final countdown [for her chemo treatment] is approaching."
She also thanked Cristian for, "giving [her] the strength to move on."
This was the Puerto Rican actress and model's 15th treatment; she posted that she only has three left to go.
Torres was diagnosed with metastatic melanoma earlier this year, and has used her platform (she has over 1.3 million Instagram followers) to spread awareness about the disease.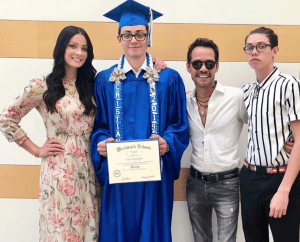 In a post earlier this month, where Torres announced that her treatment would finally be complete in March 2020, she shared that until she got her own advanced melanoma diagnosis, she was completely unaware of how dangerous it is, and how important it is to be aware of the signs of melanoma.
RELATED: Getting Moles Evaluated to Rule Out Melanoma
"I need to talk about my situation to raise awareness," Torres wrote. "Melanoma is the most serious skin cancer of all, since it can spread to other areas of your body and worse, to any organ that [it] pleases because it runs through your lymphatic system."
With every update about her treatment, Torres urges her followers to be vigilant about checking skin for signs of melanoma. Her message is extremely important, because melanoma is the deadliest form of skin cancer, and it is significantly easier to manage if it is caught earlier.
Early Detection
As Torres mentioned in a recent post, skin checks are something you can do at home in front your mirror, and they can play a crucial role in early detection.
In a previous interview, Dr. Cecilia Larocca, a dermatologist at Dana-Farber Cancer Institute, told SurvivorNet that she recommends people do a skin check once every month and look for any abnormal moles or markings using the ABCDE method.
The ABCDE method, Dr. Larocca told SurvivorNet, can help people identify if they have any new moles, any moles that are changing color or shape, or any skin markings that are becoming itchy or painful — all of which may be early indicators of melanoma. However, Dr. Larocca also pointed out that having an atypical mole doesn't necessarily mean you have cancer — but it is something to get checked out by a dermatologist.
Learn more about SurvivorNet's rigorous medical review process.