Demi Lovato's Mental Health Struggles
Singer Demi Lovato, 30, who is currently on tour promoting her eighth album, hasn't been shy about her mental health struggles in the past.
The former child star, who launched an empowerment campaign called 'Be Vocal: Speak Up for Mental Health,' previously revealed how she learned how to cope with her emotions.
In order to keep your mental health in check, it's important to be aware of signs — which can be subtle — that there is something affecting your mind.
If you are feeling unusually sad or on-edge, know that there are many treatment options available and many different healthy ways to help you cope.
Singer Demi Lovato, 30, who is currently on tour promoting her eighth album, hasn't been shy about discussing her mental health struggles in the past — including a near-fatal drug overdose, an eating disorder, and addiction. At just 18 years old, the former Disney child star opened up to ABC News' Robin Roberts about getting bullied in school, having an unhealthy relationship with food, and cutting herself as a coping mechanism.
"I've spoken openly about being bullied throughout the past few years, but one thing that I've never been able to feel comfortable talking about was the effects that it had on my life, afterwards," Lovato said. "I literally didn't know why they were being so mean to me. And when I would ask them why, they would just say, 'Well, you're fat.' I developed an eating disorder, and that's kind of what I've been dealing with ever since."
Read More
She continued, "I was compulsively overeating when I was eight years old. So, I guess, for the past 10 years I've had a really unhealthy relationship with food."
As for her self-mutilating coping mechanism of cutting herself, Lovato told Roberts, "It was a way of expressing my own shame, of myself, on my own body. I was matching the inside to the outside. And there were some times where my emotions were just so built up, I didn't know what to do. The only way that I could get instant gratification was through an immediate release on myself."
#HOLYFVCK is out now 🩸 https://t.co/d0pC0PWsTb pic.twitter.com/av7PAVeOJ2

— Demi Lovato (@ddlovato) August 19, 2022
Lovato admitted to performing without eating, losing her voice from throwing up, self-medicating, and not taking depression medication.
"I literally was so emotionally whacked out that I took it out on someone that meant a lot to me," she said, noting that it wasn't until she quit her tour and joined a treatment center in Illinois called Timberline Knolls that she learned healthy coping mechanisms. Famous figures like Lovato speaking candidly about mental health struggles is so crucial as so many young people, and people going through difficult challenges in their lives, deal with these same issues today.
Lovato's treatment center, designed for women with addiction and eating disorders, was where the singer learned how to change her coping skills and confront her emotions in a healthy way. "For the first time in my life, I started to feel," she said.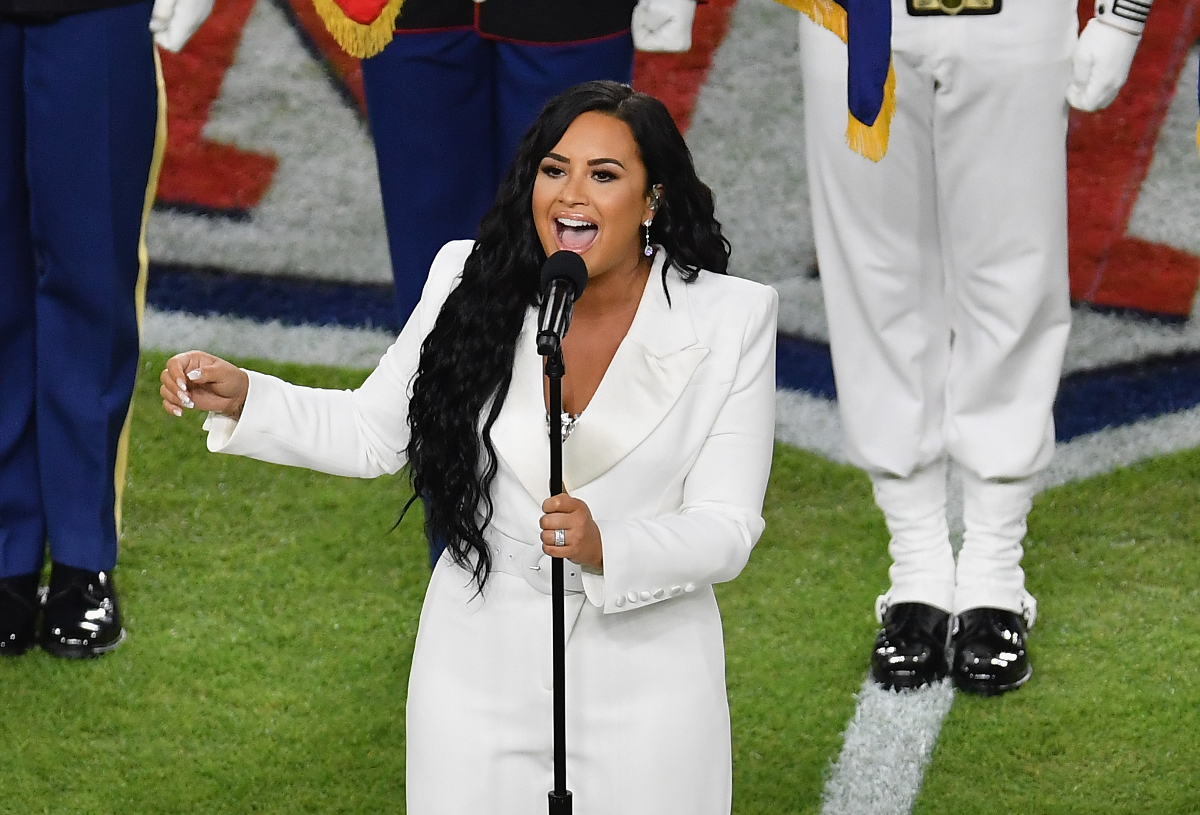 In a more recent interview with Apple Music 1 radio station, Lovato recounted how she almost died during an overdose.
"When they found me, I was turning blue and the doctor said I had five to ten more minutes left," she told TV presenter Zane Lowe. "If no one had come in, I wouldn't be here today."
"Recovery is a lot. And with time, comes trust. It was a learning experience of, 'OK, people are going to have to learn to trust you again.' The only way they can do that is by you proving yourself," she added. "Not just talking but taking actions. My family is incredible. Do they worry to this day? Absolutely."
Lovato, who launched an empowerment campaign in 2019 called "Be Vocal: Speak Up for Mental Health," released her eighth studio album, titled HOLY FVCK, on August 19, 2022, a deviation from her pop past.
"HOLY FVCK gave me the freedom to express myself in ways I didn't know were possible and find joy I'd been missing when making music," Lovato wrote in a celebratory Instagram post announcing the news. "It's cathartic and grounded, yet exhilarating and a hell of a good time."
Related: Young Girl with Leukemia Says Pop Star Demi Lovato's Support Got Her Through Cancer
When Lovato's Be Vocal campaign launched a few years back, she told BP Magazine, "Over time, I've learned to live well with bipolar disorder, but for me, the key is speaking up and being open and honest about how I'm feeling with my family, friends and health care professionals."
"Through Be Vocal, we want to help others speak up as part of their own effort to live well and in support of the mental health community," she said.
Advocating For Mental Health
Lovato has had both a public and private battle with her mental health and past addiction issues. The role model and mental health advocate has written about these experiences in her lyrics, which resonate with fans around the world going through a hard time.
"What I would say to somebody who's struggling right now, is try to find the gratitude," Lovato previously shared in an interview with E!. "It's so important that you try to find gratitude in your life and focus on the positive things and when you're able to do that, or you're able to help others, you're able to get outside of yourself and you're able to look at your life from a different perspective."
Related: Mental Health: Understanding the Three Wellsprings of Vitality
She added, "Sometimes it's really challenging and it's really difficult, but it's something that helps me every day, and so far it's worked."
The lyrics to Lovato's 2013 hit 'Warrior' especially resonate with cancer survivors. "Now I'm a warrior, now I've got thicker skin / I'm a warrior, I'm stronger than I've ever been / And my armor is made of steel, you can't get in / I'm a warrior, and you can never hurt me again."
The Healing Power of Music
Like Lovato, music has helped so many people get through various obstacles in their lives: Mental health issues, addiction, breakups, deaths of loved ones, and the cancer community has used various songs like Lovato's as their battle cries.
Cancer survivor Joel Nafterberg told SurvivorNet in a previous interview about the power of music in his own cancer battle. "I have found music and rock and roll to be transformational," he said, adding that it "lets us dance on our problems for at least an hour or two."
Cancer Survivor Joel Naftelberg Learned to Dance on His Problems
Nafterberg also said that he feels very "blessed" to have had some of his favorite artists as friends. "The people that were my heroes in entertainment and rock and roll have been my friends and have been some of the most supportive people that I've had in my life," he added.
Mental Health: The Basics
The term mental health refers to both our emotional and psychological well-being. Our mental health can affect how we think, feel, and behave. Certain triggers like stress, traumatic events, or change in your physical health can affect mental health. One of the things Lovato stresses to her fans and followers is the importance of keeping tabs on your mental health, which could mean seeking treatment for some. This doesn't necessarily mean traditional therapy because while it may be really helpful (even life-changing) for some, that doesn't mean it's for everyone.
Problems with mood and overall mental well-being can be attributed to several factors. For some people it's genetic, while others may be experiencing a response to some sort of stressor or past trauma.
Learning To Cope With Mental Health Struggles
"I think flexibility is really a core of how to manage it," Dr. Samantha Boardman, a New York-based psychiatrist and author, tells SurvivorNet. "Are your coping strategies that you're using now, are they helpful in the way that they were in the past?"
Dr. Boardman suggests working to recognize any negative thoughts that may be making the process of cancer treatment more difficult, and trying to dismantle those to be more "realistically optimistic."
Related: Responding to Stress: How to Cope With Complex & Changing Emotions
In order to keep your mental health in check, it's important to be aware of signs — which can be subtle — that there is something affecting your mind. These signs include:
A change in eating or sleeping habits
Losing interest in people or usual activities
Experiencing little or no energy
Numb and/or hopeless feelings
Turning to drinking or drugs more than usual
Non-typical angry, upset, or on-edge feelings
Yelling/fighting with loved ones
Experiencing mood swings
Intrusive thoughts
Trouble getting through daily tasks
These symptoms can be wide-ranging and vary a great deal from person to person. Everyone experiences grief differently, for example. However, if you are feeling unusually sad, on-edge, or like you're no longer interested in activities you used to love, know that there are many treatment options available and many different healthy ways to help you cope.
Contributing: SurvivorNet Staff
Learn more about SurvivorNet's rigorous medical review process.
---