A second-grade student battling a rare form of cancer had half of her face, parts of her jaw, and some teeth removed so that doctors could surgically extract a large tumor from her face.
Aubrey Romero, 7, is now recovering from surgery just one month after being diagnosed with dentinogenic ghost cell tumor.
Read More
Her symptoms started in early September when her face began to swell. The family thought an infected tooth was to blame, which would explain both the swelling and constant pain Aubrey was experiencing at the time.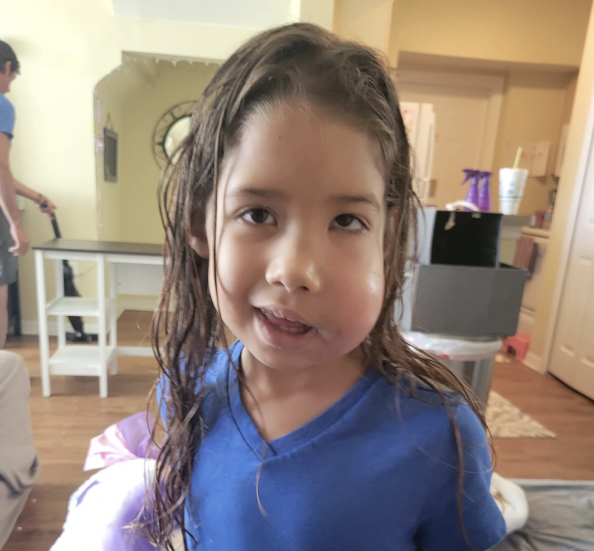 It was not a toothache, however, but rather a dentinogenic ghost cell tumor.
In Aubrey's case, doctors wanted to operate quickly because of the size of the tumor.  That operation also required significant surgery to Aubrey's face so that the medical team could access and remove the tumor, which presents as a calcified cyst in dentinogenic ghost cell tumor cases.
"Aubrey had to have her face, all of the side removed, teeth, part of her gum, lip," her teacher  Lori Schumaker told Fox 13.
"It was the size of a softball, the tumor."
Related: Resilient Boy, 6, Seen Battling Leukemia With Sister By His Side In Viral Photo Completes Chemo and Beats COVID to Return to School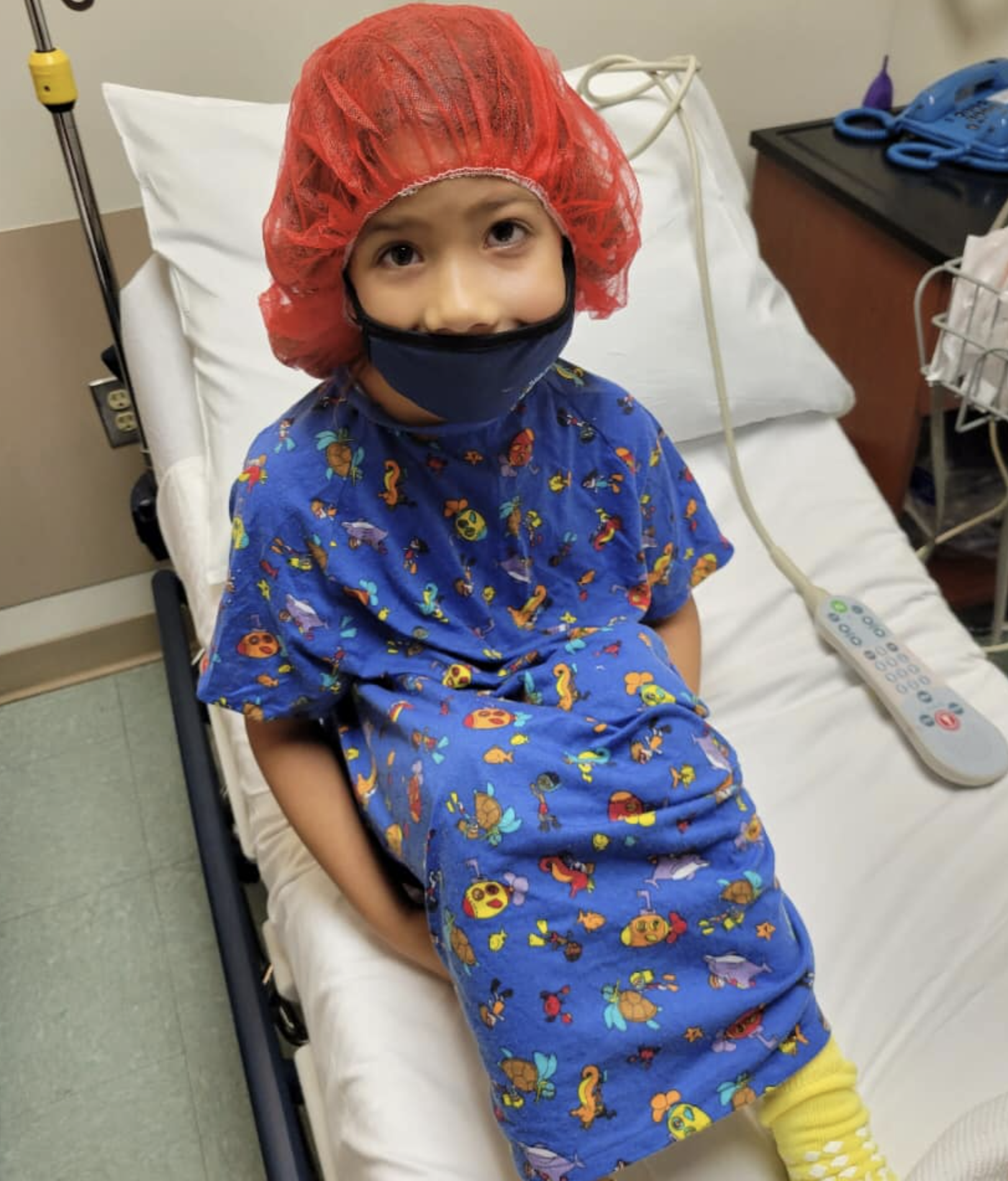 Once the surgeon extracted the tumor, doctors rebuilt Aubrey's face using bone, muscles, and ligaments from her shoulder.
And after all that, the young girl was still in good spirits.
"I saw her right after surgery, and she still had this huge smile on her face and crawled up in my lap and said, 'I love you,'" recalled Schumaker.
Aubrey spent a few days in the hospital recovering before going home.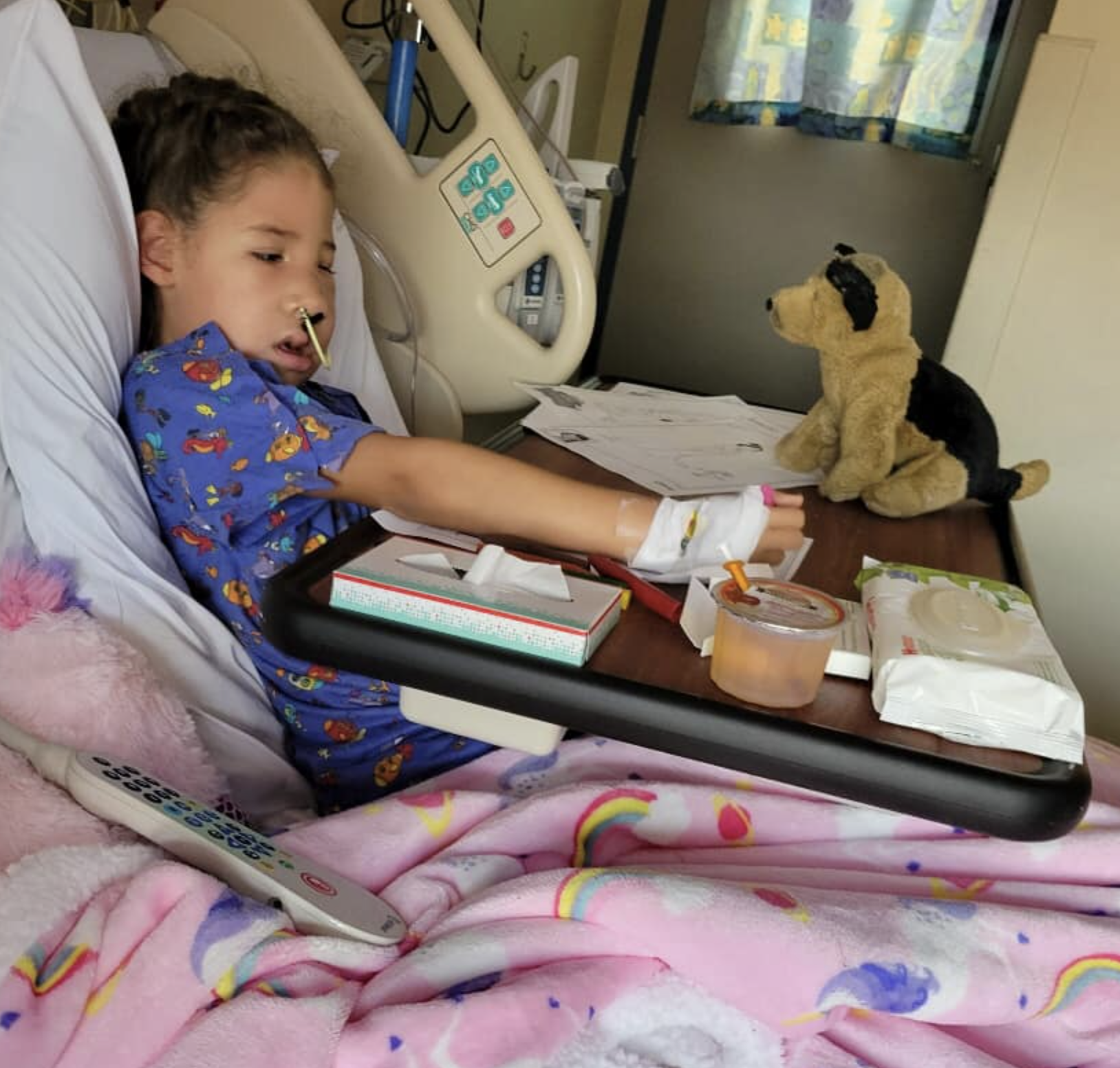 Doctors were optimistic about Aubrey's chance of being cancer-free but soon learned that the young girl had another mountain to climb.
A scan showed her cancer had spread to the brain, and now Aubrey will undergo six weeks of radiation. Based on how she responds to that treatment, she might also undergo chemotherapy.
However, her teacher is not concerned, choosing to take a page from Aubrey's playbook and keep things positive.
"She just really has a long road ahead of her, and her chances of getting the cancer back are a little bit higher than normal," said Schumaker.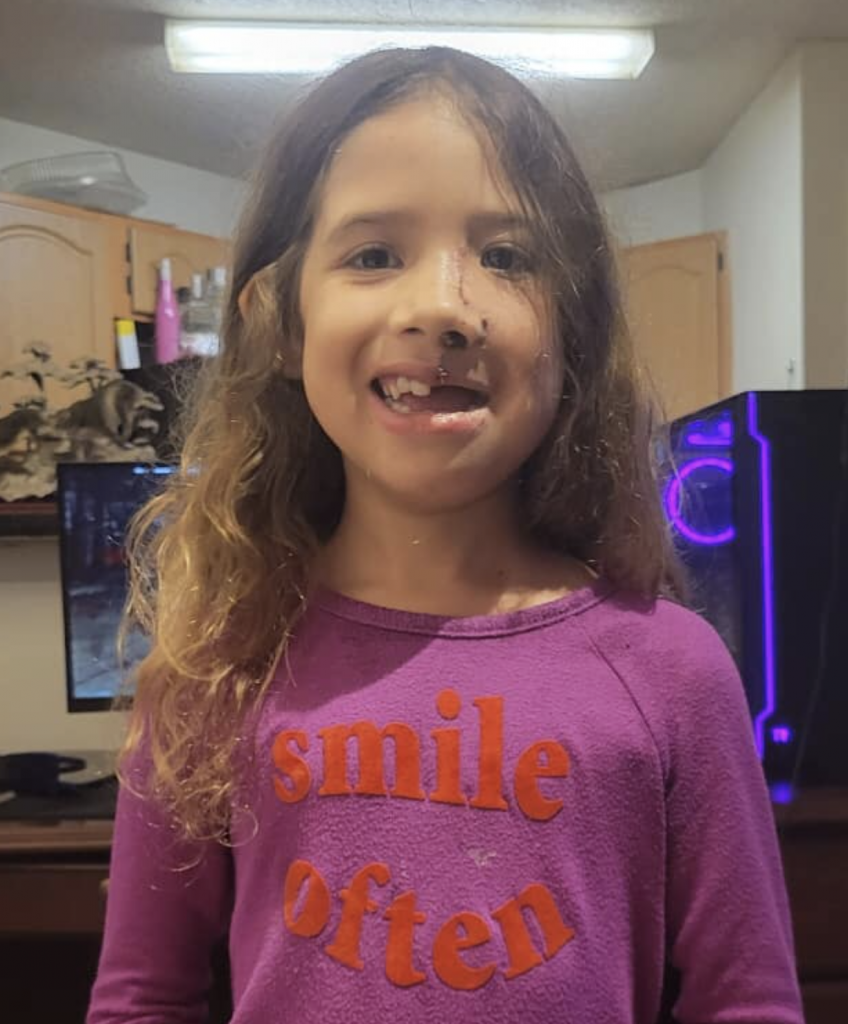 Schumaker updated everyone earlier this month about Aubrey's treatment plan moving forward.
"In two weeks, Aubrey and her mom will be leaving for Miami to start radiation treatment. Radiation will be for seven weeks, five days a week for 45 minutes a day," read a Go Fund Me page.
"Aubrey's mom will not be able to work during this time, and she is looking at a 7-week hotel stay. We are in the process of trying to find a place that will accept animals since their two dogs bring Aubrey so much joy and would help her through the difficult time that she is about to face."
Related: 'God Protect My Babies': How Parents of Kids With Cancer Are Preparing For Maskless School Amid COVID Surge
What Is Dentinogenic Ghost Cell Tumor?
There are few conditions as rare as dentinogenic ghost cell tumor.
These calcified cysts begin to grow in the teeth and then spread through the head and neck.
Eosinophilic and epithelial cells fuel the tumor's growth. Eosinophilic cells are white blood cells that help the body fight off parasites, allergens, and in some cases, cancer. In contrast, epithelial cells serve as the barrier between the human body ad organs and the outside world.
In dentinogenic ghost cell tumor cases, those cells have lost their nuclei but not their shape, size, structure, or form.
Doctors must work quickly to remove the tumor because of its rapid growth rate.  After surgery, there may be radiation or chemotherapy to kill any lingering cancer cells.
Doctors require patients to be screened after treatment, even if they are cancer-free. That is because these tumors are likely to recur in most individuals diagnosed with the disease.
That surgery is far less invasive for adults than children like Aubrey because the tumor can be accessed and removed through the cheek.
There is little clinical awareness for this disease because all information available comes via individual case studies.
Talking To Kids About Cancer
How to Protect Children With Cancer Amid COVID Pandemic
Aubrey may soon be one of the many young children returning to in-school learning while battling or recovering from cancer.
That has become a fraught notion for the families of many of these individuals due to the ongoing COVID pandemic.
The American Cancer Society offered a handful of alternatives for parents whose children are battling cancer, including:
Homebound instruction
The school district might arrange for a teacher to work with your child at home if they have to be out of school for longer periods of time, but are not in the hospital. Some children with cancer might go to school during some parts of treatment and then receive homebound instruction or hospital instruction during other parts of their treatment.
Attending a hospital or clinic-based school
When a child will have to be in the hospital for a long time, they might be able to have teachers from their school district or from the hospital school come and teach. In-hospital schooling can also work well for children who do not feel well enough to have more than one hour of instruction a day. Even one hour of school a day can still give the children the feeling of connection to what children without cancer do every day.
A 504 plan or Individualized Education Plan (IEP)
These may be part of how the school, your cancer care team, and your family work together to help your child participate in school during their treatment and after. The teacher that works for the hospital or the social worker on the cancer care team can help you understand how these services work for children with cancer.
Stress And Anxiety For Cancer Patients During COVID-19
Learn more about SurvivorNet's rigorous medical review process.
---