Beckett Burge Defeats ALL
Beckett Burge, 6, gained national attention after he was seen in a 2019 photo dealing with the side effects of his chemotherapy with his attentive sister Aubrey by his side during his battle with acute lymphoblastic leukemia.
He is now done with chemotherapy and after contracting and overcoming COVID has been able to return to in-school learning, his mother said in a new interview.
Acute lymphoblastic leukemia is the most commonly diagnosed cancer in children. Thanks to advancements over the past two decades, it is also one that most children survive, with one expert telling SurvivorNet that 85% of children beat the disease.
The young boy seen battling acute lymphoblastic leukemia in a viral photo completed his chemotherapy in August.
Beckett Burge, 6, gained national attention after that 2019 photo showed the side effects of his chemotherapy and his attentive sister Aubrey by his side.
Read More
Two years later, the
leukemia
survivor has been given the "all clear" from doctors allowing him to return to school for the first time in four years. His mother, Kaitlin Burge, revealed that Beckett also had to overcome COVID after contracting the virus during the pandemic. She noted that he was asymptomatic despite being immunocompromised from his chemo treatments. "When we heard he'd got the all-clear, it was so exciting," Kaitlin said in an interview first published on
DailyMail.com
. "His oncologist came in and said, 'No more chemo. We're done. Got rid of everything.'"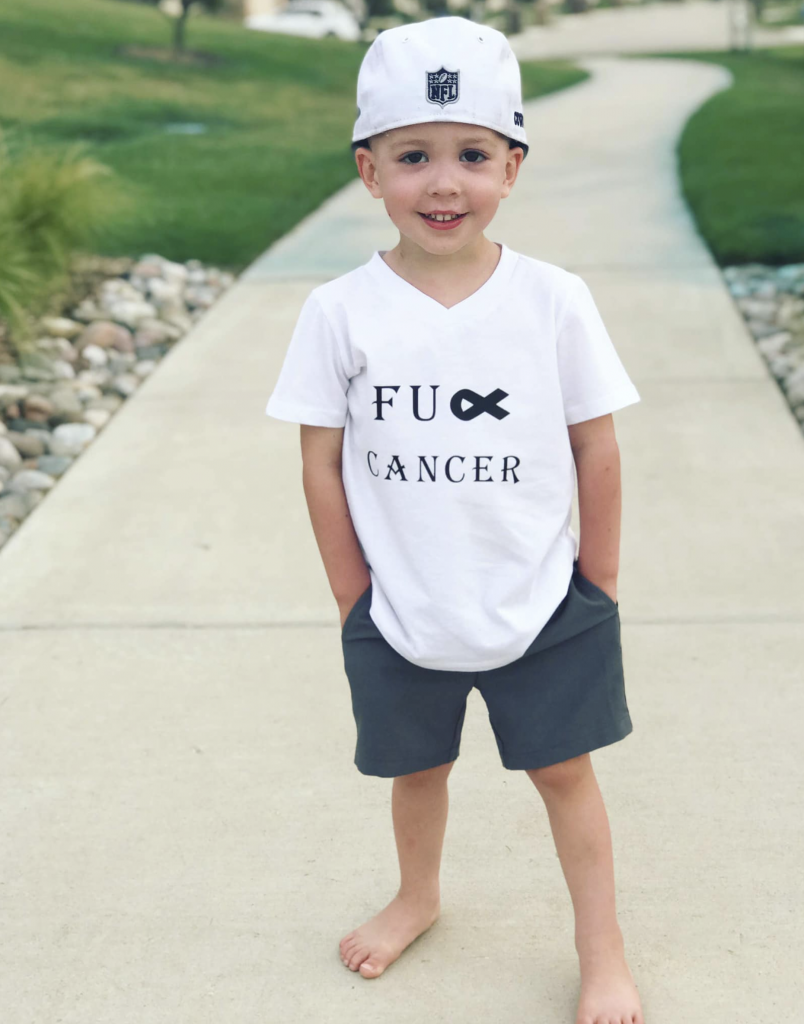 The family's cancer journey began with a call from Beckett's teacher, who was concerned about the boy's fever. A trip to the emergency room resulted in a diagnosis of swimmer's ear.
When Beckett ran a fever of 104 degrees the next night, Kaitlin took him to see the pediatrician. After looking at the boy, he referred the family to the emergency room once again. Doctors confirmed that the toddler had an ear infection. This time, X-rays revealed that Beckett had pneumonia and respiratory failure.
Bloodwork then confirmed the family's worst fear – their 2-year-old son had leukemia.
Over the next four years, Beckett would spend weeks in isolation while undergoing chemo to protect his immune system.
That viral photo showed Beckett in the wake of his chemo treatment, vomiting into a toilet while his big sister Aubrey stood rubbing his back.  Aubrey then cleaned up while Beckett washed his hands.
Their mother said the bond between the siblings continues to this day.
"Aubrey had such a huge impact on helping him get through this. They developed a bond that only siblings have that I couldn't even replace," said Kaitlin. She noted that Beckett views Aubrey as a "motherly figure."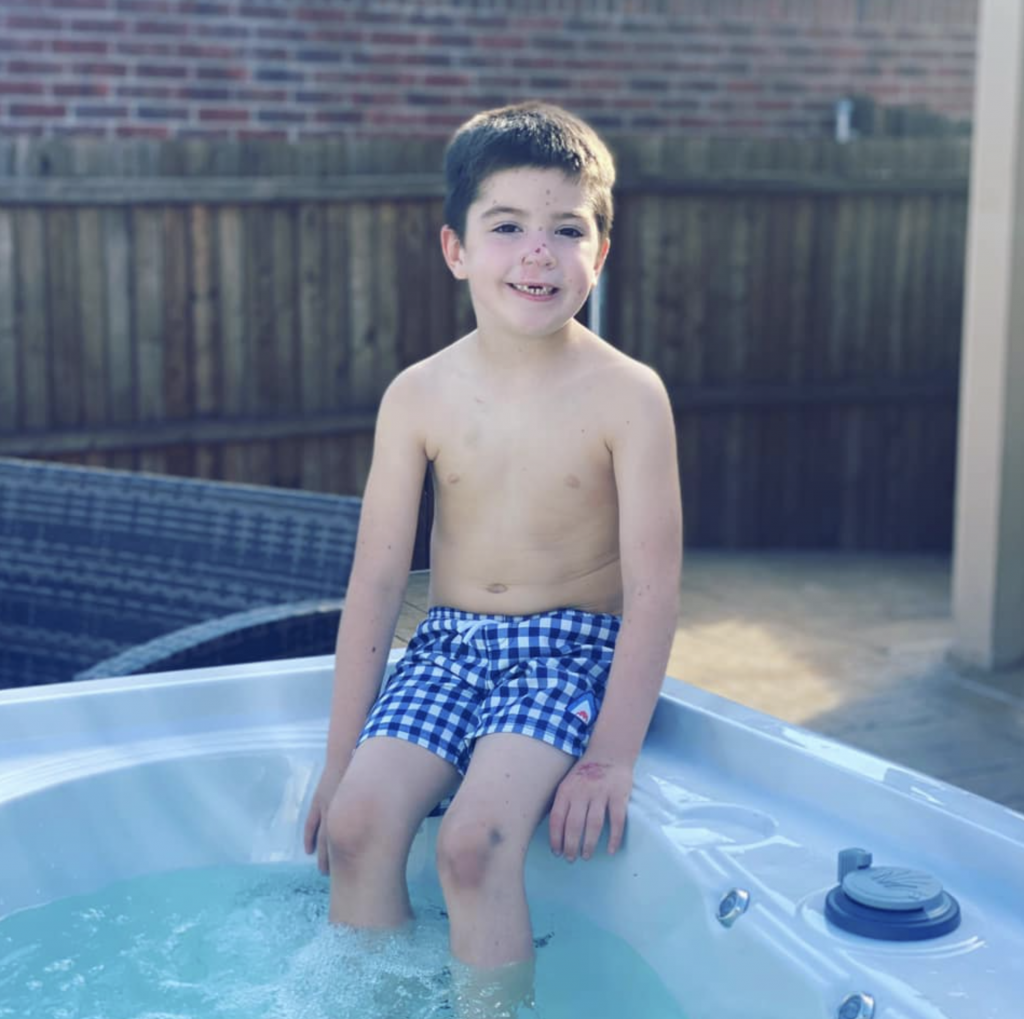 The news, while good, is a bit difficult for the family to process, admitted Kaitlin.
"He's officially done with it and it is a bittersweet moment," she explained. "You think you'll be all happy, but now it's kind of scary because you don't have that chemo as a reassurance the cancer's going to stay away. It'll be a whole new world."
She added that Beckett has "a bit of nerves" after spending most of his life in treatment.
"Beckett was shocked [when he found out his chemo treatments were over]. His face lit up, but then he said he didn't want his port out because he knew it'd kept him alive," pointed out Kaitlin.
On the plus side, there has been a notable difference in Beckett's learning ever since chemo ended in early August, said Kaitlin.
"He was foggy-brained and didn't understand a whole lot. He got everything twisted up," she said of Beckett's memory while receiving chemo. "Now, it's interesting to see. We were sitting at the table the other day, and he was reading. I thought, 'you know how to read? What's going on here?' You give him a spelling word, and he'll spell it all."
"We're seeing more of a normal kid – things we never thought he'd ever do. It's cool and boosts his confidence."
Chemotherapy and Acute Lymphoblastic Leukemia
Chemotherapy to treat Acute Lymphoblastic Leukemia is brutal for most people, especially the young children battling the disease.
What's more, there can be problems later in life, which is why parents like Kaitlin Burge can have mixed emotions once treatment ends.
This is something that ALL survivor Justice Wexler discovered when his chemotherapy resulted in complications later in life.
"He's a cancer survivor, but now we're dealing with heart disease," Justice's mother, Jayne Wexler, tells SurvivorNet. "This is because of the chemo. Chemo induced cardiomyopathy."
That might be unimaginable to most people, but Justice says he feels more vital than ever after already beating cancer and is taking this latest development in stride.
"If you're ashamed of what you've been through, don't be," explains Justice. "It makes you stronger as a person. While I would trade what happened to me in an instant, [I have a new perspective]. If I'm failing in school, whatever, it's like, I beat cancer."
The Impact of Acute Lymphoblastic Leukemia on One Family
Acute Lymphoblastic Leukemia: Common and Curable in Children
Acute lymphoblastic leukemia is the most commonly diagnosed cancer in children. Thanks to advancements over the past two decades, it is also one that most children survive.
"ALL is the most common form of childhood cancer, and 85% of children who are diagnosed with ALL are cured. So it's really been a success story in pediatric oncology," Dr. Richard Stone, head of the leukemia program at Dana Farber, told SurvivorNet in a previous interview.
Now, researchers are trying to examine how the disease behaves in children to try and find new ways to fight the disease.
"We're trying to obtain some of the lessons that have been learned in treatment of kids with ALL and take them to adults with ALL so we can improve the cure rate in adults," says Dr. Stone.
Even now, doctors are using pediatric cancer treatments in older patients battling the disease.
"So if you're a younger adult, we'll use a pediatric-like regimen. That's something we've borrowed lock, stock, and barrel from our pediatric colleagues, who've done so well with pediatric ALL," points out Dr. Stone.
"If you're an older adult, we use a, a little bit milder chemotherapy regimen."
He later notes: "So the prognosis for ALL varies according to the age of the patient, and some of the other genetic and cytogenetic features. But if you take all patients today who are between the ages of 18 and 40, based on some of our newer research, the cure rate is about two in three or about 65% for those younger adults with ALL."
What Is Acute Lymphoblastic Leukemia?
Learn more about SurvivorNet's rigorous medical review process.
---