The Football Star Finds a New Way to Shine Off the Field
Devon Still was two seasons into his NFL career and just 24 when his 4-year-old daughter Leah was diagnosed with neuroblastoma.
She was able to beat the disease and is now cancer-free, with her father putting his career on hold to be by her side during her treatment.
Still has now started a foundation to help supply families battling pediatric cancer with grants and is also writing a series of children's books about Leah's cancer journey.
Former NFL star Devon Still continues to help families navigate the world of pediatric cancer six years after his daughter Leah's battle with stage IV neuroblastoma.
In addition to his Still Strong charity that provides grants to families struggling to pay for pediatric cancer care, he is now working to spread awareness about neuroblastoma through the educational initiative Braving NeuroBLASToma.
Read More
That is a series of four books about Leah's experience battling the disease, written with her father.
Neuroblastoma, which is often diagnosed in children under the age of 5, is caused by a build-up of malignant cancer cells in immature nerve tissue. This most commonly occurs in the adrenal glands, but can also develop in the abdomen, torso, neck, pelvis, and even bones.
Still, 32, hopes that this series will serve as a playbook to families battling cancer. And no one knows the importance of a playbook when heading into battle better than Still.
His journey began on June 2, 2014, when doctors informed Still that Leah had stage IV neuroblastoma. Her chances of beating the disease? Just 50%, according to doctors.
"I was still trying to learn how to be a dad," Still tells SurvivorNet. "I was balancing an NFL career, which is extremely time-consuming, and then I was thrown into the world of childhood cancer, something I had no idea about."
Daunted, Still quickly got down to business and began studying all he could about the disease.
"I had to learn pretty quickly. The terminology, the different treatments that are available, how to be a parent of a child who's battling cancer," recalls Still.
Related: NFL Great Jim Kelly Reveals Recent Skin Cancer Battle, Opposition to NFL Vaccine Mandate, and Why He Kept Getting Root Canals Before His First Cancer Diagnosis
Devon Still: Social Media Star
Then came sudden celebrity, sparked by a social media post Still shared of his pep talk with Leah as they drove to the hospital ahead of surgery to remove her tumor.
In that post, Still is driving his car while Leah sits in the back seat.
"I'm ready for today. You ready for today? You ready to get this cancer up out you?" an amped-up Still asks his daughter.
Leah smiles and nods to each of her father's questions before he adds: "Let's do it! Fist bump!"
View this post on Instagram
That video stood in stark contrast to what Still revealed in the text of his post, writing: "I might be nervous and scared beyond words, but I'll never let her see."
The whole world was soon watching Still's journey. His video went viral and amassed over a million views on Instagram. Leah's story was everywhere within a week, from the morning shows to the evening news to the NFL pre-game programs.
"The amount of attention that our family story got, you know, people reaching out to me, asking me for advice when I'm just trying to figure it out myself," says Still. "It became overwhelming at times."
At the same time, he adds that nationwide support was also a huge motivator and much-needed boost.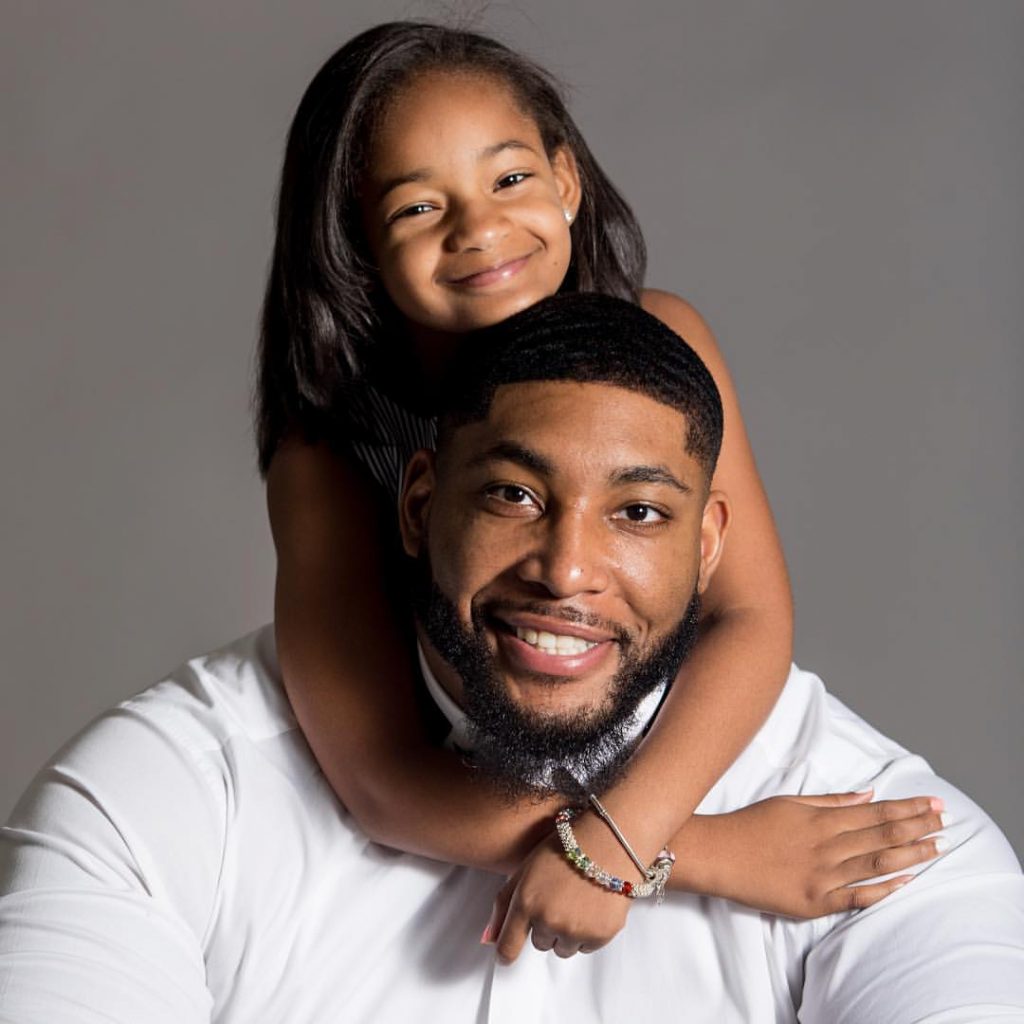 Preparing a Strong Defense
The one fact that tends to get lost in the story is that Still was practically a kid himself at this time.
He was only 24 when Leah got diagnosed with stage IV neuroblastoma. Just two years out of college, he suddenly found himself having to navigate an intricate healthcare system without a guide – and with his daughter's life hanging in the balance.
Still admits that he was lucky and did not experience any of the racial disparities that many come up against in cancer care. Those disparities did, however, play a role in his decision to launch the Still Foundation.
"What I can say is that one of the reasons why I decided to use my platform as an NFL player to shed light on what families were going through with childhood cancer is because I did understand those disparities and how a lot of times people don't have a voice, to talk about what they're going through," explains Still. "I just wanted to use my platform to be a voice for the voiceless."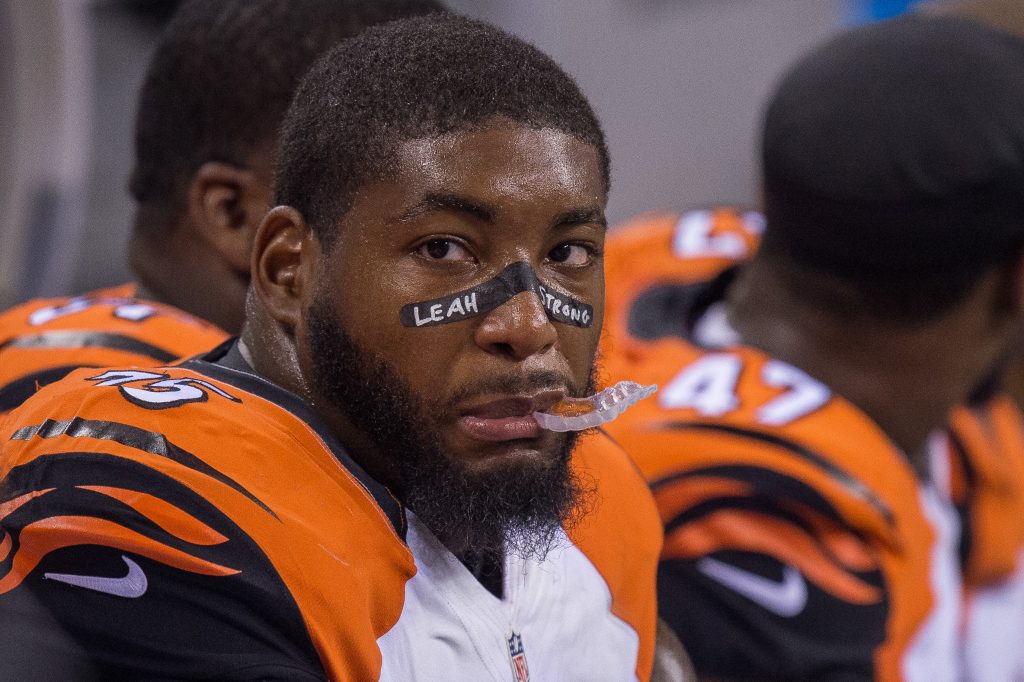 Devon Still: Gridiron Glory
Anyone familiar with Still's football career will know that he is no stranger to adversity, having been dealt several harsh blows on his way to the NFL.
He was a star player in high school, shining bright enough to catch the eye of once-beloved Penn State Coach Joe Paterno.
No sooner had Paterno put him into the mix as the squad's new defensive tackle than Still tore both his ACL and MCL, forcing him to miss out on his first season of college football.
Things looked promising the following year for the freshly-healed Still, and he was able to start practicing with the team over the summer.
However, he never made it past practice because Still broke his ankle during a scrimmage before the season began, forcing him to watch from the sidelines yet again as he recovered from injury.
Still finally got out on the field in his third year and did not disappoint. And in his final year, he earned All-American honors while also being named Big Ten Defensive Player of the Year and Defensive Lineman of the Year.
His level of play also gave the Penn State football program something to cheer about after reports emerged revealing that Coach Paterno had been hiding – or ignoring at best – decades of sexual abuse allegations involving former coach Jerry Sandusky.
Still stayed focused on football, and his dedication paid off in 2012 when the Cincinnati Bengals selected him in the second round of the draft.
He eventually signed a four-year deal worth $3.768 million with the team, including a $1.18 million signing bonus.
Still was coming off a solid second season when Leah first started getting sick.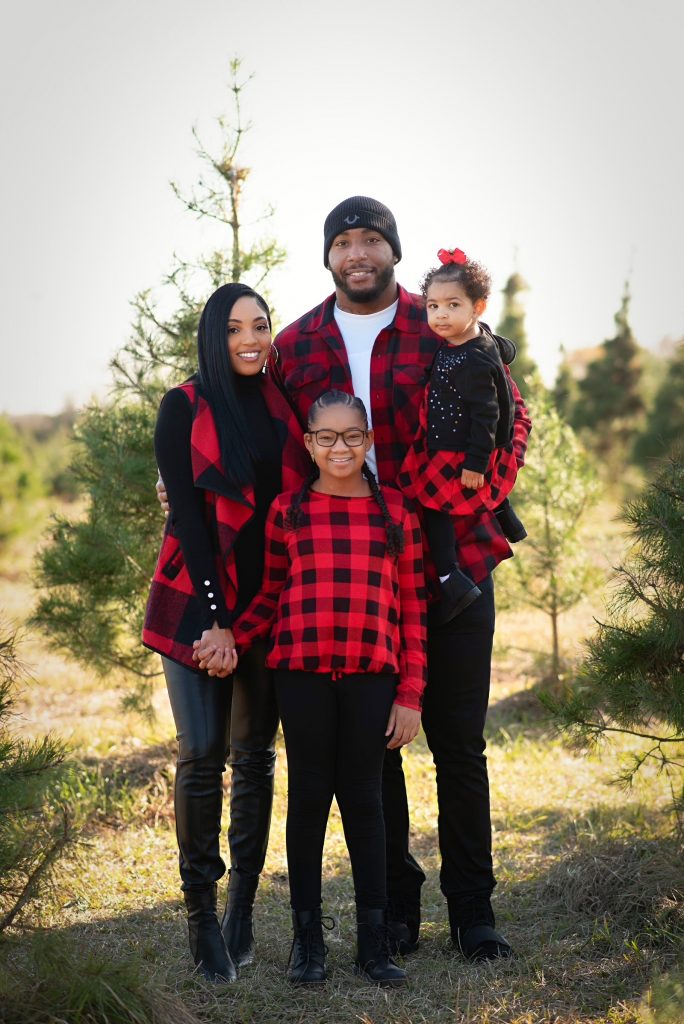 Family First
Leah was in Delaware at the time with her mom, Channing Smythe, Still's high school girlfriend, and doctors first it was a stomach bug.
Cancer was always a possibility, but there was only a slight chance, according to the doctors, who then one by one eliminated every other possible reason for Leah's symptoms.
Unable to concentrate on football, Still was soon cut from the Bengals' active roster. As he explains it, there was never any question that his daughter was more important than football.
The Bengals did allow him to remain on the practice squad and keep his insurance. He was later reinstated to the active roster, which allowed him to collect a little over $500,000 that season.
He would often spend the night with Leah in the hospital, sharing photos of himself as he tried to cram his 6 ft. 5 inch frame into a comically small couch so his daughter would not have to spend the night alone.
That first surgery appeared to be a success after the tumor was removed, and after chemotherapy, radiation, and a few minor surgeries, Leah's cancer went into remission on March 25, 2015.
Sudden Setback
However, there was a setback a few months later when Leah was getting her stem cell transplant.
"It was a difficult process because she was only supposed to be in a hospital for about two weeks but ended up getting diagnosed with something called VOV," says Still.
That stands for veno-occlusive disease, and it is a risk when undergoing a stem cell transplant. It is caused when the high and concentrated doses of chemo used to wipe out the bone marrow cause damage to the veins and vessels in the liver while passing through the organ.
It can be fatal in children, but once again, Leah pulled through.
From that point on, things got easier for Leah and the family, and last year Leah was officially declared cancer-free, ending a journey that she had been going through for more than half of her lifetime.
That celebration and Leah's five years of smooth sailing did slow to a near-halt, however, with the start of the COVID pandemic.
From Cancer to COVID
It is still unclear how the virus impacts those who are cancer-free, something that is even more problematic in individuals like Leah, who is still too young to receive the vaccine.
Still admits that he was aware from the start that the virus could wipe away years of hard work in just a few seconds, so the family was very strict about adhering to COVID guidelines.
"You spend so many, so many years fighting this, and then it's hard – you're hesitant to put your child out there," notes Still. "There's another virus going on that has a capacity to take her life. So the first year-and-a-half the coronavirus came about, she was on virtual learning, but now she's back in school, she's been doing good."
Devon Still: Cancer Crusader
Now Still is working to help other families battling pediatric cancer, a selfless post with some difficulties.
"It's tough because we've helped out a lot of families with that foundation, and fortunately, a lot of the kids that we meet, we interact with, they ended up succumbing to this disease," says Still.
That can quickly turn into survivor's remorse when Still starts to wonder how and why Leah was able to overcome a disease that many of these young children do not manage to beat in the end.
Soon, any family will be able to see how Still and Leah beat cancer when their books his shelves sometime next year.
"When Leah was battling cancer, I often talked about wishing that I had a playbook in order to learn how to navigate," notes Still. "And I experimented a lot of the way through Leah's cancer battle, trying to find ways to still enjoy life, to experience well-being, all while your child is fighting for their life."
And now, he is using his platform to share his wisdom with the world.
Related: 'The Voice' Host Carson Daly Shares Final Text and Photo With Cancer Caretaker Mom Hours Before Her Death
Being a Caretaker For Your Child Like Devon Still
After Tara Lassard was diagnosed with stage IV ovarian cancer in 2015, her mom became her caretaker, much like Still cared for Leah.
In an interview with SurvivorNet, Lassard explains how it impacted the relationship between the two and the emotional and physical toll it took on her mother.
"It's a really hard thing to navigate. I think, specifically the beginning, it was an uphill battle trying to help me through what would have been pain relief, and that sort of a fight that it got to be a difficult place to navigate in a relationship," recalls Lassard of the transition from a mother-daughter relationship to a caretaker-patient one.
"I think that after a while, her ability was to see me as a patient, and that were the conversations we were having later on is that somewhere along the lines, I just transferred in her mind to the patient that she had to care for, rather than her partner and somebody that would be equal in a partnership."
What Happens When a Family Member Becomes a Caretaker
Lassard is also quick to note that she is well aware of her mother's extraordinary sacrifices on her behalf.
"I see now my mom has been my caretaker, and I see love through her and what that looks like when it's the love of a parent versus the love of partner, and I just say that it's a difficult place to be as far as a caretaker, that it's often a thankless job," Lassard points out.
"It's a 24/7 job. Anytime the phone rings and she sees it's me, she thinks it's the worst thing. Largely, I am so grateful that I have her there just to notate everything that happens. We go over things in detail. Her life's been put on hold for the time being when I'm in treatment. She's with me."
This is why Lassard thinks there needs to be more help and resources available to those who give up so much to care for another.
"I'm an advocate now, as a cancer patient, for caregivers," she says. "That they have ways that they're able to get their help and try to navigate through what that looks like with their friends and partners and kids."
Husband Documents His New Role as Wife's Caretaker
Racial Disparities in Cancer Care
Devon Still says he did not feel that race played a role in the care his daughter Leah was given after her diagnosis, but that is not often the case.
SurvivorNet has previously reported that a black woman who gets breast cancer in America has a 39% higher chance of dying than a white woman.
African-American men with prostate cancer are almost twice as likely to die from their illness as are white men with the same disease.
Hispanics and Latinos have the highest rates of liver, stomach, and cervical cancers, and they're more likely to be diagnosed at a late stage, when their cancer is less curable.
Asian-Americans and Pacific Islanders face the highest rates of both liver and stomach cancers, and are twice as likely to die from these cancers as whites.
How the Medical Community Can Gain Back Trust in Communities of Color
Learn more about SurvivorNet's rigorous medical review process.
---