Understanding Colon Cancer
Beloved television news anchor and colon cancer survivor Lindy Thackston, 41, recently shared some funny bloopers from the 2022 Indy Zoobilation.
While Lindy seemed to have a fun weekend, she's now mourning the passing of a friend and fellow cancer warrior.
Colon cancer starts when abnormal lumps called polyps grow in the colon or rectum. If you don't have these polyps removed, they can sometimes turn into cancer.
Beloved television news anchor and
colon cancer
survivor Lindy Thackston, 41, recently shared some funny bloopers from the 2022
Indy Zoobilation
, which is the premier philanthropic event in Indianapolis.
"Did I say something I should've said in private, @jilliandeamtv?" Lindy posted to Instagram over the weekend alongside a photo of herself and a FOX59 co-worker at the event.
Read More
"Probably."
 

View this post on Instagram

 
She also shared a stunning glam shot of herself the night of the event!
 

View this post on Instagram

 
While Lindy seemed to have a fun weekend, she's now mourning the passing of a friend and fellow cancer warrior.
Lindy shared a post to her Instagram Story on Tuesday night and wrote, "I hate cancer so much." The post she shared was one from Steve Healy, wife of Nikki Healy, who was diagnosed with stage 4 colorectal cancer — just like Lindy.
"At 1:32pm today (Tuesday), Nik went home," Steve posted to Instagram on Tuesday night. "Love you babygirl. Thank you for marrying me. See you soon."
 

View this post on Instagram

 
Lindy commented on the post, "I wish I could find the words. Just heartbroken. Love to your family. Praying for you."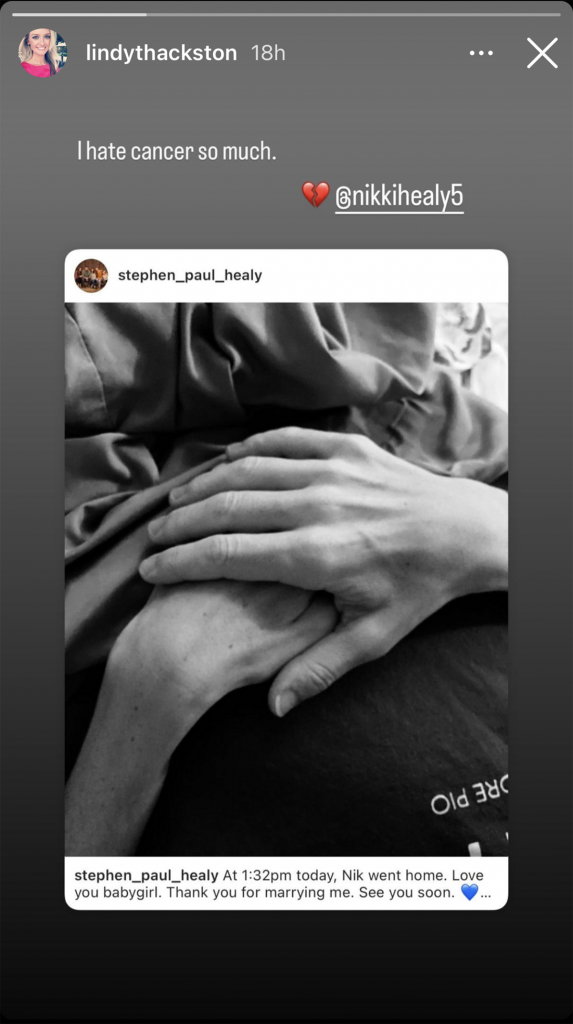 Related: FOX Anchor Lindy Thackston, 41, Posts Shocking Video Of Her Scarred Belly As She Celebrates Beating Cancer
'Survivor's Guilt'
Lindy Thackston, beloved television news anchor for FOX59 in Indianapolis, Ind., was diagnosed with stage 3 colon cancer in May 2020. She's since beat the disease — more on that later — but during an exclusive interview with SurvivorNet, Lindy opened up about how she struggles with "survivor's guilt."
Survivor's guilt is a common response to an event — such as the death of a friend — in which someone else experienced loss but you didn't.
Lindy said she's now reached the point that "it's been a couple of years that I've had a couple friends pass away (from cancer), and, you know, I have friends who continue to get bad news and it doesn't look good for them."
Related: FOX Anchor Lindy Thackston, 41, Candidly Opens Up to SurvivorNet About Her Struggles With Mental Health During & After Cancer: 'Anxiety and Depression is Not Something I Dealt With Before Cancer'
"That part of it is really difficult for me as well; you deal with a lot of survivor's guilt," she added.
However, Lindy makes it a point to note that it doesn't help to compare yourself to others while fighting cancer.
"You can be (at) the same stage, same diagnosis, same everything as someone else and you're going to have a completely different case than them," she told SurvivorNet. "So, try not to compare yourself to the people you see in your support groups online or in person, who pass away or the difficult things like that."
Lindy Thackston's Cancer Battle
After she was diagnosed, Lindy Thackston quickly began treatment. In the spring of 2021, she finally finished all 10 rounds of chemotherapy to fight off her cancer.
But in September of that year, she shared that doctors found a spot on her lung during an unrelated hospital visit. She told her thousands of Instagram followers that the lung spot prompted a biopsy, which revealed the cancer had spread to her lung — her cancer had reached stage 4.
In an episode of her podcast, Life With Lindy, posted that same month, she further explained that her doctors think the spot on her lung had been there from the very beginning — when she was diagnosed with stage 3 colorectal cancer.
Management of Metastatic Colon Cancer
Lindy disclosed to SurvivorNet during a previous interview that this discovery also meant she was actually stage 4 when she was diagnosed in May 2020, considering the cancer had spread beyond its origin organ. But the spot was small; it never changed or did anything the entire time she battled colorectal cancer, she said.
"That's actually good news because it means a new spot didn't pop up," she told SurvivorNet.
Dr. Heather Yeo, a surgical oncologist and colorectal surgeon at New York-Presbyterian/Weill Cornell Medical Center, previously told SurvivorNet that when colon cancer spreads outside the colon, "most commonly spreads to the lung and to the liver." In Lindy's case, it had spread to her lung.
Lindy ended up having a lobectomy procedure (surgery where an entire lobe of the lung is removed) to remove half of her left lung.
"Then the question was, 'OK, do I do a round of chemo after that, or not?'" Lindy said.
She consulted with her oncologist at St. Vincent Hospital (in Indianapolis) about what her next steps should be — chemotherapy, or not. She also sought second opinions on what to do at Indiana University Health and the Mayo Clinic.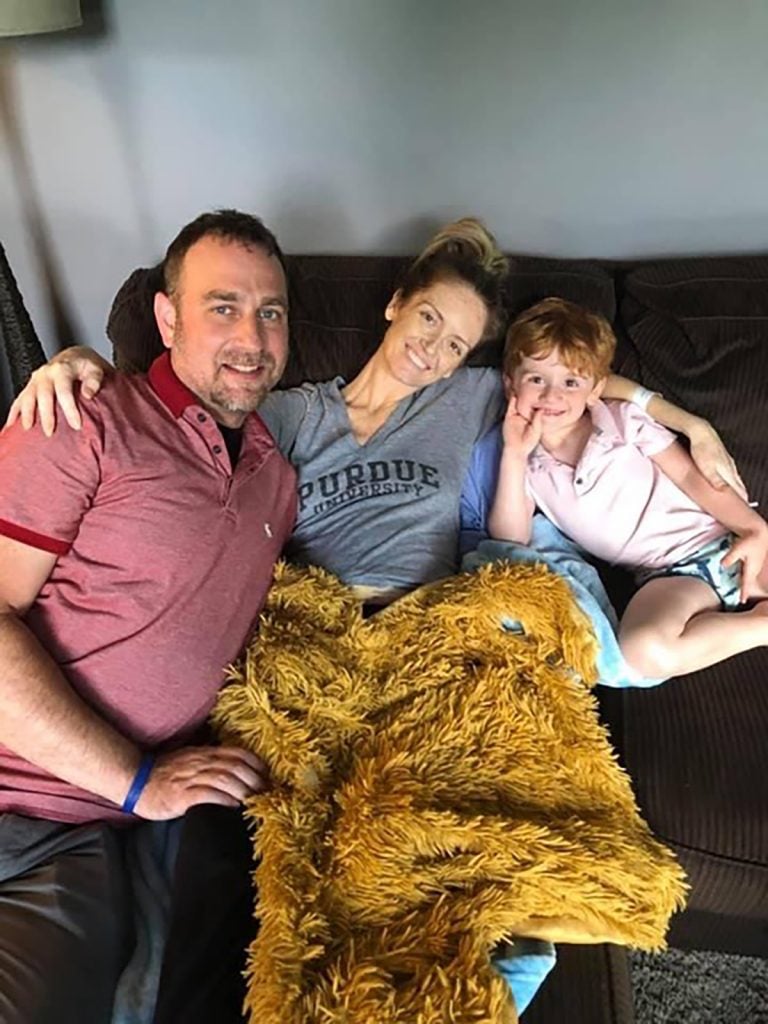 "I had IU and Mayo (Clinic) telling me that they would not do chemo and that they would just continue to constantly monitor me," she told SurvivorNet. "My oncologist, who I've been going to for the whole time, was leaning toward chemo. And I obviously didn't want to do it. … We ultimately decided not to do it."
"It was just a personal decision," she added, "and so (at that point), it was time to take another Signatera test again." (The Signatera blood test can detect if cancer is still present in patients who have previously been diagnosed with cancer; its results can be helpful to patients as they determine their treatment regimen.)
"Hopefully it's negative again," she added. "If it's positive, then I'm gonna have to figure out where the cancer is and start over."
Luckily for Lindy, that test result came back negative, so she doesn't have to start from square one again!
She took another Signatera in early April — her third — and she continues to return negative results, meaning she's cancer-free! But her doctors will continue to monitor her remission progress with PET scans every three months.
Understanding Colon Cancer
Colorectal cancer affects your large intestine (colon) or the end of your intestine (rectum).
The cancer starts when abnormal lumps called polyps grow in the colon or rectum. If you don't have these polyps removed, they can sometimes turn into cancer. It takes up to 10 years for a colon polyp to become full-blown cancer, so if you get the recommended screenings, then your doctor will have time to remove any polyps that form before they can cause problems.
Stages 1 through 3 colon cancers are cancers that haven't spread far from the colon. Because of this, there's the potential for a cure with surgical resection.
Generally, surgery is recommended for anyone with stage 1, 2 or 3 colon cancer, though people with stage 2 and 3 cancers may need both surgery and chemotherapy. Even if surgery is successful at removing your cancer, there are always risks. That can mean anything from an infection that's treated with antibiotics, to a problem with the surgery itself that requires another procedure to correct.
The risk of complications is higher for older people and those who have other medical problems (like heart and lung disease). In these situations, your surgeon can help you decide whether surgery is the right option for you, and what other choices you might have to prolong your life while also maintaining your quality of life.
While early stage colorectal cancer has good survival rates, in the later stages of this disease (Lindy Thackston was fighting stage 4 colon cancer), treatment can get a little more complex. It's important for you and your doctor to understand as much as possible about your cancer, so that you can make the right decisions about your care.
Learn more about SurvivorNet's rigorous medical review process.