Lindy Thackston's Cancer Battle
Beloved Indianapolis-based news anchor and colon cancer survivor Lindy Thackston, 41, recently received the incredible news that she does not have to go through chemotherapy again, as her Signatera blood test returned a negative result.
The Signatera blood test is different from other early-detection blood tests in that it can detect if cancer is still present in patients who have previously been diagnosed with cancer.
Thackston also spoke with SurvivorNet about the importance of a support system, adding that she could not have gotten through her cancer battle without her husband and the support of other colon cancer patients and survivors.
Beloved Indianapolis-based news anchor and
colon cancer
survivor Lindy Thackston, 41, recently received the incredible news that she does not have to go through chemotherapy again, as her
Signatera
blood test returned a negative result.
"I took it (the test) November 1, it took more than two months to get back and that was obviously just a huge weight on my shoulders," Thackston told SurvivorNet during a recent interview.
Read More
"Then, (on) January 3, which is actually my wedding anniversary, we were driving to go out to eat and … my oncologist called and said it was negative," she added, "and we were shocked because that was not expected at all."
"It was great news, but you just don't expect it, you know?"
That weight of the unknown is back on Thackston's shoulders, as she disclosed to SurvivorNet that she recently took another Signatera test to check for tumor markers. (Thackston has been fighting advanced-stage colon cancer for almost two years, but more on that later.) This is Thackston's third test; the second one she took just a couple weeks ago was lost in the mail. She should be receiving the results of her most recent test in coming weeks.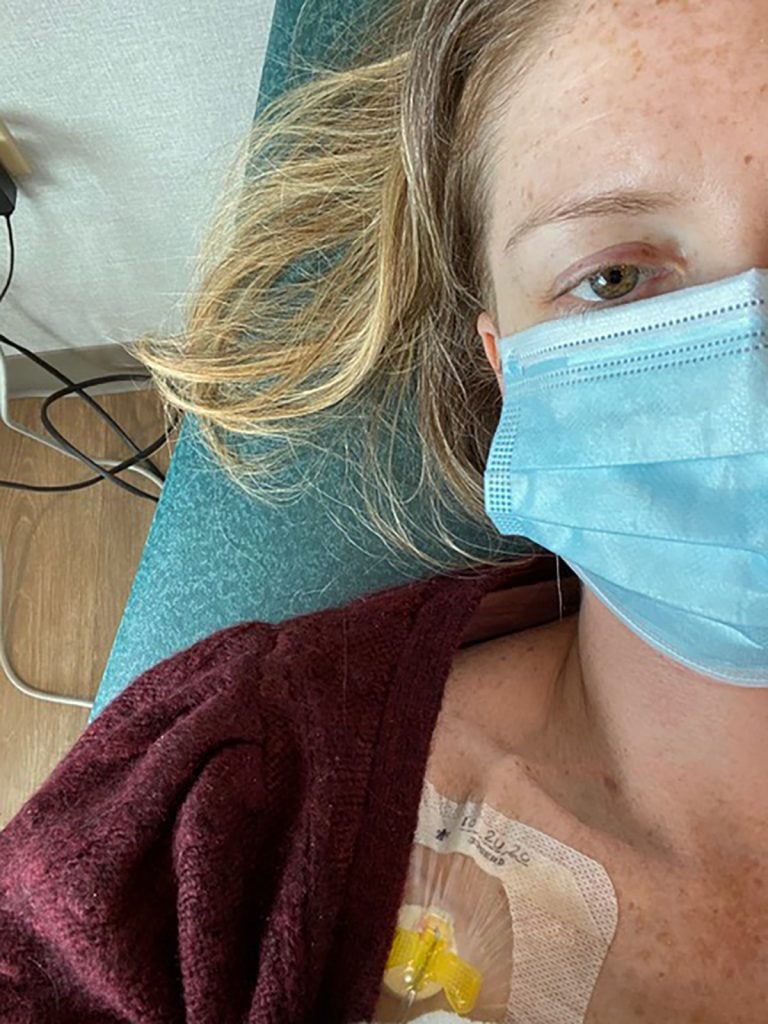 Thackston was able to connect with SurvivorNet and share more details about her story amid her busy schedule. She explained that as a morning television news anchor, her day starts at 2 a.m., and she is at work by 3 a.m. Thackson anchors the morning news on FOX59 in Indianapolis from 4 to 7 a.m.
"Because I'm still trying to recover from all of this (her cancer battle), I pretty much leave right after the show and I come home and I nap anywhere from four to six hours," she said.
She then picks up her 6-year-old son from school, heads home and is in bed again by 6:30 p.m. to do it all again the next day. But despite her hectic schedule and the fact that she is still gaining her strength back after fighting cancer for nearly two years, she told her story with so much energy and enthusiasm, sharing a laugh and exchanging battle stories (of being in the newsroom, of course).
The Signatera Blood Test
Catching cancer early enough is key when it comes to treatment, and there are a few different blood tests available that claim to detect cancer in its early stages. This is actually part of President Joe Biden's Cancer Moonshot program, which was announced last week on Feb. 2.
"Five years ago, detecting many cancers at once through blood tests was a dream," the president's announcement stated. "Now new technologies and rigorous clinical trials could put this within our reach. Detecting and diagnosing cancers earlier means there may be more effective treatment options."
However, the Signatera blood test is different in that it can detect if cancer is still present in patients who have previously been diagnosed with cancer, patients like Lindy Thackston.
The Signatera test can be used to detect minimal, or molecular, residual disease (MRD) following surgery, to monitor a patient's response to cancer treatment or detect cancer recurrence following a period of remission, according to test-maker Natera, Inc., a clinical genetic testing company based in Austin, Texas. There are competing tests, such as ones from Guardant Health, in this space in addition to Signatera. Guardant Health has commercially launched liquid biopsy-based Guardant360®, Guardant360 CDx and GuardantOMNI® tests for advanced-stage cancer patients, and Guardant Reveal™ for early-stage cancer patients.
Speaking with SurvivorNet about the Signatera test, Dr. Adham Jurdi, medical director for oncology at Natera, explained that the test is used by doctors after surgery to make sure they got all the cancer during the procedure. This also allows for pieces of the patient's tumor to be used to customize the test, essentially creating an individualized map of how the patient's body makes the tumor.
If the test comes back negative, it spares the patient from going through another round of unnecessary and harmful treatment, adding that it is a "huge quality of life issue."
While the test is not yet approved by the U.S. Food and Drug Administration (and therefore not part of the National Comprehensive Cancer Network guidelines), doctors are able to use it in their practice. One of those doctors was Dr. Adham. In fact, he loved the Signatera test so much that he wanted to work for the company that made it. He was previously an oncologist and medical director at Austin Cancer Center in Austin, Texas, but joined the Natera team in November of last year.
Signatera is typically ordered every three months, generally along with relevant serum protein biomarkers, according to Natera. This reduces or eliminates the necessity to order frequent scans for patients. The first Signatera test should be taken three to four weeks after surgery.
"It (Signatera) is the next big thing in cancer care," Dr. Adham said. "It is basically moving the way we monitor and treat cancer patients … into the 21st century."
Lindy Thackston's Cancer Battle
Thackston, a beloved television news anchor for FOX59 News in Indianapolis, was diagnosed with stage 3 colorectal cancer in May 2020. In the spring 2021, she finally finished all 10 rounds of chemotherapy to fight off her cancer.
But in September 2021, she announced that doctors found a spot on her lung during an unrelated hospital visit. She told her thousands of Instagram followers that the lung spot prompted a biopsy, which revealed the cancer had spread to her lung — her cancer had reached stage 4.
In an episode of her podcast, Life With Lindy, posted that same month, she further explained that her doctors think the spot on her lung had been there from the very beginning — when she was diagnosed with stage 3 colorectal cancer.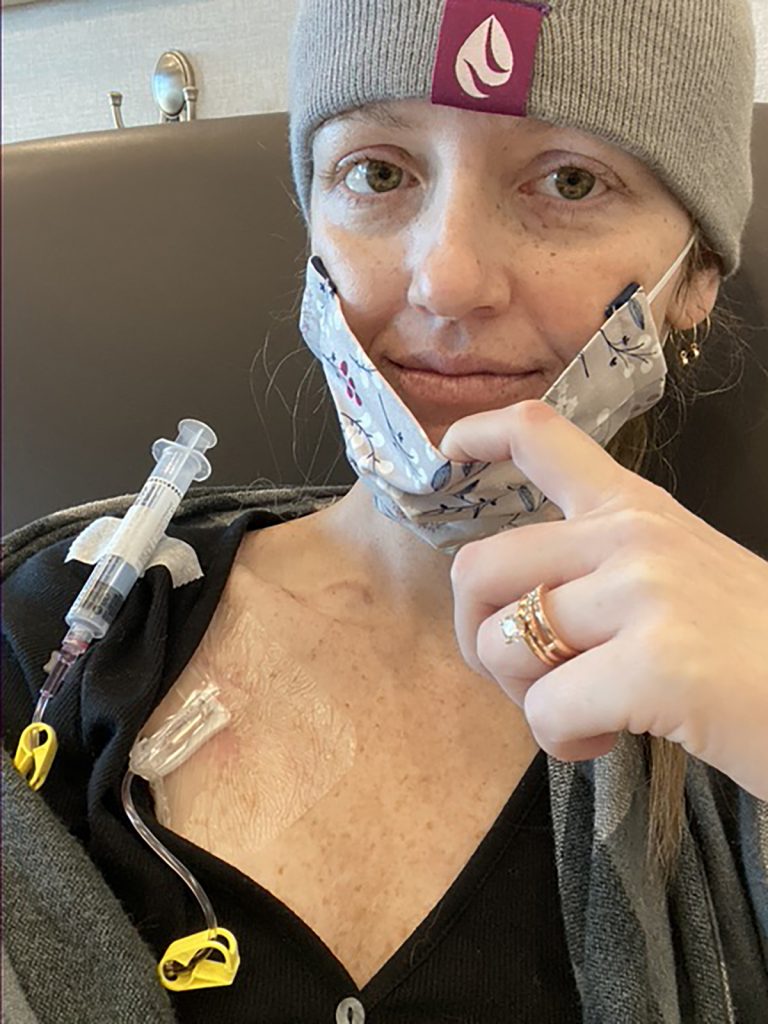 Thackston disclosed to SurvivorNet that it also meant she was actually stage 4 when she was diagnosed in May 2020, considering the cancer had spread beyond its origin organ. But the spot was small; it never changed or did anything the entire time she battled colorectal cancer, she said.
"That's actually good news because it means a new spot didn't pop up," she told SurvivorNet.
Dr. Heather Yeo, a surgical oncologist and colorectal surgeon at New York-Presbyterian/Weill Cornell Medical Center, previously told SurvivorNet that when colon cancer spreads outside the colon, "most commonly spreads to the lung and to the liver." In Thackston's case, it had spread to her lung.
Management of Metastatic Colon Cancer
She ended up having a lobectomy procedure to remove half of her left lung.
"Then the question was, 'OK, do I do a round of chemo after that, or not?'" Thackston said.
Thackston consulted with her oncologist at St. Vincent Hospital (in Indianapolis) about what her next steps should be — chemotherapy, or not. She also sought second opinions on what to do at Indiana University Health and the Mayo Clinic.
"I had IU and Mayo (Clinic) telling me that they would not do chemo and that they would just continue to constantly monitor me," Thackston told SurvivorNet. "My oncologist, who I've been going to for the whole time, was leaning toward chemo. And I obviously didn't want to do it. … We ultimately decided not to do it."
"It was just a personal decision," she added, "and so (at that point), it was time to take another Signatera test again." This leaves us where our story began — Thackston awaiting the results of her second Signatera blood test.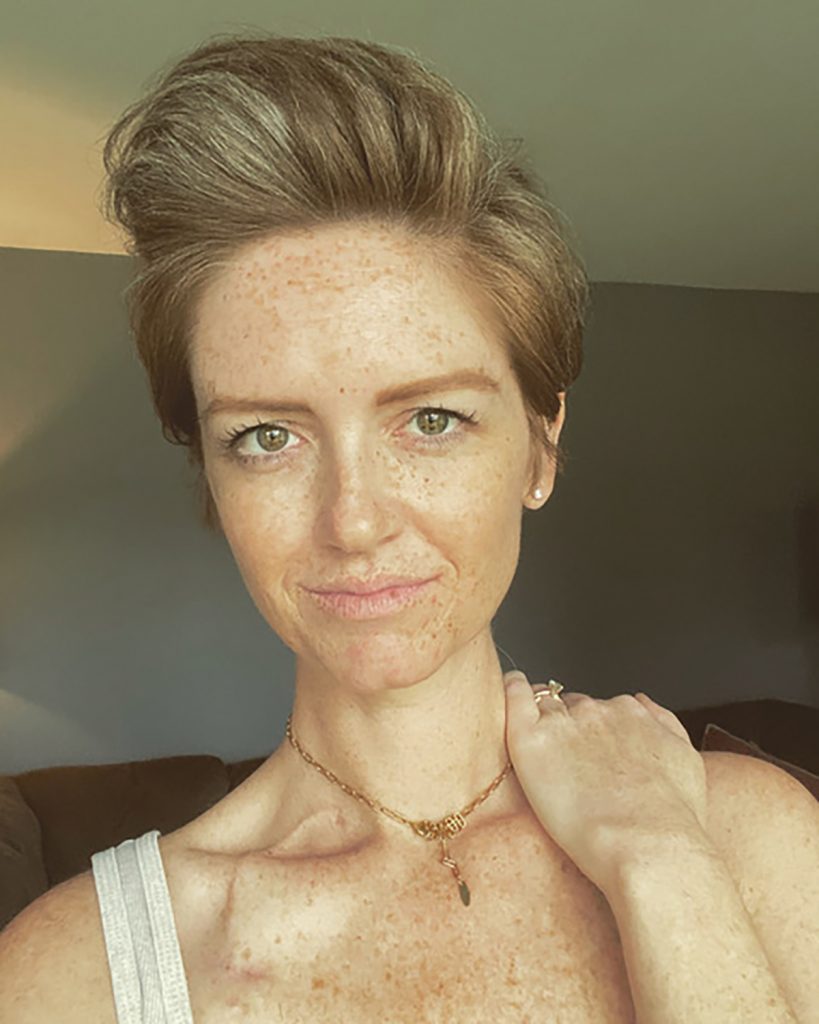 "Hopefully it's negative again," she said with some caution in her voice. "If it's positive, then I'm gonna have to figure out where the cancer is and start over." Her voice began to trail off at the thought of this.
If the test is negative, Thackston will have another test in April, then she will also start doing PET scans every three months to monitor her remission progress.
The Importance of a Support System During a Cancer Battle
Something we at SurvivorNet have stressed time and again is the importance of having a support system during a cancer battle. The support system can be family, friends or even people who are going through the same thing as you.
For Thackston, her support system was her husband, Chris, and other colon cancer warriors.
"First and foremost, my husband did absolutely everything," she said. "Caregivers don't get enough attention."
"He set alarms all night to give me my medications," she continued. "He literally carried me to and from the vehicle every time we had to go somewhere. He did everything around the house. He was a single parent virtually. He did everything and I could not have survived without him."
While cancer is an experience that takes its toll on the patient, it can also take an emotional toll on that person's spouse, as well as their relationship. (This is something actress and melanoma survivor Jill Kargman can attest to as cancer was a true test of her relationship's strength. In a previous interview with SurvivorNet, Kargman says the disease "is a great way to find out if you're with the love of your life or a shithead." It is probably safe to say that Thackston's husband is definitely not a "shithead.")
Jill Kargman on Relationships and Cancer
In addition to her husband, Thackston said she sought support from other colon cancer patients and survivors.
"One thing I did when I was diagnosed — I was 39 (years old), a young mom, no genetic history, no family history, no real risk factors — I just went on Instagram and I searched hashtag colorectal cancer, hashtag cancer survivor, and I started looking for people that were in my same boat, and I just followed them."
Thackston explained that through her search, she found a community of young men and women who all follow each other and provide support to one another online. She said she has gotten close to between five and eight of them, some of whom she talks to on a daily basis.
"Those are actually the people that really, really helped me," she said. "It's just people in my position, a similar position, and it was so helpful to see that they were going through the same thing every day."
Learn more about SurvivorNet's rigorous medical review process.