The rumors are true: Jennifer Grey is reportedly starring and executive producing a new "Dirty Dancing" movie for Lionsgate. The original debuted in 1987, making actor/dancer Patrick Swayze a box-office heartthrob.
"It will be exactly the kind of romantic, nostalgic movie that the franchise's fans have been waiting for," said Lionsgate CEO Jon Feltheimer.
Read More
RELATED: Patrick Swayze Captured Our Hearts in 'Dirty Dancing' — Progress On Pancreatic Cancer
But fans of Swayze — who died of stage 4 pancreatic cancer on September 14, 2009 at age 57 — disagree:
Dr. Anirban Maitra of MD Anderson Cancer Center spoke with SurvivorNet about the importance of early detection in pancreatic cancer.
"There is not one person in the whole wide world who can replace Patrick Swayze," one, identified only as "Anonymous", commented on the Deadline announcement, just days ago.
RELATED: Alex Trebek Says Pancreatic Cancer Changed His Definition of Toughness: 'Nothing Wrong With A Man Shedding A Tear'
"If they use flashbacks of Swayze they might have a chance of a hit," Karen Koller wrote. "He was the reason the original was a hit." Patrick Swayze and Jennifer Grey had enormous chemistry in the 1987 film and the question for fans remains, will we be able to see a little of that magic in a sequel? Hollywood is all about nostalgia these days and given the year we've been having (2020 just doesn't want to let up) this could be just what people need, if done well!
Swayze, voted People magazine's "Sexiest Man Alive" in 1991, was the subject of the Paramount Network documentary "I Am Patrick Swayze" which aired last year on his birthday, August 18, almost 10 years after his death. If he had lived, the actor would turn 68 this month.
Swayze's Early Symptoms
Pancreatic cancer is notoriously difficult to treat because it's often not detected until it is an advanced stage. This was the case for Swayze, who shared in his 2009 memoir, "The Time of My Life" that, when he first noticed symptoms in December 2007, he assumed they'd go away on their own.
RELATED: Trailer For The Aretha Franklin's Movie "Respect" — Iconic Singer Passed Away From Pancreatic Cancer
"I had been having some digestive trouble, mostly acid reflux and a kind of bloated feeling, for a few weeks," Swayze wrote. "I've had a sensitive stomach my whole life, so I hadn't thought much of it, but lately I just couldn't shake the constant discomfort."
RELATED: As TV Icon Alex Trebek Battles Pancreatic Cancer, New Recommendation Says Early Screening Does Not Work
I wasn't hungry and felt sick whenever I did eat, but I'd always been pretty healthy," he said, "so I figured the feeling would pass eventually."
A Sip Of Champagne…
On New Year's Eve in 2007, Swayze said he "nearly choked" after a sip of champagne caused excruciating pain. "It burned like acid going down. It felt like I'd drunk lye, a sharp, searing pain that brought tears to my eyes," he wrote. "I'd never felt anything like it."
RELATED: Best-Selling Christian Author Tim Keller Diagnosed With Pancreatic Cancer — Advancements In Treatment Could Save Lives
From there, his symptoms worsened. "My indigestion issues got gigantic and constant. And then I started thinking, I'm getting skinny. I dropped about 20 pounds in the blink of an eye," he said. "All of a sudden, you pull your eyes down and the bottom of your eyes go yellow and jaundice sets in — then you know something's wrong."
By mid-January 2008, Swayze's doctors discovered his bile ducts were blocked. The cause was stage 4 pancreatic cancer.
"Never Been One To Run From A Challenge"
By mid-January 2008, Swayze's doctors discovered his bile ducts were blocked. The cause was stage 4 pancreatic cancer. "Most individuals, about 80%, will actually present with what we called advanced disease," Anirban Maitra, co-leader of Pancreatic Cancer Moon Shot at MD Anderson Cancer Center told SurvivorNet.
RELATED: Alex Trebek's Cancer Milestone Inspires Fans, New Pancreatic Cancer Treatments Show Promise
"Which means that the cancer has either spread beyond the pancreas or into other organs like the liver," he added, "and so you cannot take it out with surgeries."
Dr. William S. Breitbart, Chairs the Department of Psychiatry and Behavioral Sciences at Memorial Sloan Kettering Cancer Center, says forgiveness can help cancer patients facing a difficult diagnosis. 
"Of course, this has an impact on the prognosis of the disease," Dr. Maitra added, "because patients who have advanced disease, the treatments we have available for them, they work somewhat, but they don't really do as well as we would like."
Swayze, acknowledging his fears, faced the disease head-on, saying, "I've never been one to run from a challenge."
The Barbara Walters Interview
In an interview with Barbara Walters, which aired in January of 2009, nine months before his death, Swayze described his chemotherapy treatment. "I finished one phase, now we've switched gears because these cancers are very malleable and they adapt very quickly."
"The side-effects to this new chemo I'm on, I will take any day, compared to the last one," he said. "Now it's huge sensitivity to cold."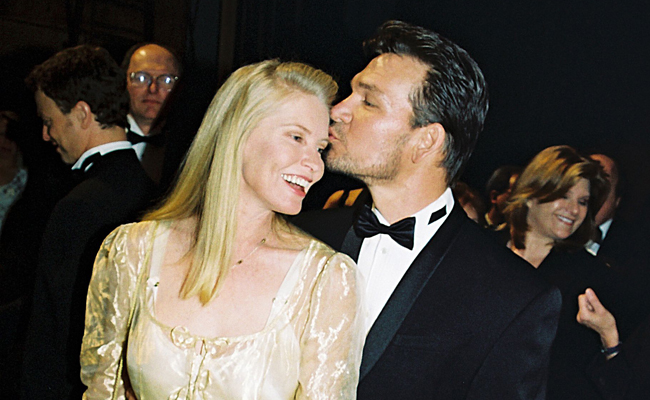 "I expect it to be a long hard battle — one that I'm going to win according to certain rules, that the cancer isn't going away. Now, mind you, I keep my mind and my heart and my soul and my spirit open to miracles. I pray."
RELATED: "You Could Be Dead Tomorrow, Go For it Now" — 10 Years After Patrick Swayze's Death, A New Documentary Revisits His Difficult Journey With Pancreatic Cancer
The decision to fight, he explained, comes down to quality of life. "The issue is when do you get tired? When do you decide that the fight isn't matching up to your quality of life? And, so far, I've got potential for a lot of quality of life."
RELATED: Alex Trebek, Ruth Bader Ginsburg, And So Many More– Why Are So Many Celebrities Getting Pancreatic Cancer?
Forest stewardship was one of his final goals, but Swayze, "If I can leave that legacy, I'm a happy man." Swayze, who had survived the loss of a sister and his father, was also philosophical.
"I don't know what's on the other side. I believe that it's a recorded fact flesh and bone can not contain the electrical energy that physically operates our bodies," he told Walters. "To me, that physical, tangible, real sign of a soul … does not die."
"The only thing you can really take with you when you die," he added, "is the love you have."
Pancreatic Cancer Symptoms
According to the Pancreatic Cancer Action Network, (PanCAN) symptoms of pancreatic cancer should not be ignored. They include:
Pain (usually in the abdomen or back)
Loss of appetite
Unexplained weight loss
Jaundice — yellowing of the skin and/or eyes
Nausea, change in stool
Recent-onset diabetes or changes in an exisiting diabetes
Each of these symptoms may indicate pancreatic cancer. If you are experiencing one or more of these symptoms, bring them to your doctor's attention immediately, and reference pancreatic cancer.
Learn more about SurvivorNet's rigorous medical review process.
---