Can Surgical Masks Help Prevent Infections?
There is some evidence that masks can help decrease the risk of airborne infections like the flu
Masks are not a replacement for other health measures such as hand washing
It is too soon for experts to determine whether surgical masks can help prevent the spread of the corona virus coming out of China
For cancer survivors with compromised immune systems, news that the coronavirus that originated in Wuhan, China, is spreading at a rapid pace is likely a growing source of anxiety.  A majority of the reported cases — as of Tuesday evening, the death toll reached 132, and the number of confirmed cases
neared 6,000
— are in mainland China. There have been
five cases
of the 2019 Novel Coronavirus (or 2019-nCoV, as it has yet to be given a catchier nickname) reported in the U.S. Additionally, The New York Times reports, the U.S. is expanding the screening of travelers arriving from Wuhan to 20 airports and land crossings.
Adding to the anxiety are the growing number of photos of people in China and Japan wearing surgical masks.
Read More
And of course, winter in general always poses challenges for those whose immune systems are compromised, with infections one of the most common life-threatening complications of the disease, according to the
National Cancer Institute.
In
preliminary estimates
, the CDC reports that there were between 13,000,000 and 18,000,000 flu illnesses between October 1, 2019 and January 11, 2020.
RELATED: Cancer Treatment During the Cold Winter Months — What You Need to Know About the Risks
"While many of just get sick and miserable, someone with a compromised immune system can actually get sick enough that they die," Dr. Heather Yeo, colorectal surgeon and surgical oncologist at Weill Cornell Medicine and NewYork-Presbyterian, tells SurvivorNet. "Which is why they need to stay away from anyone with an exposure."
She also says it's why those who can be vaccinated should be, as it decreases the chance that those with compromised immune systems will be exposed to infections.
Should You Wear a Mask?
In what seems to be the latest study on surgical masks and the flu, a 2013 report from researchers at the University of Maryland showed that for patients with the flu, the number of large viral droplets in the air around the patients decreased by 25% in patients who wore a surgical mask. Masks were less effective in reducing fine viral particles in the air around patients with the flu.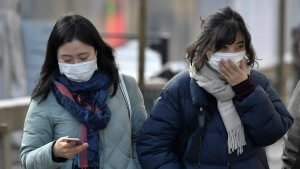 While it's too soon to know whether masks can help prevent the spread of the China corona virus, Dr. Yeo tells SurvivorNet that "there is some evidence even for healthy individuals that as long as they're also taking other precautions, like washing their hands, masks can [in general] help prevent the spread of infection."
She also said there are many different kinds of masks, but basically "there are typical masks that are a simple piece of fabric that cover your mouth, and they are not high level but keep out some of the germs.  [People can also use] masks called M95 masks that a lot of health professionals wear. That's what we wear around a lot of the more contagious illnesses in the hospital."
Wearing a Mask for Dad
Eliza Costas, 25, tells SurvivorNet that she was diagnosed with the flu as her dad, Nick Costas, was in treatment for multiple myeloma, and she chose to wear a mask to increase the chances that her infection wouldn't spread.
"I was very sick and living under the same roof with my dad, and wanted to take every precaution I could to protect my dad from getting infected," she says.
Her dad also wore a mask and gloves whenever he was around her, she notes.
"I had to go to the emergency room on Christmas eve, and he was the only one who was available to drive me, and he wore a mask then and stood five feet away at all times," she says.
Nick Costas is about to have a stem cell transplant, which significantly weakens the immune system, so Eliza explains that "for probably 100 days, anyone who interacts with him will definitely be wearing a mask to prevent against infection. Even when I'm not sick I'm planning on wearing a mask."
Other Ways to Protect Against the Flu
"Most patients who are getting chemotherapy will also get a flu vaccine," Dr. Sarah Cate, a Breast Surgeon at Mount Sinai Health System, tells SurvivorNet, "which should greatly reduce the risk of getting the flu."
In addition to the flue shot, patients can wash hands often with soap and water, avoid putting your hands up by your face or mouth, and direct all coughs and sneezes into a tissue, throw it away, and immediately wash hands.
Patients can also avoid crowds as best as they can, especially if there is a documented or announced outbreak, and avoid (as best you can) small children who may be sick, especially those who are in school or daycare.
Learn more about SurvivorNet's rigorous medical review process.
---