[Summary]
Ashlee Williams-Barnes was 24-years-old when she learned the power of trusting her instincts when it comes to her health. After enduring two years of heavy bleeding and constant pelvic pain, doctors told her she simply needed to relax. Thankfully, the young mother of two continued seeking answers and discovered she had cervical cancer.
Read More
"I felt scared, unheard, and alone," Williams-Barnes
told
7Life.
A Journey for Answers
In 2013, Williams-Barnes of Australia went for a routine pap smear, a common test that collects cells from the cervix, the lower area of the uterus, to detect cervical cancer and other conditions. She said her results showed some abnormalities. Abnormal pap test results don't necessairly mean you have cancer and could be a sign of "infection with certain types of human papillomavirus (HPV) or other types of infection, such as a yeast infection," according to the National Cancer Institute. It should be noted, though,
that HPV can lead to cervical cancer.
Williams-Barnes said she didn't receive much information about her test results. "I didn't know what this meant at the time. No explanation was given and my GP didn't seem to worry and ushered me out the door without any follow-up," Williams-Barnes said.
As 2013 progressed, Williams-Barnes continued to bleed heavily between her periods and experience pelvic pain and infections. By 2014, the young mother said her symptoms only grew worse.
"I was in constant pain, distressed and held guilt that I could not be the partner, mother, daughter, friend or work colleague that I wanted to be and had always been," Williams-Barnes said.
Ignored and Dismissed
As her symptoms worsened, she continued seeking medical opinions. Rather than addressing the issues, Williams-Barnes said she received dismissive remedies from doctors.
"You have an infection, here are some antibiotics. That went on for nearly six months," Williams-Barnes told The Daily Mail doctors told her.
Williams-Barnes suspected she may have developed a form of cancer, but rather than being tested, she received more dismissive reactions from doctors.
"You are too young to have cancer," Williams-Barnes said one doctor told her.
"Maybe you need to have a few wines and relax, it's all in your head," she said another doctor told her.
As doctors ignored her cries for help, she continued to suffer heavy bleeding. She often wore black clothes and relied on painkillers to make it through her days. She admitted her sex life with her husband also suffered.
"This was not normal … our sex life became non-existent," Williams-Barnes said.
She Was Her Biggest Advocate
Determined to find a solution, she relentlessly sought out several doctors until someone finally listened to her.
"We found a GP who referred me to a specialist that actually took me seriously," she said.
Two years after her initial pap smear and unrelenting symptoms, she finally received answers.
While at a Sydney hospital, her specialist told her she would need to have surgery to stop the bleeding. The doctor also requested she call her parents to be by her side along with her husband, Luke, as she received her diagnosis.
"'You have cancer,'" Williams-Barnes recalled the doctor telling her.
"My thoughts immediately went to Luke, my parents, and my family. I could not imagine how they must have felt to hear this," Williams-Barnes added.
Coping With a Cancer Diagnosis
"I was angry it took so long for a diagnosis, and I wanted the system to be better. I was scared that I wasn't going to be strong enough to survive and let down those closest to me," Williams-Barnes said after her cervical cancer diagnosis.
Williams-Barnes had an aggressive 5.8-centimeter tumor attached to her cervical wall and, by the time it was diagnosed, it had spread to her lymph nodes.
Although afraid, Williams-Barnes was thankful she had her family to support her throughout her cancer journey.
"I had my family and friends to lean on," said.
When a stressful life event occurs, like a shocking cancer diagnosis, people may react with a range of different (and quickly changing) emotions – such as fear, anxiety, anger, and frustration. It's important to know that those are all completely normal.
Psychiatrist Dr. Lori Plutchik previously told SurvivorNet that the patient, or person going through the stressful event, should accept that emotions will be fluid. You may feel fine one day and then feel a massive wave of stress the next. It's also important for those you look to for support, as Williams-Barnes did — whether that's a therapist, friends and family, or both — to understand the fluidity of stress-related emotions.
Understanding Cervical Cancer
Cervical cancer starts in the cervix and more than 70% of cases are caused by the human papillomavirus (HPV). More than 90% of HPV-related cancers, including cervical cancer, is preventable in people who get the HPV vaccine that is recommended for all preteens (both girls and boys) 11 to 12 years old in two doses administered between six and 12 months apart. The series of shots can also be started as early as 9 years old.
"The key with the vaccine is that you received the vaccine before you ever reach sexual debut or have sexual encounters. So that's why these vaccines are approved for young children ages 9, 10, 11 years old, up to 26," Dr. Jessica Geiger, a medical oncologist at Cleveland Clinic Cancer told SurvivorNet.
The American Cancer Society recommends cervical cancer screenings begin at age 25, and HPV screening is recommended every five years thereafter.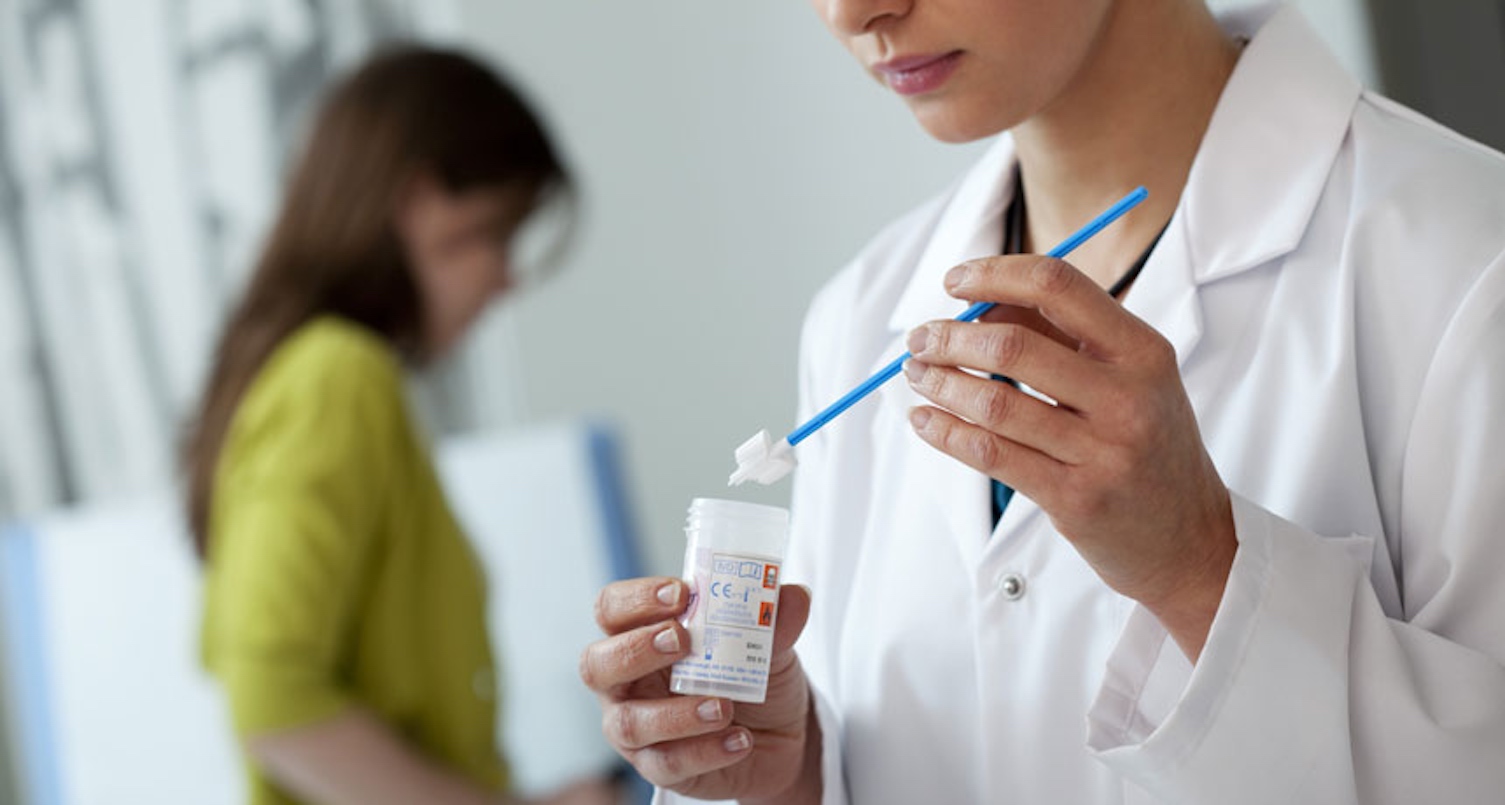 Cervical Cancer Symptoms and Treatment
Williams-Barnes underwent radiotherapy every day and chemotherapy once a week for three months. She also received several rounds of brachytherapy, an internal form of radiation.
"Treatment was brutal, and the radiation daily was the hardest thing for me," Williams-Barnes said.
"It hurt to move, and I struggled to lift my head off my pillow. I shed quite a few tears mainly when I was vomiting or coming down off the steroid," she added.
Williams-Barnes experienced common cervical cancer symptoms for years prior to her diagnosis. Symptoms of cervical cancer include abnormal vaginal bleeding, unusual discharge from the vagina that may contain blood, pain during sex and pelvic pain, according to the Mayo Clinic.
Treatment approaches depend on the stage of the cervical cancer once detected by doctors. According to the American Cancer Society, cervical cancer detected in early stages can be treated with surgery or radiation combined with chemotherapy. For later stages of cervical cancer, chemotherapy and radiation are common treatment methods.
Immunotherapy is a relatively new approach to treating cervical cancer. A 2021 study published in "The New England Journal of Medicine" found patients with persistent, recurrent, or metastatic cervical cancer lived longer when pembrolizumab, a form of immunotherapy, was added to their treatment.
"This study is exciting for sure and means for some patients there will be a significant improvement in their longevity by the addition of pembrolizumab to the three-drug combination we have been using," Dr. Bobbie J. Rimel, an assistant professor of gynecology and obstetrics at Samuel Oschin Comprehensive Cancer Institute told SurvivorNet.
Life After Treatment
By Christmas 2015, Williams-Barnes received a life-changing gift of her own, she was told she was cancer free. Despite her difficult experience seeking an honest cancer diagnosis, she always maintained a positive attitude inspired to fight for her family and children.
"My organs are heavily affected and damaged by my treatment…they don't operate normally and I undergo recurrent infections and annual hospital visits," Williams-Barnes said.
"I am still here today and I am so grateful for medical science, the team that helped me build hope and held my hand through the darkest times of my life and all those that fought this with me on the sidelines," she continued.
Williams-Barnes, now 34, hopes by sharing her cancer journey, other people concerned something may be unusual with their health will be inspired to keep advocating for themselves and get a second opinion if they feel they need it, as it can be a life-saving decision.
"We know our bodies best and it is so important that if answers from general practitioners are not sitting right with your gut instinct then please seek, a second, third, and a fourth opinion if necessary because if I hadn't kept fighting for answers and speaking up, I would not be here today," Williams-Barnes said.
Learn more about SurvivorNet's rigorous medical review process.
---