Shocking Myeloma Diagnosis
Alex Stangoe, 37, suffered from headaches for years and it wasn't until a fall did doctors discover he had an incurable form of blood cancer called multiple myeloma.
Headaches could be a symptom of multiple myeloma.
The father-of-one was devastated by the diagnosis and currently undergoing chemotherapy and stem cell procedures; Treatments he's undergone have left him with nerve damage in his leg making difficult for him to walk.
Multiple myeloma starts with a single plasma cell making more copies of itself than it should. This abnormal reproduction can be detected in the bloodstream because of proteins that are secreted through the process. Symptoms are vague, which makes this disease harder to diagnose.
Alex Stangoe, 37, lived with headaches for three years until he was finally diagnosed with multiple myeloma, an incurable form of blood cancer in 2020.
Stangoe was on a hike when he tripped and instantly he knew something wasn't right, he told the Glasgow Times. He went to the hospital for a neck scan, which revealed a large mass and serious soft tissue damage.
Read More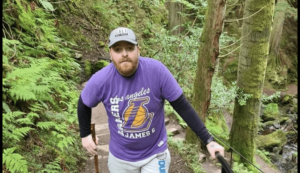 The incident occurred prior to the first coronavirus lockdown in March 2020 and made it difficult for Stangoe to get an appointment, but he finally got a bone biopsy which confirmed he had multiple myeloma.
Stangoe says back in 2017 he had scans done after complaining of headaches, but they came back clear.
He told the Glasgow Times it "kills" him to think he might have had more time being treated if it had been caught earlier. He says he is undergoing chemotherapy and stem cell procedures to keep the disease "at bay."
Keeping A Positive Outlook After Myeloma
Stangoe says he is determined to keep fighting for his daughter Mirren who is six and his partner Ruth Armstrong.
"The hardest thing is one day I won't be here, and I worry about how Ruth and my daughter Mirren will get on, I get really upset thinking about it," he says.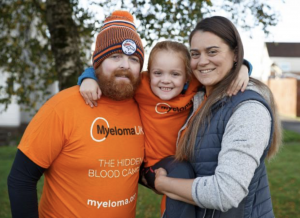 Stangoe says his treatments have left him with nerve damage in his leg and he now struggles with his mobility. Yet he is still staying strong and trying to stay positive for his family.
"There are days the cancer is all you think about and lie in bed, but I try to get up and do things to keep my mind off it," he says.
Dr. Samantha Boardman encourages people who may be struggling with their mental wellbeing to take stock of their belief system and ask themselves the following questions:
Could these beliefs be harming me (like feelings of self-doubt or negativity)?
Is my mindset holding me back from positive steps forward?
Dr. Boardman suggests working to recognize any negative thoughts that may be making the process of cancer treatment more difficult, and trying to dismantle those to be more "realistically optimistic."
SurvivorNetTV Presents: Breaking the Cycle — The Power of Mindset
Understanding Multiple Myeloma
Dr. Matthew Ulrickson of Banner MD Anderson Cancer Center in Gilbert, Arizona, sat down with SurvivorNet to break down the way that multiple myeloma changes over time. Multiple myeloma can be detected in multiple phases of the disease:
Monoclonal gammopathy of uncertain significance (MGUS)
Smoldering (or asymptomatic) multiple myeloma
Multiple myeloma
What Is MGUS?
Multiple myeloma starts with a single plasma cell making more copies of itself than it should. This abnormal reproduction can be detected in the bloodstream because of proteins that are secreted through the process.
"If it is simply making this protein, but no other symptoms are present, it's referred to as an MGUS," Dr. Ulrickson explained to SurvivorNet. This acronym stands for monoclonal gammopathy of uncertain significance.
The Multiple Phases of Multiple Myeloma
In this phase of the disease, patients do not need treatment, but Dr. Ulrickson recommends connecting with a hematologist who can monitor the disease and adjust treatment if it progresses. A bone marrow biopsy may be warranted to look inside the bone marrow to see the level of abnormal plasma cells.  If you have less than 10% of abnormal plasma cells detected you fall into the MGUS category.
Most people with this condition do not develop multiple myeloma–the risk is about 1% per year. For most people living with MGUS, the condition requires regular check ups to make sure that it does not advance.
Multiple Myeloma Symptoms
While there are several different symptoms, multiple myeloma is notoriously difficult to diagnose.
"The reason is because sometimes the symptoms are non-specific," says Dr. Nina Shah, hematologist at the University of California, San Francisco. This means that its symptoms are so generalized and subtle that they could be a variety of different complaints and your physician won't immediately check for cancer. Multiple myeloma results from overproduction of plasma cells, a specific immune cell in the bone marrow. This produces a number of symptoms including:
Anemia–Low levels of circulating red blood cells caused by the overproduction of plasma cells. These cancerous cells, known as myelomas, hinder the production and decrease the effectiveness of other immune cells, such as red blood cells. The anemia can cause weakness, fatigue, dizziness, shortness of breath, and problems with blood clotting.
Bone fractures–Patients are more susceptible to fractures than the general population and may experience repeated breaks in their bones. This is because the myeloma cells release abnormal proteins into the body that activate the cells that break down bones and deactivate the cells that build up bones. If the bones of the spine become involved, injury to the spinal cord can cause pain and numbness in the arms and legs.
Kidney failure–Abnormal proteins found in the blood or urine which are produced by myeloma cells may cause kidney damage and eventually failure
Urinary issues–the damage to the kidney can also cause problems with urination
Confusion–confusion is caused by high levels of calcium in the blood, a condition called hypercalcemia. This occurs because damage to bones causes calcium to be released into the bloodstream.
Recurrent infection–multiple myeloma compromises the immune system because cancerous plasma cells can crowd out and impair the function of healthy immune cells. In some cases, recurrent infections may be the first apparent symptom of multiple myeloma. The most common infection is pneumonia.
"Patients presenting with any of those symptoms, we tend to workup very quickly for multiple myeloma," explains Dr. Shah.  If you have any of these symptoms and suspect that you may have multiple myeloma, ask your physician whether you should run some tests.
Diagnosis: Do I Have Multiple Myeloma?
With assistance from Marisa Sullivan 
Learn more about SurvivorNet's rigorous medical review process.
---