Young Stylist Loses Her Tongue After TWO Cancer Battles
Young Stylist Loses Her Tongue After TWO Cancer Battles

Two-time cancer survivor Carly Goss has had a bit of a rough life. Along with her health battles, the stylist, who was diagnosed with her first round of tongue cancer at 23, was bullied badly in school growing up. Now, Carly is a successful stylist and credits her challenging times in helping to propel her further than she ever imagined.

"Those memories are still painful," Carly, who was born in England and now based in Toronto, wrote in an essay for BestHealth.com. "My experiences created heavy insecurities about my accent. What I didn't realize was how being judged for the way I spoke would prepare me for the changes that come with tongue cancer."

Read More

By 23 years old, Carly was finally feeling balanced in her life, saying she smiled a lot, laughed loudly, and had "good friends and a great boyfriend." She had completed college, and was ready to pursue a creative career.

Then she discovered a spot on her tongue that wasn't healing like it should.

"After a painful biopsy, my doctor confirmed I had tongue cancer," she shared. "I was so shocked I just remember him saying, 'Don't go home and Google this.' He warned me that my cancer, oral squamous cell carcinoma, wasn't common for my age and carries a very high recurrence rate."

Loyal to her word, and taking the doctor up on his advice, Carly confesses that she still has not googled her type of cancer that she luckily beat.

She went through intense treatment a month following her devastating news.
"First, surgery to remove the cancer and rebuild my tongue using skin from under my left arm, then six weeks of daily radiation," she said. "It wasn't possible to replicate the function of my tongue, but the surgeons recreated its shape. Having the ability to press your tongue to the roof of your mouth is key for both speaking and eating—both very important to me. It was terrifying."
Fortunately, Carly's treatment proved successful, and she did great for a few years, until she found another spot.
"The doctors had to carefully remove the remainder of my tongue," she said of the tragic recurrence. "They took skin from my left forearm and rebuilt again, as best they could. Though they couldn't guarantee I would ever speak or eat normally again, I'm British and full of loud opinions, so there was no stopping me. It's a challenge, but I consider myself lucky that I can still enjoy a hamburger and, more importantly, a glass of wine."
Related: Dancer, 35, Thought Her 'Canker Sore' Was Just 'Annoying:' It Turned Out To Be Stage 4 Tongue Cancer
Carly says that tongue cancer changed how she sounds, but it also "gave me the confidence to pursue fashion seriously. It made me realize I needed to do what I wanted to do, because there was no guarantee I'd get another chance."
After radiation—Carly and her boyfriend, who stuck with her through these difficult times and is now her husband—moved to Calgary in Canada, and she got a job in a small boutique as a wardrobe stylist.
 

View this post on Instagram

 
Satisfied for a couple years, the cancer survivor started getting antsy and wanted to push herself further, and she credits her cancer battles with giving her even more strength to do so.
Related: The Incredible Life of Fashion Mogul Diane von Furstenberg, aka 'DVF,' Who Beat Tongue Cancer, What Experts Now Know About the Disease
She took a break from the fashion biz for awhile and she and her husband had two children together.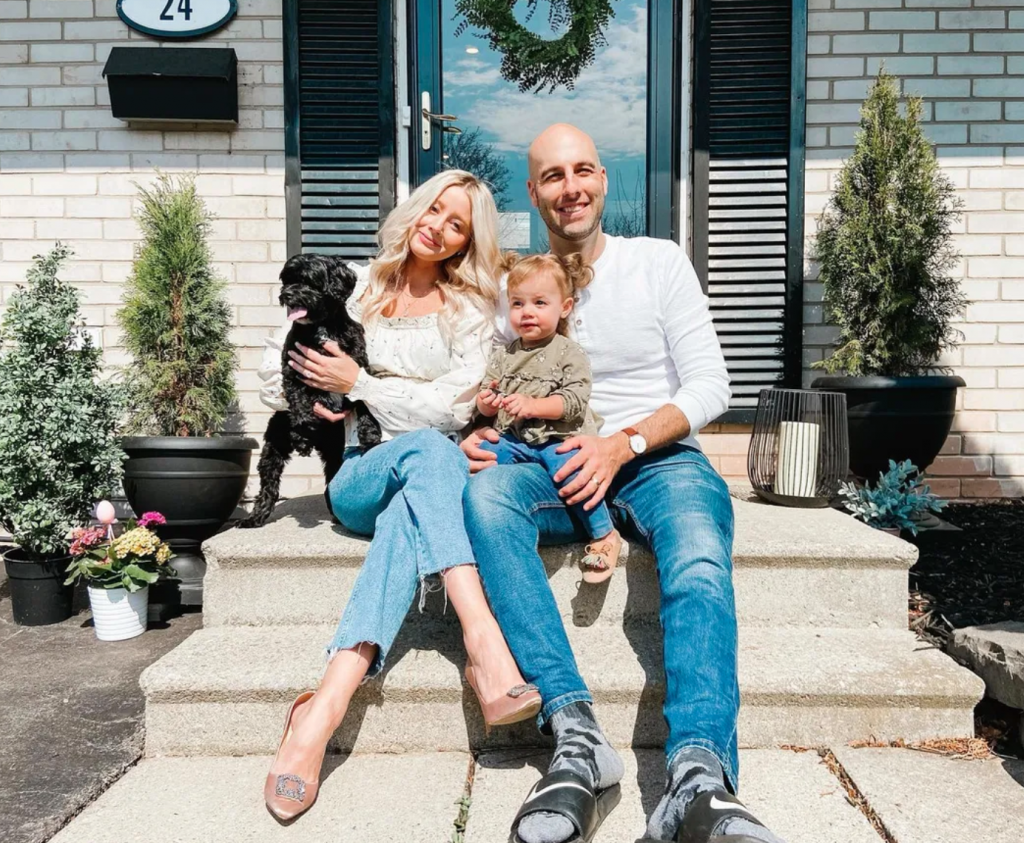 Then it was time to get back to her work.
"As uncomfortable as it was, I knew where to find and build my clientele: Instagram," she said. "That meant pushing aside fears of being photographed, speaking about my journey, speaking on the phone or taking up space. Towards the end of 2019, I began leveraging my social media, posting styling advice with my particular brand of tough love. I want to offer my clients something I was never given: the knowledge and the confidence to express their personality."
Related: Tongue Cancer Survivor Stanley Tucci's Food-Loving TV Show Returns: How's He Doing?
Eventually, the wife and mother proudly launched her own styling business.
"Although my disability is relatively invisible, I still see my scars and a smile that isn't mine," Carly admits. "Every phone call is a hurdle and every menu item a potential choking hazard. I often get spoken to loudly, as if I have hearing issues, or slowly, as if I'm incapable of understanding. It says a lot about how we respond to differences we don't understand."
"Every challenge I've had with my self-confidence led me here," Carly adds. "Imperfect? Sure. But I am showing the fuck up anyway—and you can, too.
Learning About Tongue Cancer
Tongue cancer, which is often categorized as a "head and neck cancer," is associated with HPV, the human papillomavirus. Only in recent years have doctors been discovering more about the virus and its association with these diseases.
There is also now an HPV vaccine that prevents against HPV-related cancers and can be administered starting as young as nine years old.
Related: Actor Michael Douglas, 76, Finds Bright Spots in "Pretty Grim" 2020 As He Works to Raise Awareness of HPV-Linked Cancers
"We recommend strongly that children are vaccinated against HPV to prevent cervical cancer, but also to prevent head and neck cancer," Dr. Jessica Geiger, a medical oncologist at Cleveland Clinic Cancer Center, told SurvivorNet in an earlier interview. "Now the key with the vaccine is that you received the vaccine before you ever reach sexual debut or have sexual encounters. So that's why these vaccines are approved for young children ages 9, 10, 11 years old, up to 26."
What is HPV?
Many people who are aware of the sexually-transmitted virus HPV think it only affects women and can cause cervical cancer. But men can get the virus too, and it can cause other head and neck cancers, along with anal cancer.
Oral cancer can sometimes be caused by tobacco and alcohol use, but HPV is often a hidden culprit, according to leading experts.
"The vast majority of humans in the U.S., both men and women, will eventually get infected with human papillomavirus," says Dr. Allen Ho, a head and neck surgeon at Cedars-Sinai Medical Center in Los Angeles.
HPV and Cancer Risk The Basics
"The important thing to know about HPV is that there are many different strains, and only a couple of them tend to be more cancer-inducing. Probably less than 1% of the population who get infected happen to have the cancer-causing virus that somehow their immune system fails to clear, and over 15 to 20 years [it] develops from a viral infection into a tumor, and a cancer."
More than 70% of Americans Don't Know that HPV Can Cause Anal, Oral, and Penile Cancers
Thankfully, due to people like Dr. Ho and survivors like Charly educating on the topic, it is helping to break the stigma of talking about this virus, and the cancers it can cause. The more educated we are, the more we can be on alert for symptoms and hopefully one day, the majority of people will not be embarrassed to go seek help from a doctor.
Bottom line: Never let perceived embarrassment get in the way of your health. It could cost you your life.
Learn more about SurvivorNet's rigorous medical review process.