This time, she's fighting back. Because this time, she's a cancer survivor.
Shannen Doherty has been through a lot since she was abruptly fired from the original "Beverly Hills 90210" in 1994 amid accusations of diva behavior. Most notably, she's endured a brutal, very public two-year-long battle with breast cancer, beginning in 2015. Early efforts to treat her cancer without a mastectomy or aggressive treatments were not enough after doctors realized the cancer had spread to Shannen's lymph nodes. In the end, the actress underwent estrogen therapy treatments, a mastectomy, chemotherapy radiation and surgery before declaring herself cancer free in 2015.
Read More
Now, 25 years later, Shannen, at age 48 a full-fledged cancer survivor, is back on the 90210 set for its much anticipated reboot. And she's firing back at online trolls accusing her of returning to her alleged old ways and terrorizing cast and crew. She's invoking her role as a cancer survivor, and the importance she's now come to put on preserving her health.
Shannen assailed cruel online rumors of her bad behavior on set, calling them "fabricated" and saying she won't be painted as a "villain". As a cancer survivor, she said, she needs to stay optimistic in the face of these heartless attacks.
"Being a part of tv history is an honor but it also comes with some massive backlash," Shannen wrote on Instagram. "There has [sic] been many stories floating around about this show and me. One of the reasons I hesitated to say yes was for this crap. The only thing I'm a control freak over is my health. Trying to stay healthy and positive. I realized this morning, that I have a fear of doing what I love because of headlines like this. Not only because there is zero truth to it but because it lessens me and my journey, battle, experience with cancer."
The online trolls had claimed in a mocking meme that "Source says actress Shannen Doherty is 'a control freak'".
Shannen bravely dismissed the allegations as fake news and stood up for herself and her character.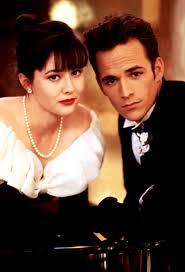 "Why should I be scared to work? And why aren't people held accountable for their fabricated stories?" she wrote on Instagram. "I refuse to be cast in the same villain role because "journalists" lack imagination and I certainly refuse to be cheapened as a survivor and as a woman by them. Yes, i am a strong woman. I have been thru hell and back. I am compassionate and caring."
SurvivorNet's cancer experts say this kind of self esteem is important for women while they're actively battling cancer, and afterward as well.
"My advice is to take one day at a time,"  Dr. Susan Parsons, Director of Survivorship Care at Tufts University, tells SurvivorNet, "and be kind to yourself." Dr. Parsons was not specifically referring to Shannen's case.
Survivors also tells SurvivorNet it's key to ask for the support you need – both mentally and spiritually as well as for your practical needs. There is life after cancer so the goal is to keep hopeful and strong, and cut yourself some slack.
In the face of the trolls, and on her long and embattled history, Shannen is staying strong and true to herself.
"I'm multi faceted [sic] and not someone to be pigeon holed. [sic]. I am a woman with my own story," she writes. "Please stop trying to tell your wildly inaccurate, exaggerated story of me. I promise… you don't know me."
Her celebrity friends immediately reached out on Instagram with loving support.
"I know you, and I know that you are awesome," wrote her friend and fellow TV and movie star, Sarah Michelle Gellar on Instagram.
"Full House" star Candace Cameron-Bure, who's also enjoying newfound success with a reboot of her 90s hit, responded with joyful and supportive emoticons.
Learn more about SurvivorNet's rigorous medical review process.