When 16-year-old Kyle Levy was diagnosed with leukemia earlier this year, the last thing he expected was to be playing with the renowned Philadelphia Orchestra just in time for the holidays. But that's exactly what happened thanks to his indomitable spirit, and the Make-A-Wish Foundation.
Levy was diagnosed after experiencing some intense recurring leg pain, according to the Philadelphia Inquirer. He underwent several rounds of testing before ultimately being diagnosed with acute lymphoblastic leukemia (ALL), according to his story, posted on the foundation's website.
Kyle's Musical Wishes Come True

Read More
RELATED: Turning to Music During the Toughest Times — One Survivor's Artistic Journey
ALL begins in the bone marrow, and typically quickly invades the blood, according to the American Cancer Society. Most cases are diagnosed in children.
"It was completely shocking and devastating," Levy's mother, Janet, said in the Make-A-Wish video. "He's such, as you see, a beautiful, kind, happy soul, with so much going for him. I didn't want his high school years dominated by this."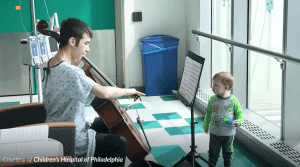 But the cancer did not dim Levy's spirit. Even as he underwent treatment, the young musician played the cello for other kids being treated in the Children's Hospital of Philadelphia, where he was a patient.
From Cello to the Philadelphia Orchestra
Levy's wish started simply because he wanted a cello.
"I had been renting one from a music group that the school provides … but, I wanted one that I could actually call my own," Levy said.
He got his cello, from a company called StringWorks, but the good people of Make-A-Wish Philadelphia, Delaware, and Susquehanna Valley wanted to do more. So, when Kyle was already set to go to The Kimmel Center for the Performing Arts in Philadelphia on a school trip to see the orchestra rehearse, a plan was set in motion.
"They started playing the songs for about an hour, rehearsing their pieces, and then they called us into the front two rows," Levy said. "Then he called Mr. Hansel [Levy's orchestra teacher] on stage … and he prefaces the whole thing by saying, 'Someone in the orchestra has been having a real tough time lately' … and then he calls me on stage. So, I go on the stage … and I got to the very center, and there was a chair, a stand and a piece of music on there, right next to the lead cellist and right next to the conductor. He presented it to me and said, 'Your wish has been granted.'"
When thanking Make-A-Wish for making his dreams come true, Levy said that his wish is truly extraordinary because he was given a gift that will last him a lifetime.
Make-A-Wish
The idea to contact Make-A-Wish came from his oncologist, Dr. Julie Stern, who said that oftentimes, parents whose children face cancer are afraid to contact the organization because they believe it's only for children with terminal illnesses.
"Look at Make-A-Wish as an opportunity to make something good of this tough, tough time," Dr. Stern said. "I have watched kids come back just transformed after that experience. It's heartwarming."
Related Video: How Can Music Help During the Cancer Journey?
Learn more about SurvivorNet's rigorous medical review process.