Finding Comfort During Cancer Battle
Duane "Dog" Chapman shares his late wife, Beth, pushed to keep filming Dog's Most Wanted while battling stage 4 lung cancer
Chapman says filming the TV show was a way for Beth to share her cancer journey with viewers, and provided comfort for her
Beth passed away from lung cancer in June 2019
Beth Chapman knew she needed to focus on her treatment while battling stage 4 lung cancer, but in a new interview, Duane "Dog" Chapman reveals she pushed to keep filming their TV show as a way to distract her from her personal health battle.
The Chapman family is still mourning the loss of Beth, who passed away from lung cancer in June 2019. In a recent interview, Chapman, 67, shared that despite her diagnosis, his late wife wanted to keep filming their TV show Dog's Most Wanted. Chapman admits that he was skeptical at the idea, but since it was what Beth wanted, he agreed.
Read More
Related: Duane "Dog Chapman" Reveals How He Supported Beth Chapman In Her Final Days Fighting Lung Cancer
"I didn't necessarily like it," Chapman tells Radio Times. "It was her, she wanted to do it… 'cause we had talks. I said, 'Beth you don't have to show people this', and she's like, 'I do want to, I want to show 'em' – so it was mostly for her, because she wanted to show it. Personally, me? I wouldn't have done that. But she wanted it so she got it."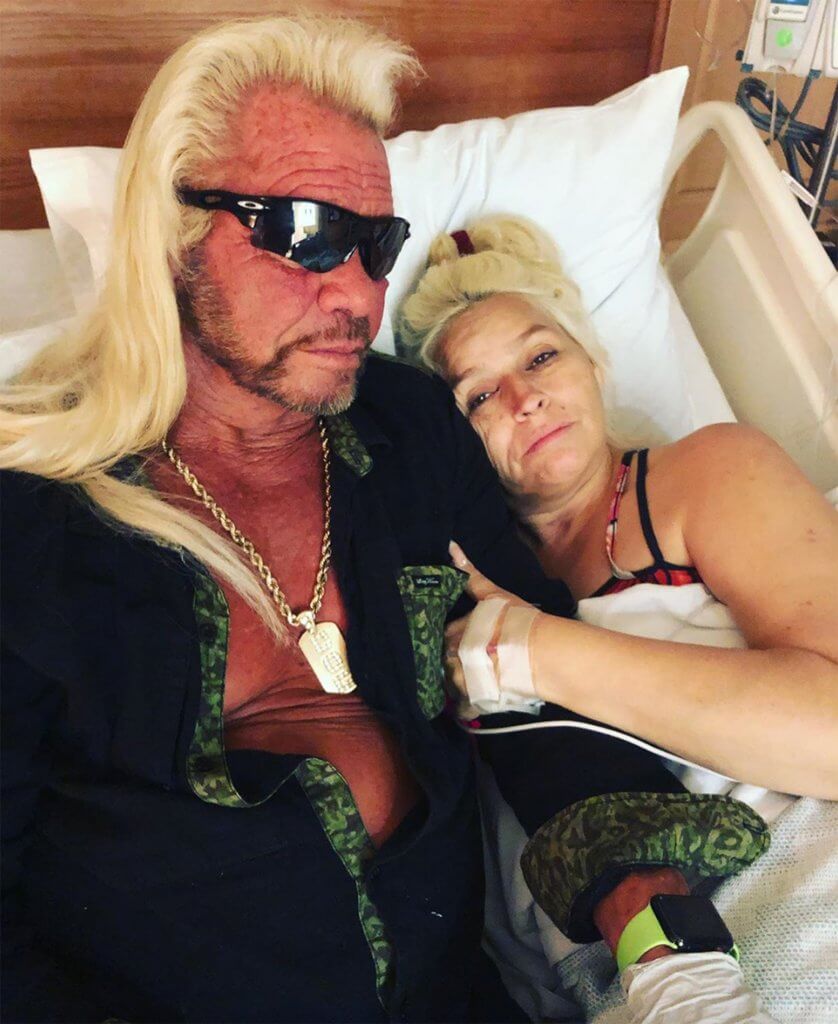 Eventually, Chapman realized filming this show was Beth's way to distract herself from her disease, and actually comforted her. Plus, by filming the show while battling lung cancer, Beth was able to share her experience with viewers and take control of her own story.
Related: "My Number One Tip Is To Get A Cannabis Prescription" — Grieving "Dog The Bounty Hunter" Has Some Advice For Coping With Cancer
"What I noticed about it was when we were not filming, she was sick, right? But when we were filming, she forgot about it and she was out there laughing… that was the main thing, I could see that it was helping her to stay working, to keep her mind off of that, so that meant a lot and was a big part of the filming of the show," Chapman says.
Duane "Dog" Chapman talks to SurvivorNet about life after Beth's passing
Embracing Your Cancer Journey
It's often not easy to share your cancer journey with others, but for some people with disease, they use their platform to spread awareness and eliminate stigma associated with cancer. There's a lot of assumptions about battling cancer, which includes changes to appearance and decreased ability to enjoy everyday activities. In order to prove those stereotypes wrong, breast cancer survivor Tiffany Dyba created "Hip Hop Chemo" to prove to everyone she's feeling great and still active while undergoing chemotherapy.
Since launching the videos, Tiffany has gained a huge following on social media and inspired many people who rooted her on throughout the journey. For her, it's not just about staying active, but also proving to everyone that those facing cancer are still capable of anything.
Related: SurvivorNet Celebrates the Celebrities Who Helped Remove the Shame and Stigma of Cancer in 2019
It's important for people to see that I'm OK," Tiffany tells SurvivorNet. "I sort of want to bust through those stereotypes and that stigma and say, I'm out here dancing because I feel good. I'm not going to act sick if I don't feel sick. And on the days that I feel tired and I don't feel good, I'm going to post about that too."
Breast cancer survivor Tiffany Dyba created a social media platform to eliminate stigma associated with chemotherapy
Learn more about SurvivorNet's rigorous medical review process.