The Unsuspecting Signs of Brain Cancer
4-year-old boy's struggles to walk prompted a watchful nurse to get him an MRI that revealed a large brain tumor.
Brain tumors can be either cancerous (malignant) or benign (noncancerous) and can affect both children and adults.
Brain tumor symptoms in children can include seizures, trouble walking and slurred speech, among others. It's important to be vigilant of your child's growing body and to take note of any concerning symptoms or changes.
Surgery, radiation therapy, radiosurgery, chemotherapy, and targeted therapy are all treatment options for brain tumors.
The parents of a 4-year-old who was sick for months and struggled to walk knew something was wrong, even when doctors told them the young boy was fine. And it was the help of a caring, eagle-eyed nurse who got him the diagnosis he needed: his strange symptoms were because of a brain tumor.
"No parent should struggle for so long to figure out what's wrong with their child," Gladys Mears told CTV News.
Read More
Landon could often be found dancing and singing around the house, but last June the once happy 4-year-old started getting sick more frequently and his concerned parents took notice. "He would vomit first thing in the morning sometimes, or randomly throughout the day," Mears explained. She went on to describe his symptoms similar to the flu. Like any watchful parent concerned for their child's wellbeing, Landon was taken to the doctor. His doctors performed several tests, according to Mears, and everything kept coming back "normal."
Then one day, Landon started having trouble standing up straight and walking.
"He can barely walk," Landon's father Scott Gillespie said with concern.
The 4-year-old even told his father, "my legs are broken" and the boy's own acknowledgement something was wrong prompted his parents to bring him back to the hospital hoping for a different diagnosis.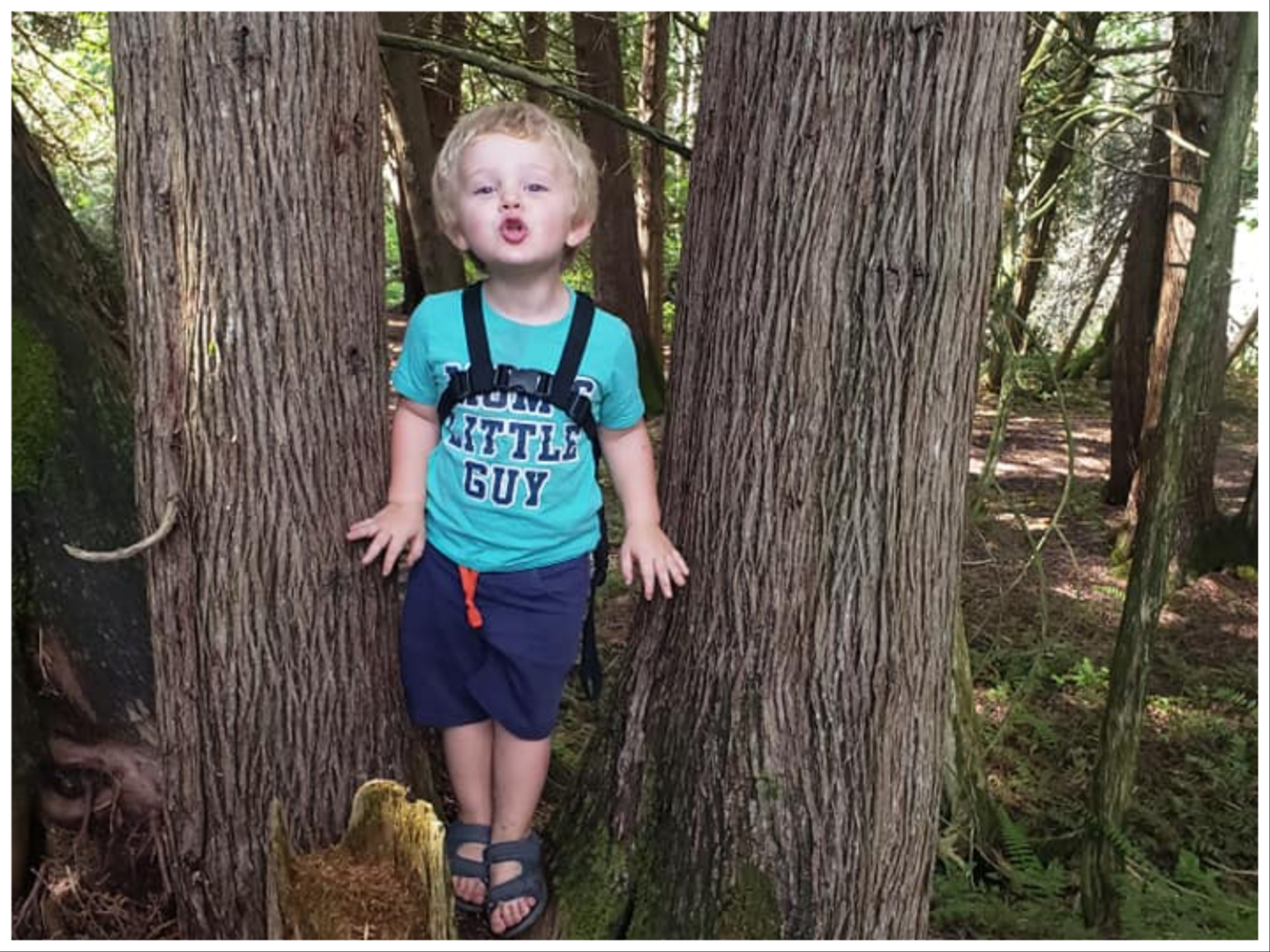 To Mears and Gillespie's surprise, doctors once again told them everything was "normal," despite signs hinting that something was not quite right. Then as they were leaving the hospital, Mears said a nurse passing by noticed the way Landon was struggling to walk. The observant nurse proved to be a lifesaver, because she asked the family to come back inside for an MRI, and that's when they discovered he had a large tumor growing in his brain.
"She saved his life," Gillespie said thankfully.
Understanding Brain Tumors
Brain tumors that can be either cancerous (malignant) or benign (noncancerous) and can affect both children and adults, according to the Cleveland Clinic.
According to the American Society of Clinical Oncology, brain tumors account for 85% to 90% of all primary central nervous system tumors. The central nervous system includes the brain and spinal cord and acts as the main processing center for the nervous system as a whole, according to the American Cancer Society. The central nervous system's normal functioning, which involves sending messages from the brain to other parts of the body, becomes disrupted if tumors are present.
Primary tumors are "glial" or "non-glial". Glial tumors found in the brain are composed of glial cells, which "help support, connect, and protect the neurons of the central and peripheral nervous systems," according to Medical News Today.
Non-glial tumors develop on or in the structures of the brain including nerves, blood vessels and glands.
Benign or noncancerous brain tumors include:
Chordomas
Craniopharyngiomas
Gangliocytomas
Glomus jugulare
Meningiomas
Pineocytomas
Pituitary adenomas
Schwannomas
Acoustic neuromas
Malignant or Cancerous tumors include:
Gliomas, which make up 78% of cancerous primary brain tumors.
Astrocytoma
Ependymomas
Glioblastoma
Oligodendroglioma
Medulloblastoma
Signs and Symptoms of Having Brain Tumors
Symptoms brain tumors can cause are similar for children and adults. The tumors do not always cause symptoms, but they can still impact a person's brain function and overall health.
WATCH: Concerned Teacher Saves 5-Year-Old Boy's Life Spotting First Signs of Brain
The Mayo Clinic identified several common symptoms for children with brain tumors which include:
A fuller soft spot (fontanel) on the skull in babies
Seizures, especially when there's no history of seizures
Abnormal eye movement
Slurred speech
Trouble swallowing
Loss of appetite; or in babies, difficulty feeding
Difficulty with balance
Trouble walking
Weakness or loss of sensation in an arm or a leg
Weakness or drooping on one side on the face
Confusion, irritability
Memory problems
Personality or behavior changes
Hearing problems
If any of these symptoms concern you, you should contact your child's doctor.
Treating Brain Tumors
After Landon's tumor was discovered, he was immediately taken in for surgery where doctors managed to remove 98% of the tumor.
Surgery, radiation therapy, radiosurgery, chemotherapy, proton beam therapy, and targeted therapy are all treatment options for childhood brain tumors according to Mayo Clinic. Doctors determine the treatment method based on the type of brain tumor your child has, its size, its grade or stage of advancement and location.
CTV reports Landon is still recovering from his surgery, and proton radiation therapy is the next step in the young brave warrior's journey. However, the therapy option is not available in Canada, so the family is preparing to travel to the U.S. to get it.
"It's a chemo-resistant tumor, so what they have is targeted radiation directly to the area where the tumor is," Mears described.
Proton radiation therapy has similar characteristics as X-ray therapy, except proton therapy can be better controlled by doctors and can better target cancer cells with fewer side effects.
SurvivorNet experts say X-rays are kind of like a bullet. As they pass through a person, they cause the most damage right under the skin. They keep on passing through your tissues and eventually exit the body. That's why they can often damage healthy cells along with the cancer cells.
Protons are positively charged particles found in the nucleus of atoms. Unlike X-rays, protons are very heavy, and they lose speed quickly. Physicians can better control where the proton releases most of its energy so that the radiation stops at the target.
Proton therapy is usually "painless" and lasts only a few minutes to administer and the therapy can go on "for several weeks," according to John Hopkins Medicine.
As parents navigate tumor and cancer journeys with their young warriors, it's important to remember children's bodies may react differently to treatments than adults, because their bodies are still growing. "They may receive more intense treatments…and they may respond differently to drugs that control symptoms in adults," according to the National Cancer Institute. So it's important to ask plenty of questions to doctors throughout the cancer journey.
Learn more about SurvivorNet's rigorous medical review process.
---