Elton John Rocks Audiences
Legendary music icon, Elton John, 75, is currently rocking the U.S. on his Farewell Yellow Brick Road tour.
The singer is a prostate cancer survivor; he was diagnosed with prostate cancer in 2017 and treated it with surgery.
Prostate-specific antigen (PSA) tests screen for this disease; men with an average risk of the disease should begin screening for it at age 50.
Elton John, 75, is a cancer survivor and global icon, and he's currently on tour for his farewell tour, Farewell Yellow Brick Road.
Appearing last night in St. Louis, MO, Elton told the crowd, "I feel so lucky to have a hit at age 75," referring to his song "Cold Heart," featuring artist Dua Lipa from his album The Lockdown Sessions. 
Read More
Elton chatted with the crowd, playing all his best-loved hits, like "Your Song," "Tiny Dancer, "Bennie and the Jets," "Candle in the Wind," and more.
Elton shared with the crowd that this would be his final tour, "because I'm 75 and I want to spend more time with my kids."
The British superstar is married to husband David Furnish, 59, and the two have two children together, Elijah Joseph Daniel Furnish-John and Zachary Jackson Levon Furnish-John.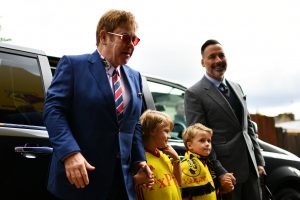 Elton John's Prostate Cancer Journey
Elton was diagnosed with prostate cancer in 2017 and had surgery to treat his disease. Common treatment options for prostate cancer include radiation, surgery, chemotherapy and hormone therapy. Elton is a true powerhouse, and not even prostate cancer surgery slowed him down. Following surgery, he revealed that he even wore a diaper onstage during one of his concerts in Las Vegas following his surgery. (The singer hadn't yet regained control of his bladder.)
Related: Comedian Paul Mooney Died of a Heart Attack, But Did You Know He Performed Through a Battle with Prostate Cancer?
Dr. Stephen Freedland, a urologist at Cedars-Sinai Medical Center, spoke about prostate cancer surgery in a previous interview. "It's typically done through a robotic technique today, at least in the United States," says Dr. Freedland. "A lot of patients are still getting open surgery. Depending on the surgeon, it may be two, three, four, five hours – somewhere in that range, usually spend one night in the hospital."
Rates of Advanced Prostate Cancer Have Gone Up 
Screening for Prostate Cancer
Elton John's cancer reminds us about the importance of getting screened. Prostate cancer is typically detected via prostate-specific antigen (PSA) tests. This screening test measures PSA in the blood, which may indicate the presence of prostate cancer. For men with an average risk of prostate cancer, it's advised by the American Cancer Society (ACS) to begin screening at 50 for the disease; men with an elevated risk of developing prostate cancer should start screening at 45.
Dr. James Brooks, a urologic oncologist at Stanford Medicine, says in an earlier interview that this is a slow-growing cancer. "Prostate cancer, even when aggressive, is typically slow-growing," he says. "So the possibility that it could become fatal past the age of 70 is quite low. Still, whether you continue to screen past age 70 is completely up to you and your doctor. In prostate cancer, there are sometimes differing viewpoints and this is one of those times."
"However, if you are at high-risk (meaning you have a family history or are African-American) many doctors say you should have an initial screening well before 50–some recommend starting at age 40–because the risk is about two to three times higher than average," says Dr. Brooks.
The PSA Blood Test and a Rectal Exam are Vital for Prostate Cancer Screening
Learn more about SurvivorNet's rigorous medical review process.