Focusing On Family After Cancer
Legendary music icon, Elton John, will soon be closing out his final North American performance with the "Elton John Live: Farewell from Dodger Stadium" special on Disney+.
Leading up to the iconic concert, the 75-year-old singer and a prostate cancer survivor—who was diagnosed with prostate cancer in 2017 and treated with surgery—opened up to Good Morning America's Robin Roberts about being a "good dad" and the "pinnacle" of his career.
Prostate-specific antigen (PSA) tests screen for this disease; men with an average risk of the disease should begin screening for it at age 50.
Prostate cancer
survivor and six-time Grammy winner Elton John—the famed musician behind the songs "Goodbye Yellow Brick Road," "Tiny Dancer," and "Bennie and the Jets"—will be performing on his farewell tour, Farewell Yellow Brick Road, for the last time in North America in just a few days.
Leading up to the 75-year-old singer's final performance at Dodgers stadium in Los Angeles on November 20, the legendary music man opened up about what he recounts as the "pinnacle" of his career and how he plans to spend his free time when he stops touring.
Read More
Speaking in an interview this week with Good Morning America's Robin Roberts, Elton gave the TV host and his fans some insight into the most successful time of his music career, a concert that took place 47 years ago at Dodgers Stadium.
"Dodgers Stadium at that point was the pinnacle of my career," Elton said. "This is my last tour. You have to soak it in. And I have soaked in all the love and all the loyalty that's been shown from the audience."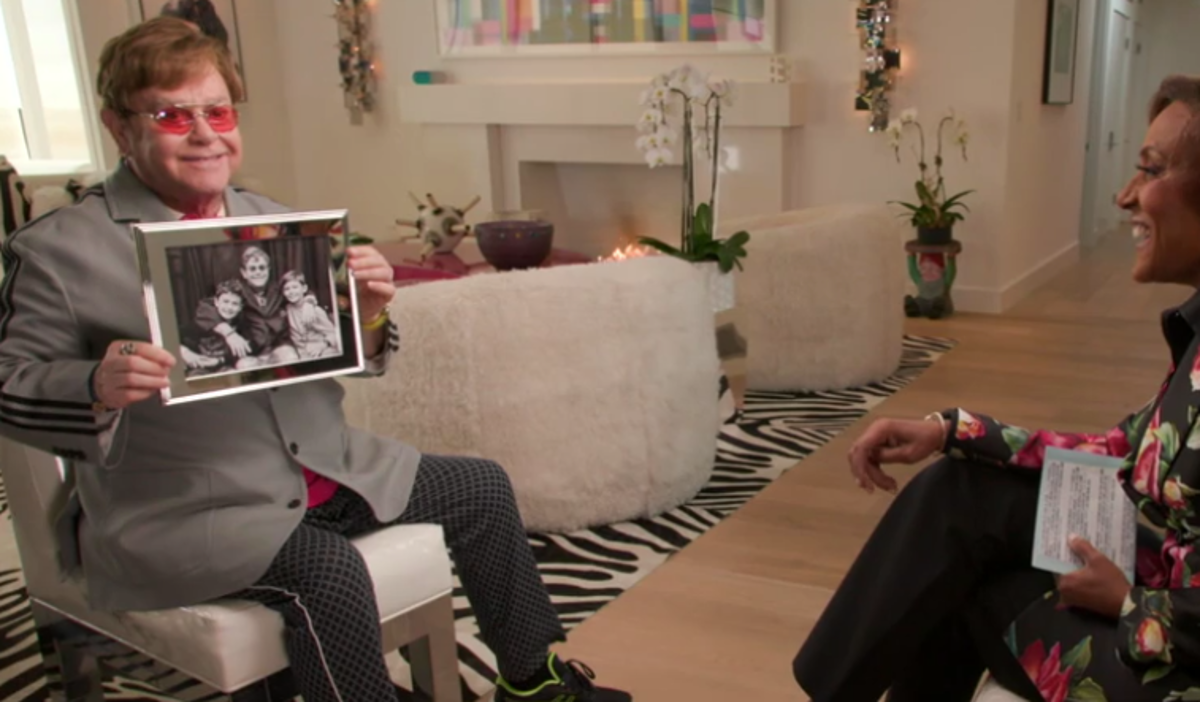 He continued, "It wasn't the happiest time of my life, but I bounced back pretty quickly. I was the biggest I could possibly be. But to be there again on my own, and to finish off the North American tour, with three days at Dodgers Stadium—I could not ask for a more wonderful ending."
Elton admitted that the close of his tour will allow him to spend more time with his husband 60-year-old Canadian filmmaker David Furnish and their two sons, 11-year-old Zachary Jackson Levon Furnish-John and nine-year-old Elijah Joseph Daniel Furnish-John.
Related: Wheelchair Bound Elton John, 75, Performs For Queen's Jubilee: A Look Back At His Many Health Battles, Including Beating Prostate Cancer
When describing whether or not his children will be following in his footsteps, he said, "They both play the piano and Elijah started playing the trumpet. Elijah is heading towards the stage. I don't know what Zachary's gonna do, his passion is fishing. And the greatest thing about my life is that when we had these children, everything changed."
"That's why I'm coming off the road. I wanna be with my children. This is the biggest tour I've ever done. What more could I want? I've had enough applause," Elton explained to Robin.
"I've said that before. I just want the applause of my children saying, 'You've been a good dad.'"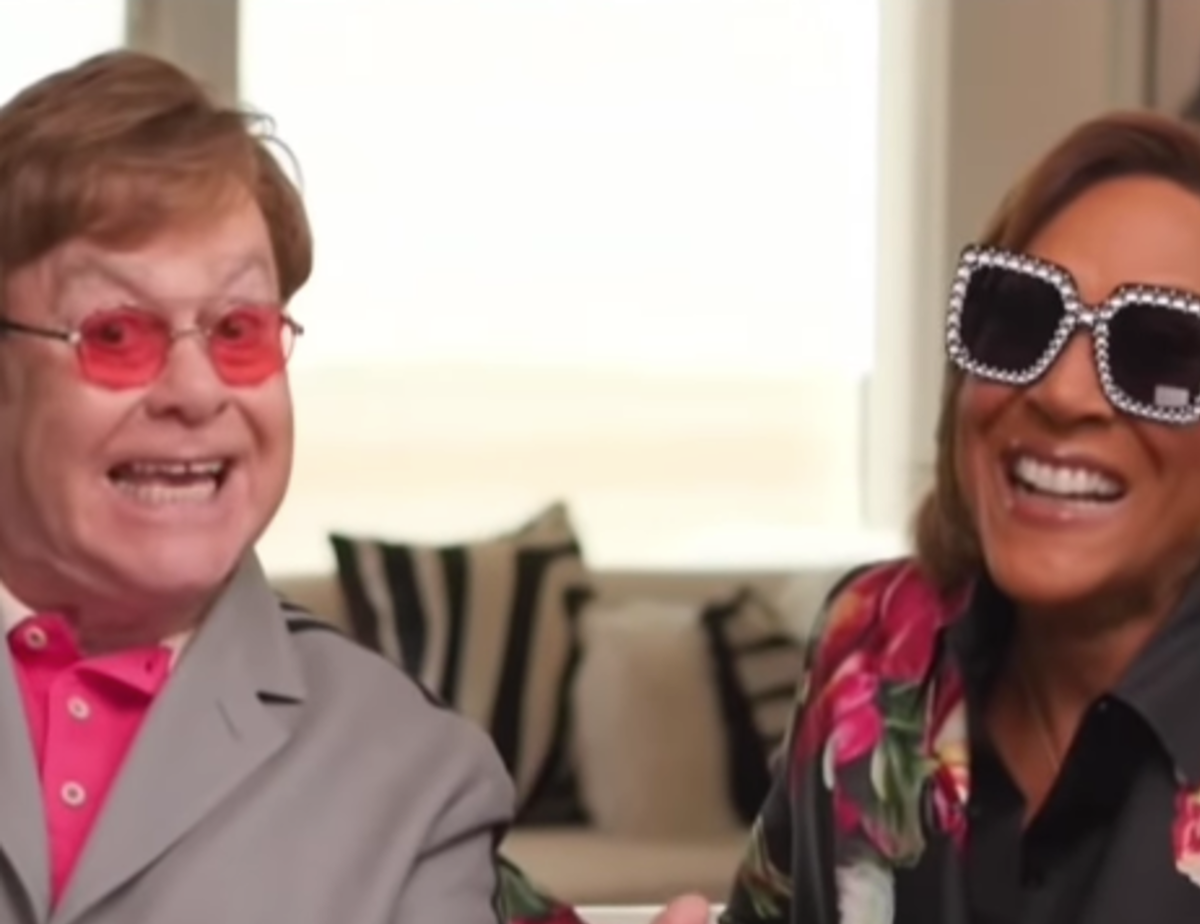 Elton is turning his attention to his family after continued success and releasing an album called The Lockdown Sessions in 2021. The album includes hits like "Cold Heart" with pop star Dua Lipa and other star-studded collaborators, such as Young Thug, Nicki Minaj, Miley Cyrus, Yo-Yo Ma, Lil Nas X, Eddie Vedder, Stevie Wonder, Stevie Nicks, Glen Campbell, and more.
Related: Elton John, 75, Collaborates with Britney Spears, 40, on 'Tiny Dancer' Remix: He's Thriving After Beating Cancer
For his final performance at Dodgers stadium, the star will be joined by Dua Lipa, Kiki Dee, and Brandi Carlile, according to a release by Disney+. The hour-long special "will feature legendary moments from Elton John's career and include a live simulcast of Elton John's final song and closing remarks during his last performance," it said.
In regards to his recent collaborations with younger artists, Elton expressed how important it is to "embrace the new."
"You have to and you know, and I love it, because as I say, the young make me feel special," he told GMA. "I have a lot of energy, but when you're 23, 24, you have a different kind of energy. And it shows in their music. When you work with those people, you learn a lot too. It's a no-brainer."
Elton's Journey With Prostate Cancer
Elton was diagnosed with prostate cancer in 2017, and subsequently was treated with surgery to remove his prostate. Though the surgery was successful, it led to complications and ten days after his procedure Elton got an infection.
He later revealed he spent 11 days in the hospital fighting for his life. "I didn't really know how close to death I was," Elton wrote in his autobiography Me. "I was ill because I kept saying, 'Please let me get well. I want to see my kids.' But I had tubes coming out of every part of my body, and it took me seven weeks to recover from that when I went home."
But after the iconic singer recovered, he didn't let cancer slow him down – he continued on with his touring.  ELton even admitted that he wore a diaper while performing on stage after his operation.
"If only they knew," Elton said in a 2019 interview with Graham Norton for the BBC, referring to the audience members, "at that moment I was pissing myself."
Elton's diagnosis and then near-death experience led him to decide that this would be his final tour.
"It was like being shown a different life, a life I realized I loved more than being on the road," Elton wrote in his book. "Music was the most wonderful thing, but it still didn't sound as good as Zachary [his son] chattering about what had happened at Cubs or football practice."
Prostate Cancer Screening
Elton's diagnosis is a reminder for men 50 and over to get screened. Prostate cancer is typically detected via prostate-specific antigen (PSA) tests. This screening test measures PSA in the blood, which may indicate the presence of prostate cancer. For men with an average risk of prostate cancer, it's advised by the American Cancer Society (ACS) to begin screening at 50 for the disease; men with an elevated risk of developing prostate cancer should start screening at 45.
The PSA Blood Test and a Rectal Exam are Vital for Prostate Cancer Screening
Dr. James Brooks, a urologic oncologist at Stanford Medicine, said in an earlier interview that this is a slow-growing cancer. "Prostate cancer, even when aggressive, is typically slow-growing," he says. "So the possibility that it could become fatal past the age of 70 is quite low. Still, whether you continue to screen past age 70 is completely up to you and your doctor. In prostate cancer, there are sometimes differing viewpoints and this is one of those times."
"However, if you are at high-risk (meaning you have a family history or are African-American) many doctors say you should have an initial screening well before 50–some recommend starting at age 40–because the risk is about two to three times higher than average," says Dr. Brooks.
The Side Effects of Prostate Cancer Surgery
Possible side effects of prostate cancer treatment are a major factor for a lot of men when deciding which mode of treatment to go with. Many men worry that if they undergo surgery, they may never be able to have a satisfying sex life again — but it's important to know, there are options.
Preserving Sexual Function After Prostate Cancer Surgery 
"There are things we can do to get couples back to being sexually active," Dr. James Brooks, a urologic oncologist at Stanford Hospital & Clinic, told SurvivorNet in a previous interview.
"There are treatments that we can use, including oral agents. Viagra, Cialis and Levitra have been game-changers in this situation. They don't work for all patients. There are other alternatives that a urologist can work with them to help them get back to … getting erections and getting back to being sexually active."
Find The Right Option For Your Mental Health Needs
Whether it be a loss of a loved one, or a change in life brought on by a cancer diagnosis, "grief comes in waves," says Dr. Scott Irwin, a psychiatrist and Director of Supportive Care Services at Cedars-Sinai Medical Center.
"They're grieving the change in their life, the future they had imagined is now different," he told SurvivorNet in a previous interview. Some days can be tougher than others, but Dr. Irwin says talk therapy is helpful so it's important to reach out to your doctor, to a therapist or to support groups in your community.
Dealing With Grief Related to Health Problems
Treatment options for people struggling with mental health really run the gamut. While some people may benefit from seeking the help of a psychologist and getting on medication, others see great improvement by simply implementing some lifestyle changes, such as prioritizing exercise and cutting back on alcohol.
Those struggling should know that they are not alone — about one in five American adults has experienced some sort of mental health issue, according to mentalhealth.gov. However, what worked to help someone else cope may not necessarily help you — as treatment must be individualized.
To maintain a positive mindset and address mental health struggles you may be having, treatment may include:
Seeking professional help from a psychiatrist or therapist
Learning healthy coping skills
Medication such as antidepressants
Adding more physical activity to your routine
Adjusting your sleep schedule
Connecting with others via support groups
Mindfulness and meditation
Contributing: SurvivorNet Staff
Learn more about SurvivorNet's rigorous medical review process.
---