British actor/former soccer player Vinnie Jones lost his wife, Tanya, to cancer over the summer. But before she died, she lovingly made sure to plan his Christmas for him, not wanting her husband of 27 years to spend his first holiday season without her alone.
So Tanya pre-paid for their whole family to fly from the U.K. to Los Angeles, where Vinnie lives, to spend Christmas there, according to the Mirror.
Read More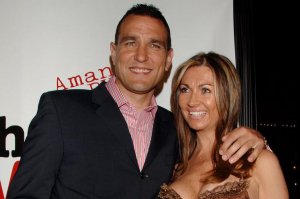 The sweet sentiment was not out of character for Tanya, as Jones has made clear in the few interviews he has given since her death in July. She was always looking out for him, he said, even during a six-year battle with skin cancer. Tanya passed away at age 53 in the couple's L.A. home.
RELATED: Losing a Spouse to Cancer — The Toughest Conversations
In an October interview with the U.K.'s "This Morning," Jones — who appeared in "X Factor: Celebrity" and movies like Eurotrip — explained that before his wife passed, she also wrote a letter telling her family not to grieve.

"It said, 'Don't grieve, I'll be waiting for you,'" Jones said in the interview. "I believe that. I believe that I've got something to look forward to. If you turn a negative into a positive, she's waiting."
THANKYOU to each and every one of you for your kind thoughts and kind words through this devastating time you have all helped us enormously with this heavy grief , Vinnie pic.twitter.com/dmv8FPGg3Y

— Vinnie Jones (@VinnieJones65) August 25, 2019
He also explained that Tanya was diagnosed with melanoma in 2013, and for six years she had a tumor on her side, which he described as, "cracking her ribs." Eventually, Jones said, the cancer spread to her lungs and her brain. In the October interview, Jones recalled how they found out the cancer had spread, which coincidentally, happened on Christmas Eve.
"They called on Christmas Eve and said, 'We found a couple spots in your brain," Jones recalled. "That was the first time we ever broke down, together. It was in the house, but we had a lot of guests there. She didn't want to ruin their Christmas … so, that was the worst we ever broke down together."
Even during her cancer battle, Jones said, Tanya, who he had known since they were 12 years old, was focused on making a great Christmas with her friends and family — and it seems to be a tradition she was determined to keep going even after she passed away.
What Is Melanoma?
Melanoma is the deadliest form of skin cancer. Oncologists and dermatologists who work with patients with melanoma encourage everyone (even people with no family history of the disease) to do regular skin checks, and look out for things like abnormal moles or markings, because the sooner melanoma is caught, the easier it is to treat.
For late-stage or metastatic melanomas, where — like Tanya's — the disease has spread to other parts of the body, the treatment options become more complicated. However, there have been incredible advances when it comes to treating advanced melanoma in the past few years.
"Every patient is different; every situation is different," Dr. Anna Pavlick, a medical oncologist at NYU Perlmutter Cancer Center, told SurvivorNet in a previous interview. "Where patients have disease and how we are going to manage it is very different. … It really is using the skills that we have as oncologists to be able to assess the patient, assess their disease, and to know what is really the best treatment option for that patient at that point in time."
In this video, Dr. Pavlick explains that for some patients, combining immunotherapy drugs — or drugs that harvest the body's immune system to fight cancer — can be incredibly successful in treating some patients. But again, every patient is different. Even though doctors now have the options to tailor treatment to a patient's individual disease, there is still a lot of progress to be made in treating this disease.
Learn more about SurvivorNet's rigorous medical review process.