A Cancer Survivor Set on Success
Rob Gough's cancer journey seemingly set him on a course for success that ultimately led him to millionaire status by his mid-20s. Since overcoming n Ewing sarcoma diagnosis that came at the start of his college career, he's developed two successful dot-coms, an auction website and a coupon website, bought a clothing line and even acted in movies.
Ewing sarcoma is a type of sarcoma that occurs in bones or in the soft tissue surrounding the bones, and "lifelong monitoring" is generally recommended after treatment for the disease.
In a previous interview with SurvivorNet, Marecya Burton explained how ovarian cancer changed the course of her life. Now, she's a high school social studies teacher and "wouldn't change [her] career for the world."
Successful people are not all the same, but oftentimes it's a person's ability to overcome hardship that ultimately pushes them to greater heights. And for businessman and actor Rob Gough, his cancer journey seemingly set him on a course for success that ultimately led him to millionaire status by his mid-20s.
Gough, now in his late 30s, was diagnosed with Ewing sarcoma just after he started college. But his first symptom actually came during high school.
Read More
RELATED: 'The World Is Now Pulling for You': Dwayne 'The Rock' Johnson Sends an Inspiring Video to a 10-Year-Old Girl Battling Ewing Sarcoma
"My senior year in high school, my big toe swelled up. So the doctors misdiagnosed it, thought it was maybe a sports-related injury, just from being young and a kid," he told WTHR 13. "A year later, I go to college, go to Ball State University, same symptoms happen again. Ewing sarcoma cancer, it's a bone cancer. That's what it turned out to be."
After that, he began his chemotherapy treatments. Battling cancer is tough at any age, but Gough struggled with not being able to do the things his friends were doing.
"It definitely wasn't fun to not eat for five days and to feel sick and not be able to see your friends and be a [normal] 18-year-old kid," Gough recalled. "Chemo teaches you that you're going to be thrown curveballs. You either get down and mentally lose, or you say, 'Hey, this is just another thing thrown at me, let's figure out how to get through it!'"
RELATED: 'Up in the Clouds': Model and Ovarian Cancer Survivor Ash Foo, 24, Is Seeing Her Dreams Come True as a Billboard of Her Now Stands in NYC
And he did more than just get through it. In fact, he went to achieve many incredible things shortly after overcoming the disease. He developed two successful dot-coms, an auction website and a coupon website. After that, he bought Dope, a lucrative clothing line, and even went on to act in movies with his most recent project involving Bruce Willis entitled American Siege set to release next year.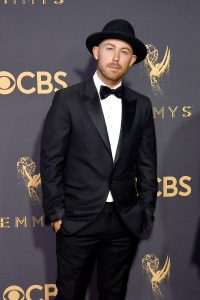 But Gough has not forgotten the difficult road he took to get to where he is today, and he's determined to give back. He even flew the nurses who cared for him during his battle to an all-expense paid vacation. And just this month, he returned to him hometown of Indianapolis to raise money for Indiana Wish, the same organization that granted Gough a wish during his cancer battle.
"The wish, I think, is important for these kids," Gough said. "It just helps them forget about what they're going through and maybe brings a little bit of light to their situation."
Through it all, Hough has achieved a lot and learned even more.
"Life is not easy, you know, you're thrown obstacles on a daily basis, but it's really how you react to it," he said.
What are Sarcomas?
The term sarcoma is used to describe an array of more than 70 rare cancers that begin in the bones and the soft tissues. This diverse group of diseases accounts for only about one percent of tumors in adults and just over 10 percent of tumors in children.
RELATED: What Are Sarcomas? Know the Types and Symptoms of These Rare Cancers
Sarcoma Survivor Kara Ladd found solace in Reiki, Meditation, and Energy Healing During Treatment
The main symptom of sarcomas is generally a slow-growing, painless mass, but symptoms can be hard to detect as soft tissue sarcomas are typically painless and bone sarcomas can be mistakenly diagnosed as orthopedic injuries.
"Unfortunately, most sarcomas do not cause many of the symptoms that may be associated with other cancers," Dr. Dale Shepard, director of the Cleveland Clinic Taussig Cancer Institute Phase I and Sarcoma Programs, tells SurvivorNet. "A mass the size of a golf ball or larger and growing should be evaluated as a potential sarcoma. It's important that patients who do have symptoms are not dismissive of them."
Understanding Ewing Sarcoma
Ewing sarcoma is a specific type of cancer that occurs in bones or in the soft tissue surrounding the bones. It is most commonly found in adolescents, but younger children, as well as adults (in their 20s and 30s) can also be diagnosed with this disease.
One Tough Cookie: Resilient 8-Year-Old Who Overcame Ewing Sarcoma Sells More Than 32,000 Boxes of Girl Scout Cookies To Break Record
According to the Mayo Clinic, some signs and symptoms of Ewing sarcoma include:
Pain, swelling or tenderness near the affected area
Bone pain
Unexplained tiredness
Fever with no known cause
Losing weight without trying
Treatment for Ewing sarcoma depends on the location of the cancer and the size of the tumor at the time of diagnosis. A doctor's treatment plan may involve a combination of chemotherapy, radiation and surgery. Sometimes the aggressive nature of these treatments can cause both short-term and long-term side effects. According to the Mayo Clinic, "lifelong monitoring is recommended" after completing treatment to watch for potential late effects of the intense treatment.
Thriving as a Survivor
A cancer diagnosis can change the trajectory of your life. But as we've seen in the case of Rob Gough, that change is not always bad.
Take Marecya Burton, for example. She was diagnosed with ovarian cancer at just 20 years old. Burton was a college student-athlete looking forward to graduation at the time, but all that had to change when she was forced to move home to start treatment.
Former College Cheerleader Reinvents Herself After Surviving Ovarian Cancer
"That was definitely challenging for me," Burton said in a previous interview with SurvivorNet. "I was looking forward to graduating."
She also had planned on pursuing a law degree after graduation – another dream she had to give up.
RELATED: 'Up in the Clouds': Model and Ovarian Cancer Survivor Ash Foo, 24, Is Seeing Her Dreams Come True as a Billboard of Her Now Stands in NYC
"I really had to, in a sense, put my life on hold," she said. "Sometimes I look at where I am, and I can't help but wonder, would I be further had I not had my diagnosis?"
But instead of law school, Burton found a new passion: teaching. She became a high school teacher in Baltimore, Maryland, and she's since made peace with her new direction in life.
"I wouldn't change my career for the world," she says. "It's so fulfilling."
Learn more about SurvivorNet's rigorous medical review process.
---