First cancer, then coronavirus. When SurvivorNet interviewed Kara Ladd about her experience with synovial sarcoma, she told us that the diagnosis — which came when she was just 24 years old — really shook up her priorities. She began focusing on health and mindfulness, slowing down her high-speed New York City life, and got involved with energy healing. That experience with cancer at such a young age, she says, helped prepare her for another health challenge — a COVID-19 diagnosis.
RELATED: Coronavirus Guide for People With Cancer
Read More
Ladd, who is currently staying in Boulder, Colorado, but had been in NYC recently, says she first began feeling symptoms around mid-March. We hope her story and subsequent recovery can be of some comfort to other survivors who are feeling anxious about the current pandemic.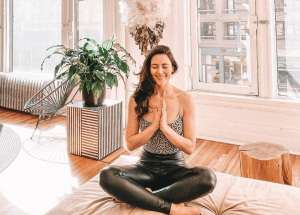 "My first symptom was a very unique chest tightness and shortness of breath. It was like someone was squeezing my ribs on either side of my body, inhibiting my ability to breathe fully and deeply," she tells SurvivorNet. "The second day that this symptom persisted, in addition to very slight body aches, I knew something was off. I called with COVID-19 hotline in Boulder right away and was approved for a test given my past history with synovial sarcoma."
The most common symptoms of coronavirus, according to the World Health Organization (WHO) are:
Some patients also may experience:
Aches & pains
Nasal congestion
Runny Nose
Sore Throat
Diarrhea
Ladd took to her Instagram to share her experience with the disease, posting daily updates about what the symptoms were like for her. Her experience was a mild one, with the most prevalent symptoms being a headache, tightness in the chest and a loss of taste and smell that lingered. While Ladd says she's grateful that her symptoms were mild given how serious they can be for others, the experience was scary for her as a cancer survivor. Still, she used her previous health journey as something of a guide with this new challenge.
RELATED: Mental Health Resources During the Coronavirus Pandemic
View this post on Instagram
"It was very triggering as a cancer survivor, but given my past health journey, I knew what my mind and body needed to stay calm and present," Ladd tells SurvivorNet.
Ladd was able to get a coronavirus test relatively quickly compared to many others because she was considered high-risk due to her experience with cancer. She went through five rounds of chemotherapy and 36 hours of radiation.
To avoid risk of exposure at a hospital, many physicians are advising people — especially people who are immuno-compromised or cancer survivors — to seek care at a primary care facility first if they are experiencing mild symptoms.
"We're advising all folks who have symptoms who are not in any kind of distress to talk to their primary care doctor or their specialist first to kind of get an idea of what's the next step," Dr. Cini Thayil, an emergency physician at Mercy Medical Center, tells SurvivorNet. "If it's just a question of testing, maybe they can do some sort of outpatient testing in an urgent care."
Ladd was tested at an urgent care, she says. After she was diagnosed two days later, she was told to quarantine for a week (this was March 20), but decided to do it for two weeks just in case — due to the ever-changing flow of information about the virus.
Now that she's about a month out from dealing with the virus, Ladd says she's feeling much better.
"I'm about a month out now and although I still don't have my taste & smell fully back (taste is ~70% and smell is 90%), I'm starting to feel like me again," she says. "However, it truly did take a long time for me to regain energy and feel fully healed. Again, given my past rendezvous with cancer, I felt strangely prepared mentally which helped me combat a lot of the physical trauma."
RELATED VIDEO: Kara Ladd Talks Reiki — And How it Helped Her Heal Mentally After Cancer
Learn more about SurvivorNet's rigorous medical review process.