"My name is Jason Vale and I know the answer to cancer.  Apricot seeds, or foods with the same components as apricot seeds."
These are the words written on a website called "Apricots From God," which has helped champion arm wrestler Jason Vale rake in $850,000 in the last six years alone selling apricot seeds as a "cure for cancer." This is illegal—and totally bogus—which is why Jason Vale and his mother, Barbara (who's been involved in the operation) were arrested yesterday at their home in Queens, N.Y. Vale and his mother are specifically being charged with violating a court order from the U.S. Food and Drug Administration (FDA) to stop selling the seeds as a cancer cure.
Read More
For Vale, yesterday's arrest is just the latest in a long series of legal battles surrounding the apricot seed "cure" he sells. In 2003, he was sentenced to five years in prison for the same charge.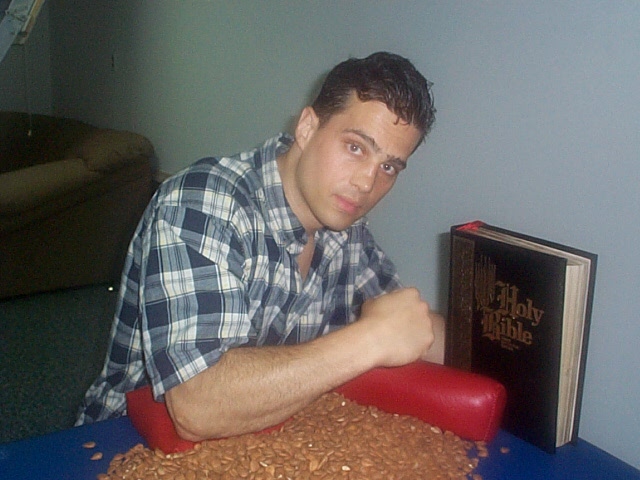 But Vale's operation continued after he got out of prison. You can still purchase the seeds for $18.95 per pound on Vale's website (he recommends that people with cancer chew between 10 and 30 apricot seeds at a time).
RELATED: "My Mom Peggy Sue Survived Cancer Because She Went to a Natural Cancer Clinic in Mexico" — How to Spot Misleading Cancer Websites Like This One
Misleading, Yes, But Also Toxic
Apricot seeds – and the substances made from them, known by the names "laetrile," "amygdalin," and "vitamin B17"— don't cure cancer. The country's major health authorities, the FDA, the U.S. Centers for Disease Control and Prevention (CDC), and the National Cancer Institute (NCI) are all in agreement on this. In one NCI trial that tested the stuff in 175 patients with cancer, for instance, researchers found that "cancer had grown in all patients."
Apricot seeds also contain cyanide, which is poisonous. And although Vale claims on his website that his customers have never reported toxicities, the FDA has detailed multiple cases of cyanide over the years. One FDA report, for instance, details the case of a 49-year-old woman with a cancer called nodular lymphoma who "ate 20 to 40 apricot pits, which she had purchased in a local health food store… [and] within half an hour, noted headache, weakness, disorientation, and nausea." The woman was rushed to the emergency room and treated for cyanide poisoning.
If Apricot Seeds for Cancer Are Unsafe and Unproven, How Has Vale Been Able to Make So Much Money Selling Them?
Under the product description for his apricot seeds, Vale links to his "My Story" page, on which he writes that at age 18, he was diagnosed with a rare form of cancer called Askin's tumor (a subset of Ewing's sarcoma). Vale claims he received conventional medical treatment first—including radiation and chemo. But when his cancer recurred in his kidney, he chose to forego the conventional medicine and stick with apricot seeds alone—a choice that he claims to have "cured" him completely.
RELATED: Baking Soda Injections and Bleach Solutions Can't Cure Your Cancer — Now, Google Says They Can't Get Ad Space, Either
The personal story reads in a way that taps into the vulnerability of patients with difficult-to-treat cancers and their loved ones—and the helplessness they often feel after being told that their survival rates are low, or that the success rates of available medical treatment are low. Vale's website is rife with links to conspiracy theories about how doctors once covered up the research results that showed apricot seeds kill cancer cells.
RELATED: The Epidemic of Fake Cancer News Online: New Evidence of Rampant Misleading Information That Can Cost Lives
Despite evidence of the opposite, roughly 40 percent of Americans believe that alternative therapies alone (that is, treatments outside the realm of medicine that have not been regulated or proven to work) can cure cancer. This figure is especially troubling given that research shows that people who choose alternative therapies instead of conventional treatment are twice as likely to die from their cancer.
Dr. Jason Westin of the MD Anderson Cancer Center spoke with SurvivorNet about the dangerous of alternative therapies — and the fact that doctors aren't covering up the cure for cancer. 
If It Wasn't the Apricot Seeds, What Cured Jason Vale's Cancer?
The fact that Vale is still alive and healthy (and winning arm wrestling championships regularly) could be seen as tangible evidence that whatever he did for his cancer—proven or unproven—worked. But the reality is that even if Vale did have a cancer with a "100 percent mortality rate" and a "tumor the size of a grapefruit," as he claims on his website, that doesn't mean his current health is a result of apricot seeds. Stories of cancers going away without treatment are rare, but they do exist (doctors call this "spontaneous regression"), and experts tell SurvivorNet they could be due to a number of circumstances, including an infection that activates the body's immune system to attack their cancer.
After Kathryn Doherty said her breast cancer miraculously disappeared, SurvivorNet spoke to the experts about spontaneous regression.
"There are these tremendous stories of radical remissions, where patients maybe had an infection, and they were cured of their cancer," Dr. Elizabeth Comen, a breast cancer oncologist at Memorial Sloan Kettering Cancer Center and a medical advisor to SurvivorNet said in a previous conversation about spontaneous regression, adding that, in these cases, "there should be dedicated studies showing they were diagnosed with cancer, [that] there was a biopsy of that cancer that proved what they had, [and] that they received whatever treatment that they got, and then the imaging thereafter, and that they were followed up for years and years and years, and they truly didn't have their cancer."
This level of evidence does not exist for Jason Vale and his apricot seeds, nor does it exist for the thousands of fake cancer "cures" promoted on the internet.
Learn more about SurvivorNet's rigorous medical review process.
---