Farrah Fawcett, the iconic American model/actress who made up a third of the original Charlie's Angels, was not shy during her grueling battle against anal cancer … she also never gave up hope that she would beat it. In a new ABC documentary, This is Farrah Fawcett, Fawcett's Charlie's Angels co-star Jaclyn Smith opened up about how strong her dear friend was as she went through anal cancer — a true inspiration.
Read More
Fawcett was first diagnosed with cancer of the anus in 2006. She was declared cancer-free on her 60th birthday in 2007, but three months later her doctors discovered that the disease had not only returned, but also spread to her liver. The style icon died in 2009. She was 62.
Anal cancer is one of those diseases that some people don't want to discuss. People get embarrassed, or ashamed to share their symptoms with doctors. This is so dangerous, since part of the cancer battle is being able to have an open and honest conversation with medical professionals about what you're feeling. This is one of the many reasons why Fawcett was so inspirational — she wasn't afraid to discuss what she was going through. After her cancer returned, the actress filmed all the ways cancer affected her daily life for a documentary called Farrah's Story — which provided 15 million viewers with a heart-wrenching look into the realities of the disease.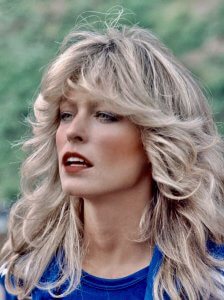 Now, in the new documentary, Fawcett's closest friends and loved ones have opened up about what it was like to watch the actress battle cancer. Former Angels star Smith said that the disease made Fawcett a better person, and really showed just how strong she was.
"There were no barriers," Smith said. "You know how people put up barriers or walls of politeness where they don't talk about this, or they don't talk about that … She always thought that she would get well."
The new documentary also includes interviews with one of Fawcett's closest friends, Alana Stewart, who discusses when the actress first realized that she wouldn't be able to keep her iconic, billowing hairstyle. "She had done everything to keep from losing [her hair]," Stewart told ABC. "And she hadn't … she still had her fabulous hair. The last round of chemo, she had lost her hair. And that was hard on her."
The documentary also includes interviews with Dr. Lawrence Piro, Fawcett's oncologist; Mela Murphy, her hairstylist who details the moments when the actress' locks first started falling; Dr. Ursula Jacob, a physician in Germany who treated the actress with alternative methods; and more.
This documentary comes at a time when it's more crucial than ever to talk about cancers that may be perceived as "embarrassing" or "shameful." Lillian Kreppel, a member of the SurvivorNet family who beat anal cancer, said that she's really open about what she went through because most people simply aren't open enough about it. "The word anal … that's the big deal. People don't want to say it. People don't want to talk about it," Lillian said. "Not long ago people didn't want to talk about colonoscopies. There's a stigma because people are embarrassed about where it is, and I want to get rid of that stigma. We use that part of our body everyday … so what's the big deal?"
Another actress, Marcia Cross of "Desperate Housewives," also recently brought some attention to the disease. The 56-year-old actress announced in September of 2018 that she, too, had anal cancer and is now in the recovery process. Every bit of candid conversation about the topic helps, especially because anal cancer is one of the cancers that a person can develop because of HPV (human papillomavirus). HPV is spread through sexual contact and is hugely wide-spread in Western culture — and yes, it can lead to a handful of cancers, so awareness is key.
This is Farrah Fawcett debuts tonight, May 23, on ABC.
Learn more about SurvivorNet's rigorous medical review process.