Raising Awareness For Anal Cancer
The late actress and icon Farrah Fawcett, who lost her fight to anal cancer at age 62 in 2009.
Alana Stewart, Fawcett's best friend, recently shared an adoring memory of the two standing next to each other on a vacation in Germany on social media.
Stewart, 77, has made it her mission to continue the star's legacy after losing a battle with anal cancer in 2009. Fawcett, a global icon, paved the way to reduce the stigma of the disease, and Stewart has continued to raise awareness for anal cancer and HPV, which is a virus that causes 90% of anal cancers and other types of cancer.
The late Farrah Fawcett's best friend,
Alana Stewart
, has continued to be an advocate for anal cancer ever since the iconic American model/actress, who was one of the original Charlie's Angels, battled the disease for three years.
Stewart is the CEO & President of the Farrah Fawcett Foundation, a foundation that was started in 2007 with the mission of HPV research, Patient Assistance, and Awareness. Following Fawcett's passing on June 25, 2009, the Foundation and Stewart have been spreading awareness for anal cancer and making a difference in the lives of cancer patients and their families.
Read More
This week, the official Instagram of the Farrah Fawcett
Foundation
shared a repost of Stewart's photo, accompanied by the caption, "
Farrah and I in Tegernsee
, Germany, 2008." "We spent 4 weeks at a clinic there where she was receiving cancer treatments. RIP Farrah #memories #germany #fightcancer #cancerresearch #farrahfawcett," Stewart, a New York Times best-selling author, caption wrote. Stewart
previously shared her journey with SurvivorNet
of being her beloved friend's closest advocate throughout her courageous battle, and shares her own heartbreak, loss —and inspiration—she experienced along the way.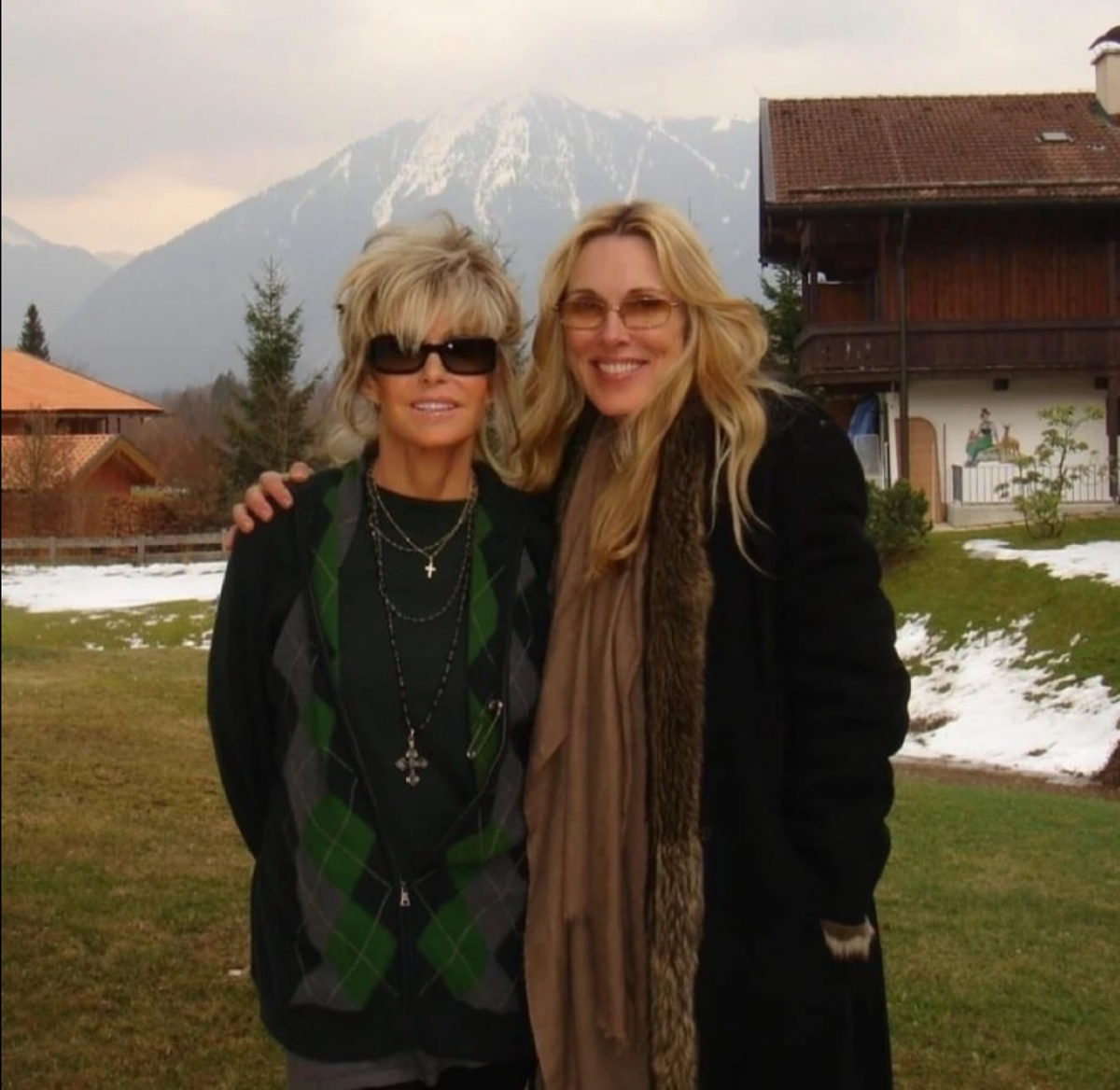 An Advocate for her Friend
Stewart, the author of My Journey with Farrah: A Story of Life, Love, and Friendship, says that sticking by Fawcett through her cancer journey was a major part of her life.
"It was all I did really," Stewart recalls. "I learned so much about it, and it's such a frightening journey for the people who love someone going through this because you don't know what to do or say. You're trying to keep your spirits up because you have to keep their spirits up no matter how you feel."
Stewart stresses the importance of fighting for your loved one.
"You can't do it on your own, there's just no way you can do it on your own. You need someone looking to make sure the medications are right, because people make mistakes," she says. "I remember fighting with people in Germany saying 'No, no you can't put her here, you can't push her out in the hall and let her lie out there while she's waiting for surgery. No, no, no, that's not going to happen.'"
Aside from Fawcett, Stewart has also been a caregiver as a mother to three children; Ashley, Kimberly, Sean. Her son Ashley's father is actor George Hamilton, Alana's first husband. Singer Rod Stewart is the father to Kimberly and Sean. "George is like my family I see him every day, he truly is my family because he's been in my life for so long, we get along fine." As for Rod, the pair keep in touch here and there for the kids when he's in town for family gatherings.
HPV Vaccine Offers Hope
The human papilloma virus, also known as HPV, is transmitted sexually and, in addition to anal cancer, can cause cervical, penile, oral, and head and neck cancers. According to the Farrah Fawcett Foundation, 80% of the population will contract HPV at some point in their lives. The HPV vaccine was introduced in 2006.
RELATED: HPV Vaccine Not Recommended For Adults Over 26, Per New American Cancer Society Guidelines
In July 2020, The American Cancer Society recommended that children ages 9-11 get the HPV vaccine, with catch-up vaccinations available for those up to age 26.
Why the HPV Vaccine is so Important in Preventing Cancer
"The HPV vaccines do not cause autism," says Dr. Jessica Geiger, a medical oncologist at Cleveland Clinic Cancer Center, addressing the anti-vax myths that have surrounded the vaccine since it was introduced in 2006.
"There's always a risk of some vaccine-related side effects … local site injection pain, some redness, some swelling," she notes but adds, "there are no syndromes such as autism or other neurologic symptoms that have been linked to the HPV vaccines."
RELATED: Ghostbuster, Ernie Hudson, Survived Cancer Twice — Now He's Determined To Help Others Prevent It
Dr. Geiger also points out that some parents resist the vaccine because they don't want to consider their children becoming sexually active.
"The fact is that the majority of us are going to participate in sexual activity at some point in our lives … it's unreasonable to think that just because your child isn't engaging in sexual activity now that they won't later in life."
You're a Person Not a Patient: Fawcett's Oncologist, Dr. Lawrence Piro, On the Doctor-Patient Relationship
Farrah Fawcett's Brave Documentary
After her cancer returned, the actress filmed all the ways cancer affected her daily life for an ABC documentary, "Farrah's Story" debuted in May 2009 and offered 15 million viewers a heart-wrenching look into the realities of the disease.
RELATED: Farrah Fawcett's Brave Battle With Anal Cancer Detailed in New Documentary: Her Honesty About "Embarrassing" Disease is Still Saving Lives
The documentary includes interviews with Dr. Lawrence Piro, Fawcett's oncologist; Mela Murphy, her hairstylist who details the moments when the actress' locks first started falling; and Dr. Ursula Jacob, a physician in Germany who treated the actress with alternative therapies.
"First Elimination Of A Cancer In History"
When new HPV vaccine guidelines were released, they came with a bold statement — the kind that organizations like the American Cancer Society are often reluctant to make.
RELATED: More than 70% of Americans Don't Know that HPV Can Cause Anal, Oral, and Penile Cancers — Even With Famous Advocates Such as Michael Douglas and Marcia Cross
But there it was: "Vaccination of all children between ages 9 and 12 years will prevent >90% of the cervical, oropharyngeal, anal, vaginal, vulvar, and penile cancers that are caused by HPV and, combined with screening and the treatment of cervical precancers, can lead to the first elimination of a cancer in history."
This is possible only if children and young adults — up to age 26 — follow through and see their doctors for the HPV vaccination.
Signs and Symptoms of Anal Cancer
Friends of the actress have said she had been exhibiting symptoms for a long period of time before seeing a doctor. "Putting diagnosis and treatment on the back burner led to the poor prognosis," said Dr. Julian Sanchez, a surgeon in Moffitt Cancer Center's Gastrointestinal Oncology Clinic.
"These symptoms usually do not develop overnight. Often patients will have symptoms such as pain and bleeding."
RELATED: Marcia Cross Reveals Her Anal Cancer is Likely Linked to Her Husband's Throat Cancer — By the Same HPV Virus
"If anal cancer is not treated early and effectively, the survival odds decrease and patients usually have to have major surgery to remove their anus and rectum," Dr. Sanchez said. They will also need a permanent colostomy bag, a small pouch that collects waste from the body.
RELATED: Lillian Kreppel Got Cancer Through HPV, And She Wants to Stop the Vaccine Controversy
While anal cancer may have no symptoms at all, in most cases, bleeding is often the first sign of the disease, according to the American Cancer Society. At first, many people assume the bleeding is caused by hemorrhoids, which are a benign and fairly common cause of rectal bleeding.
Important symptoms of anal cancer include:
Rectal bleeding
Rectal itching
A lump or mass at the anal opening
Pain or a feeling of fullness in the anal area
Narrowing of stool or other changes in bowel movements
Abnormal discharge from the anus
Swollen lymph nodes in the anal or groin areas
While these symptoms may also be caused by benign conditions, like hemorrhoids, anal fissures, or anal warts, if you have any of them, it's important to have them checked by a doctor so that the cause can be found and treated, if needed.
"People Are Afraid to Talk About It Because of Where It Is": Justine Almada Talks Anal Cancer Awareness
Talking About Anal Cancer
It's more crucial than ever to talk about cancers that may be perceived as "embarrassing" or "shameful." Lillian Kreppel, a member of the SurvivorNet family who beat anal cancer, said that she's really open about what she went through because most people simply aren't open enough about it. "The word anal … that's the big deal. People don't want to say it. People don't want to talk about it," Lillian said. "Not long ago people didn't want to talk about colonoscopies. There's a stigma because people are embarrassed about where it is, and I want to get rid of that stigma. We use that part of our body everyday … so what's the big deal?"
Another actress, Marcia Cross of "Desperate Housewives," also recently brought some attention to the disease. The 56-year-old actress announced in September of 2018 that she, too, had anal cancer and is now in the recovery process. Every bit of candid conversation about the topic helps, especially because anal cancer is one of the cancers that a person can develop because of HPV (human papillomavirus). HPV is spread through sexual contact and is hugely wide-spread in Western culture — and yes, it can lead to a handful of cancers, so awareness is key.
Contributing: SurvivorNet Staff
Learn more about SurvivorNet's rigorous medical review process.
---