The U.S. Food and Drug Administration (FDA) is warning Americans not to be swayed by websites or online anecdotes that tout the benefits of a chlorine dioxide solution. The "miracle" cure is often promoted as a way to cure cancer, HIV/AIDS, autism, and other serious conditions — but the FDA warns that these claims hold no weight, and ingesting this solution could actually be really dangerous.
Here at SurvivorNet, we are supporters of integrative medicine — or the idea of using alternative methods like acupuncture or diet changes along with traditional, scientifically-proven treatments. However, the danger of using an alternative treatment, like the chlorine dioxide solution, without any proven treatment cannot be understated.
Read More
RELATED: THE DIFFERENCE BETWEEN ALTERNATIVE AND INTEGRATIVE MEDICINE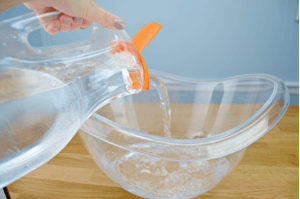 If you do a quick Google search for the solution, known as Miracle Mineral Solution, MMS, or Chlorine Dioxide Protocol, you'll find plenty of advertisements for the products. But in their warning this week, the FDA said the risk these products pose should not be taken lightly.
"Ingesting these products is the same as drinking bleach," acting FDA Commissioner Ned Sharpless said. "Consumers should not use these products, and parents should not give these products to their children for any reason."
The FDA's warning emphasized that these products are not FDA-approved, and there has yet to be any concrete, scientific evidence showing they are effective. There have also been reports of people having some pretty serious reactions to the solution — including severe vomiting, diarrhea, life-threatening low blood pressure, and acute liver failure.
"The FDA is not aware of any scientific evidence supporting the safety or effectiveness of MMS products, despite claims that the solution is an antimicrobial, antiviral and antibacterial. The FDA encourages consumers to talk to a health care professional about treating medical conditions or disease," the press release states.
The advice in the FDA's statement mimics what countless medical professionals have told SurvivorNet when discussing alternative treatments — essentially, any cancer treatment that sounds too good to be true probably is. In a recent interview, Dr. Jason Westin, of MD Anderson Cancer Center, explained the allure of these non-traditional treatments.
"Sadly, there's a lot of information on the internet that's not well-curated," Dr. Westin said. "…If there were treatment options that weren't based on chemotherapies or targeted therapies that worked well for our patients, sign me up!" But unfortunately, there's a reason these treatments aren't backed by researchers or by the FDA.
Last July, a study from Yale actually found concrete evidence that people who choose to use alternative therapies instead of traditional treatments are more likely to die. The study authors looked into what drove people to choose alternative treatments, collecting information from 1.9 billion people in the National Cancer Database.
Authors found that people who choose the therapies are more likely to refuse conventional treatments like surgery, chemotherapy, radiotherapy and hormone therapy. After all, treatments like the MMS may seem way more appealing to people wanting to avoid side effects like hair loss and loss of appetite that are associated with something like chemotherapy.
"My guess is that when faced with a tough decision like a cancer diagnosis or cancer treatment, these are patients who are wondering if there's another way," study author Dr. James Yu, a radiation oncologist at Yale Cancer Center, told SurvivorNet at the time of the study's release.
Dr. Yu also pointed out that while alternative treatments can be really dangerous — incorporating non-traditional treatment into the cancer journey is not always a bad thing, as long as that treatment doesn't interfere with the scientifically-proven methods.
"The placebo effect is certainly very powerful," Dr. Yu said. "And we need to do a better job listening to our patients and integrating all recommended therapy with the patient's hopes and desires, and dreams."
Learn more about SurvivorNet's rigorous medical review process.