Kathy and Rosie BFFs
Comedian, actress and lung cancer survivor Kathy Griffin, 61, joined fellow com
Griffin is slowly returning to standup after a major cancer operation.
In August, Griffin announced she had stage 1 lung cancer and had half of her left lung removed.
Griffin reported being "cancer free" in December, but complications during the procedure damaged her vocal cords.
Comedian Kathy Griffin has posted an early Throwback Thursday photo on Instagram showing her and fellow comic Rosie O'Donnell from O'Donnell's time as a co-host on
The View.
View this post on Instagram
Read More
"Flashback! Lookit these two! @rosie," the 61-year-old Emmy winner wrote.
The image is undated but photos from the January 6, 2015, episode of The View show Griffin on stage with Rosie, who is wearing the same dress.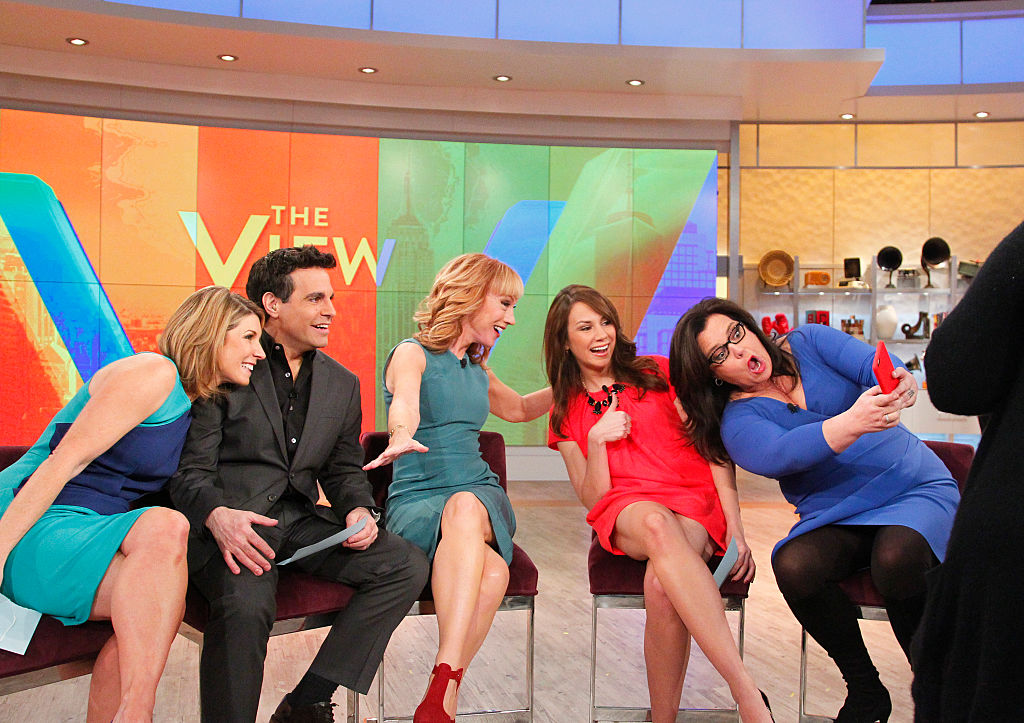 The controversial redhead has slowly been making her return to standup after undergoing surgery for lung cancer last summer. On July 16, O'Donnell, 60,  hosted Griffin, 61, and other funny ladies at Stand Up for Friendly House L.A., a soldout benefit for the women's addiction recovery center.
First night back doing standup since cancer surgery. @Rosie put together a great benefit show for Friendly House Women's Recovery Center. 🙏🙏🙏 pic.twitter.com/7JEkRyOpQp

— Kathy Griffin (@kathygriffin) July 17, 2022
"First night back doing standup since cancer surgery. @Rosie put together a great benefit show for Friendly House Women's Recovery Center," Griffin wrote on Twitter. A montage of clips from the night included a standing ovation as O'Donnell introduced Griffin, who was diagnosed with Stage 1 lung cancer in August 2021.
Earlier that week, Griffin invited O'Donnell and girlfriend Aimee Hauer, 43, along with actress Rosanna Arquette, 62, to her Malibu home to watch the January 6 Congressional hearings.
View this post on Instagram
"Had to have @rosie over to watch #january6th hearings! The ORIGINAL female comic to go HARD on trummmmp," Griffin wrote in the caption.
Rosie has her own history with cancer. Her mother died of breast cancer at age 39, when the comedian was only 11. In 2010, she announced her doctors had found two lumps in her breast but, after testing biopsies, determined they were benign.
Kathy Griffin's Lung Cancer Battle
It's been less than a year since Griffin, who has never smoked, was diagnosed with stage I lung cancer in August 2021 and had half of her left lung removed.
She told late-night host Jimmy Kimmel in November that the surgery successfully removed the cancer but the use of an intubation tube affected her vocal cords, giving her her voice a higher pitch than before.
"So now I'm like Minnie Mouse meets Marilyn Monroe," she joked.  "It will heal, but I'm sort of enjoying it. I'm a good two octaves higher, I think… It's higher than Mariah Carey, I know that."
Issues with her voice have continued, though, which Griffin says have kept her from scheduling a major tour.
"I'm sick to death of not having my voice and terrified it will never get better because they said it would be better by now and it isn't," she wrote on Instagram in March. "Thank you for letting me get my frustrations out!"
The My Life on the D-List star once said that losing the ability to make people laugh drained her will to live. Griffin has been very honest about this dark period in her life but is just as transparent about how her comedy and activism — and maintaining a positive attitude — are helping her get through it.
She loves sharing content of what makes her happy, like her pets at home.
 

View this post on Instagram

 
The Power Of Positive Thinking
Anecdotal evidence from SurvivorNet experts suggests a positive mindset can impact a cancer prognosis and recovery.
"My patients who thrive, even with stage 4 cancer … I kind of am pretty good at seeing who is going to be OK,"  Dr. Zuri Murrell, a colorectal surgeon at Cedars-Sinai Medical Center in Los Angeles, told SurvivorNet in an earlier interview.
"Now that doesn't mean I'm good at saying that the cancer won't grow," Murrell added. "But I'm good at telling what kind of patients are going to still have this attitude and probably going to live the longest, even with bad, bad disease. And those are patients who have gratitude in life."
Lung Cancer for Nonsmokers
Cigarette smoking is a leading factor in lung cancer diagnoses: In fact, smokers are 15 to 30 times more likely to get lung cancer than nonsmokers and smoking is linked to about 80% to 90% of lung cancer deaths, according to the U.S. Centers for Disease Control and Prevention.
But it's important to remember that even people who've never smoked, like Kathy Griffin, can still get lung cancer.: About 10% to 20% of lung cancer diagnoses in the US — or 20,000 to 40,000 cases each year — happen in people who've never smoked, the CDC reports.
The good news is, the number of new lung cancer cases continues to decrease, in part because fewer people are smoking.
People stopping smoking and advances in early detection and treatment have also meant the number of deaths from lung cancer has continued to drop.
What You Need To Know About Lung Cancer
Lung cancer is the second most common type of cancer in the US after skin cancer and is the leading cause of cancer-related deaths. According to the American Lung Association, the five-year survival rate for lung cancer is just 18.6 percent, far lower than breast cancer, which has nearly a 90 percent survival rate, and prostate cancer, which has a 98 percent rate of survival in the first five years.
What Happens When You've Been Newly Diagnosed With Lung Cancer
Griffin was lucky to be diagnosed when her cancer was still in stage one: The five-year survival rate for lung cancer is 56 percent for cases detected when the disease is still localized within the lungs. According to the ALA, only 16 percent of cases are detected at an early stage.
Diagnosis can be tricky, since symptoms often don't appear until the cancer has metastasized, or spread. They can include chest pain, unexplained weight loss, shortness of breath, wheezing, coughing, losing your voice or persistent infections like bronchitis or pneumonia.
In more extreme cases, seizures can be an initial symptom if the cancer has already spread to the brain.
The two main types of lung cancer are non-small cell, which makes up 85 percent of cases, and small-cell.
Genetic testing can be an important early warning system, especially in detecting non-small cell lung cancer.
"Genetic testing is looking for mutations in the DNA, in the tumor, which are not present in your normal DNA,"  Dr. Patrick Forde, a thoracic oncologist at Johns Hopkins Medicine, told SurvivorNet in an earlier interview.
"Within that non-small cell category, there's a subtype called non-squamous adenocarcinoma, and that's the group of patients for whom genetic testing is very important on the tumor,"
Learn more about SurvivorNet's rigorous medical review process.
---